Current Price: $35.99
Buy It Now Price: $35.99
Bids: 0

New Astromania 1.25" 3X Short Focus Barlow Lens for Telescope Eyepiece - Superior Sharpness and Color Correction by Astromania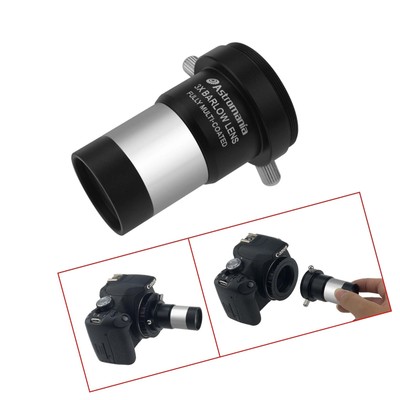 Product Description
Astromania is a manufacturer and trader specialized in the
research, development and production of astronomical instruments with well-
equipped testing facilities and strong technical force. We are professional at
supplying products and accessories in the field of optics, such as different
kinds of Eyepieces, Eyepieces Bags, Reducer Correctors, Laser Collimators,
Color/Solar Filters, Filter Wheels, Finder/Guider Scopes, Guide Scope Mounts,
Barlow Lens, Telescope Focusers, Off-Axis Guiders, Astrophotography Flip
Mirrors, Stereo Bino Viewers, Night Visions, Telescope CMOS Cameras, Reflex
Sights, Camera Adapters/Brackets, Suppression Pads and more. Your satisfaction
is our service purpose, the company's joint development with customers is our
persistent pursuit. Astromania 1.25" 3x Short Focus Barlow Lens for Telescope
Eyepiece - Superior sharpness and color correction This high performance
Antares barlow triples the power of any inserted eyepiece. It features a
fully-multicoated achromatic design. This short barlow will work in diagonals
or reflectors, has internal darkening and edge-blackened lenses, and is
parfocal with most eyepieces. Suitable for high contrast, high power
applications in any telescope. Triples the power of any 1.25" eyepiece without
adding a very long extension between the telescope and the eyepiece. Insert
this into the telescope's eyepiece holder or diagonal first, then insert your
eyepiece into the Barlow. Compatible with nearly any telescope which uses
1.25" eyepieces regardless of brand and even those with limited focus range.
Features: Suitable for high contrast, high power applications in any
telescope.It features a fully-multicoated achromatic design.3-Element
Apochromatic Lens - Superior sharpness and color correction.Triple the power
of any 1.25" telescope eyepiece with the universal Barlow Lens.Compatible with
most 1.25- Inch diameter telescope eyepieces, eyepiece filters, DSLR camera
and other T-thread type accessories.Optical components, real physical
computing magnification.It not only increases the magnification, the image
will be clearer than the average increase in magnification up to 15 times the
image clarity. Read more 1.25" 3X Barlow Lens: Triple your
focal length. View at high power with your glasses. Take images through the
telescope with the use of SLR camera. Allows the use of an eyepiece for high
magnification images. Compatible with 1.25 inch diagonals and focusers. For
the use of this barlowlens you will need a T2 ring that fits your camera.
Great Features: Provide a high power magnification allow you look more closely
and more clearly at the moon's surface and other planet3x barlow lens doubles
the magnification of any 1.25 inch eyepiecedouble the capacity of an existing
set eyepieces at the cost of a single eyepieceMulti coated optics design offer
a high quality observation without introducing additional chromatic
aberration, make image more sharperQuality aluminum with M42x0.75mm threadwork
as a t adapter, connect DSLR or SLR camera to telescope easily via a separate
sale t ring adapter Product Details: Magnification: 3XLens Construction:
3-Element 2 Group Lens Material:  Apochromatic Optical glassLens Coating:
Broadband Green FilmPort Size: Standard 1.25" (31.7 mm)Mirror Body Material:
Metal Read more Advantages of Latest 3X Barlow Lens New 1.25" 31.7mm 3x Barlow
Lens Fully Multi-Coated Metal with M42x0.75 Thread Camera Connect Interface
for Telescope Eyepieces. If you need more power than your eyepieces alone can
provide, we offer a new apochromatic 3x Barlow lens to give a big
magnification boost to any 1.25" eyepiece it's used with. This Barlow features
an air-spaced, three-element, Apo design with fully multicoated optics. The
housing is precision machined from aluminum stock and black anodized to a hard
finish. The lens edges and inner barrel are blackened to provide maximum
contrast. For those who need a very high quality Barlow for all-round use, the
3x Barlow is a very nice step up. Read more



Size: 1.25" 3x Short Focus
Brand: Astromania
MPN: SKU_AM_BL1X3
EAN: 6970019290386



Product Features and Specifications



Make sure this fits. by entering your model number.
3x increase in magnification - Superior sharpness and color correction, optical components, real physical computing magnification.
It not only increases the magnification, the image will be clearer than the average increase in magnification up to 15 times the image clarity.
High quality Barlow. Bayonet SLR cameras can be connected to increase the multiples of the camera to take pictures, filter thread for any 1.25" filter.
Essentially triple the power of any 1.25" telescope eyepiece with the universal Barlow Lens. Suitable for high contrast, high power applications in any telescope.
Compatible with most 1.25- Inch diameter telescope eyepieces, eyepiece filters, DSLR camera and other T-thread type accessories.
Product Dimensions: 3.6 x 1.9 x 1.8 inches
Item Weight: 0.8 ounces
Shipping Weight: 0.8 ounces
Item model number: SKU_AM_BL1X3
WHY SHOP WITH US?
In order to maintain a seamless and secure transaction, all of our payments are processed via PayPal. This ensures that your purchase qualifies for eBay's Buyer Protection, and that your payment is 100% protected against anything that may go wrong. For your convenience, PayPal offers a multitude of payment options, such as debit and all major credit cards, including Visa, Mastercard, American Express, and Discover. Now that's something worth shopping for!
We are pleased to offer FREE standard shipping on all US orders. Once placed, your order will typically be processed within 1-2 business days, with most items being delivered in 3-5 business days. Expedited shipping options are available and may be selected upon checkout. Please note that we are a clearinghouse for major suppliers, and in order to provide you with the fastest possible service, your order may be shipped directly from our distributor's warehouse.
That's right, FREE domestic returns - it doesn't get any better than that. If for whatever reason you're not completely satisfied with your purchase, or just changed your mind, simply contact us within 30 days of your purchase date and we'll provide you with a fully prepaid return shipping label. No questions asked. 100% hassle-free. Please note that certain foods and personal hygiene products may not be eligible for returns due to the nature of the product.
We strongly believe that customer experience is of utmost importance. That's why we're committed to ensuring you a risk-free transaction with our 100% Satisfaction Guarantee. That means having access to real people that gets your questions and concerns answered quickly. If you have any issues whatsoever with your order, simply let us know and we'll do everything in our power to make it right. Give us a shot and we will make sure that you will look to us again!
Certain items may be eligible for international purchase and shipping under the eBay Global Shipping Program. Any additional shipping and/or import fees will be calculated upon checkout. Please note that all electronic items sold at our store will come with USA spec plug-ins and will not include wall plugs or adapters for any other country unless specified in the description. Unfortunately, we do not accept returns on international orders shipped outside of the USA.

Filed under: Eyepieces & Accessories