Current Price: $63.42
Buy It Now Price: $63.42
Bids: 0

Astromania 1.25" 90-degree Diagonal Mirror - More comfortable viewing orientation as you observe from above, filter thread for any 1.25" filter and accepts standard 1.25" eyepieces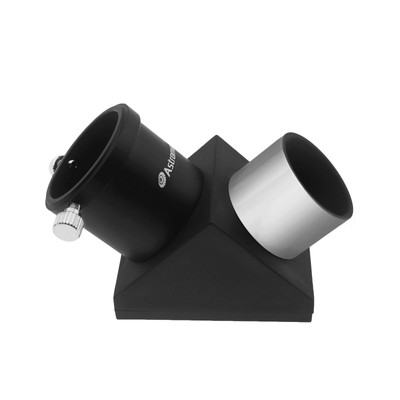 About this Product
Features:
1.25" 90-degree mirror star diagonal for any telescope with 1.25" connector (not suitable for Newtonians).
More comfortable viewing orientation as you observe from above, filter thread for any 1.25" filter. Accepts standard 1.25" eyepieces.
Protective coating on the mirror to ensure a long life, metal barrel - for secure seating in the focuser.
Useful for refractor and Cassegrain telescopes - not recommended for reflectors.
Wide 90 degree angle: You can view correct image from refractor telescope stand and just look down with a comfortable angle.
Description:
Size:1.25" 90-degree Diagonal Mirror Whether it's the Moon, Jupiter or a
beautiful nebula - in order to enjoy observing at the telescope you should
always be comfortable. In many telescopes, that is only possible by using a
star diagonal - which directs the image upwards by 90.This Astromania star
diagonal has a 1.25" metal barrel. The chrome finish not only looks good, but
is also practical, as the star diagonal always remains firmly attached to the
focuser. The clamping screws lock the barrel firmly in place without scoring
the nosepiece, as is the case with many cheaper products. In short - this
barrel will keep your star diagonal in condition for virtually forever.The
mirror has had everything that is possible optimised, within this price range,
to ensure you enjoy a bright image - even at higher magnifications. It is the
link between your eye and the telescope - and is hence just as
important.Sometimes you do not want to have to re-install a filter every time
you use a new eyepiece. Perhaps you might want to observe the Moon today with
a range of eyepieces - but with the same filter? That is also possible due to
the filter thread provided in the star diagonal.
Details:
Product Dimensions: 4.4 x 2.8 x 2.1 inches
Item Weight: 4.3 ounces
Shipping Weight: 4.8 ounces
Item model number: SKU_AM_DM1D90
Free Expedited Shipping in All Continental US!

We offer Free Expedited Shipping on all orders within the continental US! (limited-time offer)

We usually ship within 1 business day after receiving payment. We only ship to your Paypal verified address.

Most orders are in transit from 1-3 business days, but some may take longer. We use third party fulfillment services and their warehouses located throughout the country to optimize stock replenishment and shipping speed.

Expedited shipping (at extra cost) usually takes 1-2 business days.

International buyers: the cost for international shipping is indicated under the "Shipping and payments" tabs once you indicate your country and postal code. You are responsible for any potential custom fees.

PO Box customers: we cannot guarantee the fulfillment or your order as some of our suppliers only ship to physical addresses. If your order does go through, it may take an extra 3-5 days to arrive.

Returns: We Stand Behind our Products!

Buy with confidence! Returns are accepted within 60 days of the date of purchase. When sending in a return, please note that it can take up to 3 business days for the return to be processed. We do our best to process as quickly as possible.

Packaging may vary compared to the one shown in the image. Some manufacturers update their packaging without notifying us.

International buyers: you are responsible for return shipping costs. We will assist you all throughout the process if you need to return your item.
All electronics/electric equipments are manufactured to be used in the USA. You are responsible to ensure compatibility with your country. Use outside of the USA at your own risk.

Medical/health products buyers: expiration date is usually at least 6-12 months, sometimes up to 2 or 3 years. However sometimes employees may forget to rotate stock. If you are not happy with the expiry date of your item, please contact us for a free return shortly after delivery.

Our Feedbacks and Reviews Say It All!

Customer satisfaction is our number 1 priority and your feedback is very important to us. If you are unsatisfied with your order, please contact us and we will work with you to resolve it to your satisfaction. There is always a solution!
Filed under: Eyepieces & Accessories