Current Price: $28.99
Buy It Now Price: $28.99
Bids: 0

New Astromania 1.25" Extendable Camera Adapter - for Either Prime-Focus Or Eyepiece-Projection Astrophotography with Refractors or Reflector Telescopes - Threaded for Standard 1.25inch Astronomy Filters by Astromania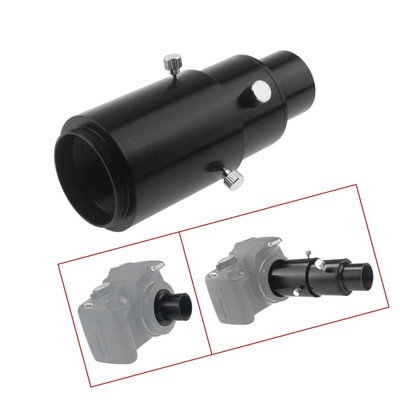 Product Description
Astromania is a manufacturer and trader specialized in the
research, development and production of astronomical instruments with well-
equipped testing facilities and strong technical force. Our wide selection of
over 500 Astromania accessories at great sale prices will help you get the
best performance from your telescope each and every night. From specialty
eyepieces and power boosting Barlow lenses to sturdy tripods and protective
cases, Astromania has all the accessories you need to get the best performance
from your telescope Astromania 1.25" Extendable Camera Adapter - for Either
Prime-focus Or Eyepiece-projection Astrophotography with Refractors or
Reflector Telescopes The Astromania 1.25" Variable Universal Camera Adapters
allow attachment of a camera body to reflector and refractor telescopes for
either prime-focus or telescope eyepiece-projection photography. The adapter's
1.25" nosepiece slides into the telescope's eyepiece holder just like an
eyepiece. This Variable Universal Camera Adapter is composed of two detachable
parts: a prime-focus adapter (or "T-adapter") for prime-focus photography, and
a fixed-length or variable extension tube for eyepiece-projection photography.
A thumbscrew in the extension tube holds the telescope eyepiece in place. This
combination of prime-focus and eyepiece-projection camera adapter has a
sliding barrel design that allows variable projection distances. This allows
for slight changes in magnification without swapping telescope eyepieces when
performing eyepiece-projection photography.Fits reflector and refractor
telescopes with 1.25" eyepiece holders. The Variable Projection Camera Adapter
allows for a continuous range of projection magnifications during eyepiece-
projection photography for telescopes with a 1.25" focuser.The machined
sliding-cell assembly can be fixed at any position along its length and is
held in position via a thumbscrew. The resulting effective focal ratio is then
determined by the sliding adjustment and eyepiece used. A T-ring specific to
your D/SLR camera is required to connect your camera to this adapter (not
included). Product description: Zoom projection and focal adapter - universal
connector for 1.25 inch eyepieces The simple way to astrophotography begins
with this projection adapter. Use your standard Ploessl or Kellner 1.25-inch
eyepieces for beautiful photos of the Moon and planets. Two adapters in one
The projection and focal adapter consists of two parts - the projection part
and the focal adapter. The projection part is used with an eyepiece for
achieving a long focal length with small objects, e.g. for individual craters.
Use the focal adapter without the use of an eyepiece so employing the focal
length of your telescope - for taking photos of the entire Moon, gas nebula or
galaxy. How to use the adapter Connect this adapter to each telescope with a
1.25" eyepiece connection. You can use an eyepiece of any focal length - and
you can achieve high-magnification images of lunar craters and planets. All
you need is a T2 ring and a suitable camera with a bayonet connector. Read
more Zooming into the night sky Astromania professional-quality camera
adapters permit a rigid coupling of standard 35mm SLR cameras to reflecting or
refracting telescopes. The adapter is simply and directly attached to
virtually any 35mm camera with removable lens and fit 31.7mm(1.25") eyepiece-
holders. The 31.7mm(1.25") barrels are threaded to accept Astromania color and
nebular filters.Use the sliding rear part of the adapter to zoom - pull out to
magnify the image - without needing to change your eyepiece. Read more



Size: 1.25" Extendable Camera Adapter
Brand: Astromania
MPN: SKU_AM_CA1E
EAN: 6970019290263



Product Features and Specifications



Make sure this fits. by entering your model number.
Zoom projection and focal adapter: The simple way to astrophotography begins with this projection adapter. Use your standard Ploessl or Kellner 1.25-inch eyepieces for beautiful photos of the Moon and planets.
This easy to use 1.25" Variable Universal Camera Adapter is designed to attach both camera body and telescope together. Compatible for both reflector and refractor telescopes with 1.25" eyepiece holders. Dual design allows the user to make slight magnification adjustments without having to change telescope eyepieces.
The 1.25" Variable Universal Camera Adapter is made of black-anodized aluminum, threaded for Standard 1.25inch Astronomy Filters. Projection adapter for 1.25-inch eyepieces of up to 38mm outside diameter, also can be used as a focal adapter with a T2 thread.
Two adapters in one: The projection and focal adapter consists of two parts - the projection part and the focal adapter. The projection part is used with an eyepiece for achieving a long focal length with small objects, e.g. for individual craters. Use the focal adapter without the use of an eyepiece so employing the focal length of your telescope - for taking photos of the entire Moon, gas nebula or galaxy.
Zooming into the night sky: Use the sliding rear part of the adapter to zoom - pull out to magnify the image - without needing to change your eyepiece. Connect this adapter to each telescope with a 1.25" eyepiece connection. You can use an eyepiece of any focal length - and you can achieve high-magnification images of lunar craters and planets. All you need is a T2 ring and a suitable camera with a bayonet connector.
Product Dimensions: 5.1 x 2.4 x 2.4 inches
Item Weight: 5.6 ounces
Shipping Weight: 5.6 ounces
Item model number: SKU_AM_CA1E
WHY SHOP WITH US?
In order to maintain a seamless and secure transaction, all of our payments are processed via PayPal. This ensures that your purchase qualifies for eBay's Buyer Protection, and that your payment is 100% protected against anything that may go wrong. For your convenience, PayPal offers a multitude of payment options, such as debit and all major credit cards, including Visa, Mastercard, American Express, and Discover. Now that's something worth shopping for!
We are pleased to offer FREE standard shipping on all US orders. Once placed, your order will typically be processed within 1-2 business days, with most items being delivered in 3-5 business days. Expedited shipping options are available and may be selected upon checkout. Please note that we are a clearinghouse for major suppliers, and in order to provide you with the fastest possible service, your order may be shipped directly from our distributor's warehouse.
That's right, FREE domestic returns - it doesn't get any better than that. If for whatever reason you're not completely satisfied with your purchase, or just changed your mind, simply contact us within 30 days of your purchase date and we'll provide you with a fully prepaid return shipping label. No questions asked. 100% hassle-free. Please note that certain foods and personal hygiene products may not be eligible for returns due to the nature of the product.
We strongly believe that customer experience is of utmost importance. That's why we're committed to ensuring you a risk-free transaction with our 100% Satisfaction Guarantee. That means having access to real people that gets your questions and concerns answered quickly. If you have any issues whatsoever with your order, simply let us know and we'll do everything in our power to make it right. Give us a shot and we will make sure that you will look to us again!
Certain items may be eligible for international purchase and shipping under the eBay Global Shipping Program. Any additional shipping and/or import fees will be calculated upon checkout. Please note that all electronic items sold at our store will come with USA spec plug-ins and will not include wall plugs or adapters for any other country unless specified in the description. Unfortunately, we do not accept returns on international orders shipped outside of the USA.

Filed under: Eyepieces & Accessories