Current Price: $17.99
Buy It Now Price: $17.99
Bids: 0

Astromania 1.25" Fixed Camera Adapter - An adapter for focal plane and eyepiece projection imaging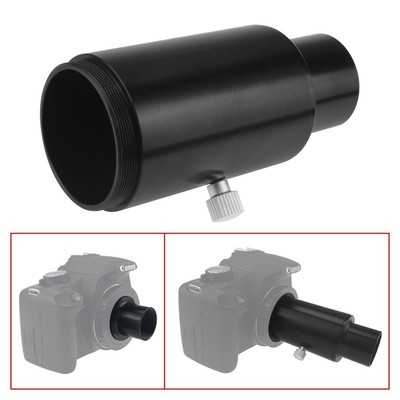 Product Details
Size: 1.25" Fixed Camera Adapter
Brand: Astromania
MPN: SKU_AM_CA1F
EAN: 6970019292694

Product Dimensions: 5.1 x 2.4 x 2.4 inches
Item Weight: 4 ounces
Shipping Weight: 4 ounces
Item model number: SKU_AM_CA1F
Make sure this fits. by entering your model number.
This Standard Universal Camera Adapter is precision made of black-anodized aluminum and is compatible with 1.25" telescope focusers.
Compatible for both reflector and refractor telescopes with 1.25" eyepiece holders.
Useful for either prime-focus or eyepiece-projection astrophotography with refractors or reflector telescopes.
Lets you attach a T-ring equipped DSLR or SLR camera directly to your telescope. The barrel of the adapter is threaded for 1.25" filters.
Accepts 1.25" eyepiece inside for eyepiece projection astrophotography. Projection adapter for 1.25-inch eyepieces of up to 38mm outside diameter.
The 1.25" Universal Camera Adapter allows attachment of a
camera body to reflector and refractor telescopes for either prime-focus or
eyepiece-projection photography (hence the term universal). The adapter slides
into the eyepiece holder as an eyepiece normally would. This universal adapter
is composed of two detachable parts: a prime-focus adapter (or T-adapter) for
prime-focus photography, and a fixed-length tube for eyepiece-projection
photography. A thumbscrew in the fixed-length tube holds the telescope
eyepiece in place. This combination of prime-focus and eyepiece-projection
camera adapter has a non-variable barrel design that allows a fixed projection
distance for eyepiece-projection photography. Astromania 1.25" Fixed Camera
Adapter - An adapter for focal plane and eyepiece projection imaging This
camera adapter provides a secure connection between your SLR camera and your
telescope. It allows you to immediately start taking focal plane or eyepiece
projection images. The Advantages in A Nutshell: Prime Focus Photography - Use
direct with your cameraSimple Barlow Projection - Use above with your barlow
and cameraEyepiece Projection - Use our eyepiece in extension tubeExtended
Barlow Projection - Use extension tube with your barlowIt offers 1.25in
mounting sizes on telescope sideM42x0.75mm outer thread on one end and
standard 1.25" (31.7mm) fitting on the otherThe inside of the adapter is fully
threaded to minimize reflectionsThreaded to accept standard 1.25" eyepiece
filters Read more The First Segment of The Adapter: The
smaller front segment is connected to the telescope side via a 1.25"
connection. On the rear side you will find a T-2 thread. This focal adapter
can be used for the moon, sun and DSOs, for example. You can directly attach a
T-2 ring to it. This adaptor has been made to be very short and only uses
about 9mm of the optical path. The 1.25" connecting piece has a length of
25mm. The Second Segment of The Adapter: The second segment of the adapter is
substantially longer and is used for eyepiece projection. It can be used for
imaging planets, individual moon craters or sunspots, for example. The inside
tube can take 1.25" eyepieces with an outside diameter of up to 38mm. The
eyepiece can be locked in place via a knurled screw on the side. This segment
has a length of 62mm. A Versatile Adapter: Here is a versatile adapter that
can be used for prime focus and fixed eyepiece projection photography with
your telescope. You can use the complete adapter for fixed eyepiece projection
photography. Just insert the 1.25" barrel of the adapter into your diagonal or
telescope, and then insert an appropriate eyepiece into the upper barrel. Your
camera can then be positioned to shoot the magnified image created by the
eyepiece. Read more Package Includes: 1 x 1.25" T-Mount 1 x Extension Tube
NOTE: The item is not including T-Ring, the T-Ring you may buy: T-Ring for
Canon: T2-Canon Adapter T-Ring for Nikon: T2-Nikon Adapter T-Ring for
Sony: T2-AF Adapter T-Ring for Mirrorless Camera: Mirrorless Camera Adapter
(Please refer to : " or
" Read more

Filed under: Eyepieces & Accessories