Current Price: $97.57
Buy It Now Price: $97.57
Bids: 0

Astromania 1.25" Superior Quality Multiple 9-Position Filter Wheel For Telescope - allowing you to image without any reflections or stray light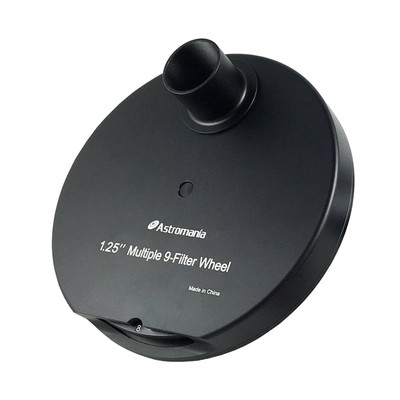 Description
Astromania 1.25" Filter Wheel - change your filter in
seconds This 1.25" filter wheel lets you use up to 9 different filters and
change them within a couple of seconds -your filters are always remain ready
to use, whether for photography or visual observing. Use the filter wheel with
UHC, OII, CLS and other filters, for example - this will let you quickly and
easily find the best filter when visually observing. Space for up to 9 filters
- which are also well protected Open the filter wheel and screw up to 9
different filters into it. These can be RGB and luminance filters for
astrophotography or wide-band and narrow-band filters for visual observing.
You can also leave the filters mounted in the filter wheel, where they are
optimally protected from dust and damage. Simply rotate to change filter
Imagine you have a camera mounted on your telescope and have to switch between
different filters as quickly as possible. This is only possible using a filter
wheel. The handy rotary wheel offers you incredibly fast switching between up
to 9 different filters. Each filter position is designated by a number, so you
know which filter is currently in the beam path. Filter Installation Use the
supplied hex key to unthread the four socket head screws of the back panel of
the filter wheel assembly. Be sure to place the screws in a safe place so they
do not become lost. Once four screws have been removed, gently separate the
back plate from the filter wheel. Install the 1.25" filters of your choice
into the tray simply by threading them into the filter tray. You may wish to
note the number designation of each installed filter for convenient reference
during use. You may find it useful to leave one of the nine threaded filter
locations empty, providing an unfiltered option for viewing or imaging. Once
you have installed all the filters you wish to use, carefully place the filter
tray back into the wheel assembly. Be sure the small plastic tab fully
registers with the central hole of the wheel assembly so that it "clicks" into
place. Position the rear plate so that the opening is aligned with the opening
of the front plate. Complete installation by reattaching the rear plate of the
filter wheel assembly with the socket head screws. If you are installing an
individual filter or swapping one filter for another, you can avoid partial
disassembly of the filter wheel. To install an individual filter, unthread the
1.25" nosepiece from the assembly to expose the internal filter tray. Rotate
the tray so the desired filter location is shown. Install the 1.25" filter by
placing it on the filter tray and rotating it clockwise with your fingertips.
Astromania 1.25" filters feature a knurled rim which will prove helpful for
this type of installation. Be careful not to touch the actual filter surface.
Note: individual filter installation without disassembly may not be convenient
for all users, especially those with large fingers! Read more Filter Wheel
Configurations Attaching an Eyepiece: For visual use, you will need to attach
the 1.25" eyepiece adapter (Not Include) to the Multiple Filter Wheel. To do
this, thread the 1.25" adapter onto the back plate of the wheel assembly. Once
the adapter is completely attached, unscrew the knurled thumbscrew until it is
flush with the inside surface of the adapter and insert a 1.25" eyepiece.
Secure the eyepiece by tightening the thumbscrew. Attaching a digital imager:
If you are using a digital imager that features T-threads, you can attach it
directly to the Multiple Filter Wheel. If your digital imager has a 1.25"
nosepiece, remove it to expose the T-threads. Now simply thread the imager
onto the camera adapter, and then thread the adapter onto the rear plate of
the filter wheel assembly. You can lock your camera or digital imager in a
preferred position by using the camera adapter's locking ring. Once you have
positioned your camera or imager, rotate the knurled locking ring counter
clockwise until it locks the camera or imager into place. Attaching a Camera:
The Multiple Filter Wheel can be extremely useful for astro-imaging with a
camera body, be it a SLR camera, CCD, or CMOS device. To attach a SLR camera
to the filter wheel, use the included camera adapter and an optional T-ring
for your SLR model. Attach the side of the camera adapter without the knurled
lock ring to the rear plate of the wheel assembly by rotating it clockwise
until tight. Now thread your SLR camera T-ring onto the exposed T threads.
Note: The filter wheel arrives with the camera adapter preinstalled. Read more
Parts List and Care/Storage: Feel free to leave your 1.25" filters installed
in the wheel during storage. To avoid excessive dust buildup, be sure to
attach the dustcaps prior to storing, and use a foam-lined accessory case. The
foam-lined box your Multiple Filter Wheel arrives in also acts as a convenient
storage container. Simply unthread the 1.25" nosepiece from the filter wheel
and place the wheel and nosepiece in the diecut foam. If you have the 1.25"
eyepiece adapter (Not Include) installed, unthread it and replace with the
T-thread ring. Now you can safely store your filter wheel without worrying
about dust build-up on your filters. - Filter Wheel - 1.25" Nosepiece -
Hexagon Wrench - Camera Adapter - Rotation Lock Ring - Threaded End-cap (For
Storage) Read more
Features:
Make sure this fits. by entering your model number.
This 1.25" filter wheel lets you use up to 9 different filters and change them within a couple of seconds.
Open the filter wheel and screw up to 9 different filters into it, you can also leave the filters mounted in the filter wheel, where they are optimally protected from dust and damage.
The handy rotary wheel offers you incredibly fast switching between up to 9 different filters. Each filter position is designated by a number.
The telescope side of the filter wheel comes supplied with a 1.25" adapter, allowing you to quickly and easily attach it to your focuser.
The filter wheel interior is absolutely light-tight - allowing you to image without any reflections or stray light.
Product Details:
Product Dimensions: 7.6 x 7.4 x 4.3 inches
Item Weight: 1.16 pounds
Shipping Weight: 1.45 pounds
Item model number: SKU_AM_FW1M9
Handling

We will ship all orders within same business day of payment before 5:00 pm central time. Excludes weekends and holidays

Delivery

We Do Not Ship Outside of the Continental US. All of our products come with FREE standard shipping with tracking number. Need your item fast? We offer faster shipping methods for your convenience available upon checkout. Please make sure your shipping address is correct and accurate before completing your checkout. We are not responsible for incorrect or undeliverable addresses and only ship to the address you provide to us in your order. PO Box, APO/FPO addresses, Alaska, Puerto Rico and Hawaii are outside of our shipping zone.

Return Policy

I will gladly accept all returns, no questions asked within 30 days of the purchase date. Please open a return request through eBay if you intend to return a product. Open software, games, music, movies, and hygiene products are not eligible for returns. Buyer is responsible for return shipping on any item that is not damaged.

Feedback

We take our reputation seriously, we buy and sell online, so we understand the value of trust. If you are unsatisfied with your order, please contact us and we will work with you to resolve it to your satisfaction.
Filed under: Eyepieces & Accessories