Current Price: $13.65
Buy It Now Price: $13.65
Bids: 0

Astromania 1.25" Telescope Eyepiece Parfocal Rings, Set of Three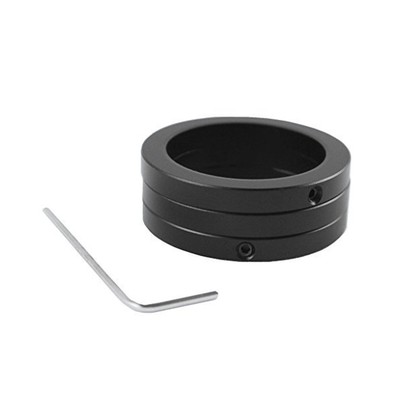 Description
These rings provide the ideal solution. They are made of precision machined
aluminium with black anodizing. An Allen key & wrench to adjust position is
included. They are also extremely useful when used with a flip mirror or beam
splitter for photography. To use a par focal ring with a flip mirror you would
first use the telescope's focuser to put your attached camera in perfect
focus, now slide a ring over the eyepiece of your choice and raise and lower
the eyepiece in the holder until it is perfectly in focus. Once you find the
focus point that is perfectly matched to the camera slip the ring down and
lock it in place using the included wrench. Now you can focus using the
eyepiece . This is much easier than a dim focus screen. You just flip the
mirror and take a picture! Leave the ring in place on the eyepiece and you can
always quickly and easily pop it back in for photography.
Features:
Eliminate the need to make focus adjustments when changing telescope eyepieces.
They are made of precision machined aluminium with black anodizing.
With parfocal ring equipped telescope eyepieces you can change magnifications quickly and easily.
This set of 3 Astromania Parfocal Rings lets you make a set of non-parfocal 1.25" telescope eyepieces parfocal for more efficient observing.
Also useful for setting focus point of calibration eyepiece used for focusing an imaging or guide camera.
Product Details:
Product Dimensions: 2.6 x 2.6 x 0.8 inches
Item Weight: 0.32 ounces
Shipping Weight: 0.32 ounces
Item model number: SKU_AM_PRTE
Handling

We will ship all orders within 2 business day of payment.

Delivery

We Do Not Ship Outside of the Continental US.

Return Policy

All items qualify for returns within 30 days of receipt. Buyer is responsible for return shipping on any item that is not damaged. If there is anything wrong with a item please contact first us through ebay message and we will provide you a prepaid return label to send item back for a full refund.

Feedback

We take our reputation seriously, we buy and sell online, so we understand the value of trust. If you are unsatisfied with your order, please contact us and we will work with you to resolve it to your satisfaction.
Filed under: Eyepieces & Accessories