Current Price: $121.99
Buy It Now Price: $121.99
Bids: 0

Astromania 9x50 Angled Finder Scope with Upright and Non-reversed Image, Black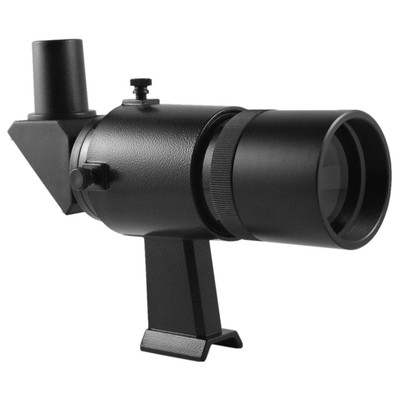 Product Details
Size: 9x50 Angled (upright and non-reversed image)
Brand: Astromania
MPN: SKU_AM_FSA9X50

Product Dimensions: 9.8 x 3.5 x 6 inches
Item Weight: 1.07 pounds
Shipping Weight: 1.49 pounds
Item model number: SKU_AM_FSA9X50
9x50 finder scope with 50mm objective lens diameter, brighter DSOs directly visible.
Makes a large number of aditional stars available - a big plus for being able to successfully locate objects.
Enjoy both a comfortable 90 viewing angle and an upright, non-reversed image. An integrated prism displays objects in a similar way to that with binoculars or spotting scopes. This finder scope makes using a star map much easier, and you can observe near the zenith at a completely relaxed angle.
The achromatic optics provide a bright, true-to-life image at 9x magnification. In addition, the optical surfaces have been multi-coated to prevent irritating reflections.
Folder fits onto most telescopes, easy focusing at the objective lens. Adjustment of finder scope alignment via two screws and spring.
Size:9x50 Angled (upright and non-reversed image) This finder scope has a 50mm
aperture, and so provides a particularly bright image. Objects which you are
not even able to see using just the naked eye will usually become directly
visible. Also, if you are trying to locate one of the brighter DSOs, this will
no longer be able to remain hidden, giving itself up to your searching eye. A
star map with reference stars with which one can orient oneself is usually
used to find particular objects. Some of the stars shown on star maps cannot
be seen, or are difficult to see, with just the naked eye however. This finder
scope makes a large number of aditional stars available - a big plus for being
able to successfully locate objects.The Astromania 9x50 finder scope has
built-in crosshairs to let you find the correct object more easily and to put
it in the middle of the main telescope's field of view. The threads have been
kept quite fine but are still very visible against the night sky nevertheless.
Two adjustment screws and a compression spring allow very rapid alignment with
the main telescope. Precise focusing can be achieved by rotating the objective
lens. The finder scope will fit into a large range of holders: Skywatcher,
Celestron, Vixen, Orion, GSO and many other makes have compatible finder scope
shoes.

Filed under: Eyepieces & Accessories