Current Price: $85.89
Buy It Now Price: $85.89
Bids: 0

Astromania Accessory Kit Telescope Fully-coated eyepieces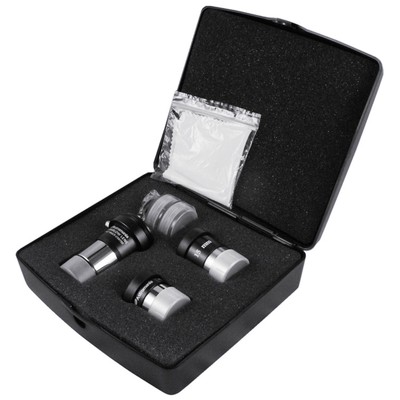 Product Details
Size: 1X Power Lens; 2X Eyepieces; 3X Filters
Brand: Astromania
MPN: SKU_AM_AKTF
EAN: 6970019295282

Product Dimensions: 7.6 x 3.1 x 7.5 inches
Item Weight: 15.7 ounces
Shipping Weight: 1.2 pounds
Item model number: SKU_AM_AKTF
Fully-coated eyepieces for higher magnification, 2x Power Lens will double the magnification of any eyepiece used with it.
2x Power Lens features t-threads to attach a camera to your telescope with optional t-ring (Not Included).
80A Blue Planetary Filter; 25 Red Planetary Filter; Moon Filter. Planetary filters enhance details on Jupiter, Saturn, Mars and Venus, moon filter allows detailed views of the Moon especially during the brighter phases.
15 mm Kellner Eyepiece; 6 mm Plossl Eyepiece, carrying case fits all of the included items in the die-cut foam interior.
Micro fiber cloth safely cleans optics without scratching or leaving residue.
Size:1X Power Lens; 2X Eyepieces; 3X Filters This kit may be used with any
telescope that accepts 1.25" eyepieces and filters. It features 2 fully coated
eyepieces; a 15 mm and a 6 mm Kellner. The 15 mm eyepiece will give a medium
power but a wider field of view, while the 6 mm is higher power but gives a
narrower field of view. There is a 2x doubling lens that will double the
magnification of any eyepiece. The doubling lens has a built-on T-thread
allowing a camera to be attached (t-ring required)Filters are a great
enhancement for lunar and planet viewing. They reduce glare and increase
contrast, definition and resolution. The colored filters are anti-reflection
coated. The Blue Planetary Filter (80A Light Blue 30% T) will improve the
seeing of Jupiter's Great Red Spot, give the polar ice caps of Mars more
clarity and enhance the contrast between the belts and zones of Saturn. The
Red Planetary Filter (25 14% T) will bring out the beauty of Venus during
daylight and Mercury at twilight by minimizing the brightness of the blue sky.
The Moon Filter reduces the brightness of the moon and improves contrast
allowing greater detail to be observed. The clear aperture of the Moon Filter
is 21 mm and the transmission is about 18%.Cleaning Cloth and Case: Keep the
micro-fiber cleaning cloth stashed in your Accessory Kit case so that it will
always be handy. It's much better to use a micro-fiber cloth on your optics
than other wipes or tissue, as it does not leave a residue, and can be reused.
Remember to blow or brush any dust particles off of your optics before rubbing
them with the cloth.The black plastic carry case has die-cut foam inside to
protect and cushion your accessories. Keep each one in its appointed place
when not in use and you'll keep them looking and performing like new.

Filed under: Eyepieces & Accessories