Current Price: $345.72
Buy It Now Price: $345.72
Bids: 0

Astromania Deluxe Guide Scope Mount - Quickly and Easily Mounting Your Guide Scope onto Your Main Telescope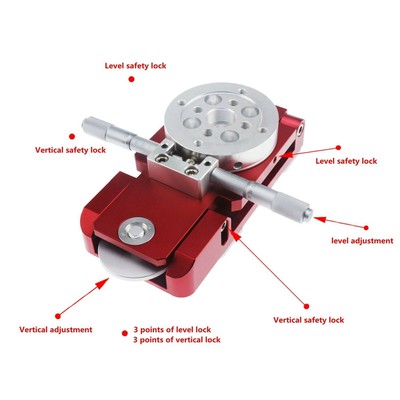 Description
Size:Deluxe Guide Scope Mount The Astromania Deluxe Guide Scope Mount provides
a way of quickly and easily mounting your guide scope onto your main
telescope. Features full alt-azimuth control for quick and precise alignment
of guidescope. Simply attach this compact component to the piggyback mount of
your telescope and you have a parallel mounting for your guide scope. Not only
that, but it lets you finely adjust the small second telescope in altitude and
azimuth. Have you ever wanted to be able to mount the guide scope onto another
telescope without the bother of having to adjust a lot of screws? This becomes
easily feasible if all your telescopes have a standard piggyback mount for
cameras. The ultra strong and stable Guidescope Mount can be used with
"Astromania Premium Dovetail Clamp for Telescopes and Cameras -
B072BRSB86" for the quick-release attachment/detachment. Technical
parameter: level adjustment: 15 Vertical adjustment: 5 Carrying capacity: 15KG
Dual device compatible mode Locked completely with 6 points to ensure perfect
rigidity and stability Packing list: Deluxe Guide Scope Mount 1 Helical micro
rod 2 M6 screw 4 Allen key 3
Features:
Features full alt-azimuth control for quick and precise alignment of guidescope. An extremely robust and practical unit.It is just as easy to locate a suitable guide star as when using guide scope rings.
Precision fine adjustment - finely adjust the small second telescope in altitude and azimuth and the fine adjustment is also easy to operate in the dark.
A practical replacement for guide scope rings for compact guide scope, provide a way of quickly and easily mounting your guide scope onto your main telescope.
Level adjustment: 15; Vertical adjustment: 5; Carrying capacity: 15KG; Dual device compatible mode; Locked completely with 6 points to ensure perfect rigidity and stability. Packing list: Deluxe Guide Scope Mount *1; Helical micro rod *2; M6 screw *4; Allen key *3.
Product Details:
Product Dimensions: 6.8 x 6.8 x 4.2 inches
Item Weight: 2.13 pounds
Shipping Weight: 2.31 pounds
Item model number: SKU_AM_DGSM
Handling

We will ship all orders within 2 business day of payment.

Delivery

We Do Not Ship Outside of the Continental US. All international Items Will be shipped via eBay Global Shipping Program.

Return Policy

All items qualify for returns within 30 days of receipt. Buyer is responsible for return shipping on any item that is not damaged.

Feedback

We take our reputation seriously, we buy and sell online, so we understand the value of trust. If you are unsatisfied with your order, please contact us and we will work with you to resolve it to your satisfaction.

Filed under: Eyepieces & Accessories