Current Price: $13.50
Buy It Now Price: $13.50
Bids: 0

Astromania Deluxe Solar Filter 80mm Adjustable Metal Cap for Telescope Tubes with Outer Diameter from 50mm to 72mm Aperture 55mm - Immediately Start Solar Observing and Our Sun Becomes Within Reach
The sun is our central star, from which we live. That alone should be reason enough to observe it even more closely. The new Astromania solar filters let you do that easily and above all safely and are specially tailored to your telescope.Do you want a solar filter which does not involve any DIY? One which you can simply push onto the end of your telescope and immediately start solar observing? Then an Astromania solar filter is the perfect choice - they come fully assembled in an anodized aluminium mount. Which means you simply attach it and our Sun immediately becomes "within reach".Our complete line of Safety Film Solar Filters feature renowned Baader AstroSolar Safety Film in a sturdy, clear-anodized aluminum cell. The high-quality polymer film material is metallized on both sides with an ion-deposited coating to form a safe barrier against all but 0.0001% of incoming sunlight to provide a clear, crisp view while rejecting harmful ultraviolet and infrared radiation. With exceptional resolution and superior contrast compared to Mylar and other solar filter materials, Astromania Solar Filters display a natural, neutral white view of the Sun's surface, without artificial tinting. Once attached to a telescope, these filters provide sharp, scatter-free views of sunspots, solar eclipses, planetary transits, solar granulation, and even white filamentary faculae - the latter of which cannot be seen with most other solar filters. Due to their neutral color balance, Astromania Safety Film Solar Filters can be used in tandem with various color eyepiece filters to accentuate certain spectral passbands for telescopic studies of different layers within the solar "atmosphere".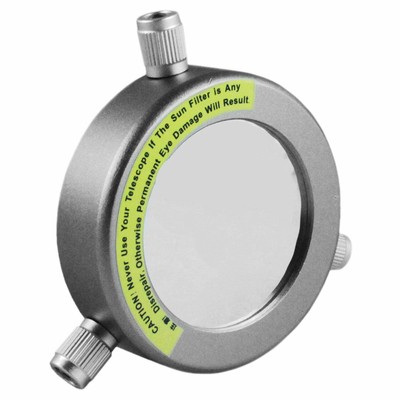 Features
A must-have to safely observe the sun without damaging your eyes - optical filter fits snugly over your telescope's aperture to block 99.9% of incoming sunlight.
This filter features an inside diameter of 55mm - it is designed to fit optical tubes with an outer diameter of 50mm to 72mm,the outer diameter of filter is 80mm.
The solar filter meets ISO 12312-2: 2015 and Amazon has verified the security. Explore the Sun safely through a telescope with this high-quality solar filter featuring Baader AstroSolar film in a sturdy aluminum cell.
Three clamping screws with protective plastic caps - ensure a perfect fit and are also gentle on your telescope,attaches directly - filter in anodized aluminium mounting.
NOTE: (1)Never Use Your Telescope If The Sun Filter is Any Disrepair, Otherwise Per-manent Eye Damage Will Result.(2)Because of the larger diameter, some solar filters may have wavy line on the film which will not have any effect for observation.
Details
Product Dimensions: 4.803149606 x 1.181102362 x 4.37007874 inches
Item Weight: 0.26 pounds
Shipping Weight: 0.27 pounds
Manufacturer: Astromania
Domestic Shipping: Item can be shipped within U.S.
Item MPN: SKU_AM_DSF80
Item part number: SKU_AM_DSF80
Fast and Free Shipping
You're already purchasing the item. Why pay additional for shipping, especially slow shipping? We get your order shipped out within 3-business day and delivered to your doorstep as quickly as possible.
Competitive Pricing
With our dynamic pricing model, our prices are always competitive. Our prices are some of the lowest that you will find on the internet. Rest assured that you're getting a good deal when purchasing with us.
30-day Money Back Guaranty
We are committed to making sure that you leave this transaction satisfied. If you're unhappy with the product for any reason, you may return it back for your money-back or a replacement within 30 days. No questions asked!
Filed under: Eyepieces & Accessories