Current Price: $20.99
Buy It Now Price: $20.99
Bids: 0

Astromania T-ring and M42 to 1.25" Telescope Adapter (T-mount) for Nikon SLR/DSLR Cameras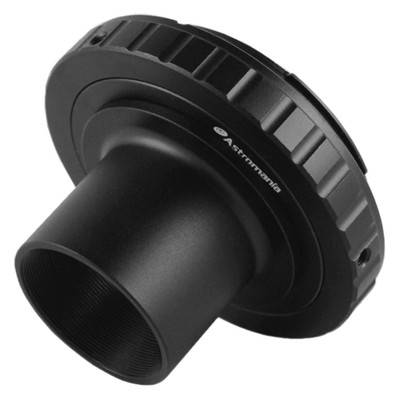 Product Details
Size: T-ring Set for Nikon DSLR/SLR
Brand: Astromania
MPN: SKU_AM_TRCEM42

Product Dimensions: 2.6 x 2.6 x 0.8 inches
Item Weight: 1.76 ounces
Shipping Weight: 5.6 ounces
Item model number: SKU_AM_TRCEM42
Make sure this fits. by entering your model number.
Useful accessories allows you to attach your Nikon Cameras to the 1.25inch eyepiece diameter telescope.(Fits Nikon D90, D80, D70, D60, D50, D40x, D40, D800, D700, D600, D300s, D300, D200, D100, D7000, D5200, D5100, D5000, D3200, D3100, D3000, D4, D3x, D3s, and all Nikon SLR Cameras).
With T-ring, you can use M42 Lenses on your camera. Inner ring can be rotated to ensure lens is always right way up.
Having the right equipment to shoot art-gallery images of the heavens starts with the right telescope, camera and camera adapter, and ends here.
All metal construction and anodizing aluminium process, durable for long time use.Threaded for standard 1.25- inch astronomy filters.
Brand new Nikon Camera Adapter for telescope with standard 1.25inch Eyepiece Ports,easy and smooth for you to use.
Size:T-ring Set for Nikon DSLR/SLR This set contains a T-ring for Nikon
Cameras and a 1.25" to M42 T-mount. They are made of high-quality material,
durable for long time use. It is very easy to use: 1. Connect the T-ring mount
and T-Mount by M42 threads. 2. Assemble the set to your Nikon camera. 3.
Connect the camera with the set to the telescope by 1.25" (31.7mm) excircle on
T-mount. Tighten the screws on the 1.25" adapter. Make sure they are locked
and safe. 4. Put on the camera and calibrate focal length te get a clear
image. Package Include: 1 T-ring for Nikon SLR/DSLR; 1 1.25"-M42 T-mount.

Filed under: Eyepieces & Accessories