Current Price: $26.99
Buy It Now Price: $26.99
Bids: 0

Celestron 1.25" Mars Observing Eyepiece Filter, Get Ready to See Mars!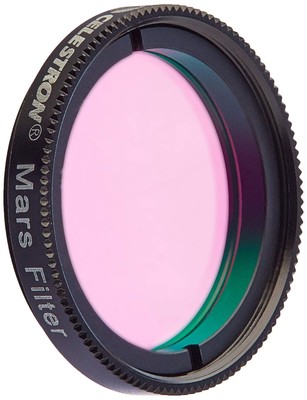 Product Details
Style: Mars Observing Eyepiece Filter
Brand: Celestron
MPN: 94310

Product Dimensions: 3 x 3 x 1 inches
Item Weight: 1.6 ounces
Shipping Weight: 0.96 ounces
Item model number: 94310
Make sure this fits. by entering your model number.
Premium glass mars filter with multiple coatings to maximize light transmission in specific wavelengths to bring out subtle details in the Martian surface
Metal filter housing for durability
Bonus mars opposition observing guide included
Style:Mars Observing Eyepiece Filter Celestron's Mars filter combines the
advantages of red and blue filters in a single filter to bring out a wealth of
detail while allowing maximum light transmission for brighter views. This high
quality glass filter contains multiple coatings to maximize light transmission
in specific wavelengths, bringing out incredible detail of the Martian
surface. Eyepiece filters reduce glare and light scattering, increase contrast
through selective filtration, increase definition and resolution, and lessen
eye FATIGUE. To attach the filter onto an eyepiece, simply thread the male
thread on the filter into the bottom of the eyepiece barrel. Then insert the
eyepiece (with filter attached) into eyepiece holder of your telescope. Get
ready to see Mars in incredible detail. Observe Mars this summer as the planet
will be noticeably brighter from early july through early September (july 7th
to September 7th). the best night to view Mars is july 28, 2018. The last time
Mars was this close to the Earth and this bright in the night sky was the
opposition of 2003. The next opportunity like this won't come around until
2050. This is a perihelic opposition, which means both Earth and Mars are
close to the sun, making conditions ideal for astrophotography. At opposition,
Mars will be 1.8 times brighter than Jupiter and the 4th brightest object in
the sky after the sun, the Moon, and Venus. At its closest approach to Earth
on july 31, Mars will be 35.8 million miles from US.
Filed under: Eyepieces & Accessories