Current Price: $17.57
Buy It Now Price: $17.57
Bids: 0

Celestron 21024-ACC FirstScope Accessory Kit (Black)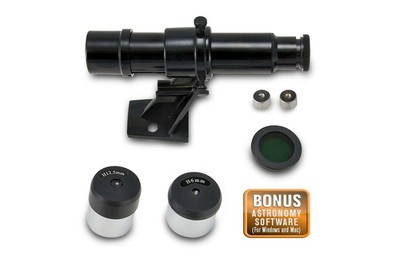 Description
If you have a Celestron FirstScope telescope and want even more versatility
and portability, take a look at the Celestron FirstScope Accessory Kit! It
includes six separate pieces that will enhance your observations and help you
learn even more about the Universe. Get Help Finding Objects When you are
observing something big, like the Moon, it is fairly easy to point your
telescope along its line of sight and get that object in your eyepiece.
However, smaller objects are much easier to locate in your telescope if you
have a finderscope to help do the work. This 5x24 finderscope and bracket is
made to attach to the FirstScope without tools. It magnifies the view by 5X
and has optics 24mm in diameter. Once you have attached the finderscope to
your telescope tube and have done some simple alignments, you will be able to
point with the finder instead of the telescope itself. Choose Your
Magnification Anyone who has a telescope will tell you that you can't have too
many eyepieces. Every eyepiece offers a different magnification and a
different field of view. In the FirstScope Accessory Kit, you will get two
1.25" eyepieces. One is a 12.5mm model, and will magnify objects 24X more than
your eyes alone can see. The second eyepiece is a 6mm, and will boost the
power even further, to 50X. Remember, the lower the number of the eyepiece,
the higher the magnification! See More Detail on the Moon The Moon is
beautiful, but it is bright, especially when full. A Moon Filter works the
same way sunglasses do for your eyes on a bright, sunny day. The filter lowers
the amount of light reaching your eye, and allows it to relax and see details
that would not be visible in an unfiltered view of the Moon due to glare. The
Moon Filter screws onto the barrel of all of your 1.25" eyepieces, giving you
a choice of filtered magnification. (Note: Do not use the Moon filter for
solar observation.) Learn More About the Sky Starry Night Basic Edition is
included in the FirstScope Accessory Kit. The software can be downloaded on
your PC (Windows 7, XP, and Vista) or Mac (10.4.8 or later) computers. Learn
the constellations, print out star charts for an upcoming observing session,
and learn how to identify planets and stars, and more! Store & Carry Your
Telescope Easily When your FirstScope telescope and accessories are not in
use, store them in this nylon tote bag! Having everything together in one
easily-identifiable carry bag will make it even quicker to grab your telescope
and get outside to see the latest comet, bright, shining planet, or lunar
eclipse!
Features:
Get extra enjoyment out of your Celestron FirstScope Telescope!
Kit includes a Moon filter and two eyepieces with 24X and 50X magnification
The 5x24 finderscope makes locating objects much easier
Take your FirstScope telescope anywhere with the nylon carry bag
Learn more about the night sky with BONUS Astronomy Software download
Product Details:
Product Dimensions: 6 x 2 x 5 inches
Item Weight: 12 ounces
Shipping Weight: 12 ounces
Item model number: 21024-ACC
Handling

We will ship all orders within 1 business day of payment.

Delivery

We Do Not Ship Outside of the Continental US.

Return Policy

All items qualify for returns within 30 days of receipt. Buyer is responsible for return shipping on any item that is not damaged.

Feedback

We take our reputation seriously, we buy and sell online, so we understand the value of trust. If you are unsatisfied with your order, please contact us and we will work with you to resolve it to your satisfaction.

Filed under: Eyepieces & Accessories