Current Price: $24.79
Buy It Now Price: $24.79
Bids: 0

:: eBay Listing Template ::
Celestron 51630 Star Pointer Telescope Finderscope, Black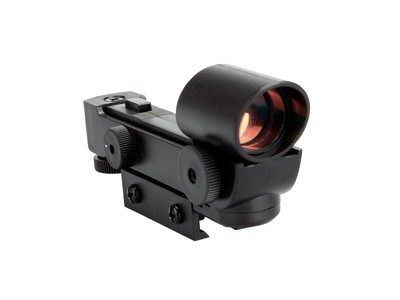 Product Description
The Celestron Star Pointer Finderscope is the way to go if you want the
easiest way possible to locate an object and center it in your eyepiece. A red
dot finder, unlike an optical finder, has 1x magnification, displays a super
wide field of view, and keeps the sky right side up and left-to-right correct,
matching what you see with your unaided eyes. An LED creates a red dot,
superimposed on a viewing screen, so you simply point the Star Pointer to the
area or object you wish to observe, look through your eyepiece, and if
properly aligned, the area in and around place you pointed the red dot will be
centered in the field of view. If you like the idea of having some
magnification, try installing both a red dot and optical finder on your
telescope. Schmidt-Cassegrain and EdgeHD telescopes have multiple mounting
bracket holes so you can get the best of both worlds. Just make sure to align
both of them correctly, and you'll get the best use out of each of your
finders. How to Align the Star Pointer Finderscope The first time you use your
finder, you need to align it. This one-time setup procedure should be done
during the day. Take the telescope outside and find an easily recognizable
object, such as a streetlight, car license plate, or tall tree. The object
should be as far away as possible, but at least a quarter mile away. Move the
telescope left and right or up and down so that it is roughly pointing at the
object. Look through the telescope using your low power eyepiece and move the
telescope until the object you chose lies in the center of the view. Once the
object is centered in your eyepiece, turn on the red dot. With your head
positioned about a foot behind the finder, look through the round lens of the
finder and locate the red dot. Without moving the telescope, use the two
adjustment knobs located on the side and underneath the finder. One controls
the left-right motion of the dot. The other controls the up-down motion of the
dot. Adjust both of these until the red dot appears over the same object you
are observing in the eyepiece. Your finder is now aligned and should not
require realignment unless it is bumped or dropped. You can even take the
finder off the telescope and reattach it while preserving alignment.
Product Features
Product Dimensions: 6.1 x 2.8 x 1.6 inches
Item Weight: 8 ounces
Shipping Weight: 6.4 ounces
Item model number: 51630
Batteries: 1 Lithium Metal batteries required. (included)
The Star Pointer Finderscope adds point and look functionality to any telescope!
This red dot finder keeps the sky right-side up, matching what you see with your unaided eyes
The adjustable red dot is bright enough to see day or night
Attaches to just about any telescope thanks to the small footprint, even works great with astronomical binoculars and spotting scopes
Includes mounting base and a long-lasting CR2032 3V battery
Additional information
Shipping
Payment
Returns
About Us
Terms & Conditions
Shipping
We ship with all professional carriers and pride ourselves on punctuality.
Payment
We accept PayPal and all major credit/debit cards. Once checkout is complete is you will have the option to select payment method.
Returns
We are happy to cover postage costs for faulty or incorrect items so long as they are reported within 5 days of delivery. If you have simply changed your mind you will be required to pay postage. We do not accept returned items in used or unoriginal packaging.
About Us
Pacific Fantastic is a diverse store and we pride ourselves on originality, good taste, and customer satisfaction. Please take a look at what we have to offer and enjoy!
Terms & Conditions
Our customers are number one, always. Your Positive Feedback is very important to us so if we have made an error please communicate with us and we will happily correct it. We are only human so please be patient and speak with us before leaving negative feedback. We do everything possible to make you happy with your purchase. Thank you very much.
Filed under: Eyepieces & Accessories