Current Price: $2149.00
Buy It Now Price: $2149.00
Bids: 0

VISIT OUR EBAY STORE
Celestron Advanced VX 8-Inch EdgeHD SCT GoTo Telescope with Accessory Bundle
Condition: Brand New in Original Packaging
SKU: ACEL12031MARSK1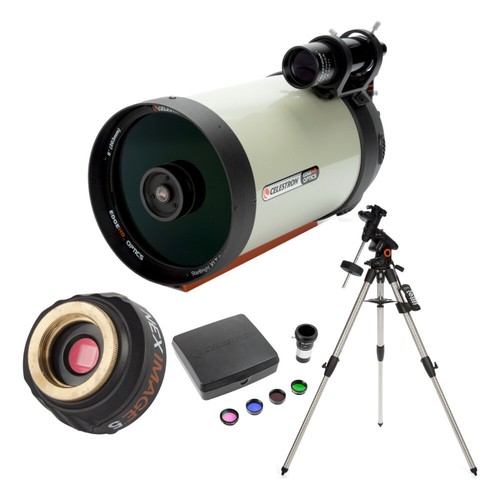 What's in the Box
Celestron EdgeHD 8-Inch SCT (CG-5) Optical Tube Assembly

9x50 Finderscope
1.25-Inch Mirror Diagonal
40 mm Plössl 1.25-Inch Eyepiece
CG-5 Dovetail Rail
Two Year Warranty

Celestron Advanced VX GoTo Mount
Celestron NexImage 5MP Solar System Imager
Celestron Deluxe Mars Observing Accessory Kit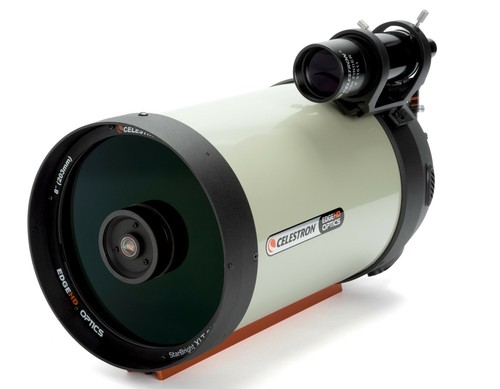 Celestron EdgeHD 8" SCT (CG-5) Optical Tube Assembly
The night sky has always fascinated individuals and with good reason. The heavens are teeming with life, but sadly, most of it is not visible to the naked eye. Now with the study of Astronomy and the invention of telescopes, the moon, stars and planets are all within reach. With the right instruments, there's no telling what you might see.
See the Universe in HD
The Celestron EdgeHD 8" SCT (CG-5) Optical Tube Assembly is an aplanatic, flat field Schmidt-Cassegrain telescope that produces aberration-free images across a wide visual and photographic field of view. The optical system was designed to reduce more than just off-axis star coma; it also provides an astrograph-quality flat focal plane all the way to the edge of the field of view. The EdgeHD OTA has an 8" aperture with a focal length of 2032 mm. It comes with a 40 mm Plössl 1.25" eyepiece, a 9x50 finderscope, and a 1.25" mirror diagonal for more comfortable viewing.
True Quality
Many optical designs that advertise themselves as "astrographs" actually only produce pinpoint stars across a curved focal plane. While this may be acceptable for some visual observing, stars will appear out of focus at the edge when used with the flat chip sensor of a digital camera. EdgeHD optics produce a focal plane more than three-times flatter than a standard Schmidt-Cassegrain telescope and dramatically flatter than competing coma-free designs. This guarantees you visibly sharp stars across some of the largest CCD chips available today.
Improved Performance
Superior edge performance not only creates rounder, more pleasing stars, but actually improves the resolution and limiting magnitude when compared to telescopes of equal aperture. With Celestron's StarBright XLT optical coatings on every surface, EdgeHD optics gives you maximum light throughput across the widest visual and photographic spectrum.
Mechanical Features
In addition to EdgeHD's optimized optical design, the telescope tube has been redesigned to make sure you get the most from your optics each and every night. Mirror clutches, tube vents and Fastar versatility are just three examples of EdgeHD's newest features.
Flexible tension clutches hold the mirror in place and reduce image shift when taking long exposure astro-images. Once focused, the flexible rods allow the mirror to be held in place without putting any force or pressure on the mirror assembly, keeping the image centered in the eyepiece (or on the sensor).
Cooling vents located on the rear cell allow hot air to be released from behind the primary mirror. Each vent has an integrated 95-micron micromesh filter guaranteed to let warm air out without letting dust in.
EdgeHD is the most versatile imaging telescope available today. At its native f/10, you can achieve the image scale necessary to capture the smallest of deep sky objects. Add the optional reducer lens—custom-designed for your size EdgeHD tube—and you can increase your field of view without sacrificing optical performance. A Barlow gives you added power for high-resolution planetary, lunar and solar imaging. All EdgeHD optical tubes are Fastar-compatible, allowing the secondary mirror to be removed and replaced with a third party lens accessory for ultra-fast f/2 wide field imaging.
Individually Tested
Every EdgeHD that ships has been tested not only for the surface quality of each optical component, but also with a camera and artificial star to ensure the imaging system meets Celestron's rigid quality assurance. This "final acceptance test" confirms the EdgeHD will perform in the field and deliver high-quality astroimages.
8" aperture with a focal length of 2032 mm
Aberration-free images across a wide visual
Astrograph-quality flat focal plane
Visibly sharp stars across large CCD chips
Improves the resolution and limiting magnitude
StarBright XLT optical coatings on every surface
Flexible tension clutches hold mirror and reduce image shift
Cooling vents release hot air from behind the primary mirror
Versatile imaging telescope available today?
Celestron EdgeHD 8" SCT (CG-5) Optical Tube Assembly

8" EdgeHD Optical Tube Assembly
9x50 Finderscope
1.25" Mirror Diagonal
40 mm Plössl 1.25" Eyepiece
CG-5 Dovetail Rail

Two Year Warranty

Celestron Advanced VX GoTo Mount
Engineered from the ground up with astroimaging in mind, the new Advanced VX series from Celestron sets a new standard in mid-level telescopes. Advanced VX provides you with many of the features found on Celestron's most sophisticated German equatorial mounts, at an extremely affordable price. Experienced imagers will love taking this portable mount to a dark sky site, with all the performance of their larger observatory mount. Or, if you're new to imaging, this mount will help you get started with the hobby and keep up with your needs for years to come.
Design
Celestron's Advanced VX Mount is an integrated telescope support, alignment and guiding system and was specifically designed to provide optimum imaging performance for smaller telescopes. The mount holds a maximum instrument capacity of 30 lbs. This mount packs some of the features found on more sophisticated German Equatorial mounts, minus the added bulk or cost. Now your smaller telescope can take advantage of All-Star Polar Alignment and autoguider support. Advanced VX features significantly larger base castings than the previous design, improving stability under heavier loads.
Motors
To enhance tracking performance, the mount features permanently programmable Periodic Error Correction (PEC). PEC eliminates recurring track errors from the worm gear to prevent trailing and improve photographs. You'll also be able to track through long exposures using the PEC. The Advanced VX improved motors offer more torque and can handle slight load imbalances with ease.
Features
An updated industrial design offers more rigidity, less flexure and improved aesthetics. The new design allows viewing or imaging across the meridian without interference from the motors housings, so you can seamlessly image the best part of the night sky. With the enhanced latitude range, the telescope can be used between 7 – 77° latitude allowing for a larger range of view. The improved electronics contain increased memory for future expansion. The mount has an adjustable stainless steel tripod and a 12 lb. counterweight for extra stability.
Technologies
Start observing celestial objects with the push of a button on the NexStar+ Hand Control. It's pre-loaded with a huge database of over 40,000 celestial objects. Automatically slew to objects in a variety of catalogs, including the Messier, NGC, Caldwell, and SAO brightest stars. NexStar+ hand control offers multiple language programming (English, French, Italian, German, Spanish). For enhanced pointing and tracking accuracy, the mount features Celestron's All-Star Polar Alignment. This system uses multiple guide stars to assist tracking across the night sky while keeping the optical tube parallel to the Earth's axis of rotation.
Observers and astroimagers will be impressed by the seamless operation the Advanced VX SkyAlign function. It makes computerized aligning of the telescope fast, easy, and accurate--simply point at any three bright objects in the sky and the telescope aligns itself. Navigation and tracking of the night's sky is as easy as pushing a button once the telescope is precision aligned.
Maximum instrument capacity of 30 lbs
Large base castings
Improved stability under heavier loads
PEC eliminates recurring track errors from the worm gear
Motors offer improved torque and tracking performance
More rigidity, less flexure and improved aesthetics
Allows viewing or imaging across the meridian
Can be used between 7 – 77° latitude
Adjustable stainless steel tripod
Features NexStar+ and All-Star Polar Alignment
Celestron Advanced VX GoTo Mount

Advanced VX Computerized Mount
Adjustable Stainless Steel Tripod
1 x 12 lbs. Counterweight
NexStar+ Hand Control

Two Year Warranty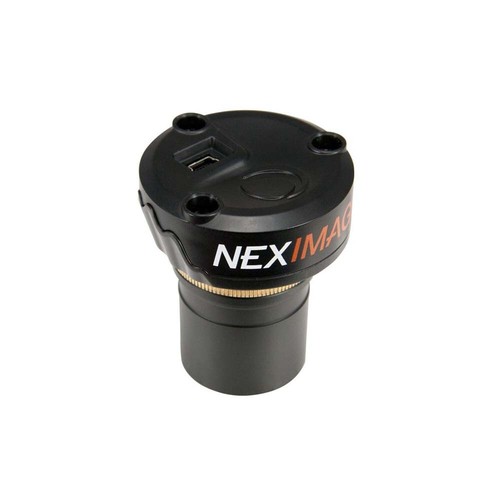 Celestron 93711 NexImage 5MP Solar System Imager
With the Celestron NexImage 5 Solar System Imager, you can capture high
resolution planetary, lunar and solar images. The 5MP color sensor features Micron DigitalClarity to reduce noise levels significantly. It produces detailed videos with amazing detailed imagery that can compete with higher priced astronomical cameras. If you can see the celestial object you can see in the sky, you can easily image it wuth the NexImage 5!
Key Features:

5 Mega pixel color sensor with Micron DigitalClarity technology to dramatically reduce image noise levels
Software automatically filters out video frames most affected by poor atmospheric conditions, leaving only the sharpest, clearest frames to be stacked and aligned into one high-quality image
View and capture live video on your computer
Manually adjust gain, contrast, exposure time, frame rate and color saturation using your PC
Machined aluminum 1.25" adapter barrel with C-threads for direct threaded connection to almost any telescope
Specifications:

Mounting: 1.25" barrel nose piece
Chip: 1/2.5" format, color CMOS Sensor
Camera Resolution: 5MP - 9 different settings to choose from ranging from 640x480 to 2592x1944
Sensor Size: 5.7mm x 4.28mm (7 mm diagonal)
Pixel Size: 2.2 micron square
Sensitivity: .53 V/ lux-sec (@550nm)
USB Connection: High-Speed USB 2.0 cable
Frames per Second: 6.23 to 52.37 at the lowest resolution, 0.71 to 5.99 at the highest resolution
Redundant w/Exposure Range: 1/10000 to 30 seconds
5 Megapixel Color Sensor
Software Automatically Filters out Bad Video Frames
View and Capture Live Video On Your Computer
Manually Adjust Grain, Contrast, Exposure Time, Frame Rate & Color Saturation via PC
Machined Aluminum 1.25" Adapter Barrel with C-threads
Connects to Almost Any Telescope
Celestron Neximage 5MP Solar System Imager
USB 2.0 Cable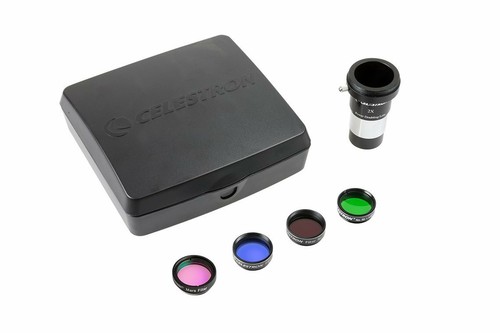 Celestron Deluxe Observing Accessory Kit
Mars, Jupiter, Saturn, the Moon and more, you won't be able to get enough out of this awesome Deluxe Mars Observing Accessory Kit. With the ability to see views that'll blow your mind out of this world, this kit is a must in every budding astronomers telescope bag.
2X Power Doubling Lens
The 2x Power Doubling Lens doubles the magnification of any eyepiece that is used with it. The lens goes in between the telescope and the eyepiece you are using. In addition, this lens also features integrated T-threads that allow you to attach your DSLR camera to your telescope for high magnification lunar and planetary photography. (Note: to take advantage of this feature, you will need to purchase an optional T-ring that fits your specific camera body and thread it onto the T-adapter. Celestron offers Canon and Nikon T-rings.)
Applications
Eyepiece filters reduce glare and light scattering, increase contrast through selective filtration, increase definition and resolution, and reduce eye fatigue. These filters are designed to fit any Celestron 1.25" eyepieces. To attach the filter onto an eyepiece, simply thread the male thread on the filter into the bottom of the eyepiece barrel. Then insert the eyepiece (with filter attached) into eyepiece holder of your telescope.
Usage
Includes three colored filters plus a premium glass Mars filter with multiple coatings to maximize light transmission in specific wavelengths to bring out subtle details in the Martian surface. All pieces in the kit can also be used to view Jupiter, Saturn, the Moon and many other astronomical objects
#80A Light Blue Planetary - Helpful in studying surface features and polar caps.
#56 Green Planetary Filter - Excellent for increased contrast of Martian polar caps, low clouds, and yellowish dust storms.
#25 Red Planetary Filter - Reduces light from blue and green areas, which darkens the maria and oases, while lightening the orange-hued desert region. Sharpens the boundaries of yellow dust clouds.
Mars Filter - This combines the advantages of the red and blue filters above in a single filter to bring out a wealth of detail while allowing more light to pass through.
Mars Opposition
Get ready to see Mars in incredible detail. Observe Mars this summer as the planet will be noticeably brighter from early July through early September (July 7th to September 7th). The best night to view Mars is July 28, 2018. The last time Mars was this close to the Earth and this bright in the night sky was the opposition of 2003. The next opportunity like this won't come around until 2050. This is a perihelic opposition, which means both Earth and Mars are close to the Sun, making conditions ideal for astrophotography.
There is a bonus Mars opposition observing guide included for extra clarity.
Doubles the magnification of any eyepiece
Features integrated T-threads
Reduces glare and light scattering
Designed to fit any Celestron 1.25" eyepiece
Maximizes light transmission in specific wavelengths
2x Power Doubling Lens with Built-In T-Adapter
#80A Blue Planetary Filter
#56 Light Green Planetary Filter
#25 Red Planetary Filter
Mars Filter
Storage Case
Bonus Mars Opposition Observing Guide
Two Year Warranty
Shipping
Payment
Returns
Feedback
Shipping for this item is free in the Continental US Lower 48 states only. Shipping Fees include all handling & insurance.
For Domestic Shipping to the Lower 48 States: All shipping prices include shipping, handling and insurance (if necessary).
For Domestic Shipping to Alaska, Hawaii, Puerto Rico, US Territories, APO & FPO: For many items to these destinations there will be an additional shipping fee. The shipping costs may be calculated on the Shipping and Payments tab by entering your Zip Code. Free shipping is for the lower 48 only
For International Shipments: All international orders are managed through eBay's Global Shipping Program. Please see the Shipping Tab for full costs.
Hotels: Unfortunately at this time we do not ship to hotels.
Tax: Sales tax will be collected on all orders shipped to NY and NJ
Paypal: PayPal is our preferred method of payment for all of our eBay sales. For customer service please contact us through eBay Messages
Immediate payment via PayPal is required for all Buy It Now items. For all Best Offers, payment is required within 3 days. If you need special arrangements, please contact us through eBay messages. After your order has been shipped, you will receive an e-mail with the name of the carrier and the tracking number.
Returns are permitted if you are not satisfied with your purchase and must be initiated by the buyer within 30 days from delivery date.
For Domestic Purchases:
If you are not satisfied with your purchase, you may return it (see exceptions in Paragraph F below), within 30 days of receipt, for a refund or replacement - subject to the following:
a) Contact us through eBay messages or the returns link to receive a Returned Merchandise Authorization (RMA) number to ensure proper handling of the return and/or replacement.
b) In order to be eligible for a full refund, less shipping expenses, your returned merchandise must be in its original new condition, as shipped, with all packaging, manuals, and paperwork intact and unaltered. Items which have been opened are returnable, however they will carry a restocking fee.
c) Customers remain responsible for the shipping and handling expenses incurred in shipping the item to them. If an item is offered with "Free Shipping," this means we are paying the freight on your behalf. If that product is returned for a refund, the shipping expenses incurred, will be deducted from the refund. If an item is refused, the carrier bills us for shipping both ways, and these expenses incurred on your behalf need to be deducted from your refund
d) All returns are subject to inspection. Products returned must be in brand new condition, as per Paragraph b), if not, it may be deemed non-refundable or will be subject to at least a 15% restocking fee. If your return is missing accessory components, or shows signs of wear - restocking fees will be higher. For specific restocking fees that may be applicable to your return, please contact us through eBay messages.
e) Returns should be packed in an outer shipping carton, not just the original box/packing of the product. The RMA# should be clearly inscribed on the shipping label. A copy of your invoice and Order # should be included, and your return should be insured, with shipping costs pre-paid. We cannot accept any COD shipments.
f) There are product categories which are not returnable due to hygienic or sanitary as required by manufacturers. If your items is a consumable good or is has been locked by a manufacturer such as Apple or HP the return will not be accepted
For Warranty information, merchandise lost / any other issues in transit, or order cancellations, please contact us through eBay Messages. In an event where there is an error regarding a price error or description, we will notify you ASAP. In this event there will be no obligation to proceed with the purchase. Any amount charged to the customer will be 100% refunded.
For International Purchases:
Returns will be accepted within 30 days of the receipt of the item. In order to be eligible for a refund your returned merchandise must be in its original unopened condition, as shipped, with all packaging, manuals, and paperwork intact and unaltered. Items removed from their 'blister-pack' display packaging are non-refundable.
International Buyers must pay return shipping via the same method originally shipped.
We strive for every transaction to be five stars!
Please let us know how we can make yours a five-star rated one too!
Our goal is to make sure you are customer 100% satisfied with your order. When you receive your order take a minute to leave us positive feedback at eBay. If you are not satisfied with any part of our service we please contact us to allow us correct the problem, prior to leaving your feedback. Please send us a message through eBay and let us know how we can earn your 5 stars!
If you have any questions or comments, please contact us through eBay message.
Tagged with: Amateur Astronomy • astronomy • telescope
Filed under: High-End Telescope Auctions (USA)