Current Price: $199.99
Buy It Now Price: $199.99
Bids: 0

~ NEW ~
Celestron
Astro Fi Computerized GoTo Mount
Complete Mount

W E S H I P F A S T
ONLY $199.99 ! ! !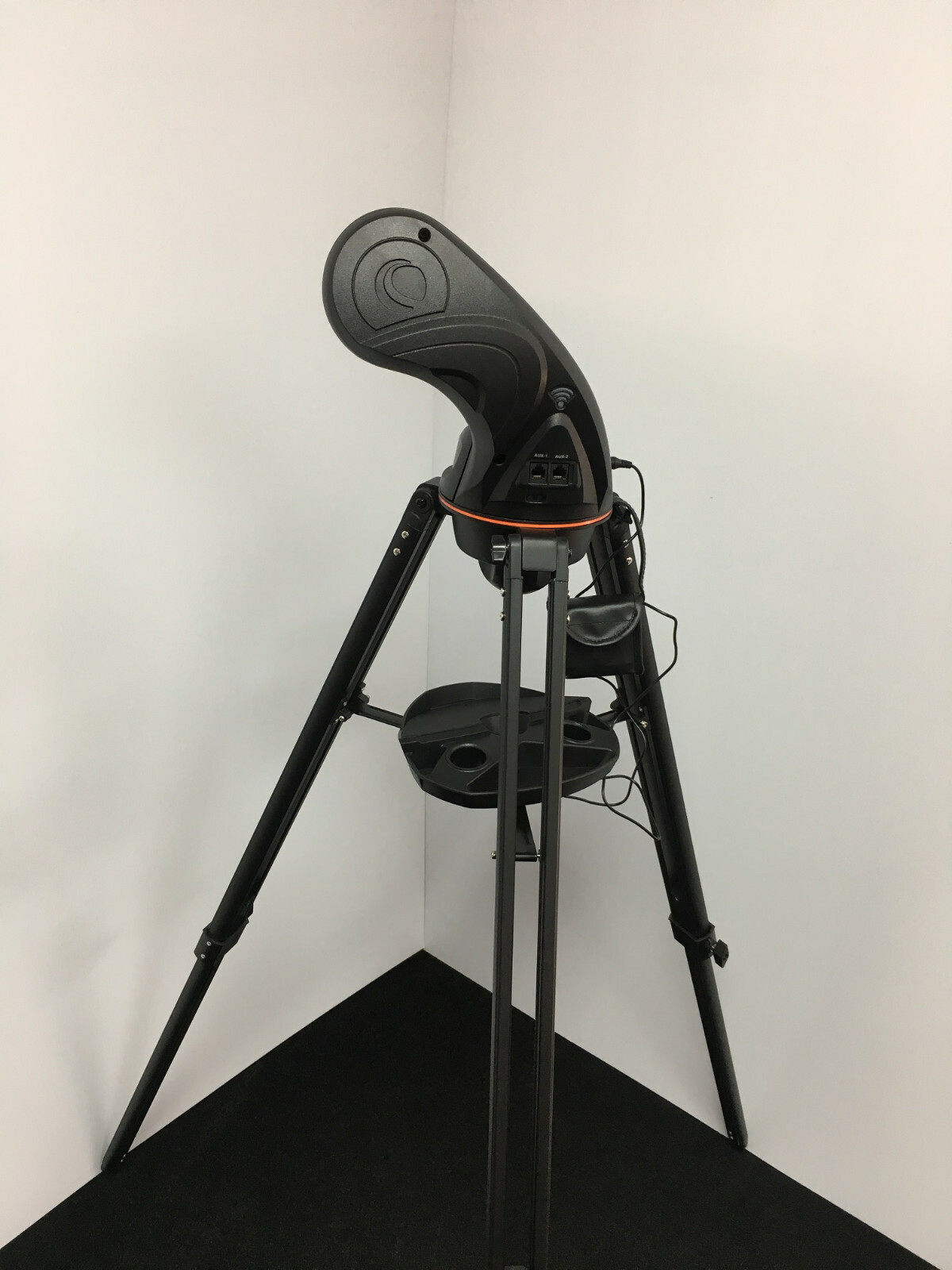 T R I P O D I S I N C L U D E D
This Celestron computerized mount head is designed for a wide variety of small telescopes. Great mount for short telescopes like 102mm (or smaller) Schmidt-Cassegrains and Maksutov-Cassegrains, short tube refractors up to 102mm, and short tube reflector up to 130mm.Payload capacity of this mount is eight pounds.
The length of the support arm is too short for C6, C8, C9.25 and C11 telescopes. Therefore this mount head will not work with C6, C8, C9.25 or C11 telescopes.

The Astro Fi is a computerized alt-azimuth mount perfect for terrestrial and celestial viewing on the go.
Setting up this mount is a breeze and will have you observing in no time. Even on your first time out, you can assemble the mount and download SkyPortal app in just a few minutes. The adjustable tripod legs allow you to customize the telescope's height to your liking. The mount weighs just 11 pounds, making it perfect for impromptu observing sessions or transporting wherever life's adventures take you.

Computerized Alt-Azimuth
Take in the sky with the computerized alt-azimuth mount. This straightforward design allows a telescope to move in all directions.
Integrated WiFi & Celestron's SkyPortal App
Control your telescope using your smart device. The Astro Fi series emits its own wireless connection to Celestron's SkyPortal app to provide easy remote observing. Celestron's SkyPortal app replaces the traditional telescope hand control for a 100% wireless experience. Scan the sky for an object you would like to view, tap the object in SkyPortal and watch your Astro Fi telescope automatically slews to the object. While observing, SkyPortal provides information on the object; it's never been more fun to explore the universe! Due to the amount of information SkyPortal has to offer, we recommend downloading the app before going out to observe.
SkyAlign Technology
Getting ready to observe is quick and painless thanks to Celestron's award-winning SkyAlign technology. Center any three bright objects in the eyepiece, and your telescope calculates its position. You can even generate a Sky Tour of all the best celestial objects to view based on your exact time and location.

This mount is from a new and complete Celestron telescope package, therefore will not come in retail packaging. Exact same mount as Celestron item number 22202.
Uses any of the popular dovetail mounting bars from Celestron, Vixen, Meade, and Orion.
The adjustable legs are made of aluminum that were painted black. All of these mounts, we have sold, have paint blemishes on the legs. Celestron should not have painted the legs. Please be aware that your mount will arrive with very minor paint blemishes. If this is a problem for you please do not purchase this mount. Our company has no control over this issue.

The fine print: We do not accept returns on mounts. Ask questions before you make a
purchase. Make sure the mount you want is the mount you need. We have
the experience and selection to help you get the correct mount. This
mount is new and comes with Celestron's two year warranty. We have been
in business for over 25 years and will be here to help you if you have
any problems after the sale.
You can trust Celestron's 50 year history of making quality telescopes. This Celestron mount is not a refurb or customer return. It is new in box and you will be the first to enjoy genuine Celestron quality.
Buy with confidence!
We are an authorized Celestron distributor.
This Celestron product is new.
NOT a customer return or refurbished product.
Notice: We only ship to the address supplied by PayPal. If you want an order shipped to a different address, other than your primary PayPal address, you must add the additional address to your PayPal account before sending payment. It is simple and quick to add additional shipping addresses to your PayPal account. Do not ask us to ship to an address other than the address supplied by PayPal.
Shipping is based on your location.
Filed under: Eyepieces & Accessories