Current Price: $34.99
Buy It Now Price: $34.99
Bids: 0

Mount does not come with tripod or counter weight.

Celestron
CG-2 Equatorial Mount Head Only
W E S H I P F A S T
Only $34.99 ! ! !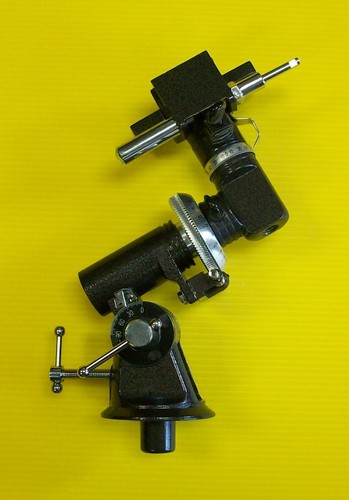 PLEASE NOTE: Mount head does not come with tripod, counter weight, counter weight shaft or slow motion cables! What you see in the photo is what you will receive. If you need a complete mount do not purchase this item. We have complete mounts listed in our eBay store.
Celestron CG-2 provides solid support for many small telescopes. Same as SkyWatcher and Orion EQ-1. This item is from a new and complete Celestron telescope package.

This mount works great with 90mm Maksutov, short 80mm refractor, Coronado Personal Solar Telescope, short 114mm reflector, 60mm or 70mm refractor.
Exact same mount as Orion EQ-1 equatorial telescope mount.

Hands-free tracking is available with the optional motor drive ($34.99).
Capable of managing telescopes and equipment combinations weighing up to seven pounds.
NOTICE: We only ship to the address supplied by PayPal. If you want an order shipped to a different address, other than your primary PayPal address, you must add the additional address to your PayPal account before sending payment. It is simple and quick to add additional shipping addresses to your PayPal account. Do not ask us to ship to an address other than the address supplied by PayPal.
Shipping & Handling fee is based on your location.
Filed under: Eyepieces & Accessories