Current Price: $104.73
Buy It Now Price: $104.73
Bids: 0

:: eBay Listing Template ::
Celestron Deluxe Mars Observing Telescope Accessory Kit, Get ready to see Mars!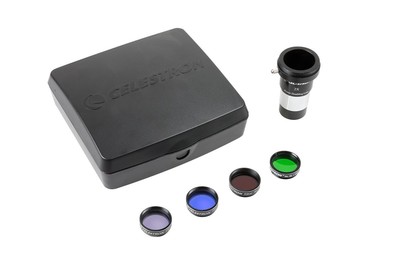 item description
Style:Deluxe Mars Observing Telescope Accessory Kit The 2x power doubling lens
doubles the magnification of any eyepiece that is used with it. The lens goes
in between the telescope and the eyepiece you are using. In addition, this
lens also features integrated t-threads that allow you to attach your DSLR
camera to your telescope for high magnification lunar and planetary
photography. (Note: to take advantage of this feature, you will need to
purchase an optional T-ring that fits your specific camera body and thread it
onto the t-adapter. Celestron offers Canon and Nikon t-rings.) eyepiece
filters reduce glare and light scattering, increase contrast through selective
filtration, increase definition and resolution, and reduce eye FATIGUE. These
filters are designed to fit any Celestron 1.25" eyepieces. To attach the
filter onto an eyepiece, simply thread the male thread on the filter into the
bottom of the eyepiece barrel. Then insert the eyepiece (with filter attached)
into eyepiece holder of your telescope. Get ready to see Mars in incredible
detail. Observe Mars this summer as the planet will be noticeably brighter
from early july through early September (july 7th to September 7th). the best
night to view Mars is july 28, 2018. The last time Mars was this close to the
Earth and this bright in the night sky was the opposition of 2003. The next
opportunity like this won't come around until 2050. This is a perihelic
opposition, which means both Earth and Mars are close to the sun, making
conditions ideal for astrophotography. At opposition, Mars will be 1.8 times
brighter than Jupiter and the 4th brightest object in the sky after the sun,
the Moon, and Venus. At its closest approach to Earth on july 31, Mars will be
35.8 million miles from US.
Product Features
Make sure this fits. by entering your model number.
The ultimate mars accessory bundle for any telescope that accepts 1.25 eyepieces
Includes three colored Filters plus a Premium glass mars filter with multiple coatings to maximize light transmission in specific wavelengths to bring out subtle details in the Martian surface
2x power doubling Lens doubles the power of any 1.25 telescope eyepiece
Doubling Lens Also features built-in t-threads to attach a DSLR camera (t-ring not included)
All pieces in the Kit can Also be Used to view Jupiter, Saturn, the Moon and many other Astronomical objects
Additional information
Style: Deluxe Mars Observing Telescope Accessory Kit
Brand: Celestron
MPN: 94314
About Us
Shipping
RETURN
About us
We have been available to online customers, offering a variety of brand new products at great prices. All of our products ship directly from our different warehouses across the United States so you get your items quickly and in perfect condition. We know how important it is for you to get what you ordered and get it fast.
Our products are a 100% authentic and brand new. We work with the biggest suppliers of high quality products to bring you only the best items. It is very important to us that we put our customers first and you will see this reflected in every transaction with us. We consider it a top priority that our customers are happy and in the rare event that they are not, we do everything we can to fix the situation.
No customer will walk away from our store unhappy. If there's a problem, just let us know and we fix it.
We guarantee you only the best experience when shopping with us!
Shipping
● Our stock all ships from our US-based warehouses.
● Shipped via USPS or UPS (depending on location and
package weight)
● Unless stated otherwise, all orders will ship within 24 hours of
your payment being processed. Check our feedback to see the
great reviews of FAST shipping we offer.
● Shipping is always FREE!
RETURN
● We offer a 30 day return/exchange policy for our products.
● You can choose refund or exchange if you are dissatisfied for any reason with your product.
● Only factory defects are accepted as a reason for a return. In the case of factory defects, we will replace the product for you.
● When returning an item, it must be in all of the original packaging and include all of the original accessories or items that came with it. The item and package should be in original and perfect condition.
● You will be required to cover shipping on the return of defective items.
● All returns MUST be done within 30 days of date of purchase. Please note that we cannot give refunds or replacements after the 30 day limit has expired.
● When sending in a return, please note that it can take up to 7 business days for the return to be processed. We do our best to process as quickly as possible.
● Buyers outside the U.S.A please note - ALL of our electrical appliances sold in our store are 110-120V.
● Return policy for buyers outside the U.S.A - We offer to return the items within 30 days. The BUYER will ship the item at his own cost.
We are extremely fair, and in the rare event of something out of the ordinary happening with our products or shipping, we will gladly work with you to find a solution.
Filed under: Eyepieces & Accessories