Current Price: $97.53
Buy It Now Price: $97.53
Bids: 0

Untitled Document
Celestron Deluxe Mars Observing Telescope Accessory Kit, Get ready to see Mars!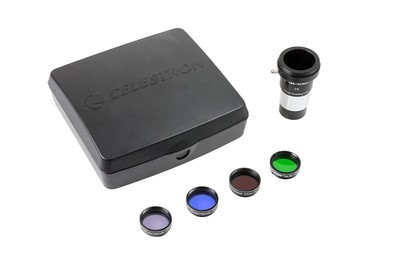 More about the item
Style:Deluxe Mars Observing Telescope Accessory Kit The 2x power doubling lens
doubles the magnification of any eyepiece that is used with it. The lens goes
in between the telescope and the eyepiece you are using. In addition, this
lens also features integrated t-threads that allow you to attach your DSLR
camera to your telescope for high magnification lunar and planetary
photography. (Note: to take advantage of this feature, you will need to
purchase an optional T-ring that fits your specific camera body and thread it
onto the t-adapter. Celestron offers Canon and Nikon t-rings.) eyepiece
filters reduce glare and light scattering, increase contrast through selective
filtration, increase definition and resolution, and reduce eye FATIGUE. These
filters are designed to fit any Celestron 1.25" eyepieces. To attach the
filter onto an eyepiece, simply thread the male thread on the filter into the
bottom of the eyepiece barrel. Then insert the eyepiece (with filter attached)
into eyepiece holder of your telescope. Get ready to see Mars in incredible
detail. Observe Mars this summer as the planet will be noticeably brighter
from early july through early September (july 7th to September 7th). the best
night to view Mars is july 28, 2018. The last time Mars was this close to the
Earth and this bright in the night sky was the opposition of 2003. The next
opportunity like this won't come around until 2050. This is a perihelic
opposition, which means both Earth and Mars are close to the sun, making
conditions ideal for astrophotography. At opposition, Mars will be 1.8 times
brighter than Jupiter and the 4th brightest object in the sky after the sun,
the Moon, and Venus. At its closest approach to Earth on july 31, Mars will be
35.8 million miles from US.
Main Points
Product Dimensions: 7 x 3 x 7 inches
Item Weight: 6.4 ounces
Shipping Weight: 1 pounds
Item model number: 94314
The ultimate mars accessory bundle for any telescope that accepts 1.25 eyepieces
Includes three colored Filters plus a Premium glass mars filter with multiple coatings to maximize light transmission in specific wavelengths to bring out subtle details in the Martian surface
2x power doubling Lens doubles the power of any 1.25 telescope eyepiece
Doubling Lens Also features built-in t-threads to attach a DSLR camera (t-ring not included)
All pieces in the Kit can Also be Used to view Jupiter, Saturn, the Moon and many other Astronomical objects
More Info
Style: Deluxe Mars Observing Telescope Accessory Kit
Brand: Celestron
MPN: 94314
Payment
Our Guarantee
Shipping
Returns
Feedback
Contact Us
We accept Paypal only
All major credit cards are accepted through Paypal's secure payment system
Payment with Paypal is instant and offers buyer protection, so you never need to worry about your purchase!
We offer a 100% Satisfaction Guarantee on all sales. If you are not happy with your purchase for any reason, please contact us within seven days of receipt of your item. We will happily work with you to find a solution to any problem.
We want your eBay experience to be a good one. As you can tell from our feedback, almost every customer is a happy one.
Our goal is always a satisfied customer. In the rare case something goes wrong, before leaving negative feedback, please contact us so we can help make it right!
Shipping is by USPS or UPS, depending on your location and package weight.
All items are shipped from one of our USA warehouses.
We have a 2 business day handling time to get your package ready and out the door.
We provide a 30 day return policy for a full refund
Returned items must be in original packaging and in original condition
We do not cover postage for returned items
Please allow 7 days after we receive your returned item to process the return and refund
Receive our Newsletter
Add us to your favorites
Copyright © 2016, Psycho deals Store. All rights reserved.
Filed under: Eyepieces & Accessories