Current Price: $34.44
Buy It Now Price: $34.44
Bids: 0

Celestron Erect Image Prism for Refractor and Schmidt Cassegrain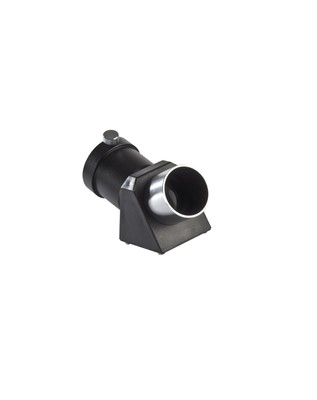 Did you know that most telescopes work well for daytime viewing as well as for
astronomy?  If you have a refractor or a catadioptric telescope (the Schmidt-
Cassegrain is the most popular example), and you would like to use it for
terrestrial observations, the most useful additional accessory you can buy is
an erect-image diagonal. If you look through your telescope with the standard
mirror or star diagonal installed, you will notice that objects may be either
upside down, flipped so that you see a mirror image, or a combination of the
two.  This is fine for observations of celestial objects, but it can be a
little confusing when you are trying to track a boat as it moves through the
water, or an eagle as he flies towards his perch.  Luckily, this is an easy
problem to correct.  Simply remove the standard diagonal from the telescope's
focuser or visual back, and install the Celestron 45º Erect Image Diagonal.
Now, when you insert an eyepiece, objects will be right side up and left-to-
right correct.  The 45º angle of this Amici prism diagonal is very comfortable
for daytime observations, where the telescope is often in a horizontal
position. Please Note:  Adding an erect-image diagonal to a Newtonian
reflector will not result in images that are right side up and left-to-right
correct.  The optical design of a Newtonian will always produce images that
are rotationally off in orientation.  This does not mean that you can't use a
Newtonian reflector during the day, it just means that you have to get used to
objects oriented in unrealistic positions.
Product Features
Make sure this fits. by entering your model number.
A great accessory for daytime terrestrial viewing with your telescope
This 1.25 diagonal produces right side up and left-to-right correct images when used with refractors and catadioptric (Schmidt-Cassegrain) telescopes
Inserts into 1.25 focusers or visual backs. Accepts standard 1.25 eyepieces
Payment:
PayPal is the only method of payment we accept. If you have an order cancellation request, we'll do our best to accommodate your request however we cannot guarantee that such a request will always be granted. We have warehouse processing centers across the country to ensure you receive your package efficiently and as quickly as possible. As a result, we are required to charge sales tax in multiple states across the USA. If your state is one that we charge sales tax in, you will see the sales tax charge at time of checkout before you submit payment.
Shipping:
Standard shipping is free. Handling time on our orders is normally between 1-2 business days. Your order should reach your doorstep within 3 - 5 business days. Need your item quicker? We offer a faster shipping method for your convenience available upon checkout for an additional price of $1.99. Regardless of shipping date, you will receive it near the eBay estimated delivery date, almost always. We do not accept emailed requests to change shipping addresses. We do not ship to AK, HI, PO boxes, or APO addresses. We are not responsible for any incorrect or undeliverable addresses. We only ship to the confirmed Paypal address. Please note that manufactures update their packaging from time to time and that the packaging images shown in our auction may vary from what you ultimately receive however be assured you are receiving the identical contents you ordered regardless.
Contact Us:
Do you have a question about an item or order? Contact us via eBay messaging and we will respond within 1 business day. Our office hours are 8AM-4PM PST Monday-Friday. We only respond to emails sent via eBay's messaging service. Invoices or special request are not guaranteed. We do not accept best offers on any items we sell. If there are any issues with your transaction please contact before leaving a neutral or negative feedback as we are certain we can produce an amicable resolution for the both of us. We would love to be given the opportunity to work with you to resolve any problem you may have.
Returns / Concerns:
You may return new, unopened items within 30 days of delivery for a refund, and a restocking fee may apply. Items must be returned in the condition they arrived in. The box, UPC bar code, packaging, and all other accessories must be returned. Open software, music, games, movies, food items (human or pet, opened or closed), and personal hygiene products are not eligible for return. An RMA number is required for all returns. Message us for return instructions. Items returned without a RMA number will not be processed. Return shipping fees are not refundable. We reserve the right to decline any returns if the above guidelines are not followed.
Thank You For Your Business!
Filed under: Eyepieces & Accessories