Current Price: $147.41
Buy It Now Price: $147.41
Bids: 0

Celestron Eyepiece and Filter Kit – 14 Piece Telescope Accessory Set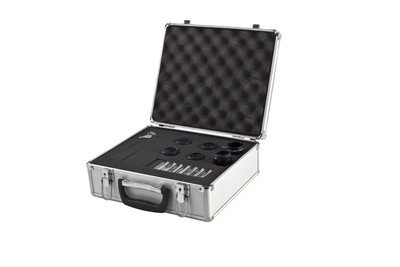 Product Packaging:Standard Packaging The Celestron 1.25"
Eyepiece and Filter Kit is a great way to expand the functionality and
enjoyment of your telescope. Inside the metal, foam-lined carry case you'll
find these accessories: 32 mm Plossl Eyepiece - 1.25" 17 mm Plossl Eyepiece -
1.25" 13 mm Plossl Eyepiece - 1.25" 8 mm Plossl Eyepiece - 1.25" 6 mm Plossl
Eyepiece - 1.25" 2X Barlow Lens - 1.25" 80A Blue Filter - 1.25" 58 Green
Filter - 1.25" 56 Light Green Filter - 1.25" 25 Red Filter - 1.25" 21
Orange Filter - 1.25" 12 Yellow Filter - 1.25" Moon Filter - 1.25" Eyepieces
- All five Plossl eyepieces can be used in any telescope with a 1.25" focuser.
Each eyepiece features a four-element design with a 52º apparent field of
view. The optics are fully multi-coated to improve light transmission and
protect the optics. The 32 mm Plossl eyepiece offers a low power, wide field
view in most telescopes, the 13 mm & 17 mm focal lengths are good medium-power
oculars, and the 8 mm & 6 mm eyepieces provide high magnifications, great for
the Moon and planets, especially when seeing conditions are good. 2X Barlow
Lens - The included, and very versatile 2X Barlow doubles the magnification of
any 1.25" eyepiece. Since this kit includes five (5) eyepieces, you will be
able to use them with and without the Barlow, giving you a total of ten
magnification options in all. Any other 1.25" eyepieces you already have will
also work in this desirable accessory, giving you even more magnification
choices. Remember, high magnifications do not always produce clear, sharp
results, especially on evenings of poor or moderate seeing conditions.
Experiment to find the magnifications that are best for your telescope on a
particular night. Filters - Colored filters can be used to bring out certain
details on a planet's surface or its cloud structure. All of the planetary
filters included in the 1.25" Eyepiece & Accessory Kit, as well as the Moon
filter, can be used on any 1.25" eyepiece with the proper filter threads, so
they are very versatile. Just screw one onto your eyepiece of choice and slide
it into the focuser. The Moon filter is one of the first accessories most new
amateur astronomers buy, and for good reason! It helps block out a portion of
the light the Moon sends into your eyepiece so that you can see details
better. You can also try this filter on Venus; it blocks enough glare so you
can observe the planet's phases more easily. Metal Case: The sturdy metal
carry case has die-cut foam inside to protect and cushion your accessories.
Store each one in its appointed place when not in use and you'll keep them
looking and performing like new. The case is even large enough to carry a few
extra accessories. Just pull out enough of the foam cubes to make a nest for
your eyepiece, camera adapter, etc. A tight fit is better, so remove the least
amount of foam possible before testing the fit. You can always remove more if
you need to. From the Manufacturer The Celestron Accessory Kit contains: Five
superior-grade 1.25-inch Plössl eyepieces: Four-element design with a
52-degree AFOV, superb color, resolution, edge sharpness, and clarity. All
eyepieces are fully multicoated for maximum contrast and resolution. Supplied
eyepiece sizes: 6mm, 8mm, 13mm, 17mm, and 32mm. Barlow 2X lens: Complements
the Plössl eyepieces and gives you a total of 10 power combinations. The
highest-grade glass optics with fully multicoated lenses are used, so there is
no degradation of image. Six colored eyepiece (planetary) filters: Included
are Kodak Wratten Nos. 12, 21, 25, 56, 58A, and 80A. Since all the eyepieces
necessary to study the planets and moon in detail are provided, these filters
will greatly enhance your enjoyment of the solar system. Moon filter: A
neutral-density filter that allows you maximum enjoyment of the moon,
especially during the brighter phases. Aluminum carrying case: This sturdy and
well-built case fits all of the above items in its die-cut foam interior with
room for additional accessories.
Product Features
Make sure this fits. by entering your model number.
Five superior grade Plossl eyepieces, all fully multi-coated for maximum contrast and resolution
2x, 1.25-inch Barlow lens gives you a total of ten power combinations
Six colored eyepiece (planetary) filters.A tight fit is better, so remove the least amount of foam possible before testing the fit
1.25-inch Moon filter provides maximum enjoyment of the moon especially during the brighter phases
Items in this kit are valued at over 700.00 if purchased separately
Payment:
PayPal is the only method of payment we accept. If you have an order cancellation request, we'll do our best to accommodate your request however we cannot guarantee that such a request will always be granted. We have warehouse processing centers across the country to ensure you receive your package efficiently and as quickly as possible. As a result, we are required to charge sales tax in multiple states across the USA. If your state is one that we charge sales tax in, you will see the sales tax charge at time of checkout before you submit payment.
Shipping:
Standard shipping is free. Handling time on our orders is normally between 1-2 business days. Your order should reach your doorstep within 3 - 5 business days. Need your item quicker? We offer a faster shipping method for your convenience available upon checkout for an additional price of $1.99. Regardless of shipping date, you will receive it near the eBay estimated delivery date, almost always. We do not accept emailed requests to change shipping addresses. We do not ship to AK, HI, PO boxes, or APO addresses. We are not responsible for any incorrect or undeliverable addresses. We only ship to the confirmed Paypal address. Please note that manufactures update their packaging from time to time and that the packaging images shown in our auction may vary from what you ultimately receive however be assured you are receiving the identical contents you ordered regardless.
Contact Us:
Do you have a question about an item or order? Contact us via eBay messaging and we will respond within 1 business day. Our office hours are 8AM-4PM PST Monday-Friday. We only respond to emails sent via eBay's messaging service. Invoices or special request are not guaranteed. We do not accept best offers on any items we sell. If there are any issues with your transaction please contact before leaving a neutral or negative feedback as we are certain we can produce an amicable resolution for the both of us. We would love to be given the opportunity to work with you to resolve any problem you may have.
Returns / Concerns:
You may return new, unopened items within 30 days of delivery for a refund, and a restocking fee may apply. Items must be returned in the condition they arrived in. The box, UPC bar code, packaging, and all other accessories must be returned. Open software, music, games, movies, food items (human or pet, opened or closed), and personal hygiene products are not eligible for return. An RMA number is required for all returns. Message us for return instructions. Items returned without a RMA number will not be processed. Return shipping fees are not refundable. We reserve the right to decline any returns if the above guidelines are not followed.
Thank You For Your Business!
Filed under: Eyepieces & Accessories