Current Price: $209.99
Buy It Now Price: $209.99
Bids: 0

~ NEW ~
Celestron
NexStar 5SE Computerized Mount Head

W E S H I P F A S T
ONLY $209.99 ! ! !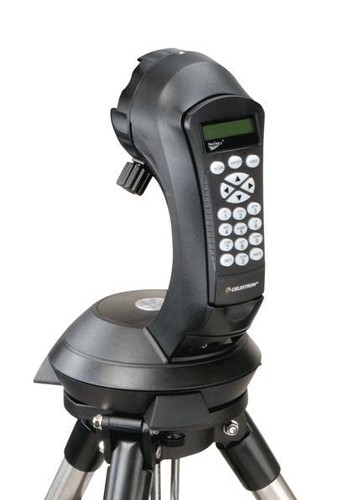 T R I P O D N O T I N C L U D E D
This Celestron computerized mount head is designed for a wide variety of small telescopes.
The length of the support arm is too short for C8, C9.25 and C11 telescopes. Therefore this mount head will not work with C8, C9.25 or C11 telescopes.
Computer hand controller is included. Tripod is not included. Head is from a new complete telescope package.
Revolutionary Single Fork Arm Mount
We know the best telescope is the one you will use most often. That's why Celestron's engineers created NexStar SE's unique, patented single fork arm mount. It's perfectly portable and makes setup quick and easy. What's more, the NexStar SE breaks down into several lightweight and compact pieces, making it easy to transport, even in small vehicles. You'll have no problem getting the NexStar SE to your favorite observing site, or setting it up quickly in your backyard.
Of course, it's what's inside the mount that really counts. Sturdy construction from high-quality components give NexStar SE the pointing and tracking accuracy needed to observe and follow your favorite targets with push-button ease. Use the included NexStar+ hand control to locate over 40,000 celestial objects, or take a Sky Tour and let your telescope show you the best objects currently visible.
Aligning your telescope is simple and painless, too, thanks to SkyAlign. This process makes alignment as easy as 1-2-3: just center three bright objects in your eyepiece and press ALIGN. For even easier alignment, attach our StarSense AutoAlign and your NexStar SE aligns itself!
Advanced Features Let the NexStar SE Grow with you.
This NexStar SE mount is compatible with all the high-tech accessories advanced users love. Provide GPS coordinates to your telescope with SkySync, or add automatic alignment functionality with StarSense AutoAlign.
AltAz Computerized mount head, as supplied with all NexStar 5 SE telescopes
NexStar technology with database for automatic slewing (GoTo) and tracking of 40,000 objects
Flash upgradeable hand control with SkyAlign alignment procedure and NexStar technology
Vixen style dovetail - Compatible with the CG5 or Advanced Series dovetails
Computer hand controller is included
Tripod is not included

Uses any of the popular dovetail mounting bars from Celestron, Vixen, Meade, and Orion.

The fine print:
We do not accept returns on mounts. Ask questions before you make a
purchase. Make sure the mount you want is the mount you need. We have
the experience and selection to help you get the correct mount. This
mount is new and comes with Celestron's two year warranty. We have been
in business for over 25 years and will be here to help you if you have
any problems after the sale.




You can trust Celestron's 50 year history of making quality telescopes. This Celestron mount head is NOT a refurb or customer return. It is new in box and you will be the first to enjoy genuine Celestron quality.

Buy with confidence!
We are an authorized Celestron distributor.
This Celestron product is new in box.
NOT a customer return or refurbished product.

Notice: We only ship to the address supplied by PayPal. If you want an order shipped to a different address, other than your primary PayPal address, you must add the additional address to your PayPal account before sending payment. It is simple and quick to add additional shipping addresses to your PayPal account. Do not ask us to ship to an address other than the address supplied by PayPal.





Shipping is based on your location.
Filed under: Eyepieces & Accessories