Current Price: $934.80
Buy It Now Price: $934.80
Bids: 0

Celestron NexStar 5SE Computerized Telescope with Observer Kit and NexYZ Smartphone Adapter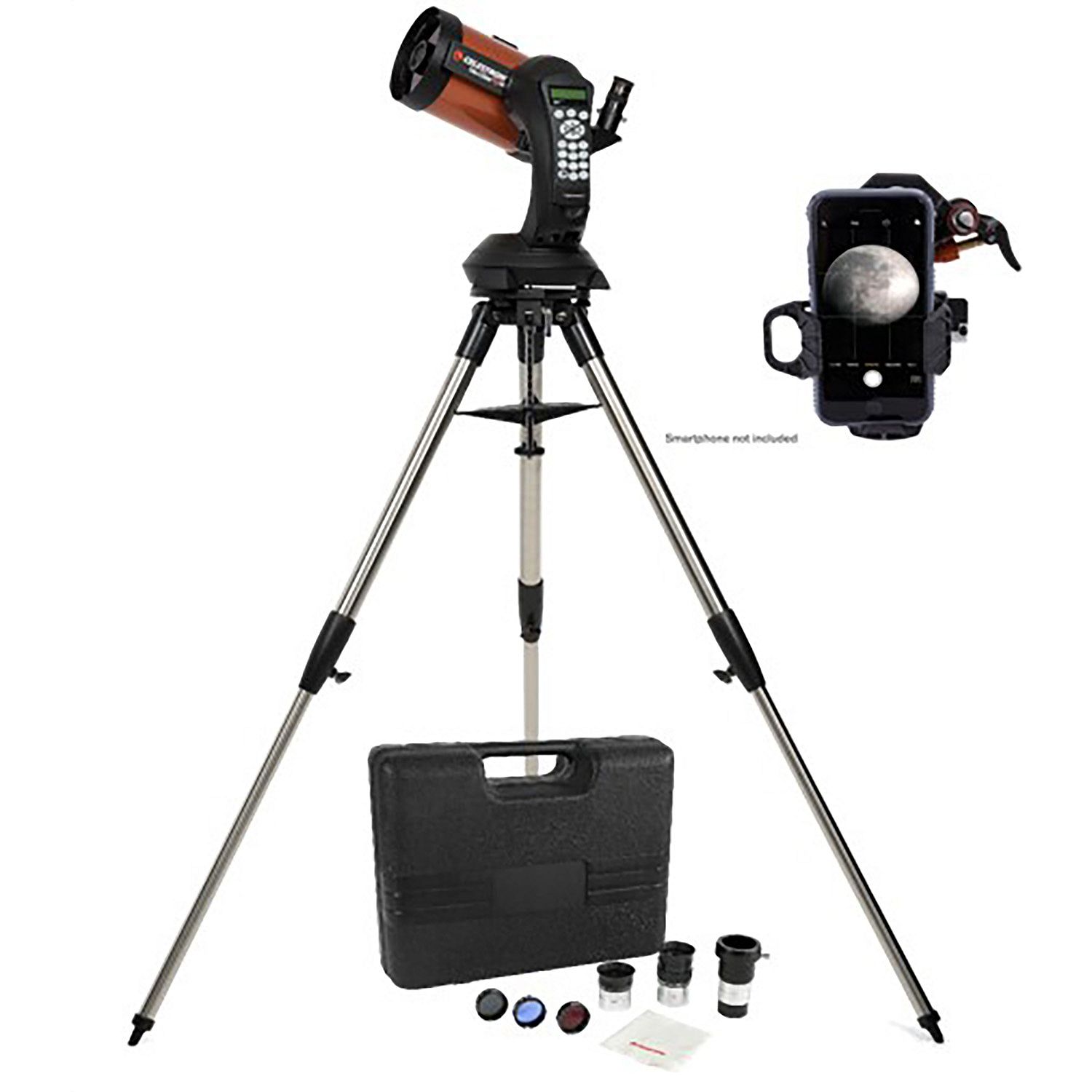 Product Details
Celestron's iconic "orange tube" design is updated with all the latest features to provide the best stargazing experience for beginners and experienced observers alike
Unique single fork arm design and sturdy steel tripod all break down into separate components for easy transport and quick assembly.
Eight-piece accessory observer kit enhances the performance of your telescope
Capture images and videos with your NexYZ smartphone adapter
NEXSTAR 5SE COMPUTERIZED TELESCOPE WITH SMARTPHONE CAMERA ADAPTER & OBSERVER'S ACCESSORY KIT
Explore the Universe with this fully computerized telescope with a database of more than 40,000 celestial objects including stars, planets, galaxies, nebulae, star clusters, and more. The Celestron NexStar 5SE features a 5" optical tube with excellent light gathering ability for bright, sharp, detailed views of the night sky. Best of all, this telescope includes an accessory kit with eyepieces, filters, and a doubling lens, along with Celestron's acclaimed NexYZ smartphone adapter so you can capture images of your discoveries using any smartphone.
New telescope users will love the simplicity of the Celestron NexStar 5SE. SkyAlign technology gets your telescope aligned and ready to use in minutes. From there, you can choose any celestial object you'd like to view and the telescope will automatically locate it for you, center it in the eyepiece, and track it as it appears to move across the night sky. Not sure what to observe? Choose the Sky Tour option and the telescope will generate a list of the best objects currently visible based on the exact time, date, and location of your observing site.
This telescope is lightweight, compact, and perfect to take along on camping trips or to dark sky sites. It's an unforgettable activity to add to your next outdoor gathering. Included with your telescope is the Celestron Observer's Accessory Kit. You'll receive two high-quality 1.25" Plossl eyepieces, a 2X Barlow (doubling) lens that can be used visually or photographically, three eyepiece filters, a cleaning cloth, and a case. Pair each of the two extra eyepieces with the Barlow lens and you have four different viewing magnifications to choose from. A Moon filter helps to dim the bright light from the Moon, making it more comfortable to view so you can see more detail! The two color filters (Red and Blue) highlight features on Mars, Jupiter, and Saturn. A plastic carry case keeps everything safe and organized in the foam-lined interior.
The NexYZ Smartphone Adapter is the quickest, easiest way to capture high quality images through your telescope. Securely clamp it over the eyepiece and place your smartphone on the sturdy platform. Then use the three adjustment knobs to precisely position your phone over the eyepiece for the perfect shot. You'll also love using this adapter with binoculars, spotting scopes, and even microscopes.
Tagged with: Amateur Astronomy • astronomy • telescope
Filed under: High-End Telescope Auctions (USA)