Current Price: $1170.99
Buy It Now Price: $1170.99
Bids: 0

Template
Celestron - NexStar 6SE Telescope - Computerized Telescope for Beginners and Advanced Users - Fully-Automated GoTo Mount - SkyAlign Technology - 40,000+ Celestial Objects - 6-Inch Primary Mirror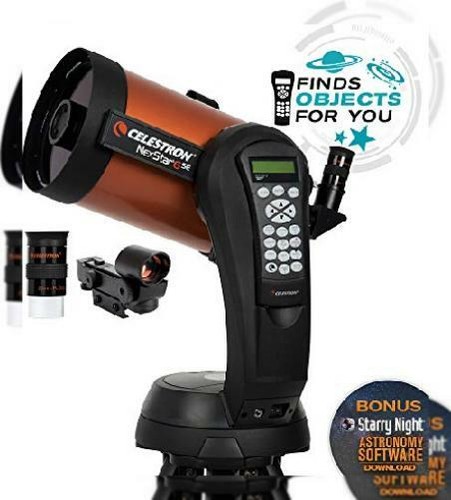 Product Details
Product Dimensions: 32 x 26 x 12 inches
Item Weight: 21 pounds
Shipping Weight: 41.9 pounds
California residents: Click here for Proposition 65 warning
Item model number: 11068
Batteries: 8 AA batteries required.
NEXSTAR COMPUTERIZED TELESCOPE: The NexStar 6SE Computerized Telescope features Celestron's iconic orange tube design with updated technology and the latest features for amazing stargazing for beginners and experienced observers.
6-INCH APERTURE: The six-inch primary mirror in this Schmidt-Cassegrain telescope for adults and kids to be used together packs enough light-gathering ability to observe the best that our Solar System has to offer, while retaining a compact form factor.
FULLY-AUTOMATED GOTO MOUNT: Featuring a database of more than 40,000 celestial objects, the GoTo mount built into our telescopes for astronomy beginners automatically locates and tracks objects for you.
EASY TO ASSEMBLE AND BREAK DOWN: The single fork arm design and sturdy steel tripod all assemble and break down from separate components for easy transportation. SkyAlign technology gets your telescope aligned and ready in minutes.
BONUS FREE STARRY NIGHT SOFTWARE: The NexStar 6SE Telescope includes a FREE download of one of the top consumer rated astronomy software programs for an interactive sky simulation.
From the manufacturer Your Journey Through The Cosmos Begins Here Celestron's signature 'orange tube' telescope, designed to deliver one of the best stargazing experience for users of all levels Previous page Fully Automated GoTo Mount Select from a database of more than 40,000 stars, galaxies, nebulae, star clusters, solar system objects, & more. Your NexStar SE locates them all with pinpoint accuracy & tracks them automatically. Compact and Portable The 6SE is ideal for weekend camping trips or excursions to dark sky sites. Its compact form factor is easy to transport and assemble just about anywhere. Accessories Included You receive a red dot StarPointer finderscope, 25mm Plossl eyepiece, visual back, and mirror star diagonal. Schmidt-Cassegrain Optics 6-inch aperture provides excellent light-gathering ability at an affordable price. You'll get impressive views of the Moon & planets, along with deep sky objects, while keeping a compact form factor. Astroimaging Made Easy Budding astroimagers can use the built-in wedge to polar align NexStar SE. Using simple, inexpensive adapters, connect your DSLR or astronomical camera & capture your own images of celestial objects! A Lifetime of Astronomy Compatible with all Celestron's most popular accessories, including StarSense AutoAlign and SkyPortal WiFi Module, the NexStar SE can grow with you. Next page Fast Setup with SkyAlign Celestron's proprietary SkyAlign procedure has you ready to observe in minutes. Center any three bright objects in the eyepiece and NexStar SE aligns to the night sky, ready to locate thousands of stars, galaxies, and more. Comparison Chart NexStar 6SE NexStar 5SE NexStar 4SE NexStar 8SE Optical Design Schmidt-Cassegrain Schmidt-Cassegrain Maksutov-Cassegrain Schmidt-Cassegrain Aperture 150 mm (5.91") 125 mm (4.92") 102 mm (4.02") 203.2 mm (8") Focal Length 1500 mm (59") 1250 mm (49") 1325 mm (52") 2032 mm (80") Focal Ratio f/10 f/10 f/13 f/10 Magnification 60x 50x 53x 81x Limiting Magnitude 13.4 13 12.5 14 Low Useful Magnification 21x 18x 15x 29x High Theoretical Magnification 354x 295x 241x 480x Assembled Weight 30 lbs 27.6 lbs 21 lbs 33 lbs
Return
All returns accepted within 30 days after receiving the item, refund given as money back (no exchanges permitted), item must be in original condition with original packaging.
Shipping
Please make sure to provide the correct shipping address during checkout as the address cannot be changed after checkout. We are not responsible for any incorrect or undeliverable addresses. All orders are usually shipped within one business day. Your order will be shipped out via one of our participating partners, which include UPS, USPS, FedEx, DHL, among others. We also ship globally through eBay's GSP program. Please ensure the item meets your countries standards!
Tagged with: Amateur Astronomy • astronomy • telescope
Filed under: High-End Telescope Auctions (USA)