Current Price: $1175.29
Buy It Now Price: $1175.29
Bids: 0

Celestron - NexStar 8SE Telescope - Computerized Telescope for Beginners and Advanced Users - Fully-Automated GoTo Mount - SkyAlign Technology - 40,000+ Celestial Objects - 8-Inch Primary Mirror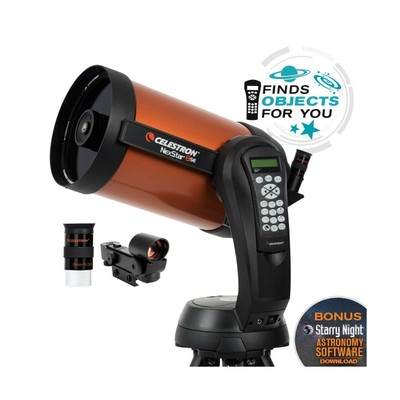 Description
Style:NexStar 8SE Computerized Telescope | Configuration:Telescope Only
The best telescope is the one used often to enjoy the
beauty and intrigue of the night sky. For those searching for telescopes for
astronomy beginners that are infused with the latest computer technology,
Celestron's NexStar 8SE Schmidt-Cassegrain Telescope fits the bill perfectly.
The NexStar 8SE Computerized Telescope features Celestron's iconic "orange
tube" design and updated technology with the latest features for amazing
stargazing for beginners and experienced observers. Celestron's signature
telescope combines advanced features and excellent optics in one easy-to-use
system, the NexStar 8SE. It's the perfect choice for your first serious
telescope, offering striking views at an economical price. The eight-inch
primary mirror in this computerized telescope packs enough light-gathering
ability to observe the best that our Solar System has to offer, from Saturn's
rings to the cloud bands on Jupiter and geographic features on the surface of
the Moon. When it comes to deep sky objects, take your 8SE to a dark-sky site
and you'll see hundreds of pinpoint stars in the Hercules Globular Cluster,
the spiral arms of the Whirlpool Galaxy, and more. Featuring a database of
more than 40,000 celestial objects, the 8SE's GoTo mount automatically locates
and tracks objects for you. You can also take a Sky Tour and let your
telescope show you the best objects currently visible. The single fork arm
design and sturdy steel tripod all assemble and break down from separate
components for easy transportation. SkyAlign technology gets your telescope
aligned and ready to observe in minutes. Even if you're unfamiliar with the
night sky, you can easily align your telescope on any 3 bright objects. The
NexStar 8SE is a telescope that will grow with you as you advance in the hobby
of astronomy. It's compatible with all the high-tech accessories advanced
users love. Provide GPS coordinates to your telescope with SkySync, or add
automatic alignment functionality with StarSense AutoAlign. Buy with
confidence from the world's 1 telescope brand, based in California since
1960. You'll also receive a two-year warranty and unlimited access to
technical support from our team of US-based experts.
Review Celestron's Nexstar 8 SE telescope combines excellent optics and
computerized "GoTo" tracking in a package that's light, portable and
affordable. The legendary performance of Celestron's orange tube C8 telescope
has been updated with high performance Starbright XLT coatings, and the single
arm Nexstar mount now includes Celestron's easy to use "SkyAlign" technology.
The Nexstar 8 SE upholds Celestron's reputation for quality optics. When I use
an 11mm Plossl eyepiece (almost 200x magnification) for example, I can easily
see the Cassini Division in Saturn's rings. When I look at Jupiter, the pale
orange color of Jupiter's famous Great Red Spot is visible, and I've even been
able to identify the polar caps and spot dust storms on the planet Mars. A
20mm Plossl eyepiece (about 100x magnification) is a good choice for viewing
galaxies and star clusters. When I look at globular cluster M13 in the
constellation Hercules the high contrast XLT optics show me a glowing
snowflake made of hundreds of tiny pin-point stars! And a low power 32mm
Plossl eyepiece is a good choice for views of larger deep space highlights
like the Andromeda Galaxy and the Orion Nebula. Celestron's patented
"SkyAlign" system makes the Nexstar 8 SE very easy to use. I just pick the
nearest town from the built-in list, enter the date and time, and point the
telescope at three bright stars. I don't need a star chart because "SkyAlign"
identifies the stars for me. When I just want a quick look at the moon or a
planet, I like to use the "Solar System Align" option. After entering the date
and time, I just point the telescope at the moon and press the "Align" key.
That's all it takes, the computer takes over and the telescope begins tracking
quietly and accurately. At star parties I often have my Nexstar up and running
while older computerized telescopes are still waiting for their alignment
stars to appear in the twilight. The Nexstar 8 SE comes with a simple red-dot
finder scope and a basic 25mm eyepiece. You'll want to add a few good
eyepieces to take full advantage of the Nexstar 8 SE's excellent optics. At
the very least get Celestron's bargain priced Accessory Kit which includes
high and low power plossl eyepieces, or treat yourself to some top rated Tele
Vue eyepieces. At twenty-four pounds total weight, the Nexstar 8 SE is
unusually light and portable for an eight-inch telescope. The drawback of
course is that some people will find it too light. Like other Schmidt
Cassegrain (SCT) telescopes there are plenty of optional accessories to
upgrade this telescope with, such as heavy duty tripods and an optical finder
scope. If you want to try astro-photography, however, check out Celestron's
CPC 800 Telescope which features a heavy duty mount and tripod and an 8x50
optical finder scope right out of the box. --Jeff Phillips Pros: Excellent
optics Easy computerized GoTo tracking Light, portable and affordable Cons:
Plastic accessories Short battery life Too light for astro-photography See all
Product description
Features:
NEXSTAR COMPUTERIZED TELESCOPE: The NexStar 8SE Computerized Telescope features Celestrons iconic orange tube design with updated technology and the latest features for amazing stargazing for beginners and experienced observers.
8-INCH APERTURE: The eight-inch primary mirror in this Schmidt-Cassegrain telescope for adults and kids to be used together packs enough light-gathering ability to observe the best that our Solar System has to offer, while retaining a compact form factor.
FULLY-AUTOMATED GOTO MOUNT: Featuring a database of more than 40,000 celestial objects, the GoTo mount built into our telescopes for astronomy beginners automatically locates and tracks objects for you.
EASY TO ASSEMBLE AND BREAK DOWN: The single fork arm design and sturdy steel tripod all assemble and break down from separate components for easy transportation. SkyAlign technology gets your telescope aligned and ready in minutes.
BONUS FREE STARRY NIGHT SOFTWARE: The NexStar 8SE Telescope includes a FREE download of one of the top consumer rated astronomy software programs for an interactive sky simulation.
UNBEATABLE WARRANTY AND CUSTOMER SUPPORT: Buy with confidence from the worlds #1 telescope brand, based in California since 1960. Youll also receive a two-year warranty and unlimited access to technical support from our team of US-based experts.
Product Details:
Product Dimensions: 42 x 23.7 x 13 inches
Item Weight: 24 pounds
Shipping Weight: 48 pounds
California residents: Click here for Proposition 65 warning
Item model number: 11069
Batteries: 8 AA batteries required.
Handling

All orders are shipped within 3 to 5 business days of payment clearing. Please check the estimated handling time in this listing for specific information.

Delivery

Domestic orders can take up to 10 business days after handling to be received. International orders range in time due to distance and varying customs processes by country. Please reach out to us directly with any delivery questions prior to placing your order.

Domestic orders that are identified as going to a mail forwarding address may be subject to cancellation. If you provide a mail forwarding address, you agree to be responsible for any and all damage incurred after the item reaches the mail forwarding address. We, as the seller, will only be responsible for the condition of the item on or before the item reaches the delivery address initially provided. We do not guarantee and are not responsible for items received in the final destination in damaged condition.

Select items are eligible for international shipping or through eBay's Global Shipping Program (GSP). If you are an international buyer who purchases an excluded item due to country restrictions, your order will be cancelled. Please refer to eBay's Global Shipping FAQs in order to view eligible countries and items to prevent cancellation.

Return Policy and Cancellations

Domestic orders can be returned within 30 days of receipt and international orders can be returned within 14 days of receipt. All items must be returned in their original condition, including in original packaging. The buyer is responsible for return shipping on any item that is not damaged and/or is being returned for buyer's remorse. We cannot guarantee cancellations after payment has been received.

Please note that if an item arrives in damaged condition or is missing pieces, we may, in some cases, be able to offer replacement pieces or a full replacement. In all cases, a full refund with return is available. If individual pieces are able to be replaced, this request will need to be initiated via the warranty directly with the manufacturer. Any and all warranty requests are required to be initiated and maintained by the buyer. We, as the seller, are not allowed to initiate warranties in the buyer's name and do not have access to all personal information required to initiate warranty requests.

For international orders, existing warranties on items are likely to become ineligible once shipped outside of the United States. Please refer to the item's warranty guidelines or contact us for more information prior to purchasing.

Any international purchase of electronics is not guaranteed to be compatible or supported in every country and is, therefore, not eligible for free returns in case of defects. It is solely the buyer's responsibility to ensure that electronics are fully compatible in their destination country prior to purchase. In the case of a return for a defective electronics item, it will be the buyer's full responsibility to pay for and return the item within 14 days of receipt, per our international return policy.

Feedback

We take our reputation seriously and we buy and sell online, so we understand the value of trust. If you are unsatisfied with your order, please contact us and we will work with you to resolve it to your satisfaction.
Tagged with: Amateur Astronomy • astronomy • telescope
Filed under: High-End Telescope Auctions (USA)