Current Price: $1379.00
Buy It Now Price: $1379.00
Bids: 0

VISIT OUR EBAY STORE
Celestron Nexstar Evolution 6" Telescope Solar Viewing Kit w/Thermacell Repellan
Condition: Brand New in Original Packaging
SKU: 12090SOLARKIT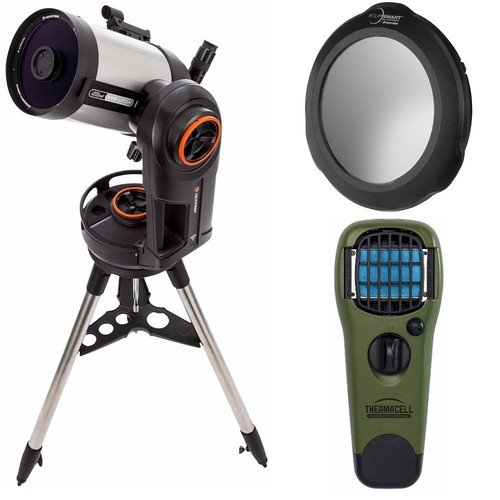 What's in the Box
Celestron NexStar Evolution 6" Schmidt-Cassegrain Telescope
Celestron EclipSmart Solar Filter (6" SCT)
Thermacell Olive Electronic Mosquito Repellant Appliance

Celestron NexStar Evolution 6" Schmidt-Cassegrain Telescope
Celestron's signature telescopes reach a newlevel with NexStar Evolution 6, the first Schmidt-Cassegrain telescopewith integrated WiFi. Leave your hand control behind and slew to all thebest celestial objects with a tap of your smartphone or tablet. Connectyour device to NexStar Evolution's built-in wireless network, andexplore the universe with the Celestron mobile app for iOS and Android.Use the planetarium interface to view the night sky in real time ordisplay a list of celestial objects currently visible based on your timeand location. Our proprietary SkyAlign alignment procedure is builtright into the Celestron mobile app, so you're ready to observe withinminutes.The most user-friendly telescope everCelestronengineers designed NexStar Evolution based on years of customerfeedback. It offers many thoughtful design features that combine toprovide you the best possible experience out under the stars.Forget about batteries or an external power supply. For the firsttime ever on a consumer telescope, NexStar Evolution includes its ownbuilt-in lithium-ion battery. You'll be able to enjoy stargazingmarathons up to 10 hours on a single charge. You can even use NexStarEvolution's USB charge port to top off the other devices in your lifethat need to stay powered on during an observing session.Setting up your NexStar Evolution is quick and painless with large,ergonomic handles. The steel tripod features leg etchings to help youachieve a level, uniform height for your telescope. Manual clutches inboth altitude and azimuth offer greater flexibility to manually pointthe telescope when powered off. Store up to 7 eyepieces in 2 accessorytrays, one with an adjustable red LED illuminator.Superior tracking fit for astroimagingIf you'reinterested in astroimaging, the 6-inch NexStar Evolution is anexcellent, affordable way to get started. It's the only fork-mountedtelescope in its price range that offers worm gears, along with improvedmotors. NexStar Evolution's tracking accuracy is so impressive, you cancapture images of deep-sky objects like the Orion Nebula by simplyattaching your DSLR camera. As you progress in the hobby ofastroimaging, you can add our Pro HD Wedge to achieve longer exposuresfor more detailed astrophotos.Of course, the Schmidt-Cassegrain optical system offers bright, sharpviews with StarBright XLT optical coatings—a great choice for visualobservers and budding astroimagers alike.NexStar Evolution includes a StarPointer finderscope, two 1.25"Plossl eyepieces, a 1.25" star diagonal, AC adapter, and optional handcontrol.
Control your telescope wirelessly from your iOS or Android smartphone or tablet with the free Celestron mobile app with planetarium interface and SkyAlign technology Compact, portable 6-inch Schmidt-Cassegrain optical tube with StarBright XLT optical coatings and Fastar compatibility Computerized GoTo mount with high-performance worm gears and motors for improved tracking accuracy, along with reduced gear backlash Rechargeable lithium-ion battery with enough power for 10 hours of continuous observing Improved industrial design with manual clutches and integrated carry handles, plus the added convenience of two accessory trays and a USB charge port for your smart device

Celestron EclipSmart Solar Filter - 6" SCT
Enhance your viewing experience with Celestron With two Velcro straps and four self-adhesive Velcro pads for added safety, you can be assured that the solar filter cannot be accidentally knocked off and will provide Solar Safe, ISO compliant viewing. EclipSmart solar products feature Solar Safe filter technology providing the ultimate protection from harmful solar radiation, including both IR and UV light, and filters 99.999% of visible light. Celestron Solar Safe filter technology is GUARANTEED SAFE for direct solar observation and has been independently tested by SAI Global Assurance Services.

Thermacell MRGJ Olive Electronic Mosquito Repellant Appliance
Stay mosquito free with ThermaCELL Olive Appliance. ThermaCELL offers odorless protection from mosquitoes. It gives off no scent that spooks animals, making it ideal for outdoor activities such as hunting, fishing, camping, barbecues, backyards, decks and many other outdoor activities.
Repels up to 98% of mosquitoes. Also repels black flies, no see ums and sand flies
Provides a 15 x 15 ft Bug Free Zone
Compact, Cordless and Portable. Take it anywhere!
NO DEET and EPA approved
Odor free. undetectable to animals
Shipping
Payment
Returns
Feedback
Shipping for this item is free in the Continental US Lower 48 states only. Shipping Fees include all handling & insurance.
For Domestic Shipping to the Lower 48 States: All shipping prices include shipping, handling and insurance (if necessary).
For Domestic Shipping to Alaska, Hawaii, Puerto Rico, US Territories, APO & FPO: For many items to these destinations there will be an additional shipping fee. The shipping costs may be calculated on the Shipping and Payments tab by entering your Zip Code. Free shipping is for the lower 48 only
For International Shipments: All international orders are managed through eBay's Global Shipping Program. Please see the Shipping Tab for full costs.
Hotels: Unfortunately at this time we do not ship to hotels.
Tax: Sales tax will be collected on all orders shipped to NY and NJ
Paypal: PayPal is our preferred method of payment for all of our eBay sales. For customer service please contact us through eBay Messages
Immediate payment via PayPal is required for all Buy It Now items. For all Best Offers, payment is required within 3 days. If you need special arrangements, please contact us through eBay messages. After your order has been shipped, you will receive an e-mail with the name of the carrier and the tracking number.
Returns are permitted if you are not satisfied with your purchase and must be initiated by the buyer within 30 days from delivery date.
For Domestic Purchases:
If you are not satisfied with your purchase, you may return it (see exceptions in Paragraph F below), within 30 days of receipt, for a refund or replacement - subject to the following:
a) Contact us through eBay messages or the returns link to receive a Returned Merchandise Authorization (RMA) number to ensure proper handling of the return and/or replacement.
b) In order to be eligible for a full refund, less shipping expenses, your returned merchandise must be in its original new condition, as shipped, with all packaging, manuals, and paperwork intact and unaltered. Items which have been opened are returnable, however they will carry a restocking fee.
c) Customers remain responsible for the shipping and handling expenses incurred in shipping the item to them. If an item is offered with "Free Shipping," this means we are paying the freight on your behalf. If that product is returned for a refund, the shipping expenses incurred, will be deducted from the refund. If an item is refused, the carrier bills us for shipping both ways, and these expenses incurred on your behalf need to be deducted from your refund
d) All returns are subject to inspection. Products returned must be in brand new condition, as per Paragraph b), if not, it may be deemed non-refundable or will be subject to at least a 15% restocking fee. If your return is missing accessory components, or shows signs of wear - restocking fees will be higher. For specific restocking fees that may be applicable to your return, please contact us through eBay messages.
e) Returns should be packed in an outer shipping carton, not just the original box/packing of the product. The RMA# should be clearly inscribed on the shipping label. A copy of your invoice and Order # should be included, and your return should be insured, with shipping costs pre-paid. We cannot accept any COD shipments.
f) There are product categories which are not returnable due to hygienic or sanitary as required by manufacturers. If your items is a consumable good or is has been locked by a manufacturer such as Apple or HP the return will not be accepted
For Warranty information, merchandise lost / any other issues in transit, or order cancellations, please contact us through eBay Messages. In an event where there is an error regarding a price error or description, we will notify you ASAP. In this event there will be no obligation to proceed with the purchase. Any amount charged to the customer will be 100% refunded.
For International Purchases:
Returns will be accepted within 30 days of the receipt of the item. In order to be eligible for a refund your returned merchandise must be in its original unopened condition, as shipped, with all packaging, manuals, and paperwork intact and unaltered. Items removed from their 'blister-pack' display packaging are non-refundable.
International Buyers must pay return shipping via the same method originally shipped.
We strive for every transaction to be five stars!
Please let us know how we can make yours a five-star rated one too!
Our goal is to make sure you are customer 100% satisfied with your order. When you receive your order take a minute to leave us positive feedback at eBay. If you are not satisfied with any part of our service we please contact us to allow us correct the problem, prior to leaving your feedback. Please send us a message through eBay and let us know how we can earn your 5 stars!
If you have any questions or comments, please contact us through eBay message.
Tagged with: Amateur Astronomy • astronomy • telescope
Filed under: High-End Telescope Auctions (USA)