Current Price: $2499.00
Buy It Now Price: $2499.00
Bids: 0

VISIT OUR EBAY STORE
Celestron NexStar Evolution 8 EdgeHD Telescope and Nexstar Case
Condition: Brand New in Original Packaging
SKU: ACEL12096K1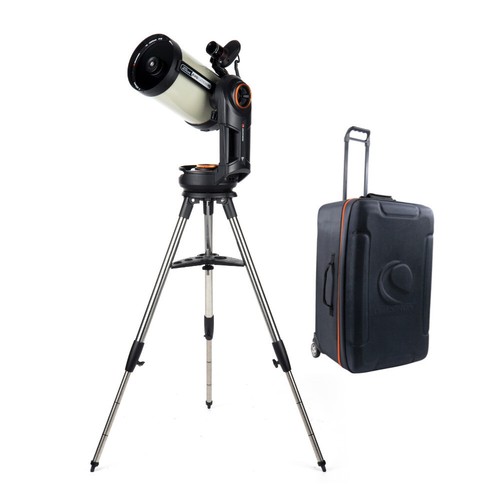 What's in the Box
Celestron Nexstar Evolution 8 HD with Starsense Telescope
Celestron Optical Tube Carrying Case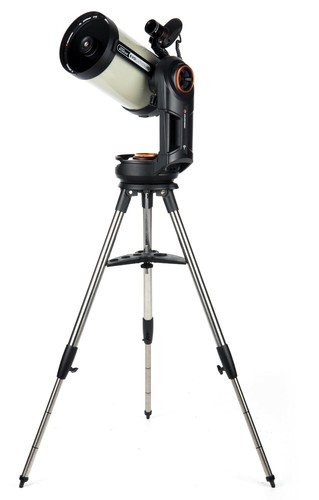 Celestron Nexstar Evolution 8" EdgeHD SCT GoTo Telescope with Starsense
The NexStar Evolution keeps evolving. Celestron paired its best optics with the best technology to make an incredible versatile and portable telescope system. Now, enjoy EdgeHD 8" optics and StarSense AutoAlign on the renowned Evolution mount, all controlled from your favorite tablet or phone.
When NexStar Evolution was introduced, it paired two of Celestron's most acclaimed innovations, Schmidt-Cassegrain telescopes and computerized go-to optics, in a compact single fork arm mount. The technology and optics continued to evolve over the years. On the technology side, Celestron added StarSense AutoAlign for the go-to telescopes, as well as WiFi telescope control with over the new SkyPortal app. With optics, EdgeHD flat-field and coma-free astro-imaging systems were made to accommodate modern imaging with cameras of all types, especially larger format CCD and DSLR cameras. Now all of these innovations have come together in one telescope package: The NexStar Evolution 8 inch EdgeHD. The NexStar Evolution 8 inch EdgeHD covers all bases for compact and easy to use, and is perfectly capable for any observing to astro-imaging pursuit.
Superior Fit
If you're interested in astroimaging, the 8 inch NexStar Evolution EdgeHD is an excellent way to jump in. It's the only fork-mounted telescope in its price range that offers brass worm gears, along with improved motors. Tracking is great, and so too is the flat-field, coma-free EdgeHD optical system.You can capture images of deep-sky objects like the Orion Nebula by simply attaching your DSLR camera. As you progress in the hobby of astroimaging, you can add Celestrons Wedge for NexStar Evolution to achieve longer exposures for more detailed astrophotos.
Of course, the EdgeHD optical system offers bright, sharp views with StarBright XLT optical coatings—a great choice for visual observers and budding astroimagers alike. NexStar Evolution is equipped with 4 auxiliary ports - 2 on top of the fork and 2 on the bottom. A StarSense hand control is still included, but is not necessary when using NexStar Evolution with the app.
Technologies
Celestron added the StarSense AutoAlign technology to the SkyPortal app, making SkyPortal the most advanced telescope control app offered. StarSense not only automatically aligns itself from your smartdevice, it also has advanced mount modeling, allowing you enter up to 10 alignment points for the most precision pointing accuracy possible. Even the most advanced telescope users will love using StarSense AutoAlign through the app. This affordable accessory replaces the expensive software usually used for advanced mount modeling.
With built-in mount modeling, you'll get superior pointing accuracy from horizon to horizon. When your alignment needs to be perfect, add up to 10 additional calibration stars to achieve a new level of accuracy, great for locating objects in the camera's field of view for astroimaging.
SkyPortal App
Access the sky and control your telescope from an interactive planetarium on your smart device with a free SkyPortal app – provides the best star gazing experience for you and your friends and family – know when Jupiter's Great Red Spot will be visible, including shadow transits, planetary occultations, conjunctions, or pick the best deep sky objects to view such as galaxies and nebulae. Learn about these objects with informative backstories and beautiful image galleries, then see them for yourself through the telescope!
Controls everything, including StarSense. Tap Connect and Align and let StarSense automatically align the telescope for you. Upgradable to SkySafari Plus and SkySafari Pro.
WiFi telescope control
Superior pointing accuracy from horizon to horizon
Brass worm gears, along with improved motors
Flat-field, coma-free EdgeHD optical system
Bright, sharp views with StarBright XLT optical coatings
Advanced mount modeling
Equipped with 4 auxiliary ports
Control from an interactive planetarium on your smart device
Celestron Nexstar Evolution 8 inch EdgeHD SCT GoTo Telescope with Starsense
StarPointer Pro Finderscope
2 x 1.25" Plossl Eyepieces
1.25" Star Diagonal
International AC adapter
StarSense Hand Control

Celestron Optical Tube Carrying Case for NexStar 8, 9.25 & 11 inch Optical Tube
Carry your stargazing gear in safety and style with the NexStar 8" Optical Tube Assemblies Case from Celestron!
Designed for quality and convenience, the NexStar case has a hard outer frame and a dense interior that allows you to deepen your astronomical study with the use of an optical tube assembly while never having to worry about your equipment being dropped or otherwise damaged. While the case is designed for an 8" assembly, it also can accommodate the 9.25" and 11" units. The travel case features a hard EVA-molded outer shell, flexible enough to easily handle and tough enough to protect your gear. The NexStar case also includes a convenient storage zipper pocket with room for expansion where you can store several telescope accessories. The interior of the case features two foam spacers and a built-in compression strap to customize the case to fit each telescope model. To round out its benefits, the case also comes equipped with three handles, durable wheels and a zippered accessory pouch.
With the Celestron NexStar 8" Case, you have everything you need to enhance your observation of the deep sky while being certain that all of your equipment is safe and protected.
The Celestron Optical Tube Carrying Case was specifically designed to carry the 8, 9.25, or 11 inch NexStar SE series telescope. It can also fit the Schmidt-Cassegrain or EdgeHD optical tube. The case is made from EVA molded plastic that creates a hard yet flexible shell. It has an expandable storage zipper pocket for accessories. The inside of the case has foam spacers and a built-in compression strap help you customize the case and keep any mode tightly secured for transport. The case has wheels and a telescoping handle to make transportation easier.
Carrying case for NexStar SE, Evolution and EdgeHD telescopes with an 8", 9.25" or 11" optical tube
Space for carrying accessories
Durable, EVA molded construction
Thick foam padding along all walls
Roller wheels for easy transportation
Celestron Optical Tube Carrying Case for NexStar 8, 9.25, & 11 Inch Optical Tube Assemblies
Shipping
Payment
Returns
Feedback
Shipping for this item is free in the Continental US Lower 48 states only. Shipping Fees include all handling & insurance.
For Domestic Shipping to the Lower 48 States: All shipping prices include shipping, handling and insurance (if necessary).
For Domestic Shipping to Alaska, Hawaii, Puerto Rico, US Territories, APO & FPO: For many items to these destinations there will be an additional shipping fee. The shipping costs may be calculated on the Shipping and Payments tab by entering your Zip Code. Free shipping is for the lower 48 only
For International Shipments: All international orders are managed through eBay's Global Shipping Program. Please see the Shipping Tab for full costs.
Hotels: Unfortunately at this time we do not ship to hotels.
Tax: Sales tax will be collected on all orders shipped to NY and NJ
Paypal: PayPal is our preferred method of payment for all of our eBay sales. For customer service please contact us through eBay Messages
Immediate payment via PayPal is required for all Buy It Now items. For all Best Offers, payment is required within 3 days. If you need special arrangements, please contact us through eBay messages. After your order has been shipped, you will receive an e-mail with the name of the carrier and the tracking number.
Returns are permitted if you are not satisfied with your purchase and must be initiated by the buyer within 30 days from delivery date.
For Domestic Purchases:
If you are not satisfied with your purchase, you may return it (see exceptions in Paragraph F below), within 30 days of receipt, for a refund or replacement - subject to the following:
a) Contact us through eBay messages or the returns link to receive a Returned Merchandise Authorization (RMA) number to ensure proper handling of the return and/or replacement.
b) In order to be eligible for a full refund, less shipping expenses, your returned merchandise must be in its original new condition, as shipped, with all packaging, manuals, and paperwork intact and unaltered. Items which have been opened are returnable, however they will carry a restocking fee.
c) Customers remain responsible for the shipping and handling expenses incurred in shipping the item to them. If an item is offered with "Free Shipping," this means we are paying the freight on your behalf. If that product is returned for a refund, the shipping expenses incurred, will be deducted from the refund. If an item is refused, the carrier bills us for shipping both ways, and these expenses incurred on your behalf need to be deducted from your refund
d) All returns are subject to inspection. Products returned must be in brand new condition, as per Paragraph b), if not, it may be deemed non-refundable or will be subject to at least a 15% restocking fee. If your return is missing accessory components, or shows signs of wear - restocking fees will be higher. For specific restocking fees that may be applicable to your return, please contact us through eBay messages.
e) Returns should be packed in an outer shipping carton, not just the original box/packing of the product. The RMA# should be clearly inscribed on the shipping label. A copy of your invoice and Order # should be included, and your return should be insured, with shipping costs pre-paid. We cannot accept any COD shipments.
f) There are product categories which are not returnable due to hygienic or sanitary as required by manufacturers. If your items is a consumable good or is has been locked by a manufacturer such as Apple or HP the return will not be accepted
For Warranty information, merchandise lost / any other issues in transit, or order cancellations, please contact us through eBay Messages. In an event where there is an error regarding a price error or description, we will notify you ASAP. In this event there will be no obligation to proceed with the purchase. Any amount charged to the customer will be 100% refunded.
For International Purchases:
Returns will be accepted within 30 days of the receipt of the item. In order to be eligible for a refund your returned merchandise must be in its original unopened condition, as shipped, with all packaging, manuals, and paperwork intact and unaltered. Items removed from their 'blister-pack' display packaging are non-refundable.
International Buyers must pay return shipping via the same method originally shipped.
We strive for every transaction to be five stars!
Please let us know how we can make yours a five-star rated one too!
Our goal is to make sure you are customer 100% satisfied with your order. When you receive your order take a minute to leave us positive feedback at eBay. If you are not satisfied with any part of our service we please contact us to allow us correct the problem, prior to leaving your feedback. Please send us a message through eBay and let us know how we can earn your 5 stars!
If you have any questions or comments, please contact us through eBay message.
Tagged with: Amateur Astronomy • astronomy • telescope
Filed under: High-End Telescope Auctions (USA)