Current Price: $40.00
Buy It Now Price: $40.00
Bids: 0

Celestron - PowerTank Lithium Telescope Battery – For parts/Not working
This is missing the dustcover, and does not seem to charge correctly.
See pictures for what is included in listing. Sold for parts/not working no returns.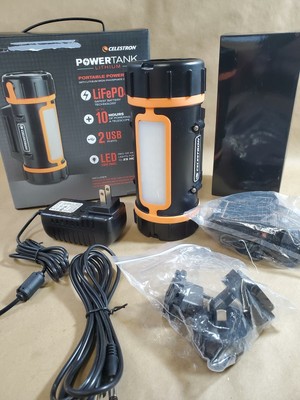 Features
PORTABLE POWER MADE FOR ASTRONOMERS: The perfect solution for most computerized telescopes, PowerTank Lithium features a 12V connection, 10 hours of battery life, an onboard red/white LED flashlight, USB ports, and more. Mounts directly to the tripod leg.
SMALLER, LIGHTER, SAFER: Unique Lithium-Iron Phosphate (LiFePO4) chemistry makes this battery smaller and easier to maintain compared to lead acid batteries, and safer than lithium cobalt batteries. Does not use toxic heavy metals.
10 YEARS OF DEPENDABLE PERFORMANCE: Unlike other batteries with limited lifespans, PowerTank Lithium will be your companion for years of astronomy adventures; it is rated to withstand up to 2000 charge cycles.
WORKS WITH A VARIETY OF DEVICES: 12V connection works with all current Celestron computerized telescopes. PLUS, two USB ports-one quick charge and one regular.
AN EMERGENCY KIT ESSENTIAL: Keep PowerTank Lithium charged and ready for unexpected power outages. The USB ports will keep your devices charged while the flashlight will illuminate your surroundings.
Details
Product Dimensions: 9.0 x 8.0 x 4.0 inches
Item Weight: 3.0 pounds
Shipping Weight: 3.7 pounds
Manufacturer: Celestron Acquisition LLC
Domestic Shipping: Item can be shipped within U.S.
Item color: Black
Item MPN: 18771
Item part number: 18771
Fast Shipping
Our items ship the next business day after payment is received. We will select the best carrier for your item and tracking will update. We currently ship USPS and FedEx.
Quality Products
We are committed to selling quality products well below retail price. We inspect and test all of our items. Please see the condition of this item in the details above.
Return Policy
If you're unhappy with the product for any reason, please send us a message. Most of our products have free returns within 30 days. Please check the listings return policy above for details.
Filed under: Eyepieces & Accessories