Current Price: $1150.00
Buy It Now Price: $1150.00
Bids: 0

VISIT OUR EBAY STORE
Sky-Watcher Flextube 12" Dobsonian Telescope
Condition: Brand New in Original Packaging
SKU: S11740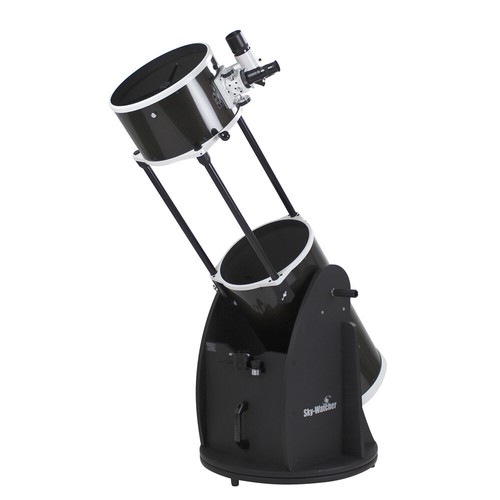 Features
Ability to tackle elusive deep-space gems
Easy to find your target
High performance Teflon bearing system
Smooth vertical and horizontal manual movement
No need for constant mechanical adjustment
Quality components throughout
Properly corrected optics
Rigid construction and outstanding stability
Product Description
Backyard astronomers, rejoice! The Celestron 12-Inch Sky-Watcher Dobsonian Telescope will make you the hit of every star party. This serious telescope is perfect for sidewalk star-gazers who want to tackle deep-space gems. The superior horsepower of the Dobsonian makes objects appear brighter and reveal their essential structure more prominently. It's also easy to swing from one side of the sky to the other, thanks to a high performance Teflon bearing system in both axes. In fact, Celestron offers superior mechanical and structural components like a highly polished diagonal mirror for good contrast, and corrected optics for minimum alterations to the optical wave-front. Take your viewing to the next level with a Sky-watcher Dobsonian Telescope.
Excellent Viewing
Everything in deep-space appears brighter, and wider in extension with the SW 12" DOB. Many of the more challenging-to-resolve objects in smaller diameter telescopes will now reveal their essential structure. Objects just within the threshold of a 10" aperture will now appear more prominent, and may even be worth dwelling upon for extended periods. Comet hunters will delight in the fainter magnitudes that are possible to discern in the SW 12" DOB.
Here at last is a telescope within the threshold to tackle elusive deep-space gems like the Horsehead Nebula in Constellation Orion. Located in Constellation Perseus, M76, is a very faint nebula of 11th magnitude. The SW 12" will capture this baby like you want to see it. M97, a planetary nebula in Ursa Major is very faint, but as a serious amateur you will want to see it!
Ease-of-Use
Observing with a Dobsonian has been described akin to shooting ducks in a gallery because it is so easy to find your target. Just swing your SW DOB to the quadrant of sky to be searched, and scan the vicinity. An 8x50mm Right Angle optical viewfinder provides both magnification and light-gathering to help narrow your search for those elusive fuzzies. The standard-equipment backlash-free 2" Crayford Focuser insures ultra smooth focusing adjustments. Multi-coated, 4-element eyepieces (25mm and 10mm) provide a spacious 52° Apparent Field of View.
To ensure mechanical ease-of-use, SW uses a high performance Teflon bearing system in both axes combined with tension adjustment in altitude to set the appropriate amount of friction, assuring smooth vertical and horizontal manual movement. This also eliminates the need to have a balanced optical tube as in an equatorial mount. Sky-Watcher's Teflon bearing system is preferable to the use of ball-bearings. Ball-bearings make unintended movement of the optical tube more difficult to control. Fortunately, at low power, deep-space objects leisurely drift through the field of the SW 12" DOB, so constant mechanical adjustment of the telescope's orientation isn't needed to keep objects in the field of view.
Quality Components
The Sky-Watcher 12" DOB utilizes quality components throughout. Workmanship pride manifests itself in high quality standards of optical and mechanical fabrication. The polishing process for primary and diagonal mirror yields smooth mirror surfaces ensuring good contrast, and properly corrected optics show minimum alterations to the optical wave-front.
On each primary mirror, and elliptical diagonal mirror aluminum is vacuum deposited to the front glass surface and then over coated with hard quartz (SiO4). Additional layers of Titanium Dioxide (TiO2) and (SiO4) are then applied.
The mechanical and structural components of the OTA exhibit rigid construction and outstanding stability. The mount construction is sturdy and rigid. Mount design, while simple, facilitates smooth motions about both axes.
What's in the Box
Sky-Watcher Flextube 12" Dobsonian Telescope

12" (305 Mm) Dobsonian-Style Newtonian

2" Crayford-Style Focuser with 1.25" Adapter
4-Element Plössl 25 mm And 10 mm 1.25" Eyepieces
8x50 Right Angle Erect-Image Finderscope

Solid Rocker-Mount with Tension Clutch

Aluminum Plate with Needle Bearings

Two Year Warranty
Specifications
Optical Design: Dobsonian
Primary Aperture (mm): 305mm (12")
Focal Ratio: 4.9
Focal Length (mm): 1500mm
Secondary Diameter (mm): 70mm
Secondary Obstruction by Area: 5%
Mirror Coatings: 94% Aluminum
Glass Type: Borosilicate
Included Finder: 8x50 Right Angle Correct Image
Included Eyepieces: 25mm and 10mm 1.25" Super Plossls
Magnification with Included Eyepieces: 60x (25mm), 150x (10mm)
Other Included Items: 1.25" and 2" eyepiece adapters
Focuser: 2" Crayford
GoTo: No
OTA Weight (with accessories): 46.2 lbs
OTA Length: Retracted: 36" Extended: 55"
Zenith Eyepiece Height: 55.5"
OTA Outer Diameter: 14.25"
Dobsonian Base Weight: 38.3 lbs
Base Size:
Dawes Limit: 0.38
Rayleigh Limit: 0.46
Limiting Magnitude: 14.9
Light Gathering (compared to next size down): 44% (compared to 10")
Minimum Magnification: 43x
Maximum Magnification: 600x
Shipping
Payment
Returns
Feedback
Shipping for this item is free in the Continental US Lower 48 states only. Shipping Fees include all handling & insurance.
For Domestic Shipping to the Lower 48 States: All shipping prices include shipping, handling and insurance (if necessary).
For Domestic Shipping to Alaska, Hawaii, Puerto Rico, US Territories, APO & FPO: For many items to these destinations there will be an additional shipping fee. The shipping costs may be calculated on the Shipping and Payments tab by entering your Zip Code. Free shipping is for the lower 48 only
For International Shipments: All international orders are managed through eBay's Global Shipping Program. Please see the Shipping Tab for full costs.
Hotels: Unfortunately at this time we do not ship to hotels.
Tax: Sales tax will be collected on all orders shipped to NY and NJ
Paypal: PayPal is our preferred method of payment for all of our eBay sales. For customer service please contact us through eBay Messages
Immediate payment via PayPal is required for all Buy It Now items. For all Best Offers, payment is required within 3 days. If you need special arrangements, please contact us through eBay messages. After your order has been shipped, you will receive an e-mail with the name of the carrier and the tracking number.
Returns are permitted if you are not satisfied with your purchase and must be initiated by the buyer within 30 days from delivery date.
For Domestic Purchases:
If you are not satisfied with your purchase, you may return it (see exceptions in Paragraph F below), within 30 days of receipt, for a refund or replacement - subject to the following:
a) Contact us through eBay messages or the returns link to receive a Returned Merchandise Authorization (RMA) number to ensure proper handling of the return and/or replacement.
b) In order to be eligible for a full refund, less shipping expenses, your returned merchandise must be in its original new condition, as shipped, with all packaging, manuals, and paperwork intact and unaltered. Items which have been opened are returnable, however they will carry a restocking fee.
c) Customers remain responsible for the shipping and handling expenses incurred in shipping the item to them. If an item is offered with "Free Shipping," this means we are paying the freight on your behalf. If that product is returned for a refund, the shipping expenses incurred, will be deducted from the refund. If an item is refused, the carrier bills us for shipping both ways, and these expenses incurred on your behalf need to be deducted from your refund
d) All returns are subject to inspection. Products returned must be in brand new condition, as per Paragraph b), if not, it may be deemed non-refundable or will be subject to at least a 15% restocking fee. If your return is missing accessory components, or shows signs of wear - restocking fees will be higher. For specific restocking fees that may be applicable to your return, please contact us through eBay messages.
e) Returns should be packed in an outer shipping carton, not just the original box/packing of the product. The RMA# should be clearly inscribed on the shipping label. A copy of your invoice and Order # should be included, and your return should be insured, with shipping costs pre-paid. We cannot accept any COD shipments.
f) There are product categories which are not returnable due to hygienic or sanitary as required by manufacturers. If your items is a consumable good or is has been locked by a manufacturer such as Apple or HP the return will not be accepted
For Warranty information, merchandise lost / any other issues in transit, or order cancellations, please contact us through eBay Messages. In an event where there is an error regarding a price error or description, we will notify you ASAP. In this event there will be no obligation to proceed with the purchase. Any amount charged to the customer will be 100% refunded.
For International Purchases:
Returns will be accepted within 30 days of the receipt of the item. In order to be eligible for a refund your returned merchandise must be in its original unopened condition, as shipped, with all packaging, manuals, and paperwork intact and unaltered. Items removed from their 'blister-pack' display packaging are non-refundable.
International Buyers must pay return shipping via the same method originally shipped.
We strive for every transaction to be five stars!
Please let us know how we can make yours a five-star rated one too!
Our goal is to make sure you are customer 100% satisfied with your order. When you receive your order take a minute to leave us positive feedback at eBay. If you are not satisfied with any part of our service we please contact us to allow us correct the problem, prior to leaving your feedback. Please send us a message through eBay and let us know how we can earn your 5 stars!
If you have any questions or comments, please contact us through eBay message.
Tagged with: Amateur Astronomy • astronomy • telescope
Filed under: High-End Telescope Auctions (USA)