Current Price: $13.99
Buy It Now Price: $13.99
Bids: 0

New In Package
Celestron
Smartphone Adapter For Telescope
Fits 1.25" Eyepiece
W E S H I P F A S T
ONLY $13.99 ! ! !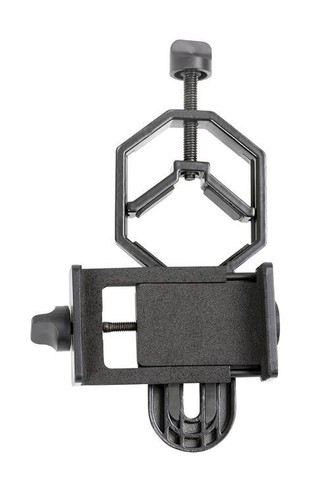 Image celestial or terrestrial objects with this smartphone adapter. With its light rigid frame, this accessory allows you to connect any smartphone to any telescope eyepiece with an outside diameter of 45 mm or smaller. The additional magnification provided by the eyepiece allows your phone to capture great images of the Moon and planets.
This smartphone adapter installs easily by clamping over the top of an eyepiece. The smartphone is held in position with the help of tightening knobs that securely lock your phone in place. Some large and/or bulky phone cases (including folio style cases) may need to be removed for the phone to fit in the adapter.
This adapter is from a new telescope package, comes packaged in a plastic bag, and has two year factory warranty.

Item number: 81035
Buy with confidence!
We are an authorized Celestron distributor.
This Celestron product is new in box.
NOT a customer return or refurbished product.
NOTICE: We only ship to the address supplied by PayPal. If you want an order shipped to a different address, other than your primary PayPal address, you must add the additional address to your PayPal account BEFORE sending payment. It is simple and quick to add additional shipping addresses to your PayPal account. DO NOT ask us to ship to an address other than the address supplied by PayPal.
Shipping & Handling in the U.S. is $3.99 by First Class Mail.
Filed under: Eyepieces & Accessories