Current Price: $17.84
Buy It Now Price: $17.84
Bids: 0

Cell Phone Adapter Mount For Binocular Telescope Spotting Scope Photography
Cell Phone Adapter Mount For Binocular Telescope Spotting Scope Photography
Domestic Shipping is FREE and usually, takes 2-3 businesses days!
Product Features
Getting Amazing Image: With Vankey universal cellphone telescope adapter, connect your phone with telescope or microscope to explore far beautiful scene and amazing micro world.
Safe & Durable: The surface to connect phone and eyepiece are covered by soft EVA pad. Keep your device from being scratched and damaged. The body is made of aluminum alloy. The phone clamp is made of high strength PA Plastic. One purchase for long-time use.
Large Width Range: 54-90 mm / 2.12-3.54 inch. Fit for iPhone X/8/8 Plus/7/7 Plus/6/6s/6 Plus/5/5s, Samsung Galaxy S9/S8/S7/S6/S6/S5, Note 9/8/7/6/5, Sony, LG, HTC, Oneplus, and many other brands.
Eyepiece Size: The phone scope mount works with microscope, telescope, binoculars, monocular, spotting scope. The eyepiece outer diameter range: 28-47 mm / 1.1-1.85 inch.
Notes: If the phone adapter does not work with your device, or you do not know how to use it, please contact us for help, we'll reply to you within 24 hours. Our Service: 1 year warranty, 90-day money back warranty. Package Included: 1*Vankey Universal Cell Phone Adapter Mount, 1*User Manual, 1*Customer Service Card.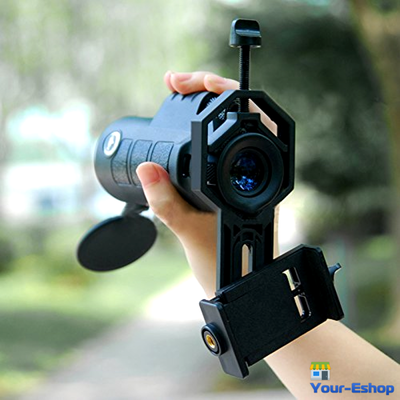 Payment
We accept Paypal.
Shipping & Handling
Domestic Shipping within continental US usually takes 2-3 days
For International Shipping please refer to Shipping & Payments tab above, the buyer is responsible for any applicable import duties.
Returns & Exchanges
We offer 30 days free domestic returns! International buyer responisble for returns shipping costs.
Cell Phone Adapter Mount For Binocular Telescope Spotting Scope Photography
Product Details
Get Your Mobile Phone Into Video Camera and Image Capturer in Distant, Tiny World . Explore the nature of the world easily through your screen.
Are you still using a heavy phone adapter on your fancy eyepiece?
Are you bored with your complicated phone adapter, rotating the screws again and again, adjusting the position over and over?
Here comes Vankey new generation smartphone adapter for optical devices.
Features:
Compliable with Binocular, monocular, telescope, microscope, spotting scope, night vision and most optical device. Fit eyepiece diameter 28mm-47mm. Not fit 2inch eyepieces.
Universal: With super large width range:54- 90mm. Fit iPhone X/8/8 Plus/7/7 Plus/6/6s/6 Plus/5/5s, Samsung Galaxy S9/S8/S7/S6/S6/S5, Note 9/8/7/6/5, Sony, LG, HTC, Oneplus, and many other brands.
Durable metal materials: Mainly made of Aluminum. Part made of high strength PA plastic. One time purchase for long-term use
Compact and Light Weight: 1.6"x3.5"x6.3", 5.8oz
Color: Black
Package Include:
1 X Vankey Phone Telescope Adapter,Friendly Customer Service, User Guide.
Note
This mount may not apply for some certain rifile scope.
Why Choose Your-Eshop?
30 Days Return Policy
You can return the items within 30 Days! So why hesitate?
Fast & Free Domestic Shipping
At Your-Eshop, domestic shipping is FAST and FREE!
Commitment
We are committed to making sure that you leave this transaction satisfied. Please feel free to contact us!
Your-Eshop - Your shop for the best Value!
Filed under: Eyepieces & Accessories