Current Price: $19.20
Buy It Now Price: $19.20
Bids: 0


eBay Listing Design by OCDesignsOnline

Home
View all listings
About Us
Feedback
Faq
Contact Us
DayStar Filters 50mm White-Light Universal Lens Solar Filter(Single, 50-69mm OD)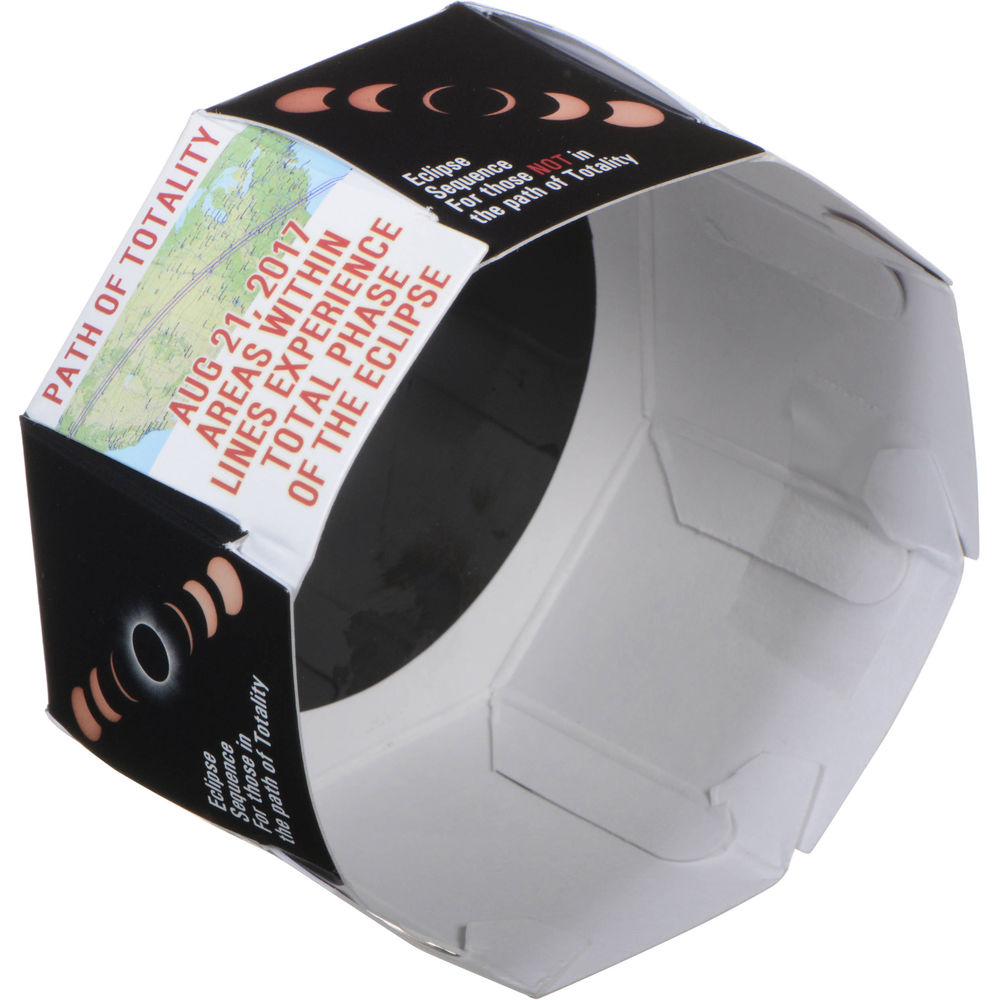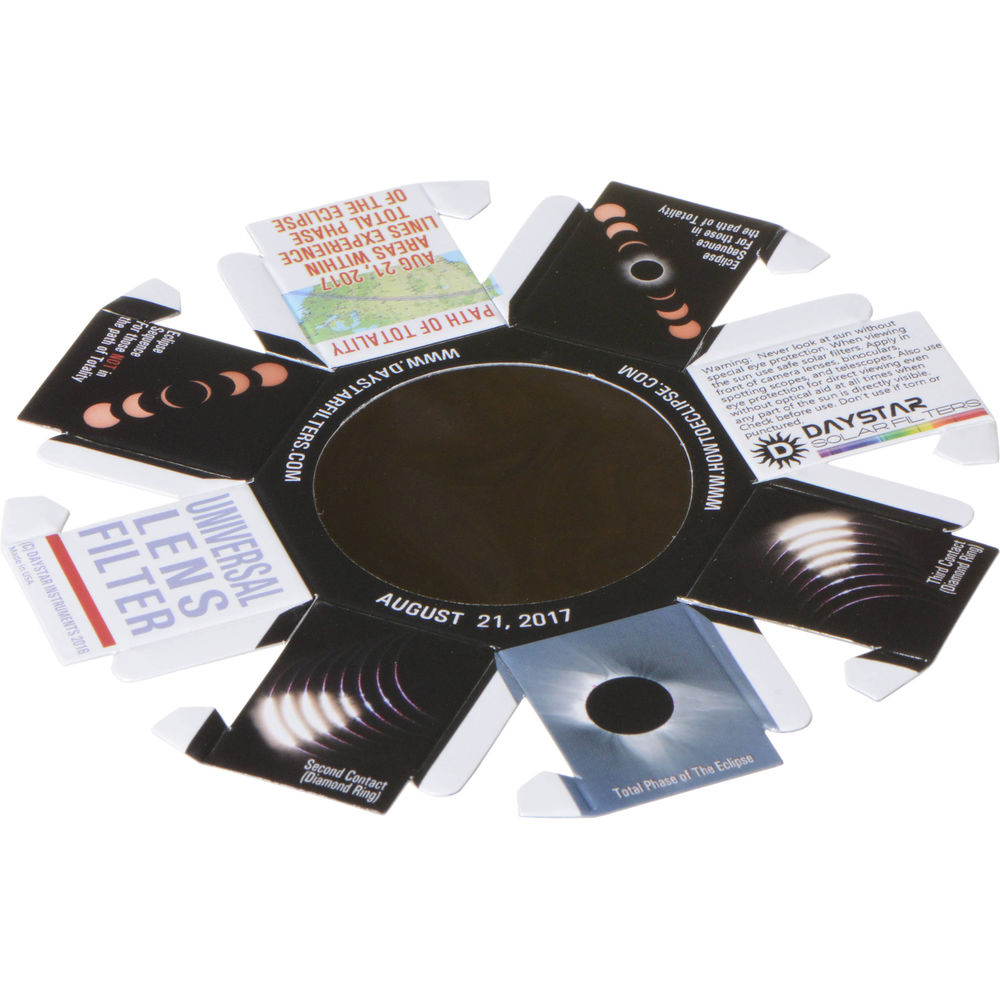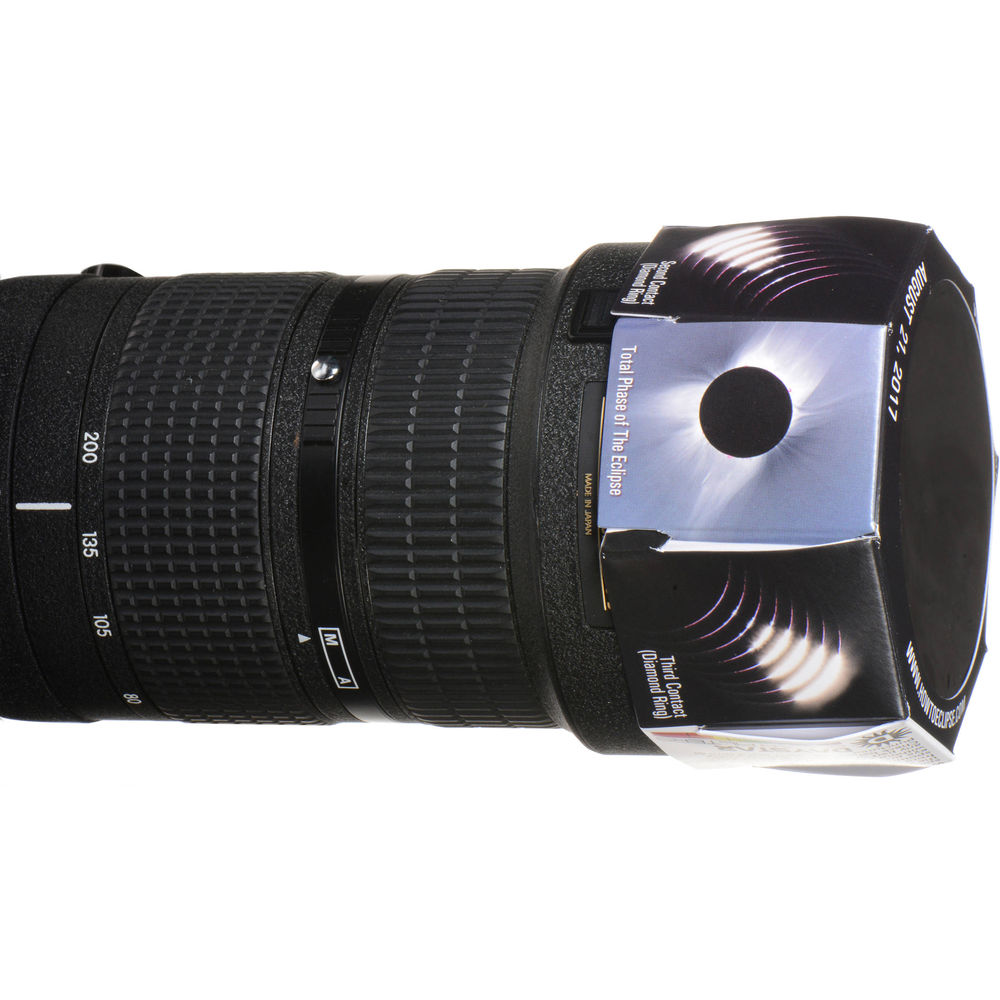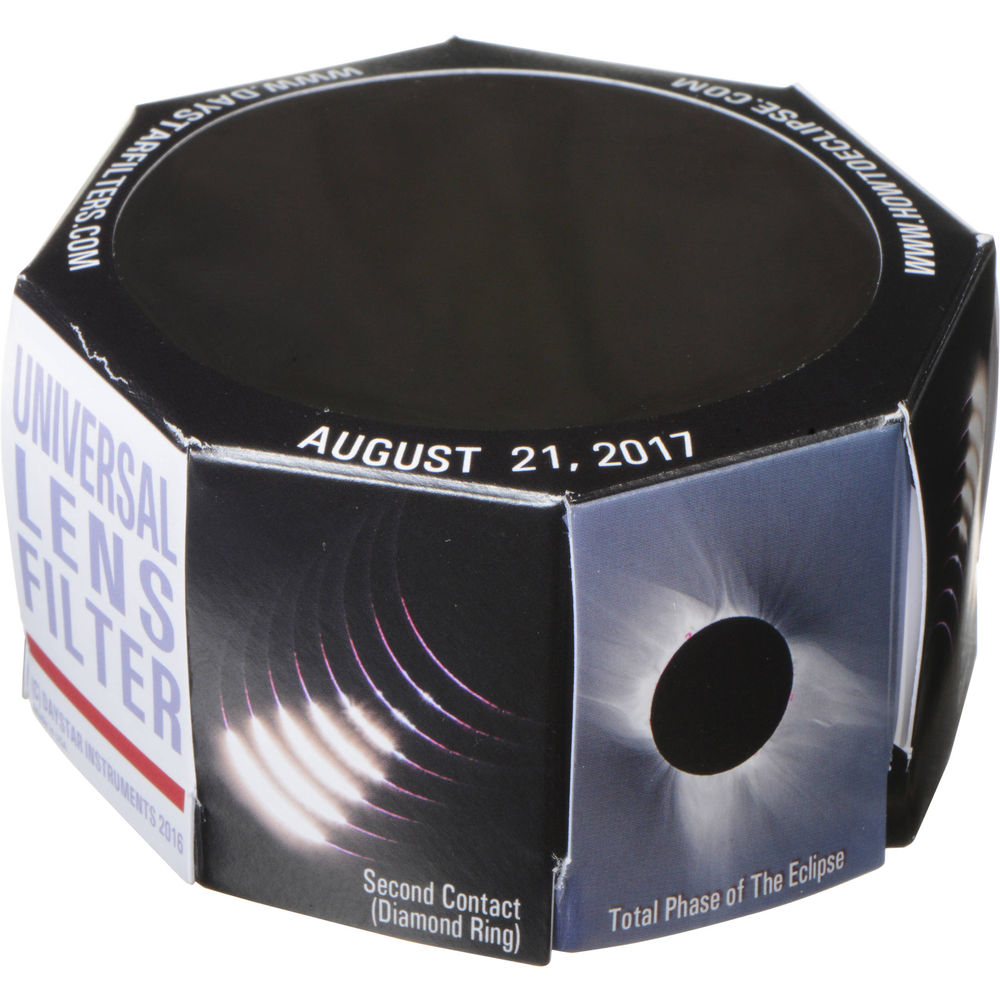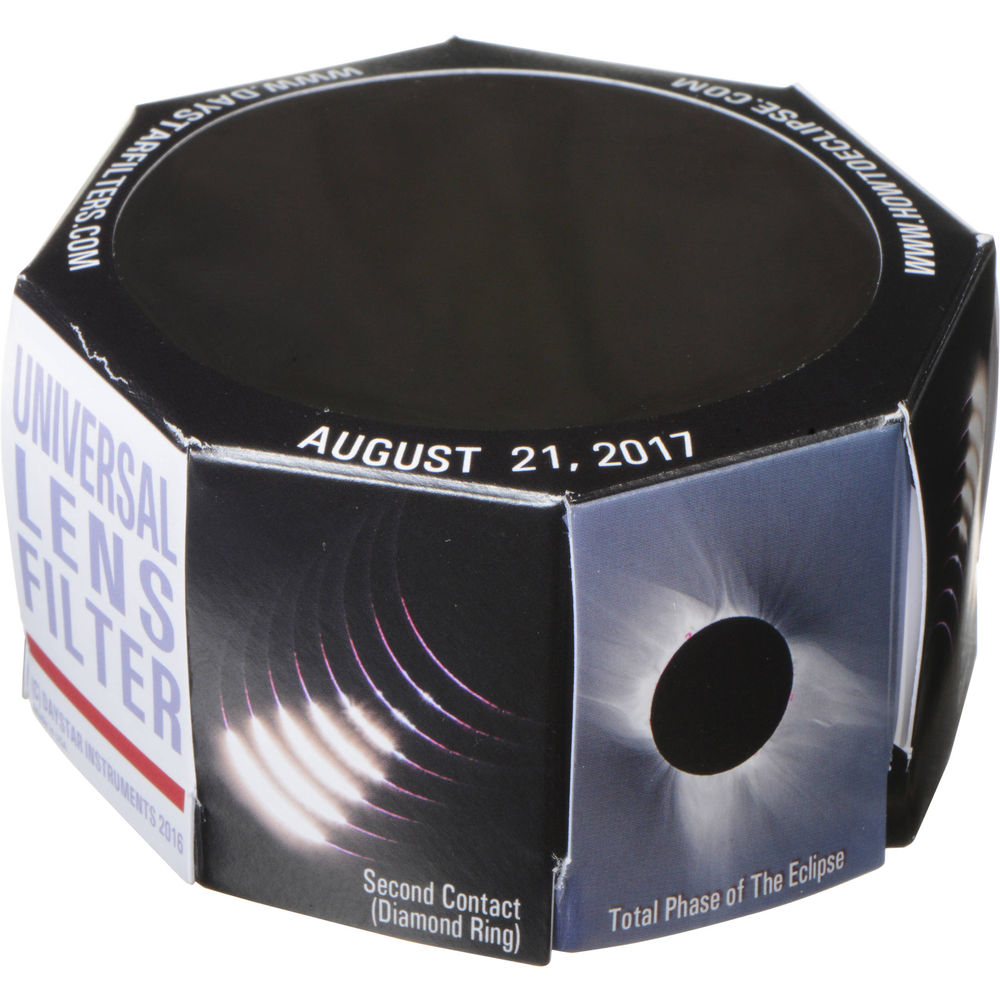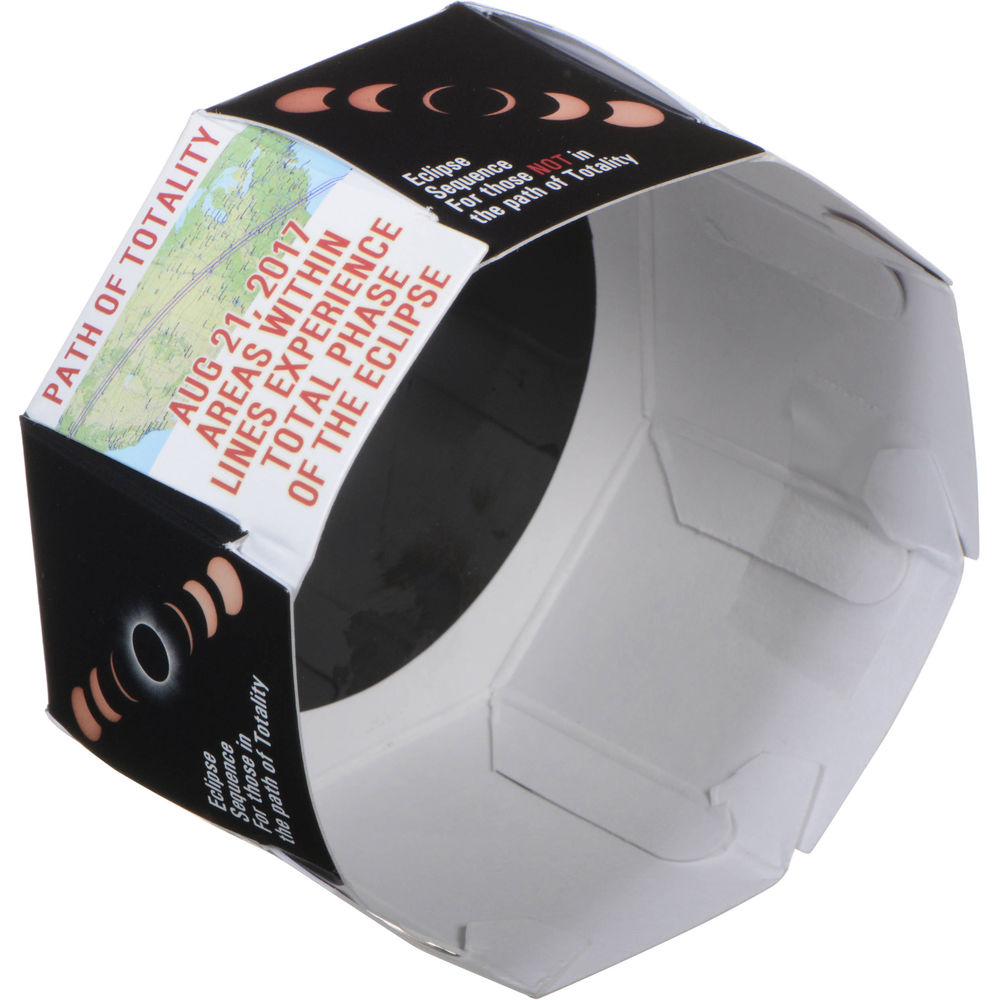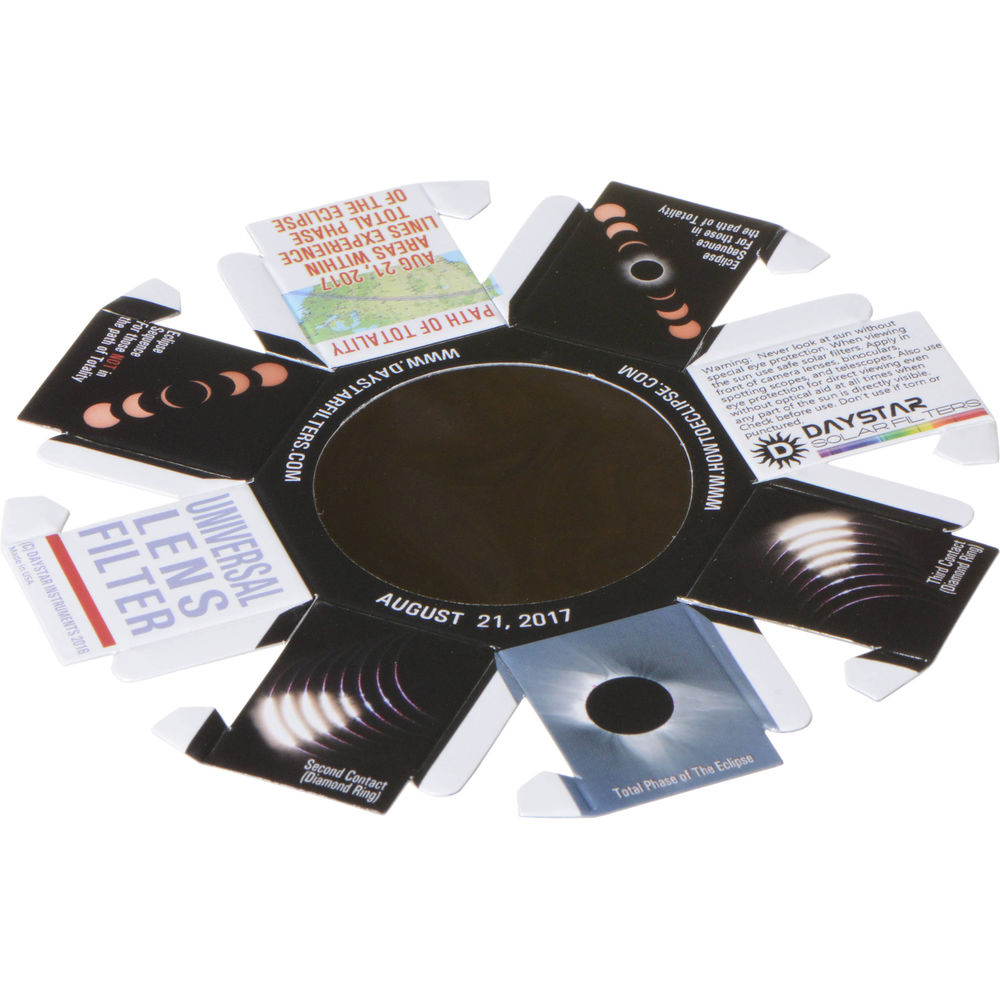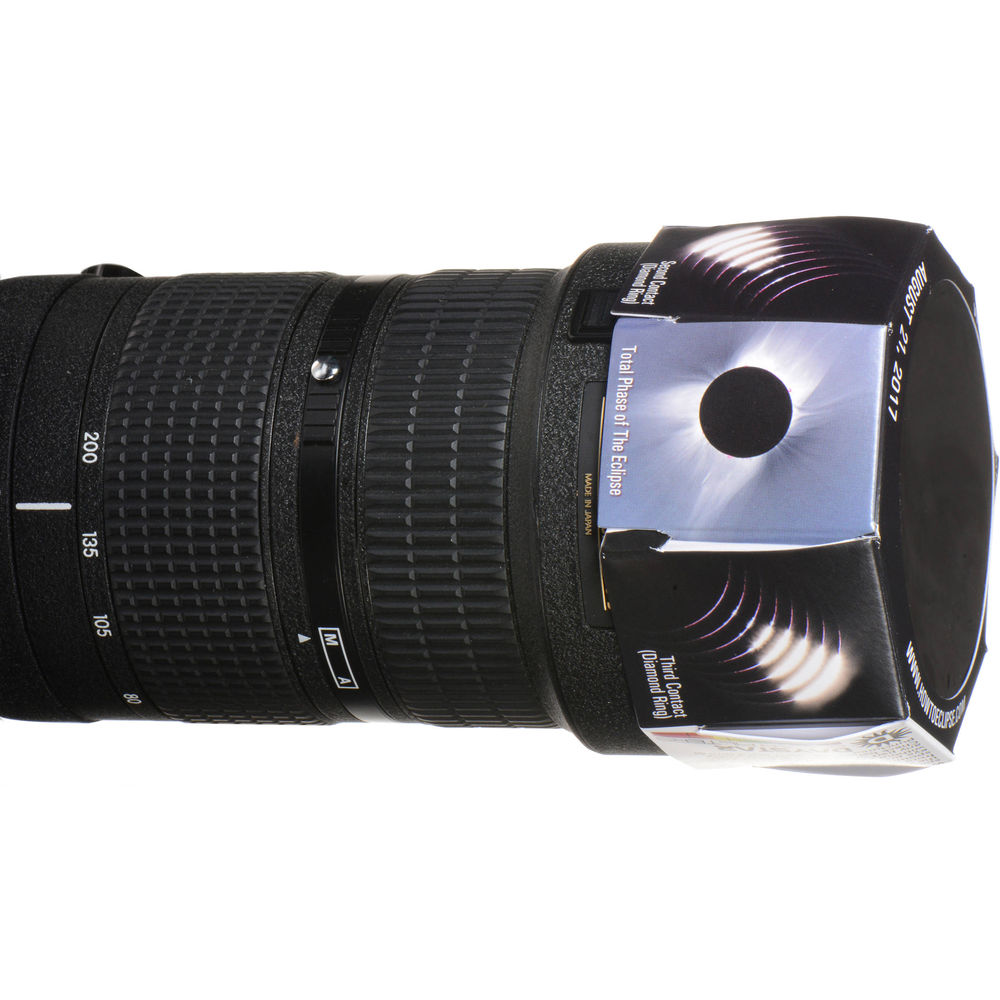 Description
Item Includes
Specifications
Description
Product Highlights
Safe Solar Viewing and Photography
For Lenses, Telescopes, and other Optics
12312-2 ISO-Certified SOLARLITE Film
Fits Outside Diameters from 50-69mm
50mm Clear Filter Aperture
Utilizing a spring-folded assembly design to hold it securely in place on a , the Daystar Filters 50mm White-Light Universal Lens Solar Filter allows you to safely view or photograph the sun and solar eclipses. Its filter is made of the 12312-2 ISO-certified SOLARITE film, which stops more than 99.999% of intense light, plus 100% of harmful IR and UV radiation — revealing sunspots and super granules on the solar surface. Made to fit on the front of lenses, telescopes, spotting scopes, or other optics and imaging devices, this version of the ULF can accommodate housings, sunshades, and dew shields with an outside diameter from 50-69mm (1.96-2.71"). The filter has a clear aperture of 50mm, so vignetting may occur when used on lenses and optics that approach the maximum recommended diameter in the size range.
SAFETY FIRST: Observing the Sun without the proper protection may result in serious personal injury, including permanent eye damage and blindness, and/or damage to equipment. Never point an optic at the sun without an approved solar filter on the front of the optic. For direct solar viewing, viewing the sun through an optic, or when using cameras with an optical viewfinder, ensure your filter is ISO 12312-2 (also written as ISO 12312-2:2015) certified. Never use photographic neutral density filters for direct solar viewing, viewing the sun through an optic, or when using cameras with an optical viewfinder.
Item Includes
Specifications
Payment Policy
PayPal is our only method of payment. Your PayPal account must be a Verified PayPal account.
Selecting "Immediate Pay" is the way to go. If you select eCheck, it may take 2-8 days to clear PayPal.
Please include a phone number as UPS and our Trucking Companies require it.
We prefer to ship to a confirmed PayPal address and whether yes or no we may still contact you for additional verification.
For shipments in NY&CA, we are required to collect the appropriate sales tax.
Shipping Policy
Most purchases are shipped within 24-48 Business Hours
Items with "free shipping" are only shipped free to the 48 contiguous United States.
We supply tracking information directly to your eBay account as well as via email within 24 hours after the shipment leaves our warehouse.
Return Policy
Downtown Photo is proud to offer a 30 day return or exchange policy on most items for a full money back refund, excluding any shipping charges (for items which we offer free shipping, our standard shipping charges will be deducted from any refund or credit)
Returned or exchanged products must be in brand-new, mint condition. Items must be in the original, undamaged manufacturer's packaging with all packaging materials, including instruction booklets, packing inserts, and the blank warranty cards. Memory cards and any other Blister Pack items are not returnable once opened. Any merchandise missing the original Universal Product Code (UPC) cannot be returned. The manufacturer's labeled packaging must be enclosed within an additional shipping carton. Please do not place stickers or shipping labels on the original manufacturer's package.
Please be aware that we cannot accept returns on the following items unless they are shown to be defective in manufacture (as decided by the manufacturer):
Underwater equipment (once taken underwater
Inkjet printers (once ink cartridge/ribbon has been installed)
Processing equipment (once used with chemicals)
Educational DVDs, Tapes and Books once opened
Blister-packed items once opened
Original manufacturer software once opened
Please enclose a copy of your invoice with your return and tell us whether you would like the item to be replaced, exchanged, or refunded.
Returns can take up to 5 days in-house from the date we receive it to process. When returning an item, please make sure you use a shipper which provides you with Insurance and a tracking number. Items returned without a tracking number might take much longer to be processed.
Store Categories
Albums & Storage
Bags & Cases
Batteries & Power
Binoculars & Spotting Scopes
Cameras & Lenses
Computers & Accesories
Film & Memory Cards
Filters
Flash & Lighting
Pro Audio
Production & Post Production
Tripods
Underwater
Video
Other items
Newsletter
Add my Store to your Favorites and receive my email newsletters about new items and special promotions!
Sign up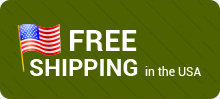 Home
|
View all listings
|
About Us
|
Feedback
|
Faq
|
Contact Us
Copyright © 2017 DownTown Photo. All rights reserved.

Filed under: Eyepieces & Accessories