Current Price: $7099.00
Buy It Now Price: $7099.00
Bids: 0

VISIT OUR EBAY STORE
Meade LX850-ACF 10" F/8 Telescope with UHTC
Condition: Brand New in Original Packaging
SKU: 1008-85-01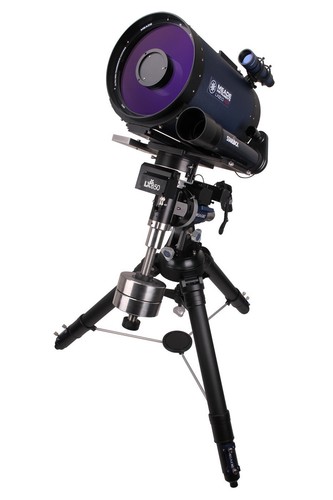 Features
10" f/8 Advanced Coma Free Optics - 2032mm focal length
Meade Ultra-High Transmission Coatings (UHTC)
Crayford Focuser
90 pound instrument capacity
StarLock automatic guider
AutoStar II GOTO system
Heavy-duty tripod
Zero Image Shift Electricronic Micro-Focuser
1 year limited warranty
Product Description
Meade Instruments proudly introduces the new standard in astrophotograhic and visual performance, the LX850. The telescope features top of the line Meade Advanced Coma Free (ACF) optical design and offers coma-free pinpoint star images, as well as flatter image fields greatly desired by discerning amateur astronomers, astrophotographers and professional observatories alike. This patented system also reduces the astigmatism and eliminates diffraction spikes found in classical RC designs. The 10" LX850 has 10" diameter f/8 ACF optics (focal length 2032mm) and Ultra-High Transmission Coatings (UHTC) for maximum image brightness and contrast.
Fast and Sharp
The LX850 employs a fast f/8 ACF optical system with high-contrast baffling that assures crisp, pinpoint imaging to the very edge of the field. The all-new OTA features an internal Crayford-style, zero image-shift focusing system with a two-speed, 7:1 control.
Solid Equatorial Mount
Constructed of machined stainless steel and aircraft grade aluminum, the LX850 mount presents a rock-solid platform with precision roller bearings on both axes and a 1.75" stainless steel R.A. shaft. Its .68" diameter brass worms and 5.8" diameter, 225-tooth aluminum gears deliver smooth, precise movement with up to a 90 pound instrument load. A fully-computerized GoTo mount with GPS, the LX850 comes with a database of over 144,000 objects. All this set atop a new super-stable tripod.
Starlock Automatic Guiding
StarLock is the revolutionary new technology that makes target acquisition on your imaging sensor and accurate guiding during exposures completely automatic. StarLock uses an 80mm f/5 optic and a super wide-angle lens in a two camera system that automatically finds your target in high-precision, immediately captures a field star as dim as 11th magnitude and then guides to an accuracy of one arcsecond. There's no need for a separate guide or computer and the StarLock requires no user focusing or guide star selection. StarLock automatically programs periodic error correction and then corrects for any other errors down to virtually zero.
With the combination of the finest optics, a robust German equatorial mount and the revolutionary StarLock system, the LX850 is the smartest and most complete astro-imaging solution available.
What's in the Box
Meade LX850-ACF 10" F/8 Telescope with UHTC
German Equatorial Mount Assembly with Dovetail Saddle Plate
StarLock Optical Tube and Sensor Assembly
2 x Counterweights
Counterweight Shaft with Safety Nut
LX850 Field Tripod
LX850 Accessories
LX850 Control Panel
Autostar II Hand Controller
StarLock Cable
StarLock Counterweight
Custom Utility Tool
5/16" Hex head wrench
DVD with AutoStar Suite and software
#507 Connecting Cable with USB Adapter
Internal Cable Fish Tool
Anti-Vibration Pads
Specifications
Clear Aperture: 10"
Optical Design: Advanced Coma-Free (ACF)
Optical Coatings: UHTC
Focal Length: 2032mm
Focal Ratio: f/8
Resolving Power (Dawes' Limit): 0.456 arc-seconds
Viewfinder: 8x50mm with cross-hair reticle
Eyepiece(s): HD-60 25mm
Focuser Mechanism: Internal Crayford-style, zero image-shift, dual speed 7:1 focuser
Diagonal: Series 5000 2" Dielectric Diagonal
Dovetail: Losmandy-style with ultra stable radius blocks
Hand Controller: AutoStar II
Object Database: 145,000 objects
Pointing Precision (High-Precision Mode): 1 arc-minute (+/-)
Periodic Error Correction: Both Axes
Permanent Periodic Error Correction (PPEC): Yes
StarLock: Yes
Typical Guiding Performance with StarLock: < 1 arc-second
Slow Motion Controls: Electronic
Slew Speeds: RA and Dec: 1x, 2x, 8x, 16x, 64x sidereal and 0.25°/sec, 0.5°/sec, 1°/sec, and 3°/sec (max)
Tracking Rates: Sidereal, Lunar, or custom-selected from 2000 incremental rates
Control Panel: 12v DC in, 12v DC out, Power, Focuser, Reticle, Handbox port, 1 computer connection port (RS232), 1 StarLock port, 1 Aux guide port
Tripod: LX850 Giant Field Tripod
Power Source: 12v DC, 5 amp Meade Universal Power Supply
GPS Receiver: Yes
Time Chip: Yes
Electronic Focuser: Included
Smart Mount: Yes
Smart Drive: Yes
Anti-vibration PadsIncluded
Shipping
Payment
Returns
Feedback
Shipping for this item is free in the Continental US Lower 48 states only. Shipping Fees include all handling & insurance.
For Domestic Shipping to the Lower 48 States: All shipping prices include shipping, handling and insurance (if necessary).
For Domestic Shipping to Alaska, Hawaii, Puerto Rico, US Territories, APO & FPO: For many items to these destinations there will be an additional shipping fee. The shipping costs may be calculated on the Shipping and Payments tab by entering your Zip Code. Free shipping is for the lower 48 only
For International Shipments: All international orders are managed through eBay's Global Shipping Program. Please see the Shipping Tab for full costs.
Hotels: Unfortunately at this time we do not ship to hotels.
Tax: Sales tax will be collected on all orders shipped to NY and NJ
Paypal: PayPal is our preferred method of payment for all of our eBay sales. For customer service please contact us through eBay Messages
Immediate payment via PayPal is required for all Buy It Now items. For all Best Offers, payment is required within 3 days. If you need special arrangements, please contact us through eBay messages. After your order has been shipped, you will receive an e-mail with the name of the carrier and the tracking number.
Returns are permitted if you are not satisfied with your purchase and must be initiated by the buyer within 30 days from delivery date.
For Domestic Purchases:
If you are not satisfied with your purchase, you may return it (see exceptions in Paragraph F below), within 30 days of receipt, for a refund or replacement - subject to the following:
a) Contact us through eBay messages or the returns link to receive a Returned Merchandise Authorization (RMA) number to ensure proper handling of the return and/or replacement.
b) In order to be eligible for a full refund, less shipping expenses, your returned merchandise must be in its original new condition, as shipped, with all packaging, manuals, and paperwork intact and unaltered. Items which have been opened are returnable, however they will carry a restocking fee.
c) Customers remain responsible for the shipping and handling expenses incurred in shipping the item to them. If an item is offered with "Free Shipping," this means we are paying the freight on your behalf. If that product is returned for a refund, the shipping expenses incurred, will be deducted from the refund. If an item is refused, the carrier bills us for shipping both ways, and these expenses incurred on your behalf need to be deducted from your refund
d) All returns are subject to inspection. Products returned must be in brand new condition, as per Paragraph b), if not, it may be deemed non-refundable or will be subject to at least a 15% restocking fee. If your return is missing accessory components, or shows signs of wear - restocking fees will be higher. For specific restocking fees that may be applicable to your return, please contact us through eBay messages.
e) Returns should be packed in an outer shipping carton, not just the original box/packing of the product. The RMA# should be clearly inscribed on the shipping label. A copy of your invoice and Order # should be included, and your return should be insured, with shipping costs pre-paid. We cannot accept any COD shipments.
f) There are product categories which are not returnable due to hygienic or sanitary as required by manufacturers. If your items is a consumable good or is has been locked by a manufacturer such as Apple or HP the return will not be accepted
For Warranty information, merchandise lost / any other issues in transit, or order cancellations, please contact us through eBay Messages. In an event where there is an error regarding a price error or description, we will notify you ASAP. In this event there will be no obligation to proceed with the purchase. Any amount charged to the customer will be 100% refunded.
For International Purchases:
Returns will be accepted within 30 days of the receipt of the item. In order to be eligible for a refund your returned merchandise must be in its original unopened condition, as shipped, with all packaging, manuals, and paperwork intact and unaltered. Items removed from their 'blister-pack' display packaging are non-refundable.
International Buyers must pay return shipping via the same method originally shipped.
We strive for every transaction to be five stars!
Please let us know how we can make yours a five-star rated one too!
Our goal is to make sure you are customer 100% satisfied with your order. When you receive your order take a minute to leave us positive feedback at eBay. If you are not satisfied with any part of our service we please contact us to allow us correct the problem, prior to leaving your feedback. Please send us a message through eBay and let us know how we can earn your 5 stars!
If you have any questions or comments, please contact us through eBay message.
Tagged with: Amateur Astronomy • astronomy • telescope
Filed under: High-End Telescope Auctions (USA)