Current Price: $5169.00
Buy It Now Price: $5169.00
Bids: 0

VISIT OUR EBAY STORE
Meade LX600-ACF 12" f/8 Telescope (OTA Only)
Condition: Brand New in Original Packaging
SKU: 1208-70-01N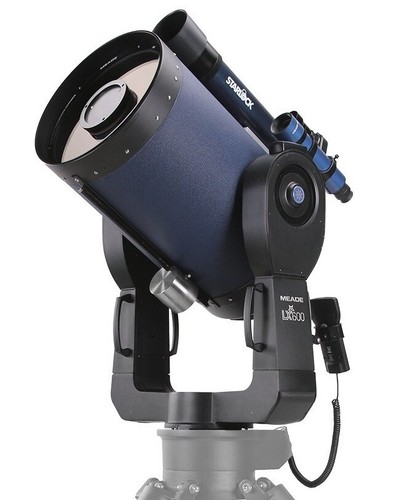 Features
12" f/8 Advanced Coma Free Optics - 2438mm focal length
Meade Ultra-High Transmission Coatings (UHTC)
Internal Crayford focuser - 2 speed, 7:1 control.
StarLock Automatic Guider - < 1 arc-second typical performance
AutoStar II GOTO System - 145,000 object library
8x50 refractor with cross hairs viewfinder
26 mm Series 4000 Super Plössl eyepiece
Limited one year manufacturer warranty
Product Description
Meade's remarkable LX600 f/8 ACF with StarLock technology takes a giant leap forward by making astro-imaging much easier and making setup and transportation a breeze. The LX600 is a simple to operate, portable package that makes taking great astrophotos as easy as focusing your camera and opening the shutter. The collection of features and technology integrated into the LX600 is unavailable from any other manufacturer and its ease of use cannot be duplicated by just attaching a set of add-ons to another scope.
StarLock - Full Time Automatic Guiding
StarLock is the revolutionary new technology that makes target acquisition on your imaging sensor and accurate guiding during exposures completely automatic. StarLock uses an 80mm f/5 optic and a super wide-angle lens in a two camera system that automatically finds your target in high-precision, immediately captures a field star as dim as 11th magnitude and then guides to an accuracy of one arcsecond. There's no need for a separate guide or computer and the StarLock requires no user focusing or guide star selection. StarLock automatically programs periodic error correction and then corrects for any other errors down to virtually zero.
Alt/Az Mode
In alt/az mode, the LX600 also makes for the best visual and short exposure experience possible. StarLock will put every target dead center in the eyepiece and track with arcsecond accuracy so you can concentrate on the beautiful, wide fields of pinpoint stars created by the superb f/8 ACF optical system.
Faster, Sharper Optical System
The LX600 employs a fast f/8 ACF optical system with high-contrast baffling that assures crisp, pinpoint imaging to the very edge of the field. The all-new OTA features an internal Crayford-style, zero image-shift focusing system with a two-speed, 7:1 control.
Autostar II Controller
Puts over 145,000 objects at your fingertips with the fastest GoTo performance available (8° per second - 10", 12" and 14" aperatures). Or you can control the system from an external computer.
Portability and Transportation
Need a telescope system that can be easily broken down and moved to a dark-sky site? Always wanted a bigger telescope, but were worried about the weight? With the LX600 Split Fork design, you can have both. The OTA can be quickly separated from the mount, reducing the total weight that must be lifted at one time by 35 lb. This allows for easy setup and transportation even with the 12" or 14" OTA.
Solid Fork Mount
With Heavy Duty 5.75" Gears. Large, high-quality worm-gear drives in both axes provide smooth movements with low periodic error that are critical for long exposure astrophotography, that provides the freedom to go horizon to horizon without any meridian flip, unlike German Equatorial Mounts.

Additional Features
12" LX600-ACF comes fully equipped with AutoStar II keypad with 145,000 object library, Meade 1.25" diagonal, 26mm Super Plossl eyepiece and 8x50 viewfinder with quick release bracket.
Power panel includes the following ports: 12V input, 12V output, illuminated reticle, handbox, RS-232 x1, StarLock, Aux, and Focuser.
Meade Microfocuser compatible
What's in the Box
Meade LX600-ACF 12" f/8 Telescope (OTA Only)
AutoStar II Hand Controller
StarLock System
Fork Mount with Drive Base
1.25" Diagonal Prism
26 mm Super Plossl Eyepiece (1.25")
8x50 viewfinder with quick release bracket
Limited One-Year Warranty
Specifications
Optical design: Advanced Coma-Free
Clear aperture: 12"
Focal length focal ratio: 2438 mm, f/8
Optical coating: UHTC
Resolving power (Dawes limit): .38 arcseconds
Secondary obstruction (%): 16.86
AutoStar Controller: AutoStar II
Object Database: 145,000 objects
Viewfinder: 8x50 refractor with cross hairs
Eyepiece: 26mm Series 4000 Super Plössl
Diagonal: 1.25 inch diagonal prism
Focus system: Internal Crayford-style, zero image-shift primary mirror focus with dual speed 7:1 control
Primary mirror lock: Included on 12" and 16" OTA's only
Slew Speeds: RA and Dec: 0.01x to1.0x sidereal, variable in 0.01x increments; 2x, 8x, 16x, 64x, 128x sidereal; 1°/sec. to 2°/sec., variable in 0.1° increments.
Tracking Rates: Sidereal, lunar, or custom-selected from 2000 incremental rates
Control Panel: 12v DC in, 12v DC out, Power, Focuser, Reticle, Handbox port, 1 computer connection port (RS232), 1 StarLock port, 1 Aux guide port Telescope Mounting
Heavy-duty fork type; double-tine
Split Fork Arm: OTA and Telescope base can be separated for easier assembly and disassembly
Power supply: 8 "C" batteries (user supplied), or optional 12v DC 5A Meade Universal Power Supply
Materials
Primary mirror: Low-expansion borosilicate glass
Secondary mirror: Individually figured with primary mirror for maximum correction. Low-expansion borosilicate glass
Correcting plate/lens: Aspheric high-spectral transmission Borofl oat glass from Schott AG Germany
Optical tube: Aluminum
Weights and Dimensions
StarLock
Wide-field camera: 25mm x 26mm f/1.04 optic with 1/2 inch format CMOS sensor gives fi eld of 14.72 x 11.78 degrees.
Narrow-field camera: 80mm x 400mm f/5 optic with 1/2 inch format CMOS sensor gives fi eld of 57.2 x 45.8 arcminutes (2.68 arcseconds/pixel)
High-precision pointing: +/- 1 arcminute
High-precision guiding: +/- 1 arcsecond (with good seeing. 1-4 second correction update rate depending on star magnitude. Faintest guide star 11th mag.)
High-precision alignment: Semi-automatic drift align procedure for ultra-precise polar alignment
Weight: 2.7 pounds
Shipping
Payment
Returns
Feedback
Shipping for this item is free in the Continental US Lower 48 states only. Shipping Fees include all handling & insurance.
For Domestic Shipping to the Lower 48 States: All shipping prices include shipping, handling and insurance (if necessary).
For Domestic Shipping to Alaska, Hawaii, Puerto Rico, US Territories, APO & FPO: For many items to these destinations there will be an additional shipping fee. The shipping costs may be calculated on the Shipping and Payments tab by entering your Zip Code. Free shipping is for the lower 48 only
For International Shipments: All international orders are managed through eBay's Global Shipping Program. Please see the Shipping Tab for full costs.
Hotels: Unfortunately at this time we do not ship to hotels.
Tax: Sales tax will be collected on all orders shipped to NY and NJ
Paypal: PayPal is our preferred method of payment for all of our eBay sales. For customer service please contact us through eBay Messages
Immediate payment via PayPal is required for all Buy It Now items. For all Best Offers, payment is required within 3 days. If you need special arrangements, please contact us through eBay messages. After your order has been shipped, you will receive an e-mail with the name of the carrier and the tracking number.
Returns are permitted if you are not satisfied with your purchase and must be initiated by the buyer within 30 days from delivery date.
For Domestic Purchases:
If you are not satisfied with your purchase, you may return it (see exceptions in Paragraph F below), within 30 days of receipt, for a refund or replacement - subject to the following:
a) Contact us through eBay messages or the returns link to receive a Returned Merchandise Authorization (RMA) number to ensure proper handling of the return and/or replacement.
b) In order to be eligible for a full refund, less shipping expenses, your returned merchandise must be in its original new condition, as shipped, with all packaging, manuals, and paperwork intact and unaltered. Items which have been opened are returnable, however they will carry a restocking fee.
c) Customers remain responsible for the shipping and handling expenses incurred in shipping the item to them. If an item is offered with "Free Shipping," this means we are paying the freight on your behalf. If that product is returned for a refund, the shipping expenses incurred, will be deducted from the refund. If an item is refused, the carrier bills us for shipping both ways, and these expenses incurred on your behalf need to be deducted from your refund
d) All returns are subject to inspection. Products returned must be in brand new condition, as per Paragraph b), if not, it may be deemed non-refundable or will be subject to at least a 15% restocking fee. If your return is missing accessory components, or shows signs of wear - restocking fees will be higher. For specific restocking fees that may be applicable to your return, please contact us through eBay messages.
e) Returns should be packed in an outer shipping carton, not just the original box/packing of the product. The RMA# should be clearly inscribed on the shipping label. A copy of your invoice and Order # should be included, and your return should be insured, with shipping costs pre-paid. We cannot accept any COD shipments.
f) There are product categories which are not returnable due to hygienic or sanitary as required by manufacturers. If your items is a consumable good or is has been locked by a manufacturer such as Apple or HP the return will not be accepted
For Warranty information, merchandise lost / any other issues in transit, or order cancellations, please contact us through eBay Messages. In an event where there is an error regarding a price error or description, we will notify you ASAP. In this event there will be no obligation to proceed with the purchase. Any amount charged to the customer will be 100% refunded.
For International Purchases:
Returns will be accepted within 30 days of the receipt of the item. In order to be eligible for a refund your returned merchandise must be in its original unopened condition, as shipped, with all packaging, manuals, and paperwork intact and unaltered. Items removed from their 'blister-pack' display packaging are non-refundable.
International Buyers must pay return shipping via the same method originally shipped.
We strive for every transaction to be five stars!
Please let us know how we can make yours a five-star rated one too!
Our goal is to make sure you are customer 100% satisfied with your order. When you receive your order take a minute to leave us positive feedback at eBay. If you are not satisfied with any part of our service we please contact us to allow us correct the problem, prior to leaving your feedback. Please send us a message through eBay and let us know how we can earn your 5 stars!
If you have any questions or comments, please contact us through eBay message.
Tagged with: Amateur Astronomy • astronomy • telescope
Filed under: High-End Telescope Auctions (USA)