Current Price: $1199.00
Buy It Now Price: $1199.00
Bids: 0

VISIT OUR EBAY STORE
Meade 5" Achromatic Refractor LX85 GoTo EQ Telescope
Condition: Brand New in Original Packaging
SKU: 217001

What's in the Box
Meade 5" Achromatic Refractor LX85 GoTo EQ Telescope
9mm 1.25" Plossl Eyepiece
26mm 1.25" Plossl Eyepiece
8x50 Optical Viewfinder with Crosshair
2" 90-Degree Mirror with 1.25" Adapter
Vixen-Style Dovetail
1 Year Warranty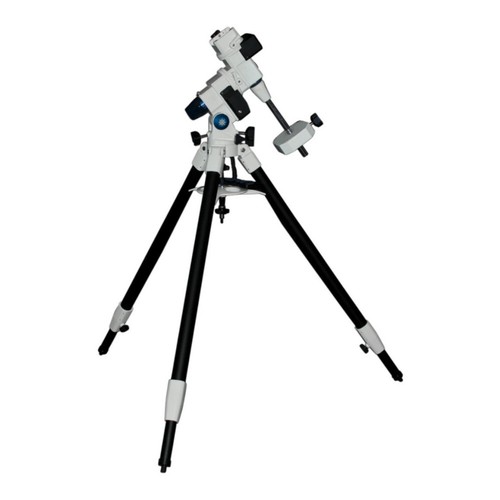 Meade LX85 German Equatorial Mount and Tripod with AudioStar
Meade's new LX85 Series features a high-quality, portable, GoTo German equatorial mount with AudioStar hand controller and an adjustable-height steel leg tripod. It is the perfect choice for the cultivated observer and astro-imager looking to chase deep sky objects. You can use it as a stand-alone mount or maximize your viewing potential with an array of different optical tubes to choose from. Meade's LX85 Series will keep you looking up for many years to come and sets a standard for mid-sized telescopes at a great price.
Mount with Vixen-Style Dovetail Receiver
The LX85 Mount features a Vixen-style dovetail receiver for mounting observing equipment up to 33 pounds, coupled with a sturdy build and low-cog servo-motors that ensure smooth tracking performance. This stable mount can impressively handle slight load imbalances with ease. With its built-in integer gearing motor drive, you'll be able to track through long exposures using Meade's Smart Drive feature for recording Permanent Periodic Error Correction (PPEC).
Perfect for Astrophotography
Seamlessly image the best parts of the night sky without having to worry about performing a meridian flip. The LX85 mount includes an integrated autoguider port to readily connect to your autoguider camera, making your astro-imaging experience easy and straightforward. If these features weren't already enough, the LX85 is compatible with the Meade Zero-Image Shift Electronic Micro focuser and wired illuminated reticles.
AudioStar Hand Controller
With the included AudioStar hand controller you have easy access to over 30,000-objects that you can view with a simple press of a button. AudioStar Astronomer Inside technology features a built-in speaker that plays over four hours of educational content about the celestial objects you view.
Easily Expandable and Upgradable
Capable of handling a wide variety of optical tubes and equipment, expandable and upgradable, the Meade LX85 mount is designed for you to rediscover the night sky again and again. Whether you are at a beginner level or you're venturing into astrophotography, the LX85 Series is the portable and reliable mount to grow with your level of experience.
Up to 33-pound payload capacity
GoTo German equatorial mount
Vixen-style dovetail receiver
AudioStar hand controller with 30,000 object-database
Built-in integer gearing motor drive
Permanent Periodic Error Correction (PPEC)
Adjustable-height steel leg tripod
Meade LX85 German Equatorial Mount and Tripod with AudioStar
LX85 German Equatorial Mount
Tripod
AutoStar Suite DVD
Compass
9-Pound Counterweight

Meade LX85 5" Achromatic Refractor (OTA ONLY)
Meade Instruments is acknowledged as one of the most innovative and dynamic companies in the telescope market. Known for its groundbreaking telescopic designs, Meade has introduced dozens of improvements over the years that have made amateur astronomy easier and more enjoyable than ever.
Perfect Views
The LX85 Series 5" Refractor has an Achromat Refractor design with a high-quality air-space objective lens producing high resolution and incredible contrast for lunar, planetary, and deep-sky observations. Features a 5" (120mm) aperture, 700mm focal length, and f/5.8 focal ratio for clear and bright views of faraway objects.
Construction
Equipped with multi-coated optical coatings and a 2" Rack & Pinion Focuser, the refractor telescope gives you the tools you need for an amazing night with the stars. The OTA alone weighs 10.9 lbs and has dimensions of 5.8" x 28".
5" (120mm) aperture
700mm focal length
f/5.8 focal ratio
Multi-coated optical coatings
2" Rack & Pinion Focuser
Vixen-style dovetail receiver
Meade LX85 5" Achromatic Refractor (OTA ONLY)
9mm 1.25" Plossl Eyepiece
26mm 1.25" Plossl Eyepiece
8x50 Optical Viewfinder with Crosshair
2" 90-Degree Mirror with 1.25" Adapter
Vixen-Style Dovetail
1 Year Warranty
Shipping
Payment
Returns
Feedback
Shipping for this item is free in the Continental US Lower 48 states only. Shipping Fees include all handling & insurance.
For Domestic Shipping to the Lower 48 States: All shipping prices include shipping, handling and insurance (if necessary).
For Domestic Shipping to Alaska, Hawaii, Puerto Rico, US Territories, APO & FPO: For many items to these destinations there will be an additional shipping fee. The shipping costs may be calculated on the Shipping and Payments tab by entering your Zip Code. Free shipping is for the lower 48 only
For International Shipments: All international orders are managed through eBay's Global Shipping Program. Please see the Shipping Tab for full costs.
Hotels: Unfortunately at this time we do not ship to hotels.
Tax: Sales tax will be collected on all orders shipped to NY and NJ
Paypal: PayPal is our preferred method of payment for all of our eBay sales. For customer service please contact us through eBay Messages
Immediate payment via PayPal is required for all Buy It Now items. For all Best Offers, payment is required within 3 days. If you need special arrangements, please contact us through eBay messages. After your order has been shipped, you will receive an e-mail with the name of the carrier and the tracking number.
Returns are permitted if you are not satisfied with your purchase and must be initiated by the buyer within 30 days from delivery date.
For Domestic Purchases:
If you are not satisfied with your purchase, you may return it (see exceptions in Paragraph F below), within 30 days of receipt, for a refund or replacement - subject to the following:
a) Contact us through eBay messages or the returns link to receive a Returned Merchandise Authorization (RMA) number to ensure proper handling of the return and/or replacement.
b) In order to be eligible for a full refund, less shipping expenses, your returned merchandise must be in its original new condition, as shipped, with all packaging, manuals, and paperwork intact and unaltered. Items which have been opened are returnable, however they will carry a restocking fee.
c) Customers remain responsible for the shipping and handling expenses incurred in shipping the item to them. If an item is offered with "Free Shipping," this means we are paying the freight on your behalf. If that product is returned for a refund, the shipping expenses incurred, will be deducted from the refund. If an item is refused, the carrier bills us for shipping both ways, and these expenses incurred on your behalf need to be deducted from your refund
d) All returns are subject to inspection. Products returned must be in brand new condition, as per Paragraph b), if not, it may be deemed non-refundable or will be subject to at least a 15% restocking fee. If your return is missing accessory components, or shows signs of wear - restocking fees will be higher. For specific restocking fees that may be applicable to your return, please contact us through eBay messages.
e) Returns should be packed in an outer shipping carton, not just the original box/packing of the product. The RMA# should be clearly inscribed on the shipping label. A copy of your invoice and Order # should be included, and your return should be insured, with shipping costs pre-paid. We cannot accept any COD shipments.
f) There are product categories which are not returnable due to hygienic or sanitary as required by manufacturers. If your items is a consumable good or is has been locked by a manufacturer such as Apple or HP the return will not be accepted
For Warranty information, merchandise lost / any other issues in transit, or order cancellations, please contact us through eBay Messages. In an event where there is an error regarding a price error or description, we will notify you ASAP. In this event there will be no obligation to proceed with the purchase. Any amount charged to the customer will be 100% refunded.
For International Purchases:
Returns will be accepted within 30 days of the receipt of the item. In order to be eligible for a refund your returned merchandise must be in its original unopened condition, as shipped, with all packaging, manuals, and paperwork intact and unaltered. Items removed from their 'blister-pack' display packaging are non-refundable.
International Buyers must pay return shipping via the same method originally shipped.
We strive for every transaction to be five stars!
Please let us know how we can make yours a five-star rated one too!
Our goal is to make sure you are customer 100% satisfied with your order. When you receive your order take a minute to leave us positive feedback at eBay. If you are not satisfied with any part of our service we please contact us to allow us correct the problem, prior to leaving your feedback. Please send us a message through eBay and let us know how we can earn your 5 stars!
If you have any questions or comments, please contact us through eBay message.
Tagged with: Amateur Astronomy • astronomy • telescope
Filed under: High-End Telescope Auctions (USA)