Current Price: $882.35
Buy It Now Price: $882.35
Bids: 0

Meade Instruments 234003 Star Pro AZ 90mm Refracting Telescope and Smart Phone Adapter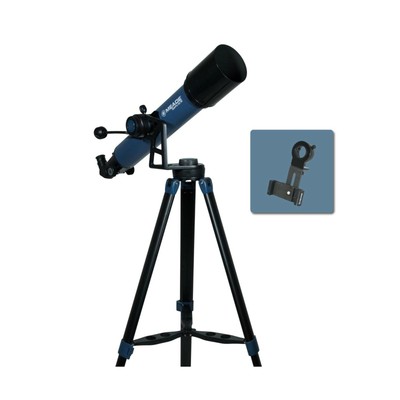 Description
Style:90 mm Meade Star Pro AZ is the perfect scope for the novice astronomer
seeking to explore the universe! Available in a wide variety of apertures, the
Star Pro AZ has everything you need to start observing the night sky right out
of the box. The Star Pro AZ features a newly designed single arm, altar-
azimuth mount with slow motion control cables on both axes, making your
observing experience a breeze. This new mount also features a Vixen-style
dovetail receiver, giving you the ability to use different optical tubes.
Easily organize your eyepieces with the integrated accessory holder, located
on the sturdy tripod. The Star Pro AZ features a bonus smart phone adapter
that allows you to take images of the night sky through the eyepiece! Also
included is the auto Star suite astronomer edition software on DVD to help you
learn about objects in the night sky! The Star Pro AZ is an easy to use,
portable telescope, for the on-the-go astronomer. Each optical tube offered
with the Star Pro AZ includes fully coated optics resulting in bright, clear
images of the Moon, planets, Nebula, and more!
Features:
90mm Acromatic Refractor Telescope with Smart Phone Imaging Adapter
Apeture 90mm /Focal length 600mm, Focal Ratio f/6.67
Low (26mm), medium (9mm), high (6.3mm) magnification eyepieces & 2x Barlow lens doubles the magnifying power of each eyepiece
Altazimuth mount with a slow motion control rod for precision tracking means you can easily track objects day or night
Vixen-style dovetail/ Full size adjustable aluminum tripod with integrated accessory holder
Product Details:
Product Dimensions: 25 x 55 x 29 inches
Item Weight: 10 pounds
Shipping Weight: 19.1 pounds
Item model number: 234003
Handling

All orders are shipped within 3 to 5 business days of payment clearing. Please check the estimated handling time in this listing for specific information.

Delivery

Domestic orders can take up to 10 business days after handling to be received. International orders range in time due to distance and varying customs processes by country. Please reach out to us directly with any delivery questions prior to placing your order.

Domestic orders that are identified as going to a mail forwarding address may be subject to cancellation. If you provide a mail forwarding address, you agree to be responsible for any and all damage incurred after the item reaches the mail forwarding address. We, as the seller, will only be responsible for the condition of the item on or before the item reaches the delivery address initially provided. We do not guarantee and are not responsible for items received in the final destination in damaged condition.

Select items are eligible for international shipping or through eBay's Global Shipping Program (GSP). If you are an international buyer who purchases an excluded item due to country restrictions, your order will be cancelled. Please refer to eBay's Global Shipping FAQs in order to view eligible countries and items to prevent cancellation.

Return Policy and Cancellations

Domestic orders can be returned within 30 days of receipt and international orders can be returned within 14 days of receipt. All items must be returned in their original condition, including in original packaging. The buyer is responsible for return shipping on any item that is not damaged and/or is being returned for buyer's remorse. We cannot guarantee cancellations after payment has been received.

Please note that if an item arrives in damaged condition or is missing pieces, we may, in some cases, be able to offer replacement pieces or a full replacement. In all cases, a full refund with return is available. If individual pieces are able to be replaced, this request will need to be initiated via the warranty directly with the manufacturer. Any and all warranty requests are required to be initiated and maintained by the buyer. We, as the seller, are not allowed to initiate warranties in the buyer's name and do not have access to all personal information required to initiate warranty requests.

For international orders, existing warranties on items are likely to become ineligible once shipped outside of the United States. Please refer to the item's warranty guidelines or contact us for more information prior to purchasing.

Any international purchase of electronics is not guaranteed to be compatible or supported in every country and is, therefore, not eligible for free returns in case of defects. It is solely the buyer's responsibility to ensure that electronics are fully compatible in their destination country prior to purchase. In the case of a return for a defective electronics item, it will be the buyer's full responsibility to pay for and return the item within 14 days of receipt, per our international return policy.

Feedback

We take our reputation seriously and we buy and sell online, so we understand the value of trust. If you are unsatisfied with your order, please contact us and we will work with you to resolve it to your satisfaction.
Tagged with: Amateur Astronomy • astronomy • telescope
Filed under: High-End Telescope Auctions (USA)