Current Price: $201.15
Buy It Now Price: $201.15
Bids: 0

:: eBay Listing Template ::

Meade Instruments 645002 Lunar Planetary Imager - Guider - Monochrome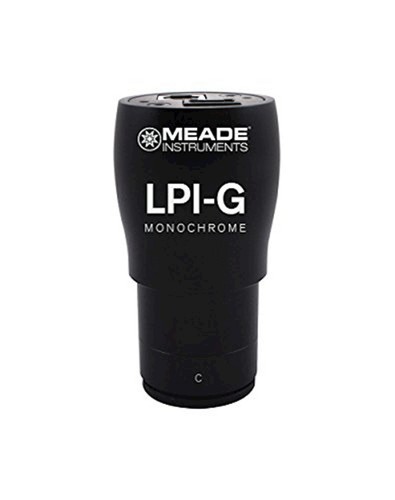 For lots of other items, visit My Store
Description
Style:MonochromeLet the Monochrome Lunar, Planetary Imager and Guider (LPI-G) unleash the inner astrophotographer in you The LPI-G is an excellent camera for auto-guiding and solar system astrophotography. With their solar, lunar and planetary guide camera, experience the universe on a whole new level. Lightweight and portable, LPI-G comes with a1280 x 960 pixel CMOS sensor with the ability of capturing 28 frames per second at full resolution. This camera has a USB 2.0 connection and ST-4 guider port for easy connection to the mount. CMOS - AR130 Monochrome Image Sensor Can be used for auto-guiding or astrophotography of solar system objects 1.25" Nosepiece and C-mount 1.2 Mega pixels (1280x960) 3.75 x 3.75 micron pixel sizeThe LPI-G also includes USB cable, software drivers, ASCOM drivers and image capture and processing software. The LPI-G has a CMOS AR 130 monochrome image sensor with 3.75 x 3.75 micron pixel size. Has 28 frames per second at 1280x960 and 30 frames per second at 640x480. Accessories include USB 2.0 cable, ST-4 guide cable (2.0m) and a C-mount and a 1.25" nosepiece. Also includes the Meade Sky Capture software CD. Minimum requirements for Sky Capture Operating System: Windows (32 & 64 bit) Vista/XP/7/8/10 Processor: Intel Core2 2.8 GHz equivalent or higher Memory: 2GB or highe
Features
Make sure this fitsby entering your model number.CMOS - AR130 Monochrome Image SensorCan be used for auto-guiding, or astrophotography of solar system objects1.25-Inch Nosepiece and C-mount1.2 Mega pixels (1280x960)3.75 x 3.75 micron pixel size
Additional Information
Manufacturer: NA
Shipping Weight (pound) : 0.0
Shipping Dimensions:
Width: 0.0
Length: 0.0
Height: 0.0
Free shipping to the continental USA! Most items will ship within 24 hours.
All items ship from the USA!
For more items, visit My Store
Payment
We accept Paypal only.
All purchases require instant payment.
All major credit cards are accepted through Paypal's secure payment system.
Pay worry free - Paypal offers both buyer and seller protection against fraud.
Returns
We provide a 30 day return policy for a full refund.
Some items, such as food, may not be eligble for return.
Returned items must be in original packaging and in original condition.
We do not cover postage for returned items.
Please allow 7 days after we receive your returned item to process the return and refund.
Shipping
Items will be shipped by USPS, UPS, FedEx, or other carrier depending on your location and package weight.
All items are shipped from the USA.
Our handling time is 2 business days to prepare your package. Please allow up to 4 additional business days for your package to arrive. If you choose upgraded shipping, please allow 2 business days in addition to our handling time.
Our Guarantee
We offer a 100% Satisfaction Guarantee on all sales. If you are not happy with your purchase for any reason, please contact us within 7 days of receiving your item. We will happily work with you to find a solution to any problem.
We want your eBay experience to be a good one. As you can tell from our feedback, almost every customer is a happy one.
Our goal is always a satisfied customer. In the rare case something goes wrong, before leaving negative feedback, please contact us so we can help make it right!
By committing to buy you are agreeing to the Terms & Conditions stated above.
Filed under: Eyepieces & Accessories