Current Price: $699.99
Buy It Now Price: $699.99
Bids: 0

Menu
CAMERAS

Action Cameras
Camcorders & Video Accessories
Compact System Cameras (mirrorless)
Digital SLR
Film Cameras & Accessories
Point & Shoot Digital Cameras
Waterproof Cameras

LENSES & OPTICS

Auxillary Photo Lenses
Creative Lens Systems
Lens
Lens Caps
Lens Filters
Lens Hoods & Shades
SLR Lenses
Teleconverters

CAMERA ACCESSORIES

Batteries
Cables
Camera Bags & Cases
Camera Remotes
Cleaning & Tools
Digital Memory Cards & Readers
Light Controls & Modifiers
Tripods
Vests, Harnesses & Stabilization Systems

LIGHTING & STUDIO

Backgrounds
Flash Lighting & Accessories
Studio Lighting

PRO VIDEO
PRO AUDIO
PHOTO CENTER

Light Stands & Booms
Memory Cards
Underwater Cases & Housings
Viewfinders & Eyecups

# 855-622-RITZ (7489)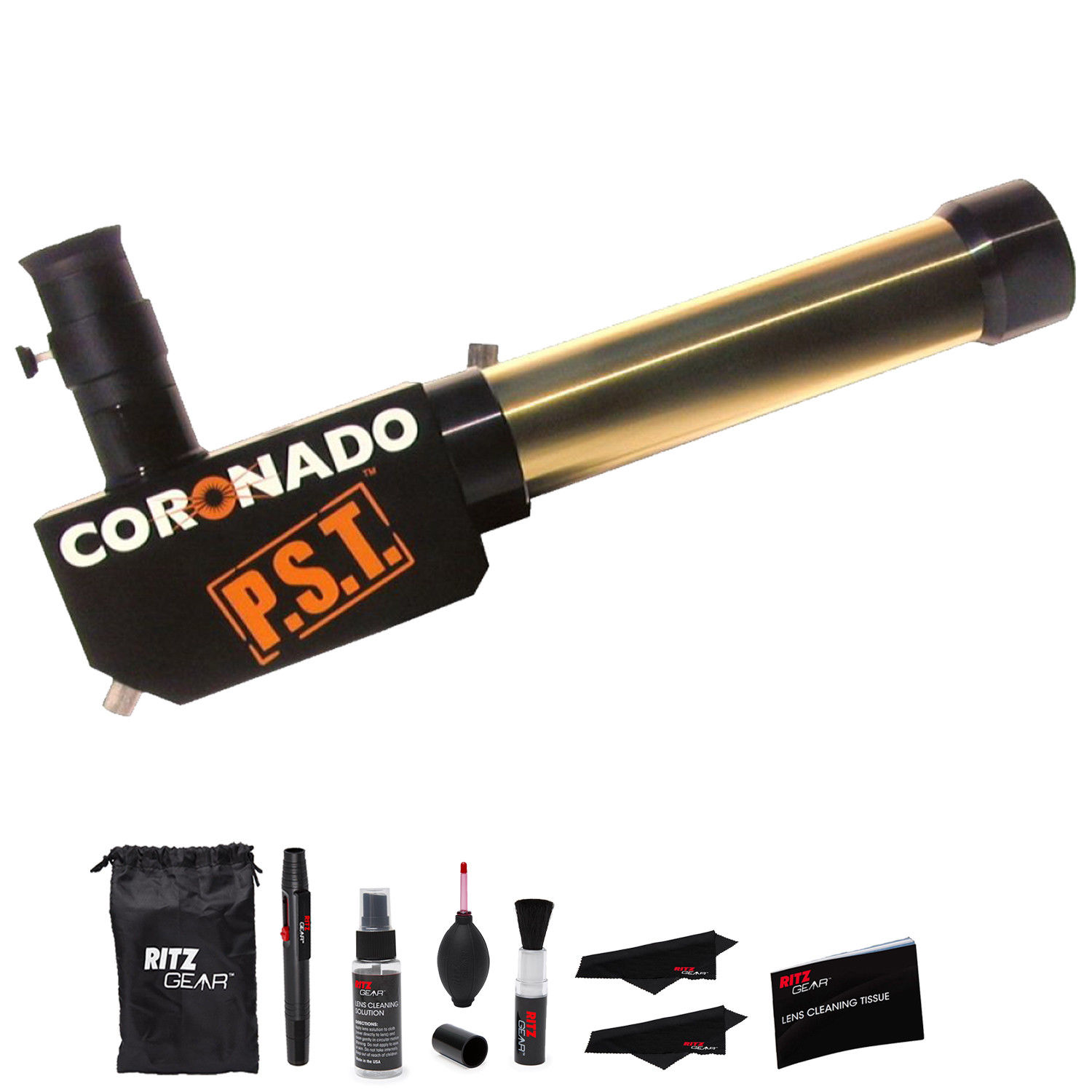 SKU : AMZMDCPSTA
Description
This RITZ CAMERA BUNDLE comes With all Manufacturer-supplied Accessories + Full USA Warranties and INCLUDES:
Meade Instruments Coronado Personal Solar Telescope
Ritz Gear™ Premium 8-IN-1 Cleaning Kit
40mm aperture, dedicated Ha telescope with 30mm internal etalon. 20mm Kellner eyepiece. 400mm FL. <1A bandwidth.
Features
An Affordable Telescope for Designed Solar Viewing
Enables you to see sun spots, solar phenomena, flares, filaments, and prominences
Features a 40mm diameter dedicated Ha optical system
40mm f/10 H-alpha telescope - 400mm focal length.
Internal non-removable filtering optics for same solar viewing.
1.0 angstrom hydrogen-alpha (Ha) bandpass.
H-Alpha Viewing.
Included in this Ritz Camera Bundle:
♦ 1) Meade Instruments Coronado Personal Solar Telescope
♦ 2) Ritz Gear™ Premium 8-IN-1 Cleaning Kit For Cameras, Camcorders, SLRs, Lenses & Filters
PAYMENT & SHIPPING INFORMATION
Payment Options
We accept payment via PayPal.
If you have trouble completing payment via PayPal please contact our customer support team that will be happy to assist you.
For large value or wholesale orders, please contact us and request to be connected to our dedicated wholesale team.
Shipping
Free ground shipping on all USA orders (excludes Alaska and Hawaii).
Delivery options and estimated ship times in business days:
ABOUT US
The origins of Ritz Camera can be traced back nearly a century to 1918, when Benjamin A. Ritz established his soon-to-be famous portrait studio in Atlantic City's Ritz Hotel. The studio was an undisputed success, and Benjamin's visual talents could be seen in wedding, graduation and confirmation portraits around the city.
RETURN POLICY
Our customer service team is happy to assist you with any questions or concerns that you may have regarding your purchase. Please give us a call directly and we will do everything we can to resolve your issue. If for any reason you are not completely satisfied with a product, simply return it within 10 days for all Digital, Video and Wireless Phone products, 30 days for all other products, for a no hassle exchange or return. Please note regarding Electronics products, some require Return Merchandise Authorization (RMA), and some are non-returnable.
CONTACT US
Your feedback is important to us.
Customer satisfaction is our #1 priority. If for any reason you are not 100% satisfied with your purchase, please call our customer service team. We would be happy to assist you. Whether you`re satisfied or not, we encourage you to reach out to us and let us know. We take each and every comment seriously and work upon to improve your online shopping experience.
Please Call us @ 1-855-622-RITZ (7489)
Tagged with: Amateur Astronomy • astronomy • telescope
Filed under: High-End Telescope Auctions (USA)