Current Price: $9699.00
Buy It Now Price: $9699.00
Bids: 0

VISIT OUR EBAY STORE
Meade LX850-ACF 14" f/8 with UHTC and Starlock
Condition: Brand New in Original Packaging
SKU: 1408-85-01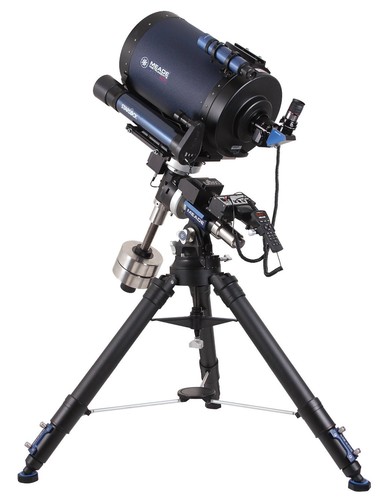 What's in the Box
Meade LX850-ACF 14" f/8 Telescope w/ UHTC and Starlock
Meade Giant Field Tripod
The Meade 1210-60-03 Giant Field Tripod gives your larger Meade the research-grade foundation needed for the most demanding applications such as extremely high power observing and astrophotography or CCD imaging. Tripod height is adjustable from 34" to 54", allowing comfortable standing or seated observations through the telescope. Features super strong and exceptionally rigid large diameter chromed steel legs for excellent vibration damping. Telescope may be mounted in altitude-azimuth (vertical-horizontal) mode or can be equatorially (polar) aligned using an optionally available Meade Ultrawedge. Tripod weight is 50 pounds.
Compatible with LX200-ACF 12" f/10 telescope
Adjustable from 34" to 54"
Chromed steel legs
Weighs 50 lbs.

Meade LX850 26lb Stainless Steel Counterweight (x3)

Meade 26lb Stainless Steel Counterweight For LX850 07631

Meade LX850 26 lb. Stainless Steel Counterweight is used when adding additional equipment, such as a camera or heavy accessories, to your Meade LX850. This counterweight is made from stainless steel to ensure ultimate durability and is threaded for counterweight shaft on the mount.

Made for Meade LX850
26 lb.
Stainless Steel Construction
Threaded for Mount.
Meade 26lb Stainless Steel Counterweight for LX850
Meade 14" f/8 LX850-ACF w/UHTC OTA (Tube Only)
Meade LX850 Mount Body
The LX850 mount, constructed of machined stainless steel and aircraft grade aluminum, is a rock solid platform for the most demanding applications, with a 90 pound payload capacity and pointing accuracy as good as one arcminute. Features include precision roller bearings on each axis, a 1.75 stainless steel RA shaft, 5.8" main gears, fine manual adjustment controls on both axis, illuminated reticle output port, telescope to computer USB cable and AutoStar Suite software. Mount main body weight is 55 pounds. Includes StarLock- the revolutionary new technology that makes target acquisition on your imaging sensor and accurate guiding during exposures completely automatic. With Meade's exclusive LightSwitch technology at its core, StarLock uses an 80mm f/5 optic and two camera sensor system to provide computer assisted polar alignment using the drift method. Once aligned the StarLock is guiding the mount in real time, and even automatically programs periodic error correction, achieving a guiding accuracy of up to 1 arcsecond in good seeing and with the capability of guiding on stars as faint as 11th magnitude. The LX850 features DC-servo motors on each axis with a maximum slew speed of 3 degrees per second, allowing slewing 180 degrees to the opposite side of the sky in one minute flat. Fine slewing and photographic guiding speeds can be adjusted from .01x to 1x sidereal, with faster slewing at 2x, 8x, 16x, or 1/4, 1/2, 1 or 3 degrees per second. The mount and all electronics are externally powered by the included Meade Universal Power Supply (12V). An external DC battery or power pack may also be used; Meade 607 Power Cord sold separately. The mount includes both mechanical locks and slow motion manual controls in both axis if for some reason you found yourself without power. Includes single 26lb counterweight. Other counterweights sold separately. LX800 mount shown in photo, LX850 mount similar.
90 pound instrument capacity
StarLock dual camera full time autoguider
Pointing accuracy as good as one arcminute
AutoStar II GOTO system
No calibration required
Axis roller bearings provide smooth tracking and reduced vibrations
Made of machined stainless steel and aircraft grade aluminum
Includes one 26 pound weight
1.75" stainless steel right ascension shaft
5.8" main gears
Internal cable
Meade LX850 Mount Accessories
Meade LX850 OTA Accessory Kit
Shipping
Payment
Returns
Feedback
Shipping for this item is free in the Continental US Lower 48 states only. Shipping Fees include all handling & insurance.
For Domestic Shipping to the Lower 48 States: All shipping prices include shipping, handling and insurance (if necessary).
For Domestic Shipping to Alaska, Hawaii, Puerto Rico, US Territories, APO & FPO: For many items to these destinations there will be an additional shipping fee. The shipping costs may be calculated on the Shipping and Payments tab by entering your Zip Code. Free shipping is for the lower 48 only
For International Shipments: All international orders are managed through eBay's Global Shipping Program. Please see the Shipping Tab for full costs.
Hotels: Unfortunately at this time we do not ship to hotels.
Tax: Sales tax will be collected on all orders shipped to NY and NJ
Paypal: PayPal is our preferred method of payment for all of our eBay sales. For customer service please contact us through eBay Messages
Immediate payment via PayPal is required for all Buy It Now items. For all Best Offers, payment is required within 3 days. If you need special arrangements, please contact us through eBay messages. After your order has been shipped, you will receive an e-mail with the name of the carrier and the tracking number.
Returns are permitted if you are not satisfied with your purchase and must be initiated by the buyer within 30 days from delivery date.
For Domestic Purchases:
If you are not satisfied with your purchase, you may return it (see exceptions in Paragraph F below), within 30 days of receipt, for a refund or replacement - subject to the following:
a) Contact us through eBay messages or the returns link to receive a Returned Merchandise Authorization (RMA) number to ensure proper handling of the return and/or replacement.
b) In order to be eligible for a full refund, less shipping expenses, your returned merchandise must be in its original new condition, as shipped, with all packaging, manuals, and paperwork intact and unaltered. Items which have been opened are returnable, however they will carry a restocking fee.
c) Customers remain responsible for the shipping and handling expenses incurred in shipping the item to them. If an item is offered with "Free Shipping," this means we are paying the freight on your behalf. If that product is returned for a refund, the shipping expenses incurred, will be deducted from the refund. If an item is refused, the carrier bills us for shipping both ways, and these expenses incurred on your behalf need to be deducted from your refund
d) All returns are subject to inspection. Products returned must be in brand new condition, as per Paragraph b), if not, it may be deemed non-refundable or will be subject to at least a 15% restocking fee. If your return is missing accessory components, or shows signs of wear - restocking fees will be higher. For specific restocking fees that may be applicable to your return, please contact us through eBay messages.
e) Returns should be packed in an outer shipping carton, not just the original box/packing of the product. The RMA# should be clearly inscribed on the shipping label. A copy of your invoice and Order # should be included, and your return should be insured, with shipping costs pre-paid. We cannot accept any COD shipments.
f) There are product categories which are not returnable due to hygienic or sanitary as required by manufacturers. If your items is a consumable good or is has been locked by a manufacturer such as Apple or HP the return will not be accepted
For Warranty information, merchandise lost / any other issues in transit, or order cancellations, please contact us through eBay Messages. In an event where there is an error regarding a price error or description, we will notify you ASAP. In this event there will be no obligation to proceed with the purchase. Any amount charged to the customer will be 100% refunded.
For International Purchases:
Returns will be accepted within 30 days of the receipt of the item. In order to be eligible for a refund your returned merchandise must be in its original unopened condition, as shipped, with all packaging, manuals, and paperwork intact and unaltered. Items removed from their 'blister-pack' display packaging are non-refundable.
International Buyers must pay return shipping via the same method originally shipped.
We strive for every transaction to be five stars!
Please let us know how we can make yours a five-star rated one too!
Our goal is to make sure you are customer 100% satisfied with your order. When you receive your order take a minute to leave us positive feedback at eBay. If you are not satisfied with any part of our service we please contact us to allow us correct the problem, prior to leaving your feedback. Please send us a message through eBay and let us know how we can earn your 5 stars!
If you have any questions or comments, please contact us through eBay message.
Tagged with: Amateur Astronomy • astronomy • telescope
Filed under: High-End Telescope Auctions (USA)