Current Price: $599.00
Buy It Now Price: $599.00
Bids: 0

VISIT OUR EBAY STORE
Meade StarNavigator 125mm Telescope (218006) W/Astromaster Eyepieces Kit
Condition: Brand New in Original Packaging
SKU: AMEASN125EYEPK1

What's in the Box
Meade StarNavigator NG 125 mm GoTo Maksutov Telescope
Meade StarNavigator NG 125 mm GoTo Maksutov Telescope
Tripod
Two Eyepieces
1-Year Warranty
Bundle Includes:
Meade StarNavigator NG 125 mm GoTo Maksutov Telescope?
Celestron AstroMaster Accessory Kit
Meade Telescope Bag (StarNavigator NG 90/125 MAK)

Meade StarNavigator NG 125 Maksutov - 218006
Throughout the years, the Starnavigator Series has provided space admirers and amateur astronomers computerized GoTo telescope at a great price. The Starnavigator NG (Next Generation) Series takes this to the next level. Featuring an easy to operate, lightweight, and portable robotic mount with Meade's AudioStar computer controller. This incredible AudioStar technology knows the night sky right out of the box. Turn it on, and after a brief alignment procedure, your telescope is ready to take you on a guided tour of the night skies best objects. With Audiostars 30,000 object database and over 4 hours of audio presentations built-in the electronics, you can learn about the objects you're viewing. It's like having a professional astronomer with you at the telescope! The StarNavigator NG telescopes include apertures from 90mm - 130mm in both refractors, reflectors, and Maksutov-Cassegrain optical designs. These include: 90mm and 102mm Achromatic Refractor 90mm and 125mm Maksutov-Cassegrain 114mm and 130mm Newtonian Reflector The StarNavigator NG includes a light-weight aluminum frame, advanced electronics, internal clock, external power connector, vixen dovetail receiver and full height adjustable aluminum tripod allowing comfortable viewing from either a seated or standing position. Powered by 8 AA batteries (user-supplied) or external power you will see more objects in a single night than Galileo saw in his lifetime. Whether it's a camp out with friends or a family excursion to the outdoors, the StarNavigator NG is the quintessential scope for making stargazing fun, effective, and straightforward. With its solid structure as well as a variety of apertures, the value and standard of this scope is up to par with many other amateur telescopes and will be sure to exceed expectations!
Single speed internal focuser
AudioStar hand controller containing over 30,000 celestial objects
Single arm mount with 12V DC Servo Drive
Full size aluminum tripod with accessory tray
90 degree diagonal
9mm and 26mm super Plossl eyepieces
Vixen style dovetail receiver with single locking knob

Meade Telescope Bag (StarNavigator NG 90/125 MAK)
Meade Telescope Bag (StarNavigator NG 90/125 MAK) - 618002
The Meade StarNavigator NG Carry Bag is designed for the StarNavigator NG 90mm & 125mm Maksutov-Cassegrain telescopes.
This padded carry bag holds your complete telescope setup. Now you can have your StarNavigator NG 90 or 125 mount, tripod, optical tube, and accessories all in one place, ready to travel wherever you need to go!
This carry bag comes with a shoulder strap and a one hand carry strap, as well as an accessory pouch with a drawstring to hold all of your Meade StarNavigator NG 90 or 125 accessories.
Carry bag to hold your StarNavigator NG 90 or 125 mount, tripod, optical tube, and accessories
Includes a shoulder strap and one hand carry strap
Meade Telescope Bag (StarNavigator NG 90/125 MAK)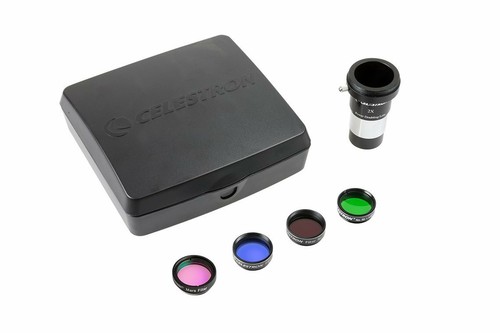 Celestron Deluxe Observing Accessory Kit
Mars, Jupiter, Saturn, the Moon and more, you won't be able to get enough out of this awesome Deluxe Mars Observing Accessory Kit. With the ability to see views that'll blow your mind out of this world, this kit is a must in every budding astronomers telescope bag.
2X Power Doubling Lens
The 2x Power Doubling Lens doubles the magnification of any eyepiece that is used with it. The lens goes in between the telescope and the eyepiece you are using. In addition, this lens also features integrated T-threads that allow you to attach your DSLR camera to your telescope for high magnification lunar and planetary photography. (Note: to take advantage of this feature, you will need to purchase an optional T-ring that fits your specific camera body and thread it onto the T-adapter. Celestron offers Canon and Nikon T-rings.)
Applications
Eyepiece filters reduce glare and light scattering, increase contrast through selective filtration, increase definition and resolution, and reduce eye fatigue. These filters are designed to fit any Celestron 1.25" eyepieces. To attach the filter onto an eyepiece, simply thread the male thread on the filter into the bottom of the eyepiece barrel. Then insert the eyepiece (with filter attached) into eyepiece holder of your telescope.
Usage
Includes three colored filters plus a premium glass Mars filter with multiple coatings to maximize light transmission in specific wavelengths to bring out subtle details in the Martian surface. All pieces in the kit can also be used to view Jupiter, Saturn, the Moon and many other astronomical objects
#80A Light Blue Planetary - Helpful in studying surface features and polar caps.
#56 Green Planetary Filter - Excellent for increased contrast of Martian polar caps, low clouds, and yellowish dust storms.
#25 Red Planetary Filter - Reduces light from blue and green areas, which darkens the maria and oases, while lightening the orange-hued desert region. Sharpens the boundaries of yellow dust clouds.
Mars Filter - This combines the advantages of the red and blue filters above in a single filter to bring out a wealth of detail while allowing more light to pass through.
Mars Opposition
Get ready to see Mars in incredible detail. Observe Mars this summer as the planet will be noticeably brighter from early July through early September (July 7th to September 7th). The best night to view Mars is July 28, 2018. The last time Mars was this close to the Earth and this bright in the night sky was the opposition of 2003. The next opportunity like this won't come around until 2050. This is a perihelic opposition, which means both Earth and Mars are close to the Sun, making conditions ideal for astrophotography.
There is a bonus Mars opposition observing guide included for extra clarity.
Doubles the magnification of any eyepiece
Features integrated T-threads
Reduces glare and light scattering
Designed to fit any Celestron 1.25" eyepiece
Maximizes light transmission in specific wavelengths
2x Power Doubling Lens with Built-In T-Adapter
#80A Blue Planetary Filter
#56 Light Green Planetary Filter
#25 Red Planetary Filter
Mars Filter
Storage Case
Bonus Mars Opposition Observing Guide
Two Year Warranty
Shipping
Payment
Returns
Feedback
Shipping for this item is free in the Continental US Lower 48 states only. Shipping Fees include all handling & insurance.
For Domestic Shipping to the Lower 48 States: All shipping prices include shipping, handling and insurance (if necessary).
For Domestic Shipping to Alaska, Hawaii, Puerto Rico, US Territories, APO & FPO: For many items to these destinations there will be an additional shipping fee. The shipping costs may be calculated on the Shipping and Payments tab by entering your Zip Code. Free shipping is for the lower 48 only
For International Shipments: All international orders are managed through eBay's Global Shipping Program. Please see the Shipping Tab for full costs.
Hotels: Unfortunately at this time we do not ship to hotels.
Tax: Sales tax will be collected on all orders shipped to NY and NJ
Paypal: PayPal is our preferred method of payment for all of our eBay sales. For customer service please contact us through eBay Messages
Immediate payment via PayPal is required for all Buy It Now items. For all Best Offers, payment is required within 3 days. If you need special arrangements, please contact us through eBay messages. After your order has been shipped, you will receive an e-mail with the name of the carrier and the tracking number.
Returns are permitted if you are not satisfied with your purchase and must be initiated by the buyer within 30 days from delivery date.
For Domestic Purchases:
If you are not satisfied with your purchase, you may return it (see exceptions in Paragraph F below), within 30 days of receipt, for a refund or replacement - subject to the following:
a) Contact us through eBay messages or the returns link to receive a Returned Merchandise Authorization (RMA) number to ensure proper handling of the return and/or replacement.
b) In order to be eligible for a full refund, less shipping expenses, your returned merchandise must be in its original new condition, as shipped, with all packaging, manuals, and paperwork intact and unaltered. Items which have been opened are returnable, however they will carry a restocking fee.
c) Customers remain responsible for the shipping and handling expenses incurred in shipping the item to them. If an item is offered with "Free Shipping," this means we are paying the freight on your behalf. If that product is returned for a refund, the shipping expenses incurred, will be deducted from the refund. If an item is refused, the carrier bills us for shipping both ways, and these expenses incurred on your behalf need to be deducted from your refund
d) All returns are subject to inspection. Products returned must be in brand new condition, as per Paragraph b), if not, it may be deemed non-refundable or will be subject to at least a 15% restocking fee. If your return is missing accessory components, or shows signs of wear - restocking fees will be higher. For specific restocking fees that may be applicable to your return, please contact us through eBay messages.
e) Returns should be packed in an outer shipping carton, not just the original box/packing of the product. The RMA# should be clearly inscribed on the shipping label. A copy of your invoice and Order # should be included, and your return should be insured, with shipping costs pre-paid. We cannot accept any COD shipments.
f) There are product categories which are not returnable due to hygienic or sanitary as required by manufacturers. If your items is a consumable good or is has been locked by a manufacturer such as Apple or HP the return will not be accepted
For Warranty information, merchandise lost / any other issues in transit, or order cancellations, please contact us through eBay Messages. In an event where there is an error regarding a price error or description, we will notify you ASAP. In this event there will be no obligation to proceed with the purchase. Any amount charged to the customer will be 100% refunded.
For International Purchases:
Returns will be accepted within 30 days of the receipt of the item. In order to be eligible for a refund your returned merchandise must be in its original unopened condition, as shipped, with all packaging, manuals, and paperwork intact and unaltered. Items removed from their 'blister-pack' display packaging are non-refundable.
International Buyers must pay return shipping via the same method originally shipped.
We strive for every transaction to be five stars!
Please let us know how we can make yours a five-star rated one too!
Our goal is to make sure you are customer 100% satisfied with your order. When you receive your order take a minute to leave us positive feedback at eBay. If you are not satisfied with any part of our service we please contact us to allow us correct the problem, prior to leaving your feedback. Please send us a message through eBay and let us know how we can earn your 5 stars!
If you have any questions or comments, please contact us through eBay message.
Tagged with: Amateur Astronomy • astronomy • telescope
Filed under: High-End Telescope Auctions (USA)