Current Price: $27.58
Buy It Now Price: $27.58
Bids: 0

-
Neewer 1.25 inches T2-EOS Telescope Mount Adapter with T Ring
+
Neewer 1.25 inches Telescope Moon Filter, CPL Filter, 5 Color Filters Set(Red, Orange, Yellow, Green, Blue), Eyepieces Filters for Enhancing Definition and Resolution in Lunar Planetary Observation
+
Neewer 1.25 inch 2x Barlow Lens Doubles the Magnification Multi Coated Broadband Green Film with M42 Thread for Standard Telescope Eyepiece Astronomy
+
Neewer Universal Cell Phone Adapter Mount for Binocular Monocular Spotting Scope Telescope and Microscope and Holder Compatible with iPhone Sony Samsung Moto and Other Phones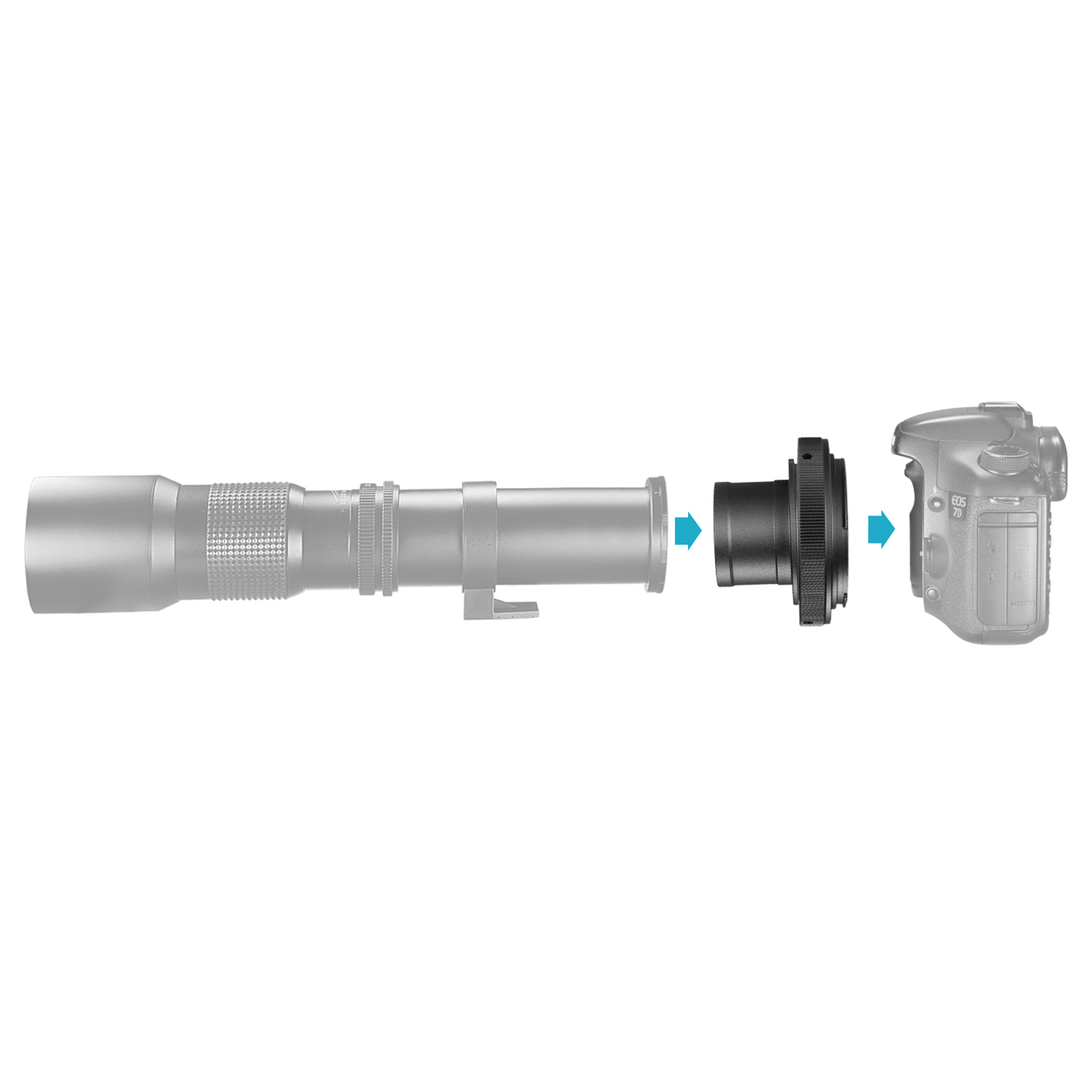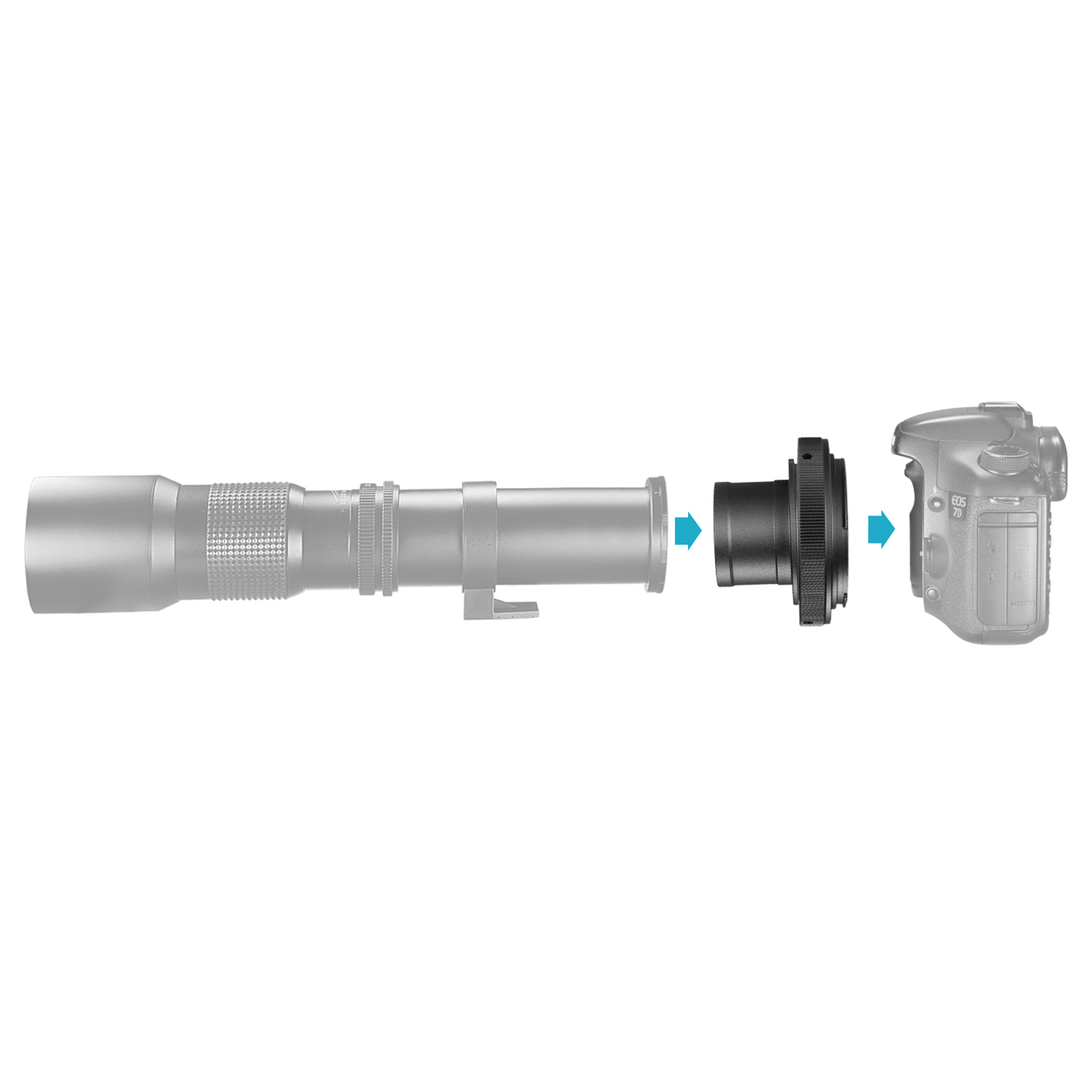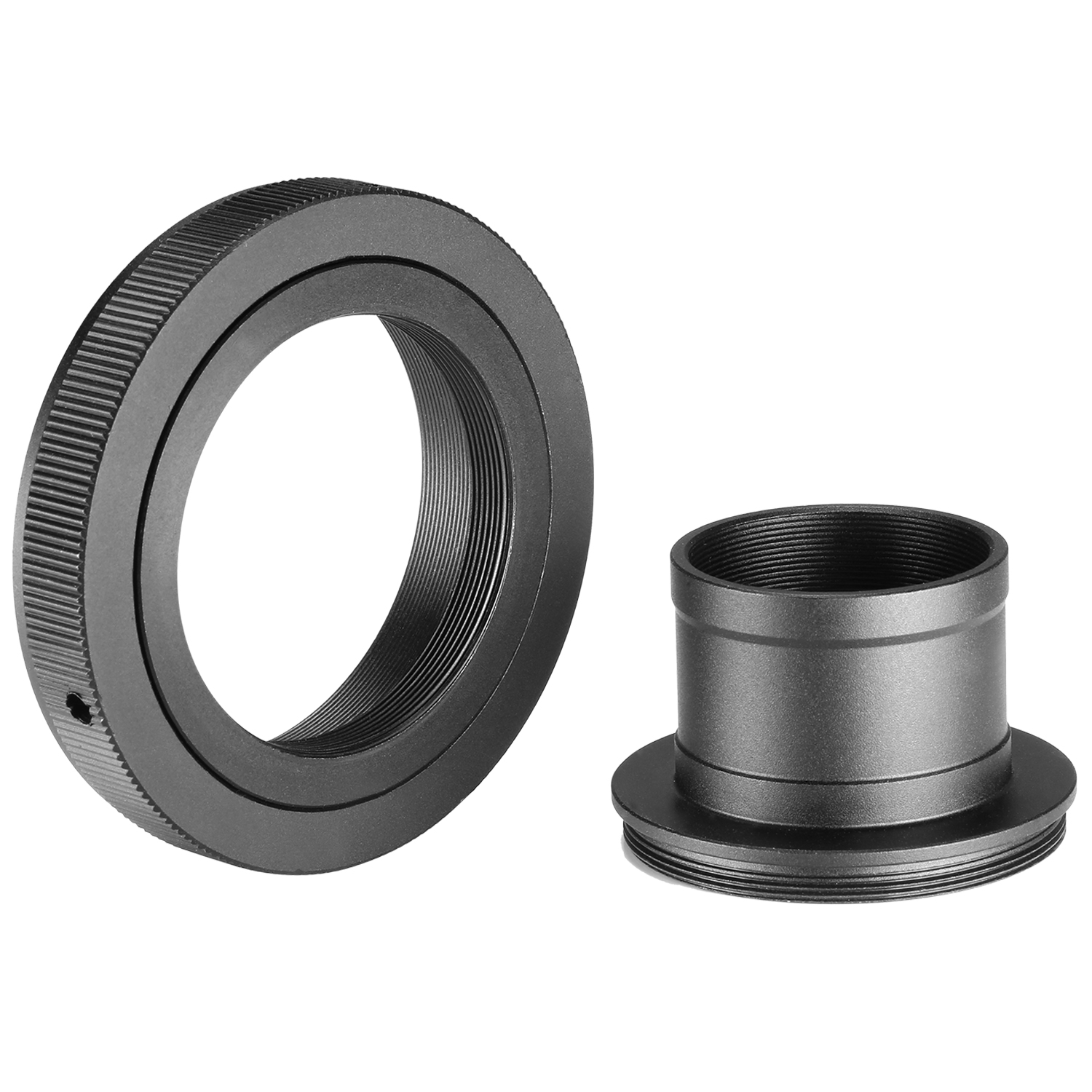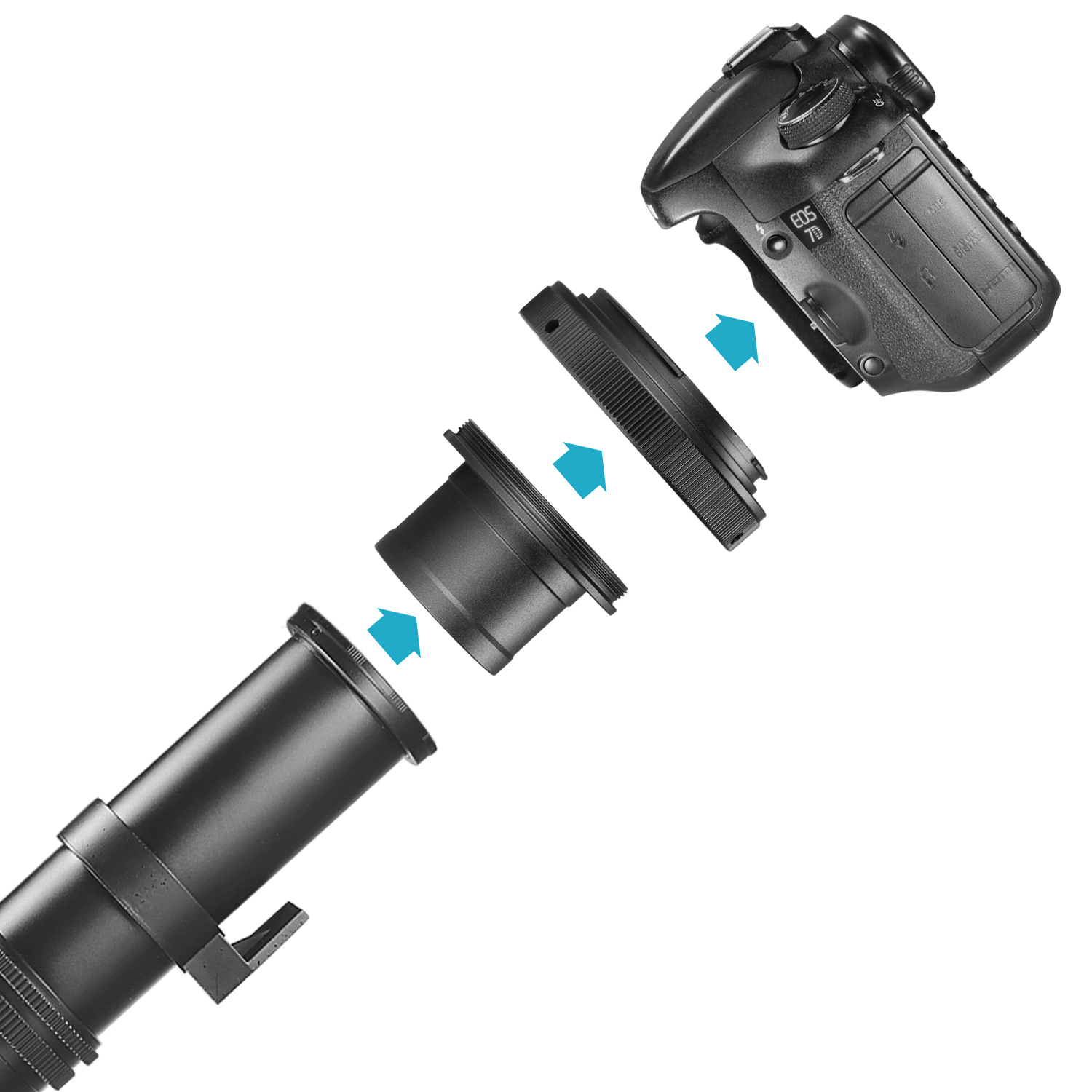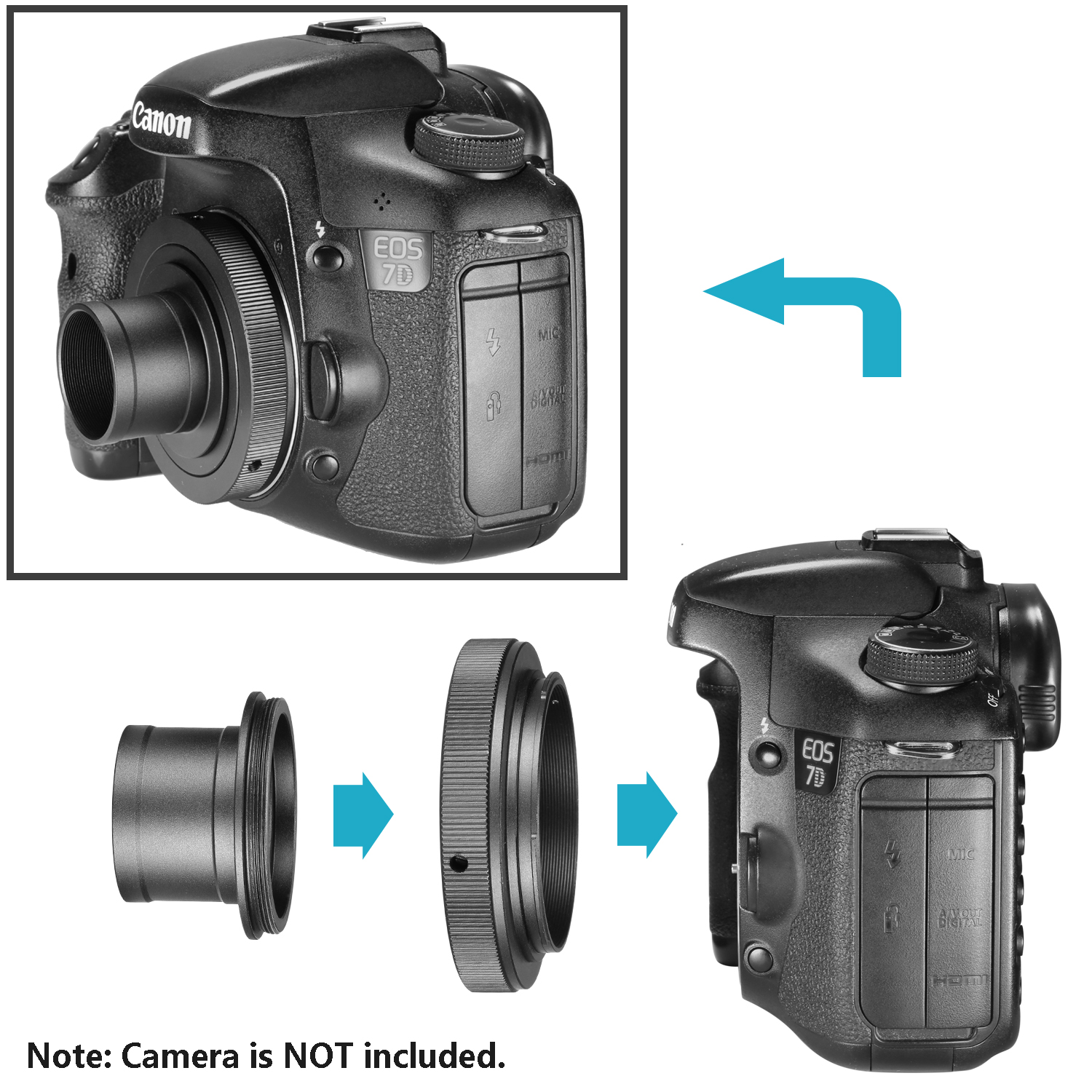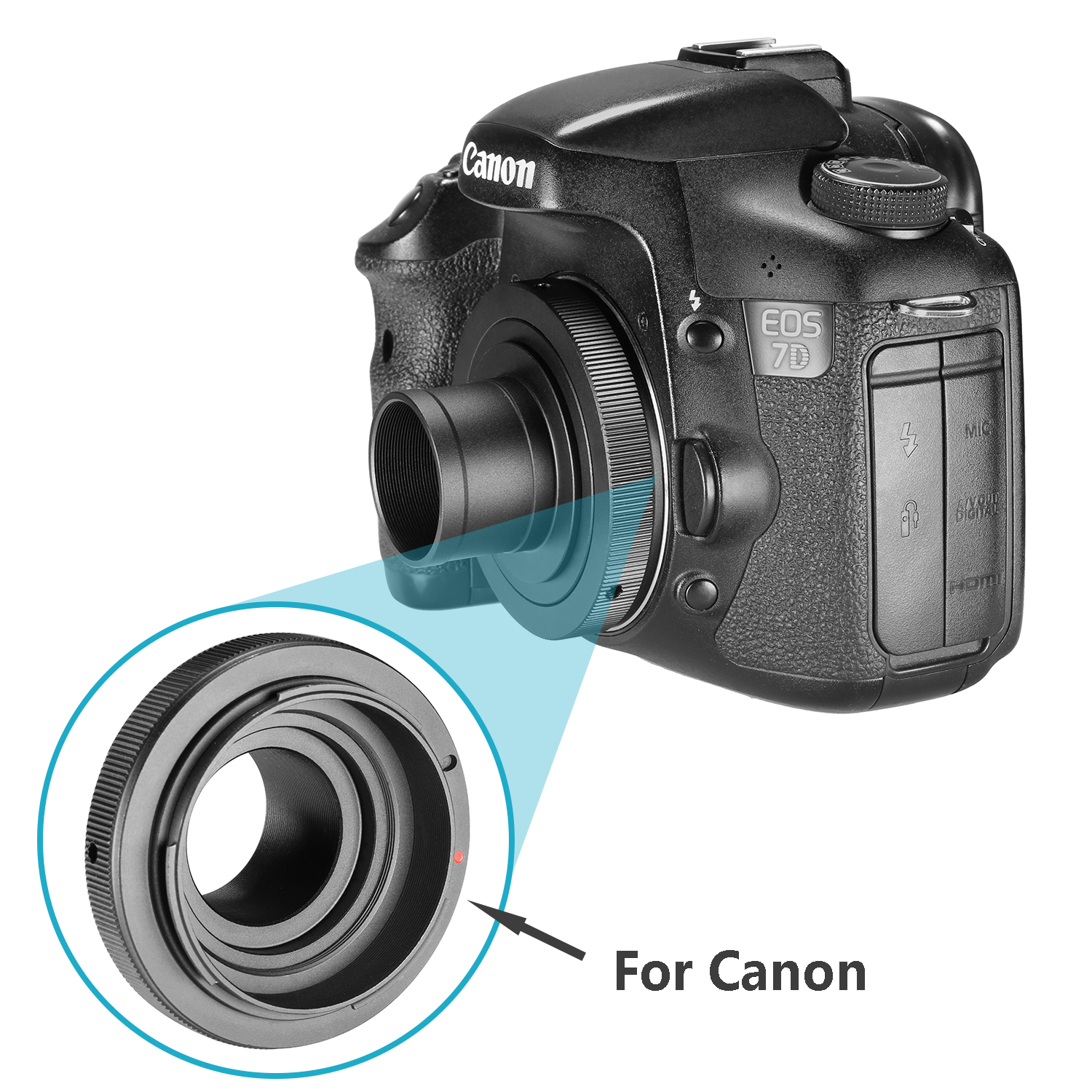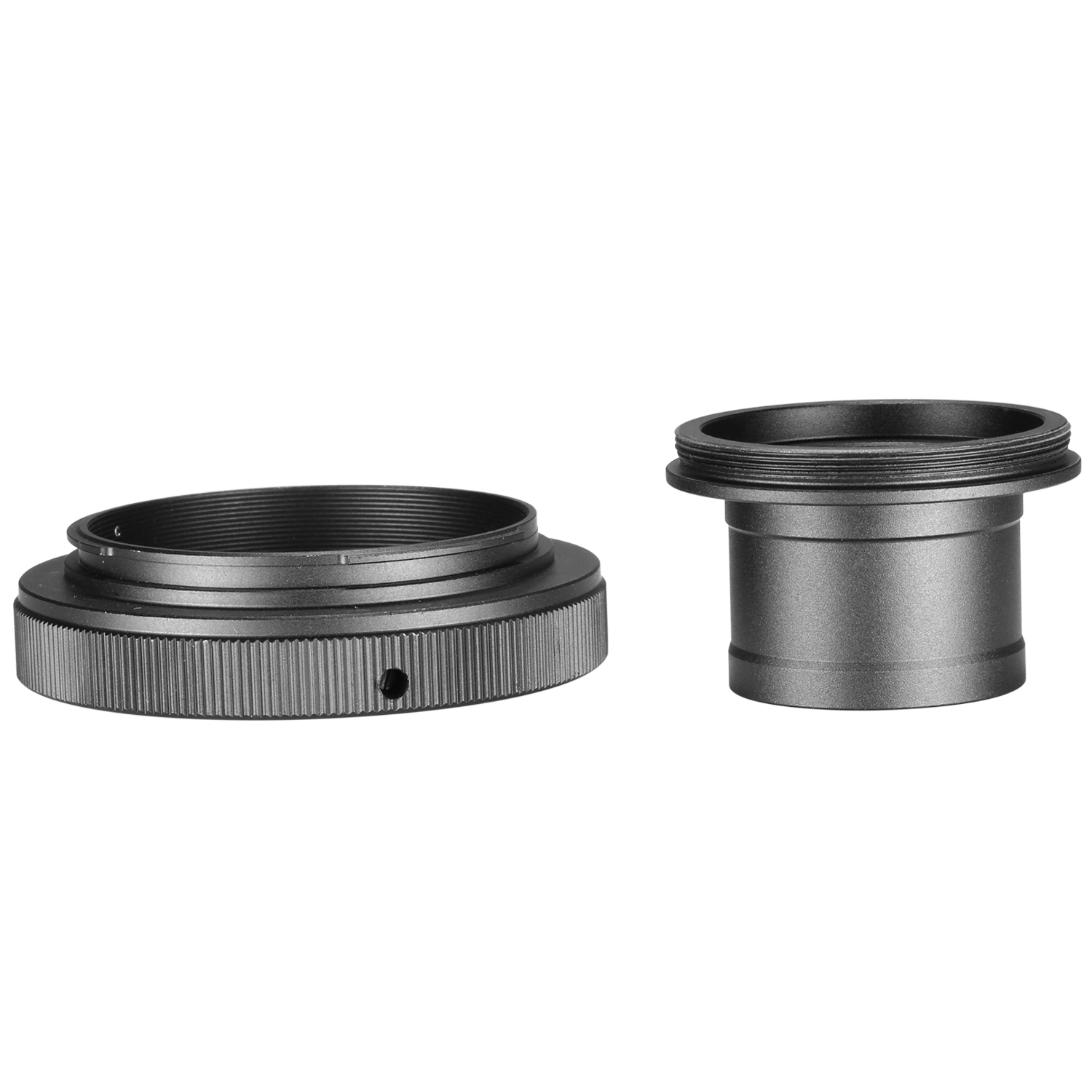 Neewer 1.25 inches T2-EOS Telescope Mount Adapter with T Ring, Compatible with Camera EOS 5D 5D Mark II 50D 60D 30D 40D 350D 400D 500D 600D 1100D 1D MkIII Digital Rebel T4i T3i DSLR Camera Len
Features

Designed for telescopes with 1.25 inches lens; Compatible with Camera EOS 5D, 5D Mark II, 50D, 60D, 20D, 30D, 40D, 350D, 400D, 450D, 500D, 550D, 600D, 1100D, 1D, 1D MkIII, Digital Rebel T4i, T3i, T2i, T1i, Xt, Xti, XSi, XS, and all EOS SLR Cameras
Made of sturdy metal construction; Polished with smooth surface; Not easy to break, safe and comfortable for your use
This T adapter drops down to 1-1/4 right out of the T ring making it easier to focus your camera on some scopes with short focuser travel
Designed for Astronomy lover, helps you shoot the clear view of planets; Easy to operate and carry in your camera bag
Note: The camera is not included
Note: The camera is not included.
Description
The 1.25 inches T2-EOS telescope mount adapter with T2 ring is designed for telescopes with 1.25 inches lens; Compatible with Camera EOS 5D, 5D Mark II, 50D, 60D, 20D, 30D, 40D, 350D, 400D, 450D, 500D, 550D, 600D, 1100D, 1D, 1D MkIII, Digital Rebel T4i, T3i, T2i, T1i, Xt, Xti, XSi, XS, and all EOS SLR Cameras
It is a must need tool for astronomy lovers, helps you shoot the clear view of planets.
he adapter is metal build, sturdy and durable. And its smooth surface will not cause any scratches to your precious telescope and camera. Not easy to break, safe and comfortable for your use.
Specification
Material: Metal
Weight: 2.4 ounces/ 68 grams
Package Contents
1x 1.25 inches Mount Adapter for Telescope
1x Adapter T-ring for Canon
Quantity:1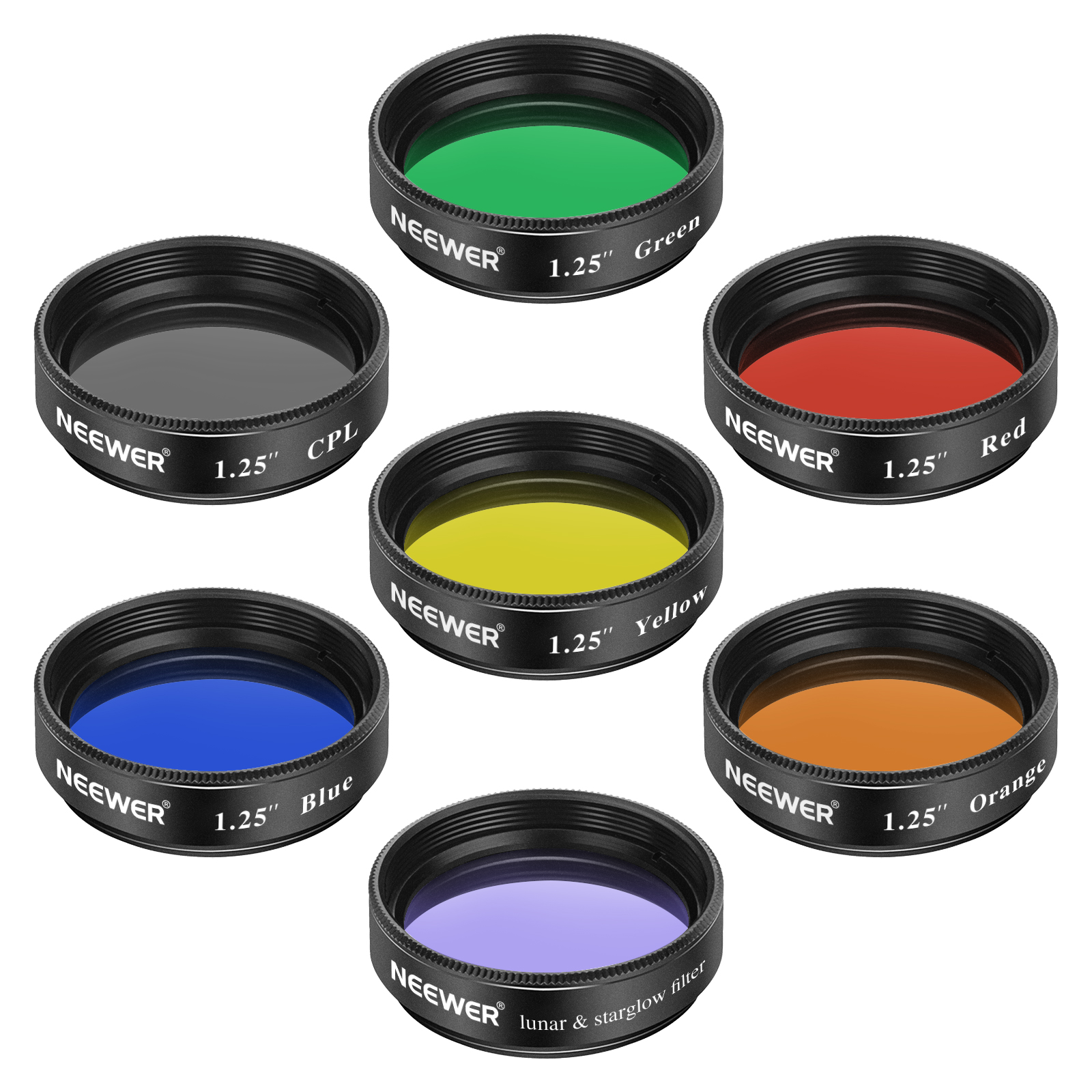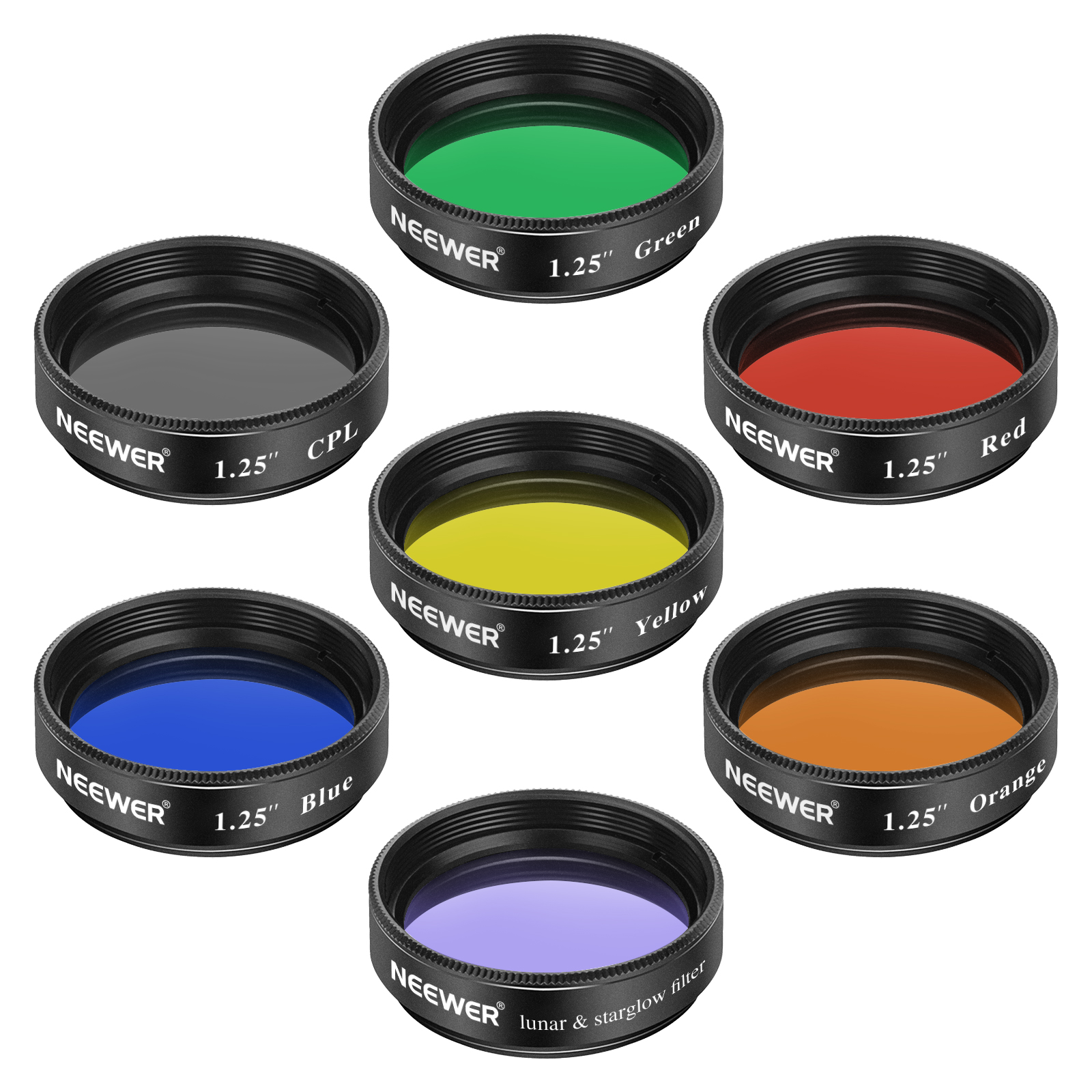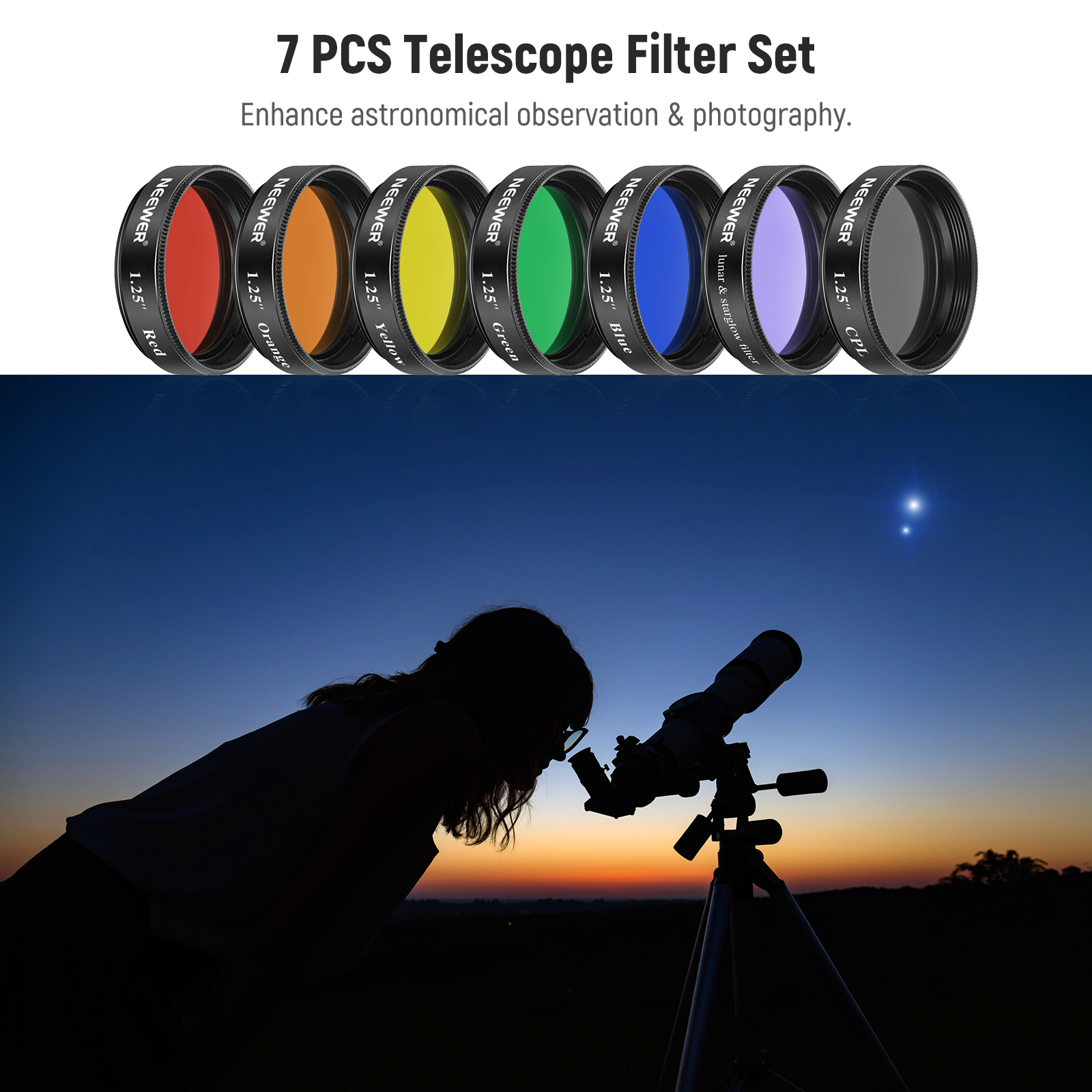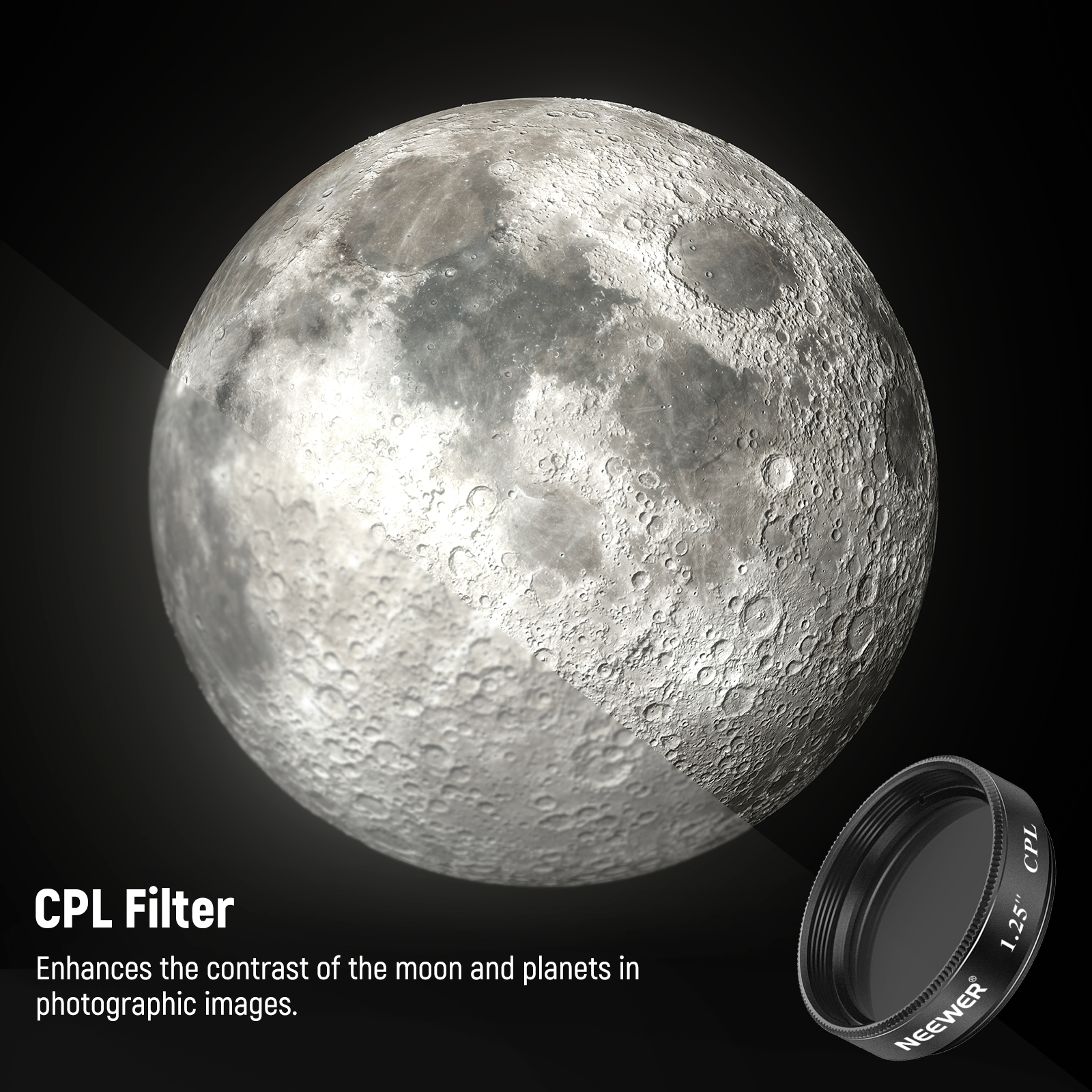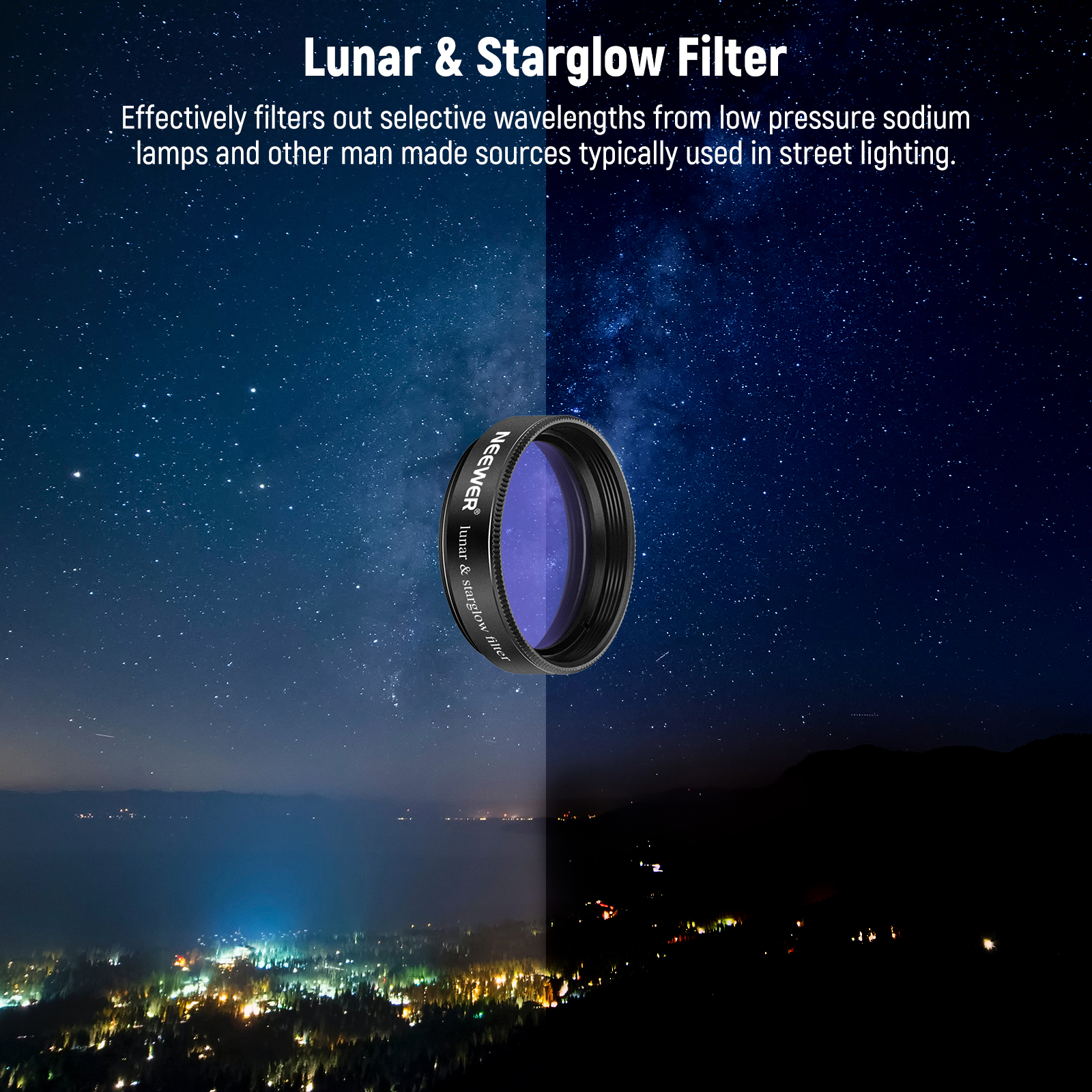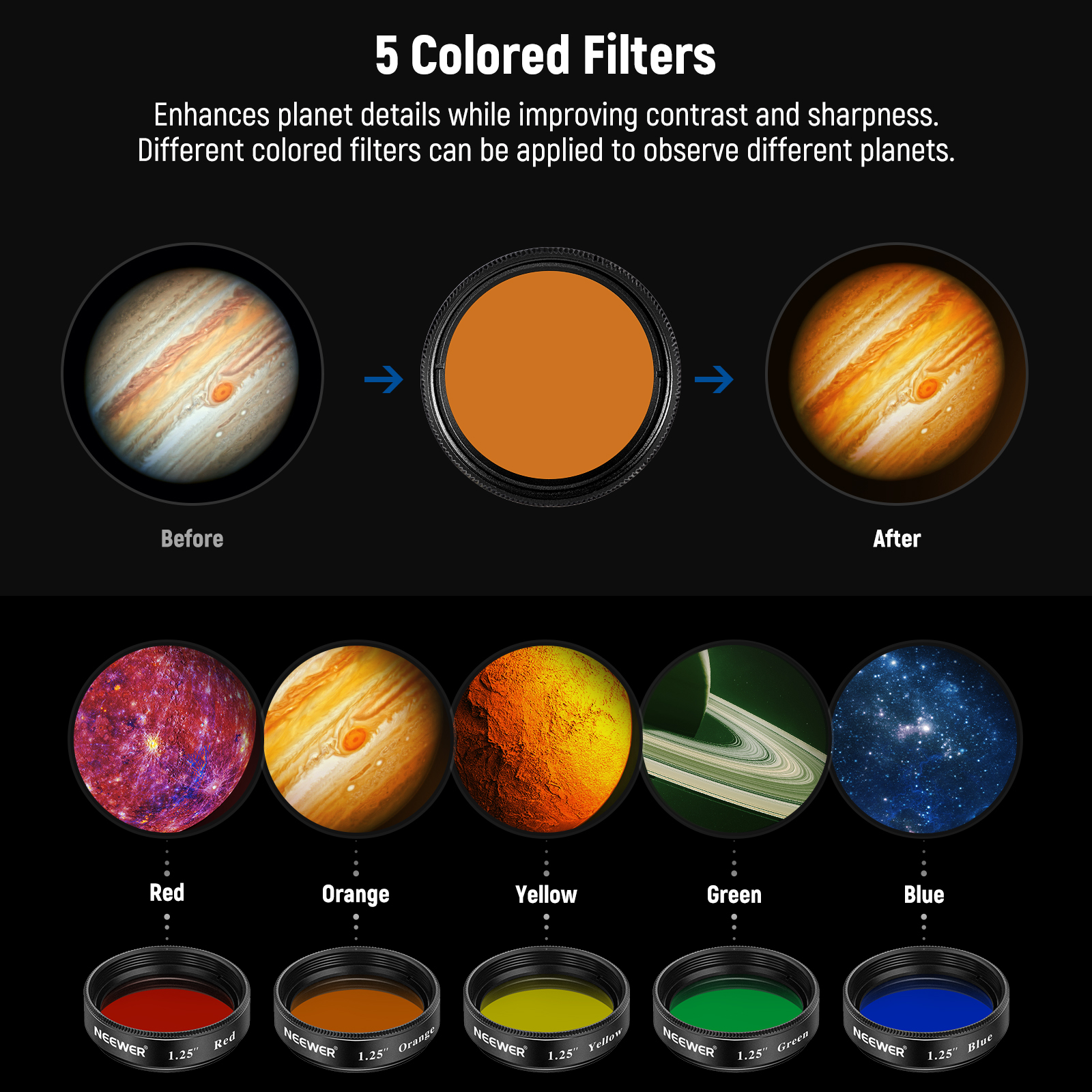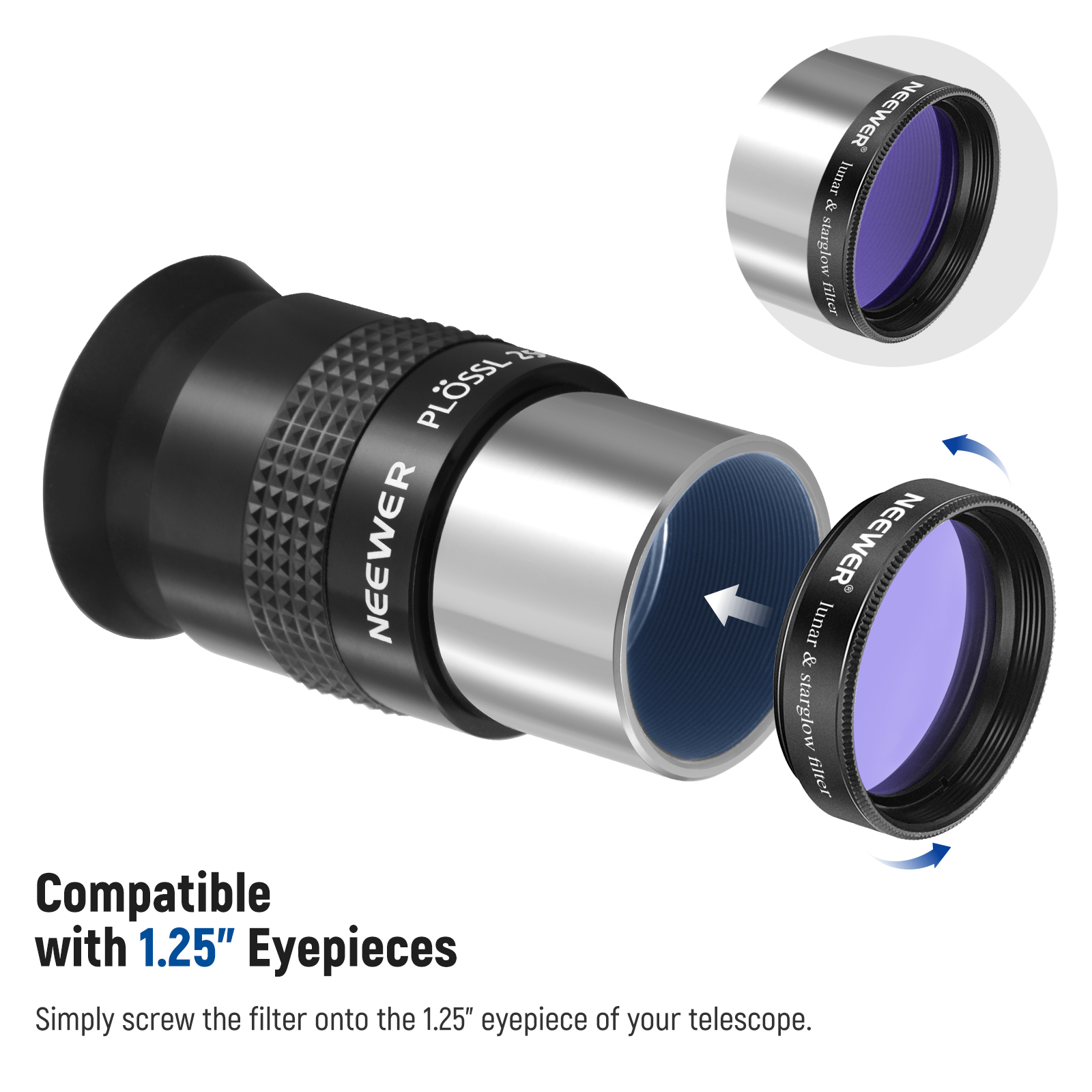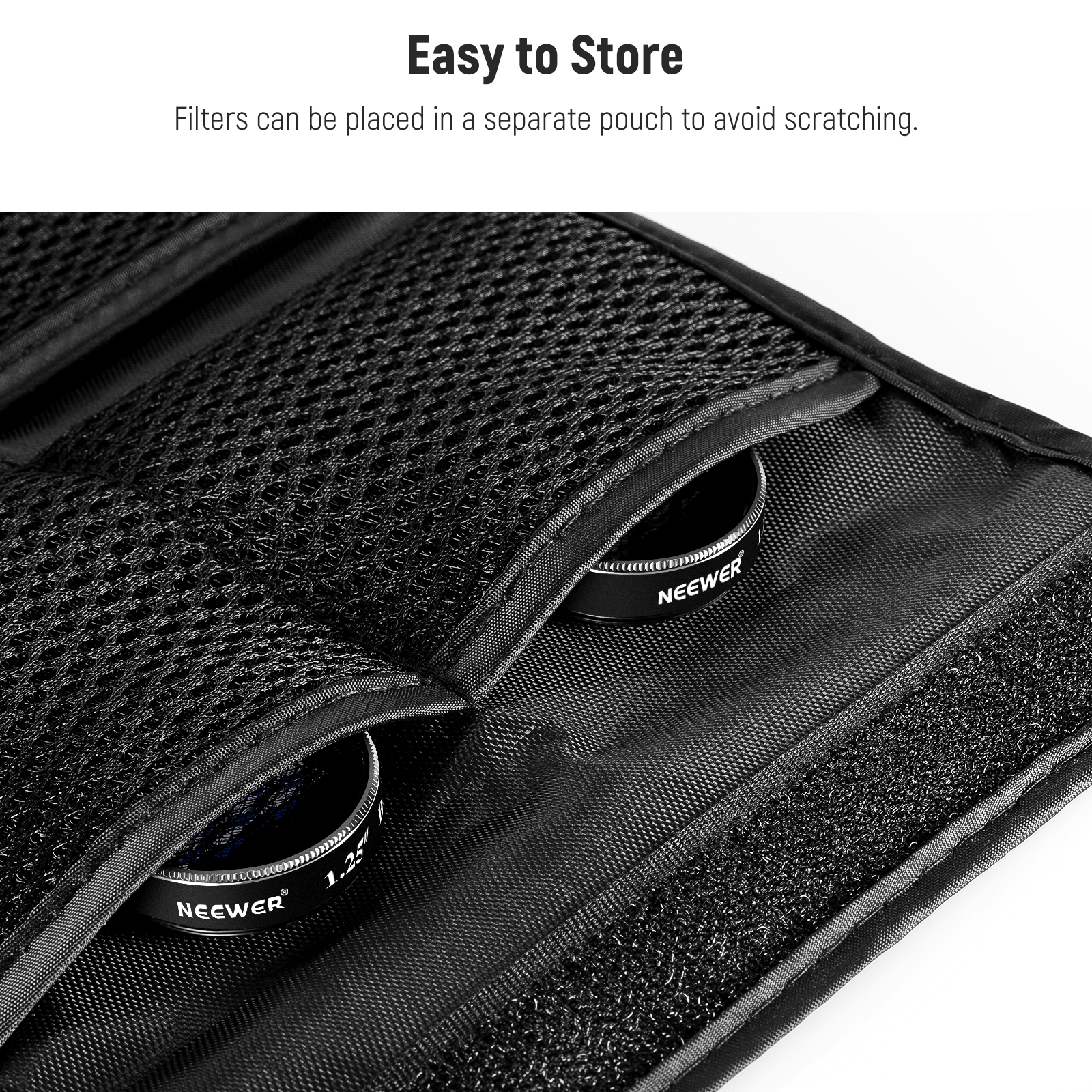 NOTE: The telescope is not included
Description
The set includes a Moon and Skyglow Filter, a CPL Filter and 5 Color Filters(Red, Orange, Yellow, Green, Blue).
Moon and Skyglow Filter
It cuts down glare and brings out much more surface detail and gives you better contrast.
CPL Filter
It filters out scattered light, enables you to cut through reflections and see the detail behind it. It tones down the brightness of the lunar surface so you can enjoy optimized contrast of the moon.
5 Color Filters
Includes Red Filter, Orange Filter, Yellow Filter, Green Filter and Blue Filter.
Red Filter
Used in large telescopes, it sharpens boundaries and increases contrast on Mars, sharpens belt contrast on Jupiter, and brings out surface detail on Saturn.
Orange Filter
It helps increase contrast between light and dark areas, penetrates clouds, and assists in detecting dust storms on Mars. It also helps bring out the Great Red Spot and sharpen contrast on Jupiter.
Yellow Filter
It helps in viewing Mars by bringing out the polar ice caps, enhancing blue clouds in the atmosphere, increasing contrast, and brightening desert regions. It also enhances red and orange features on Jupiter and Saturn and darkens the blue festoons near Jupiter's equator.
Green Filter
It enhances frost patches, surface fogs, and polar projections on Mars, the ring system on Saturn, belts on Jupiter and works as a general-purpose filter when viewing the Moon.
Blue Filter
It provides detail in atmospheric clouds on Mars, increases contrast on the moon, brings out detail in belts and polar features on Saturn, enhances contrast on Jupiter's bright areas and cloud boundaries. It also helps split the binary star Antares when at maximum separation.
Package Contents
1 x Moon and Skyglow Filter
1 x CPL Filter
5 x Color Filters(Red, Orange, Yellow, Green, Blue) Quantity:1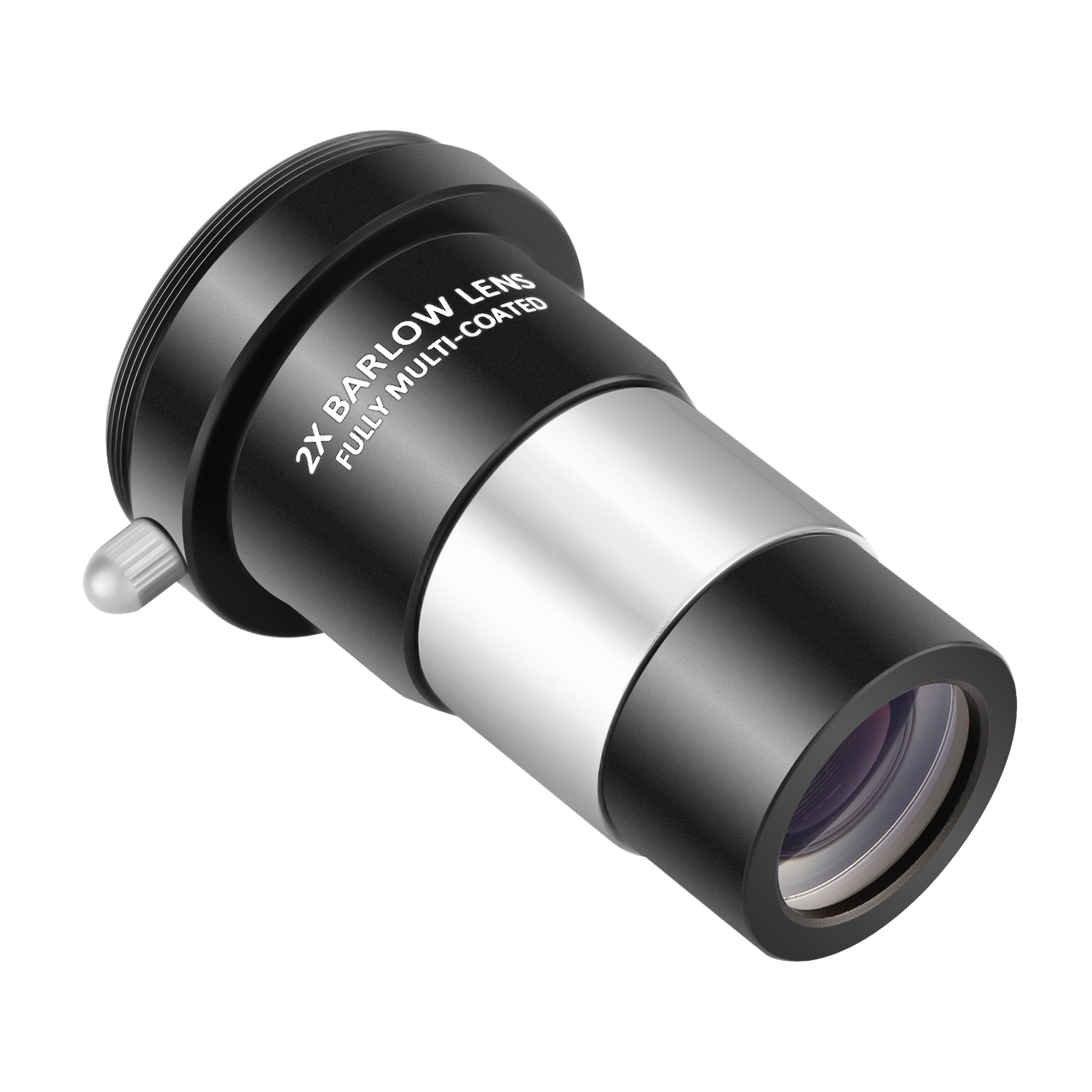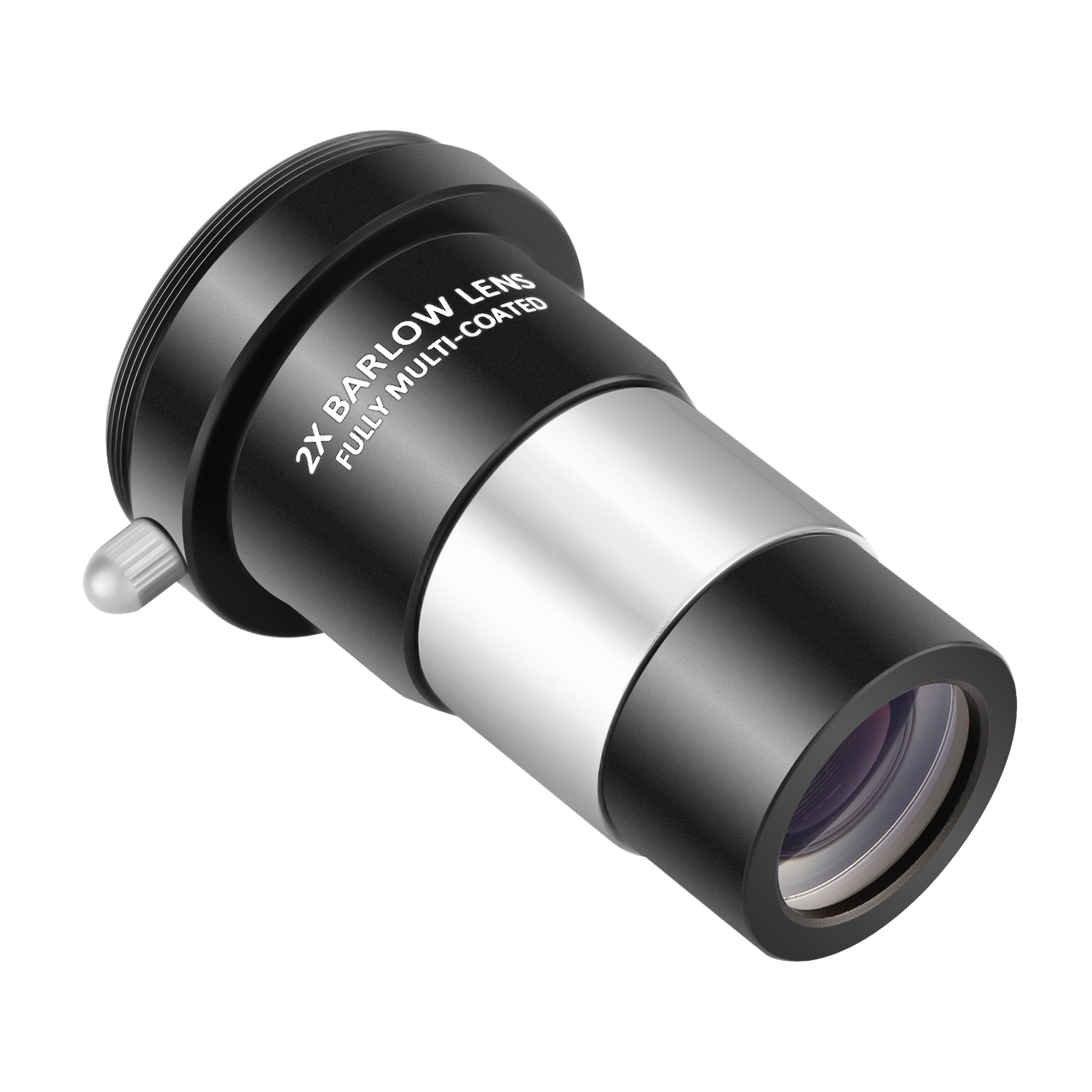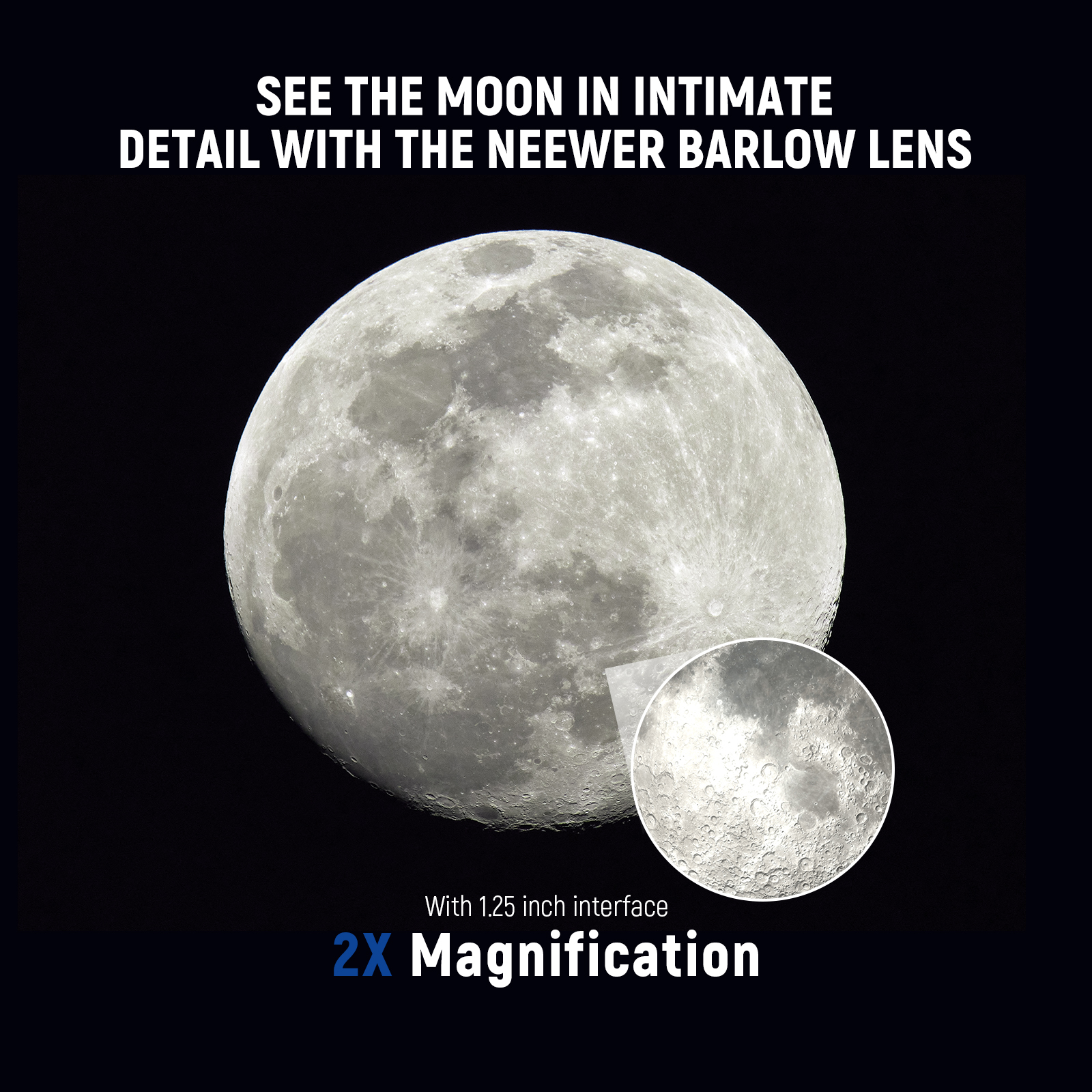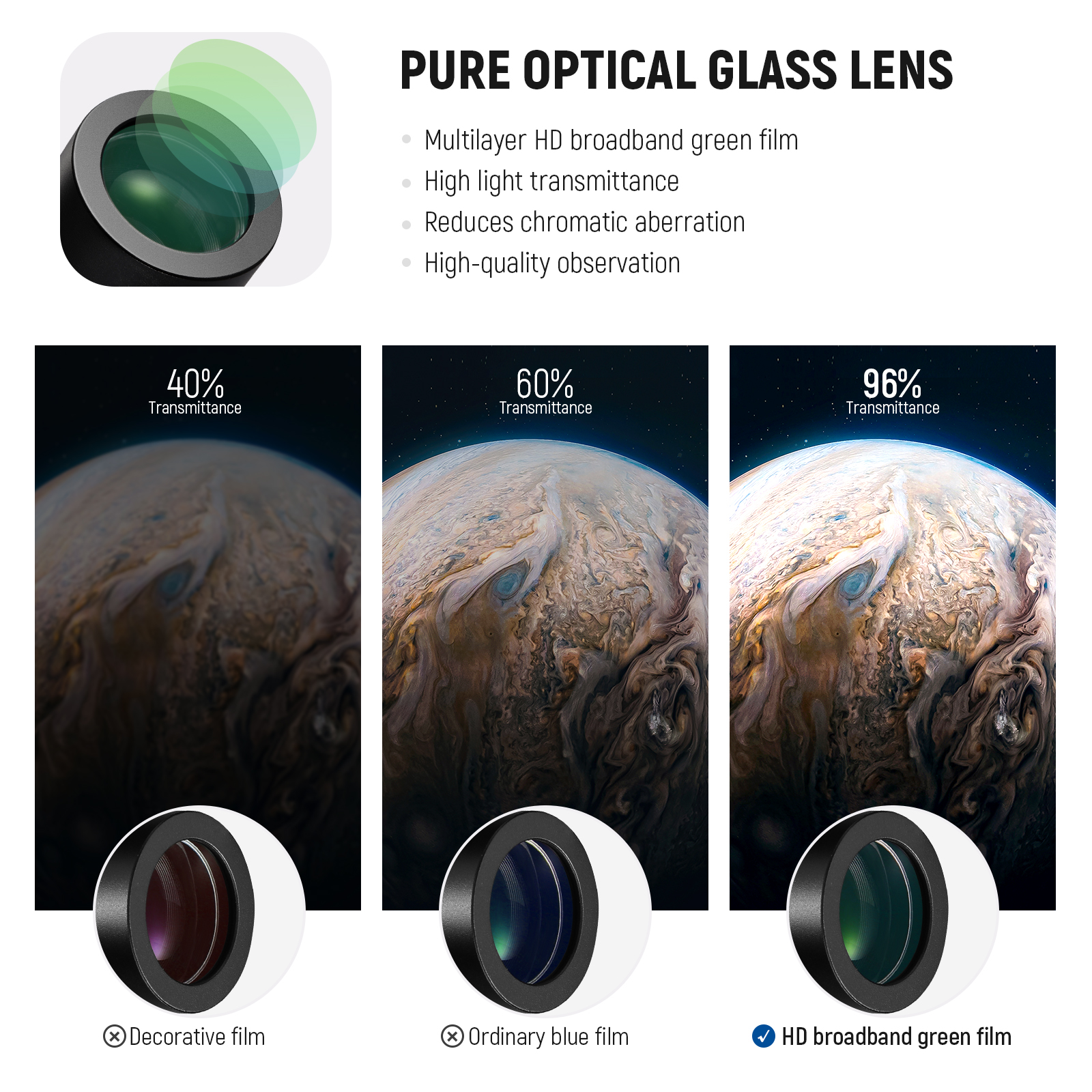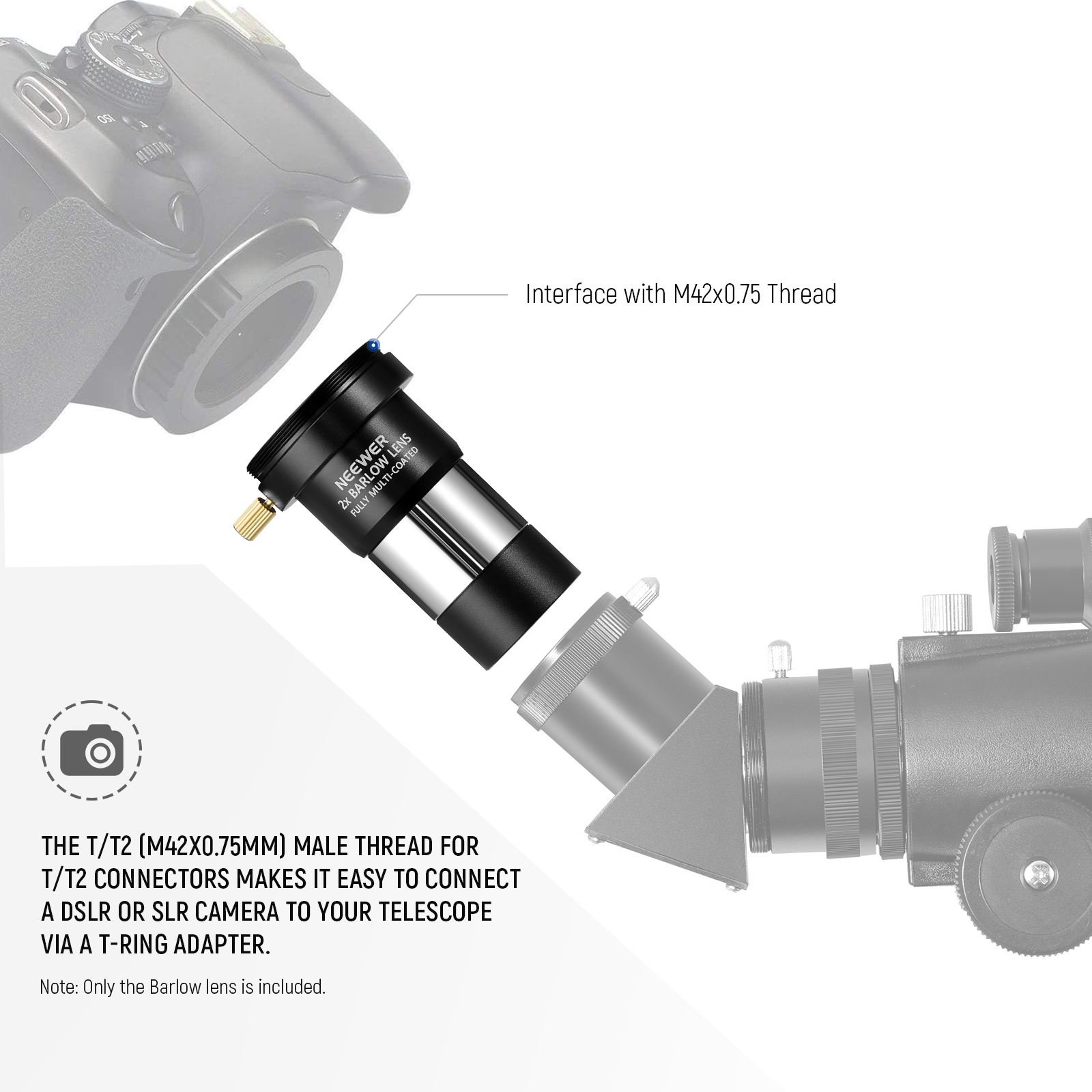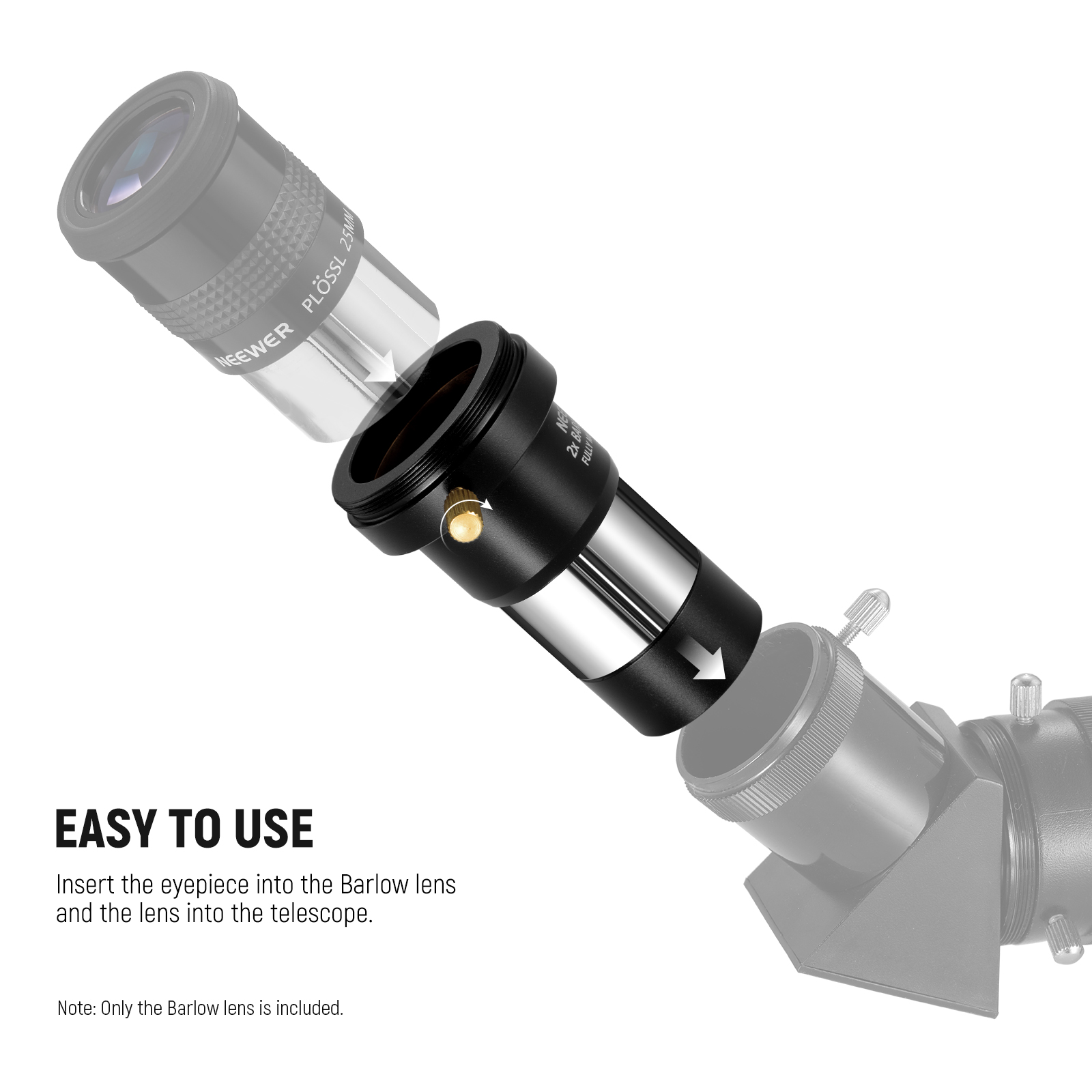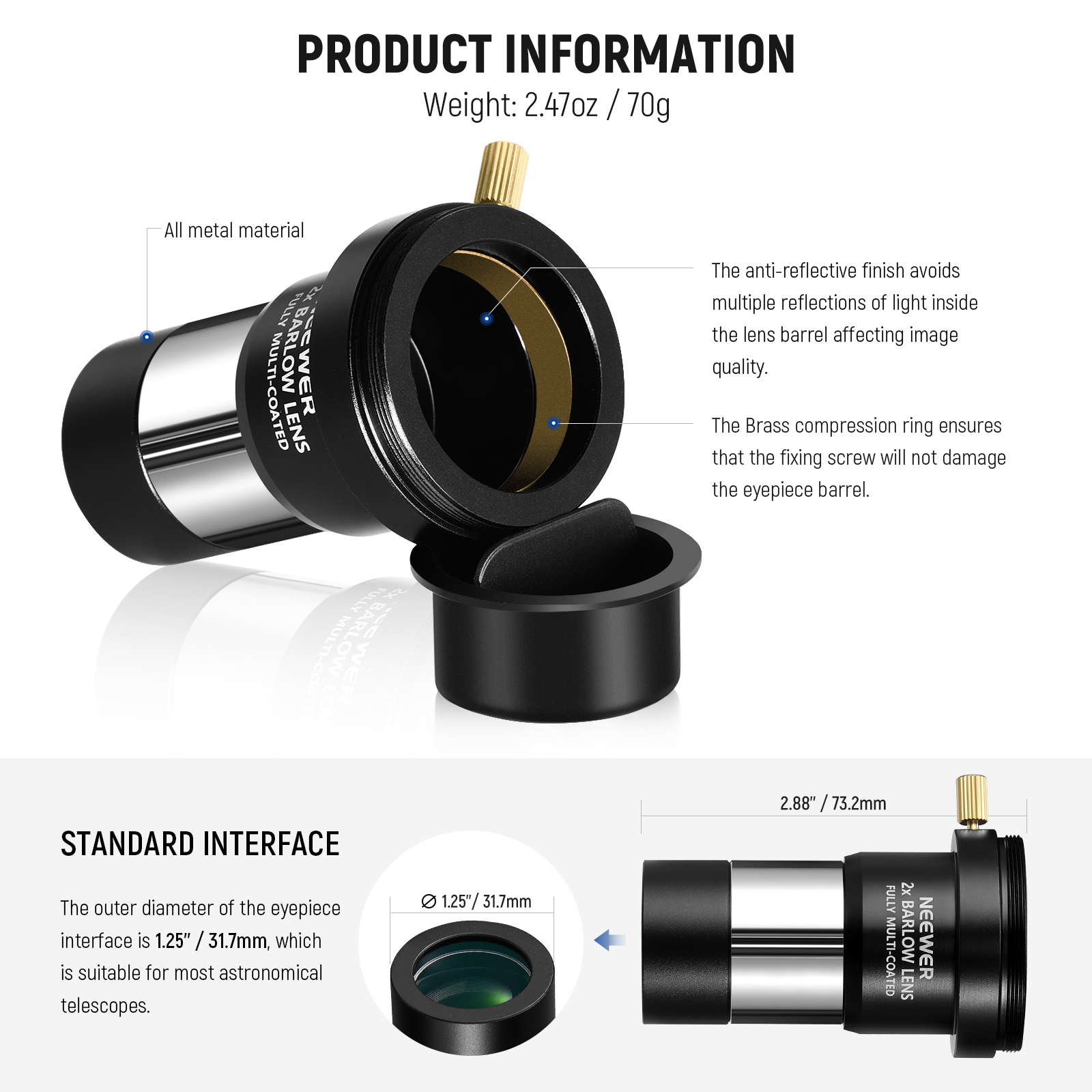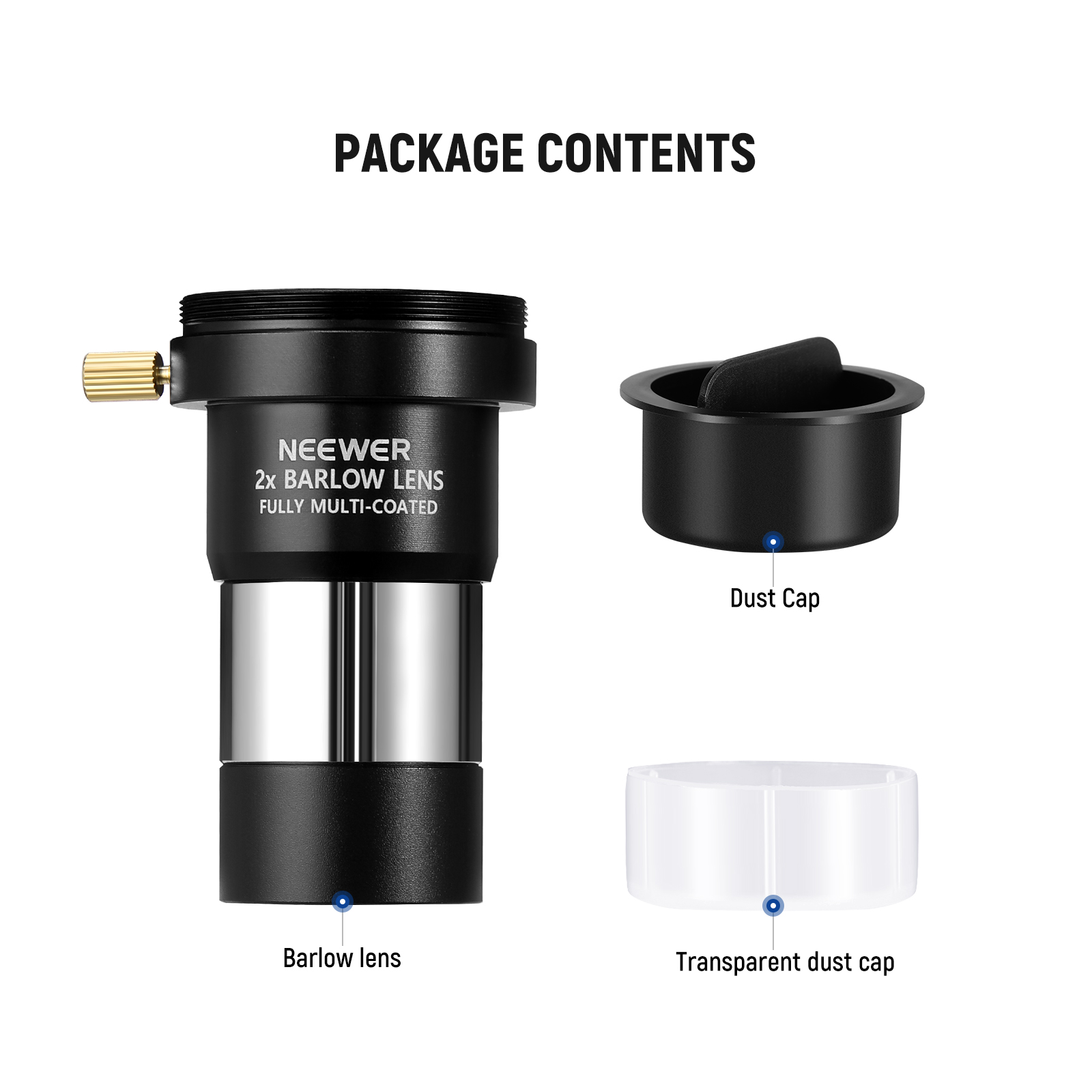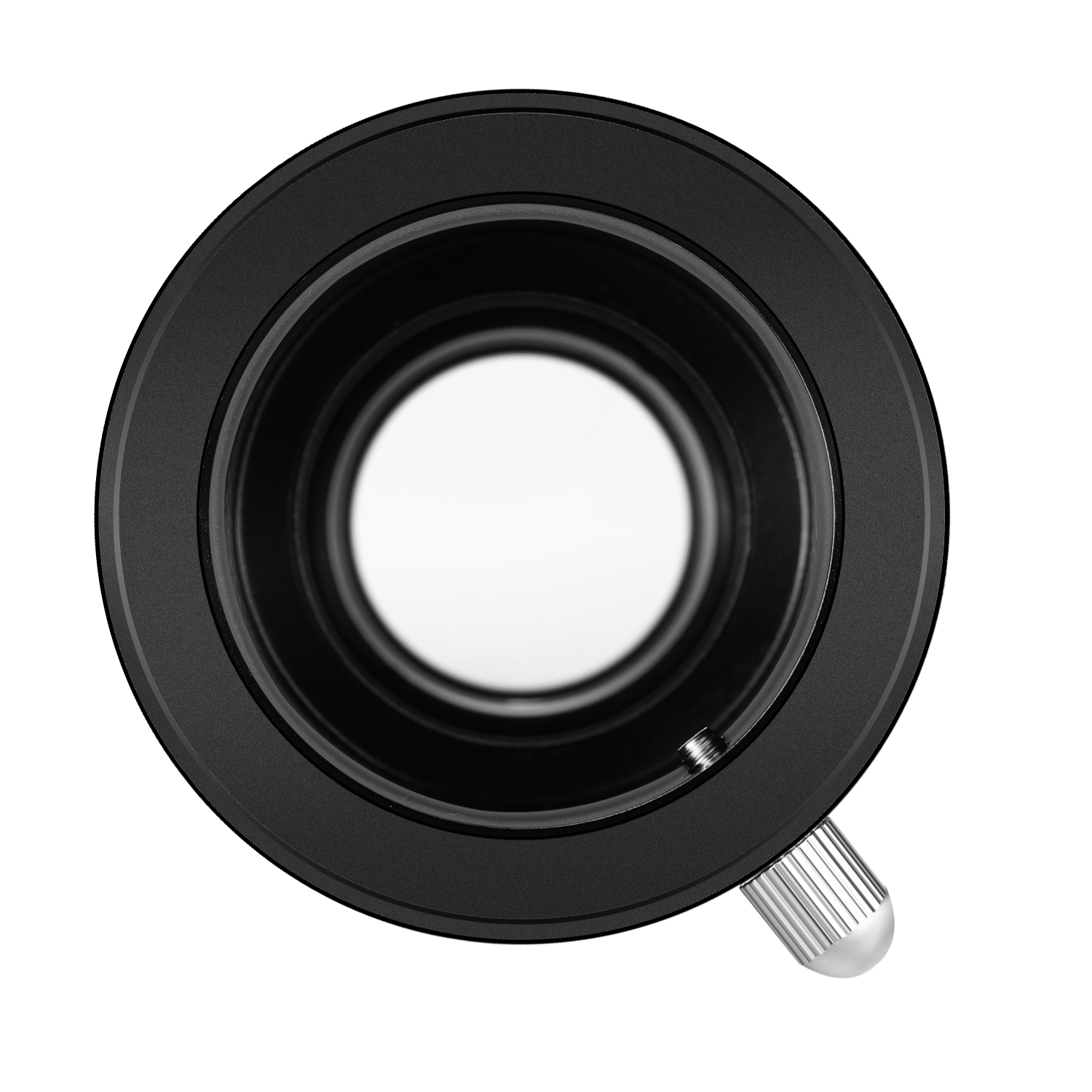 NOTE: Camera is NOT included.
Description:
Perfect choice for you to see more details of the moon.
Simply insert the eyepiece into Barlow lens and then insert the Barlow lens into the scope.
This 2X Barlow lens can provide more magnification without reducing the exit hole on the eyepiece; it keeps a comfortable observation with wide view.
2X magnification with 1.25 inch interface.
With T/T2(M42x0.75mm) male thread for T/T2 connectors.
Quality aluminum stock and black anodized body; sturdy for a long term use.
High quality observation without introducing additional chromatic aberration.
The eyepiece barrels will not be marred by the captive set screw.
Specifications:
Diameter:1.25 inch/31.7mm
Magnification factor: 2X
Lens material: Pure optical glass lens
Lens coating: Multilayer HD broadband green film
Sleeve material: Metal
Thread interface: M42x0.75
Length:2.9 inch/7.5 centimeters
Weight: 3.14 ounces/89 grams
Package Contents:
1 x Barlow lens
2 x Dust Cap Quantity:1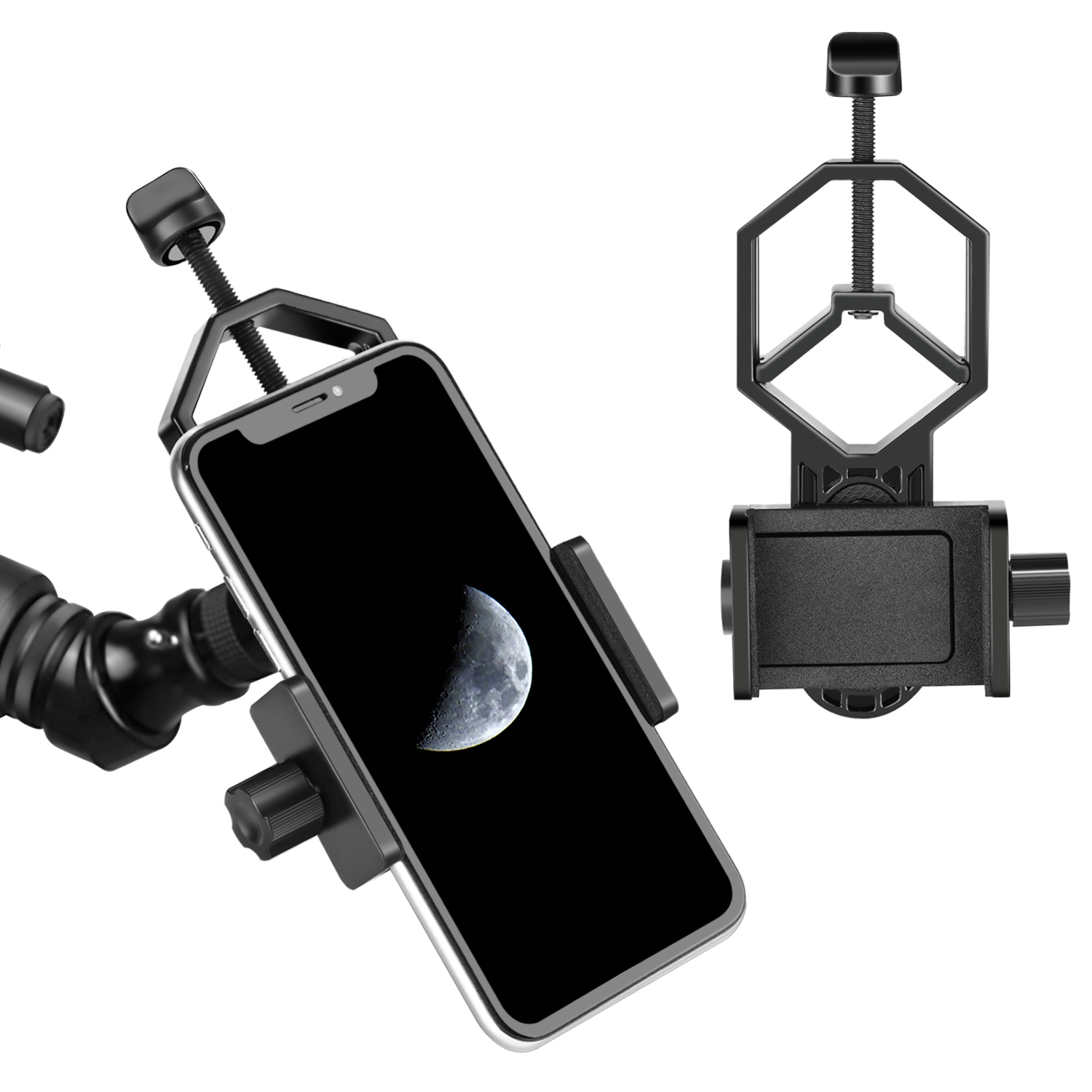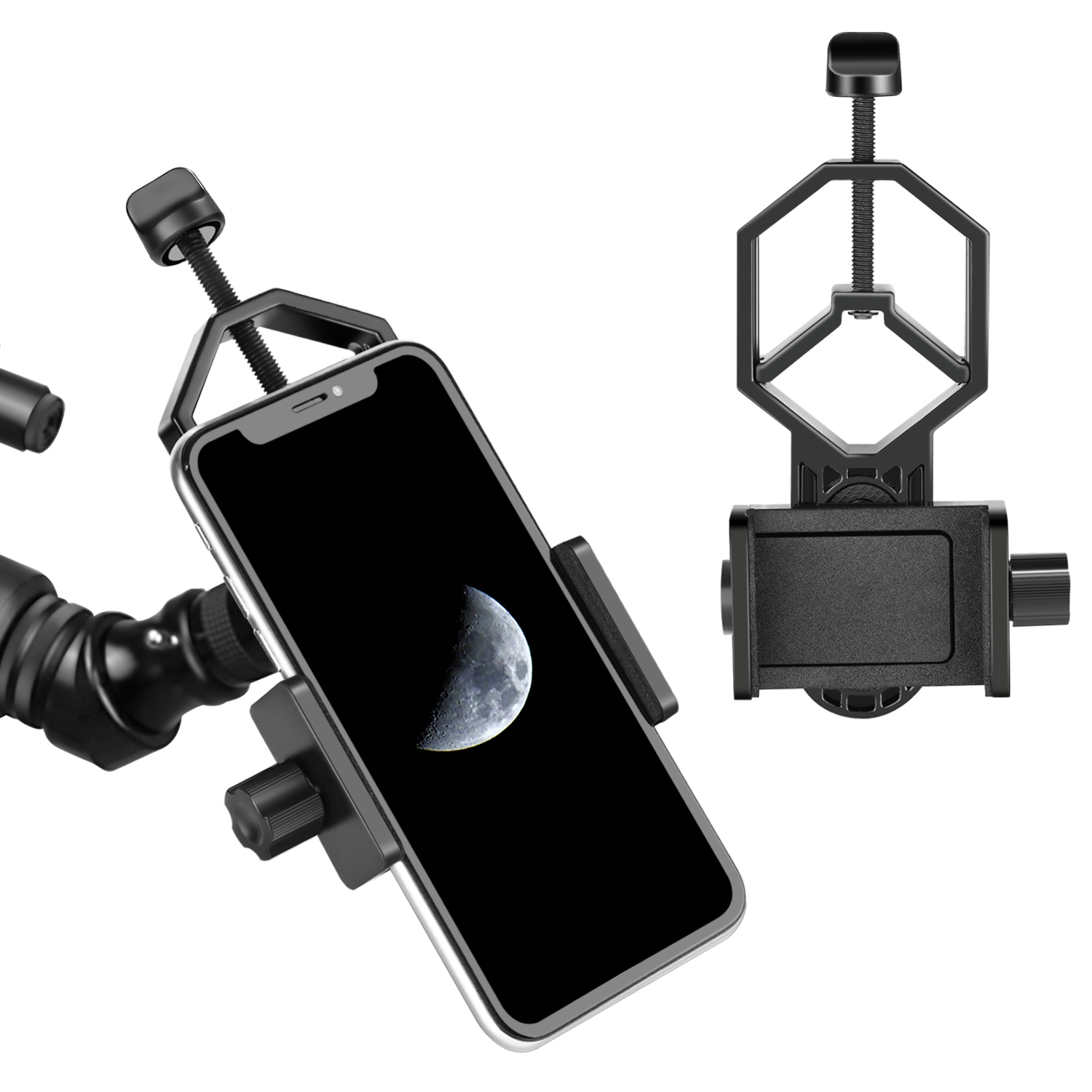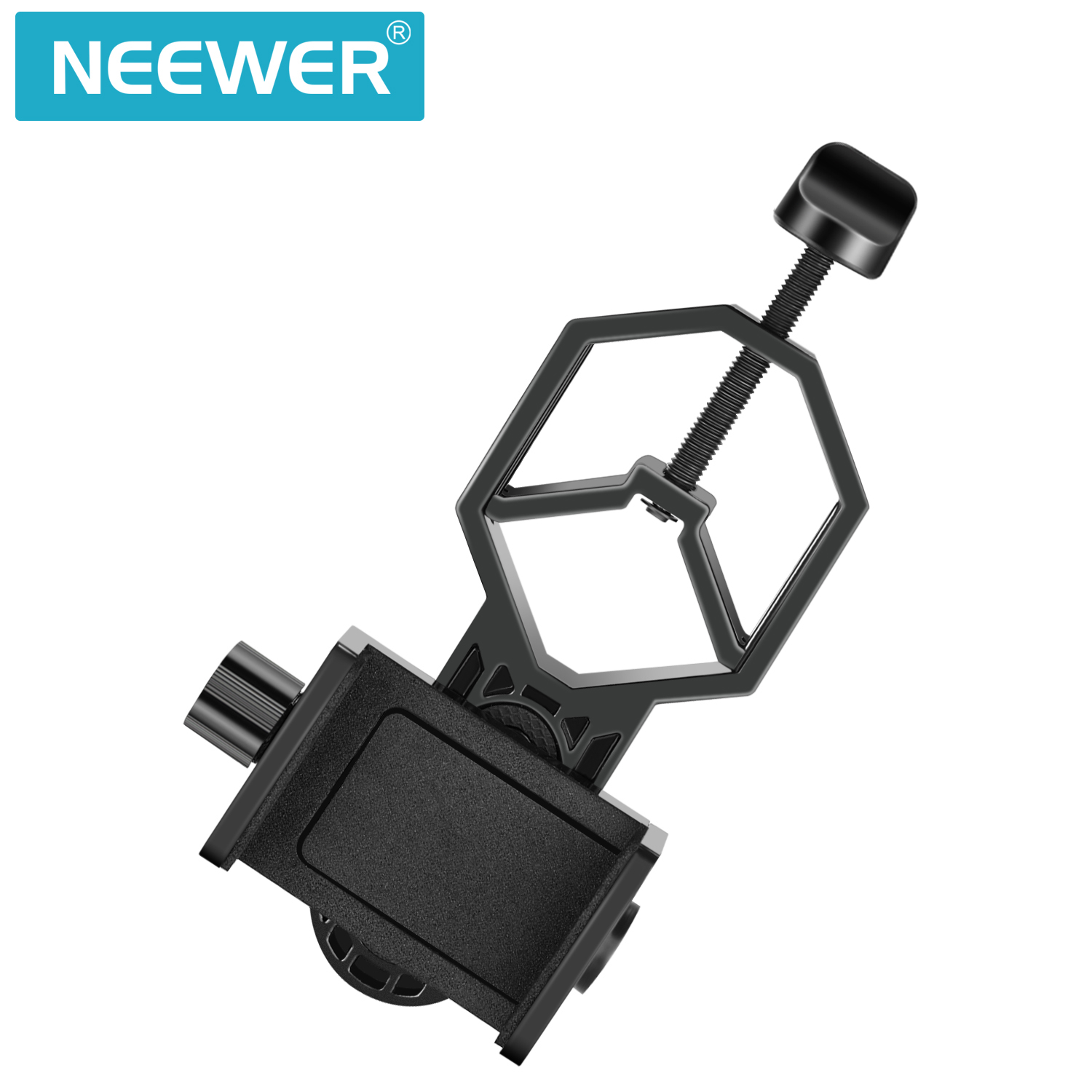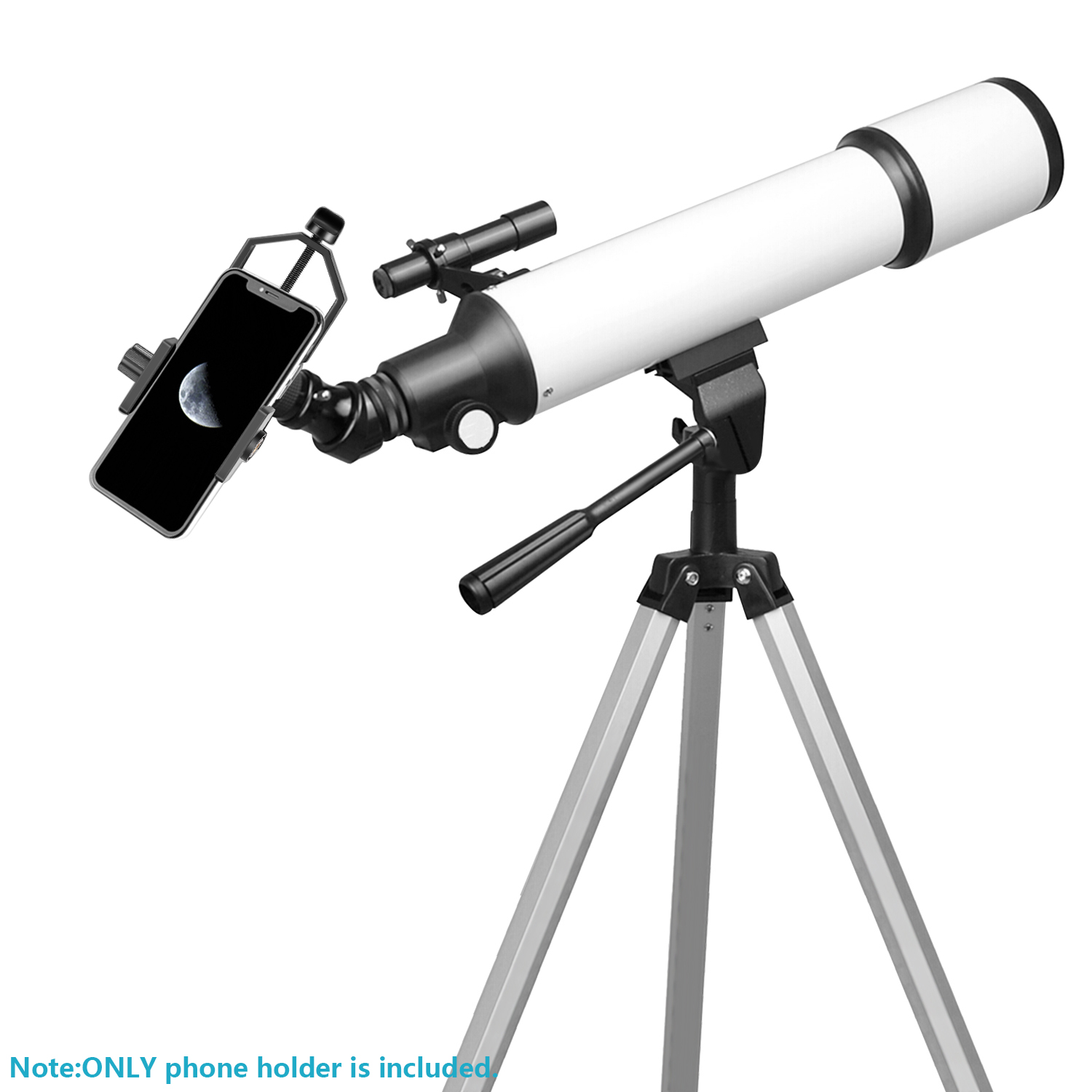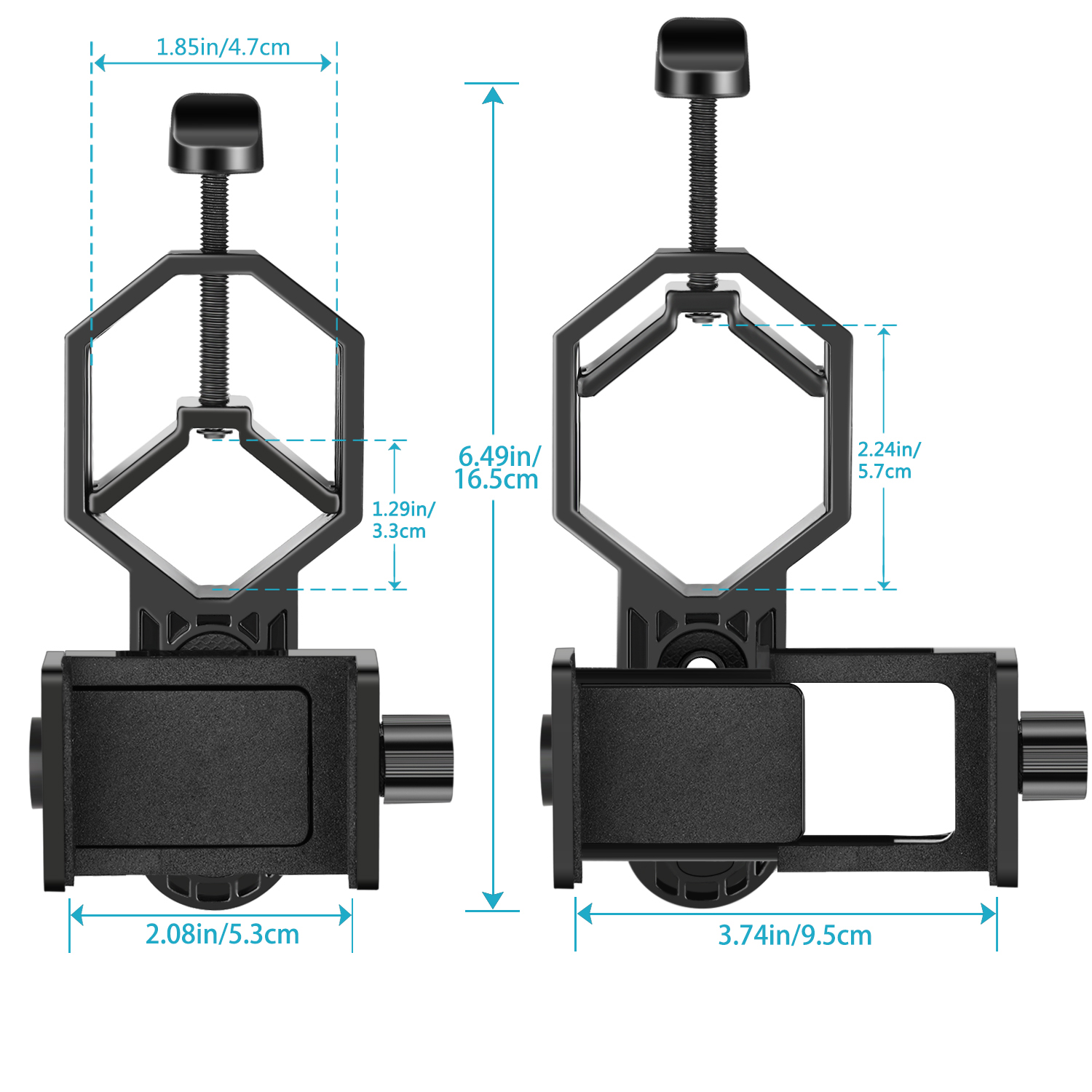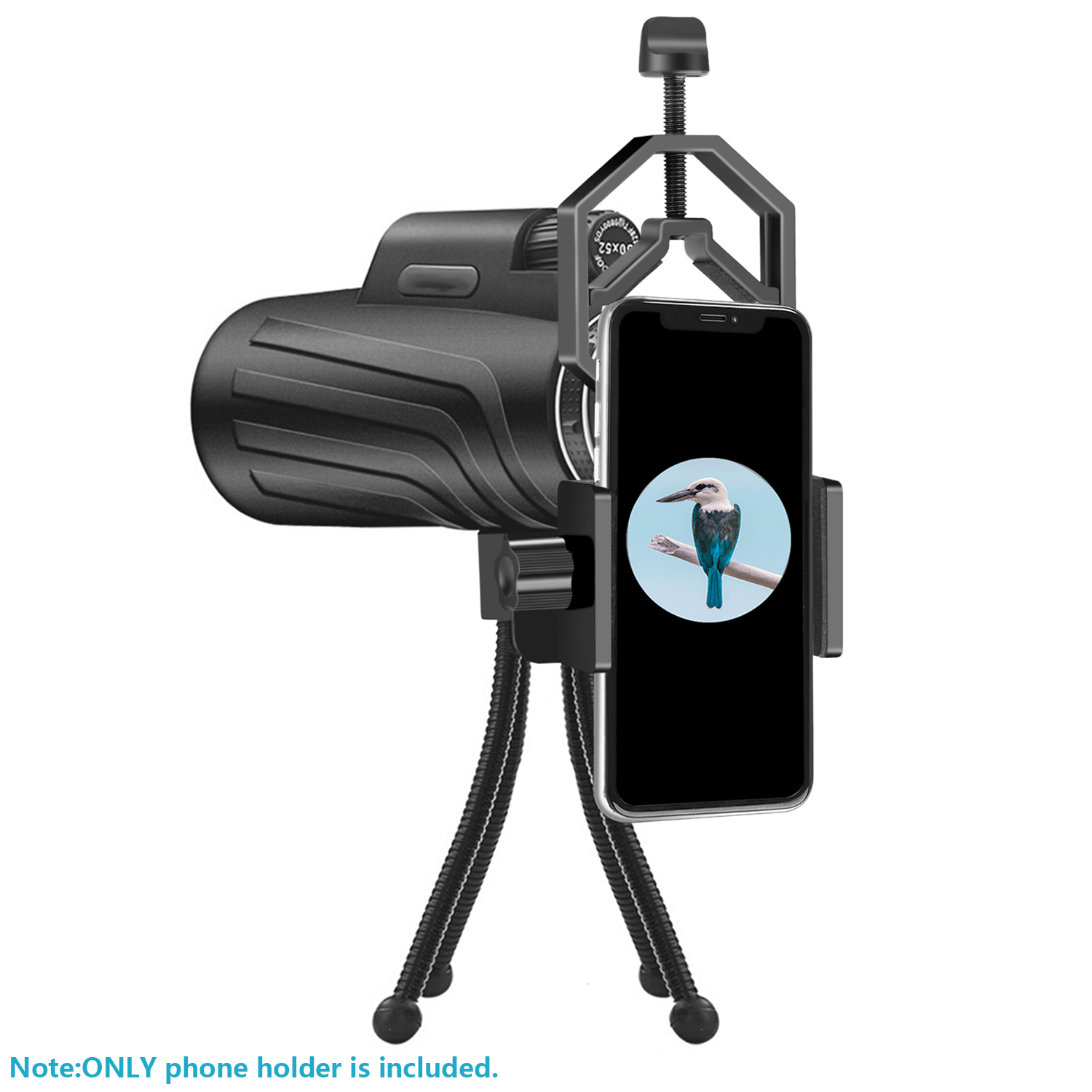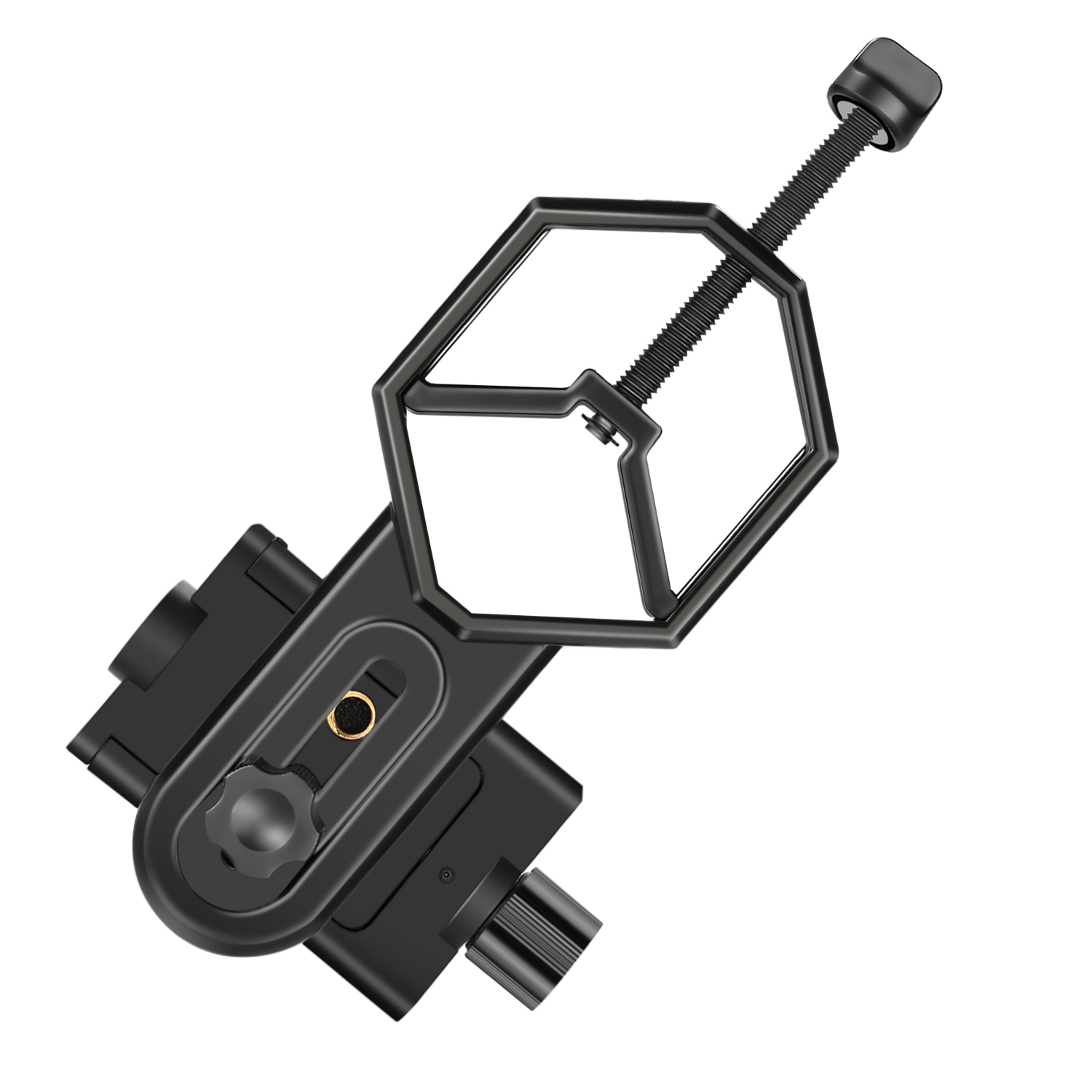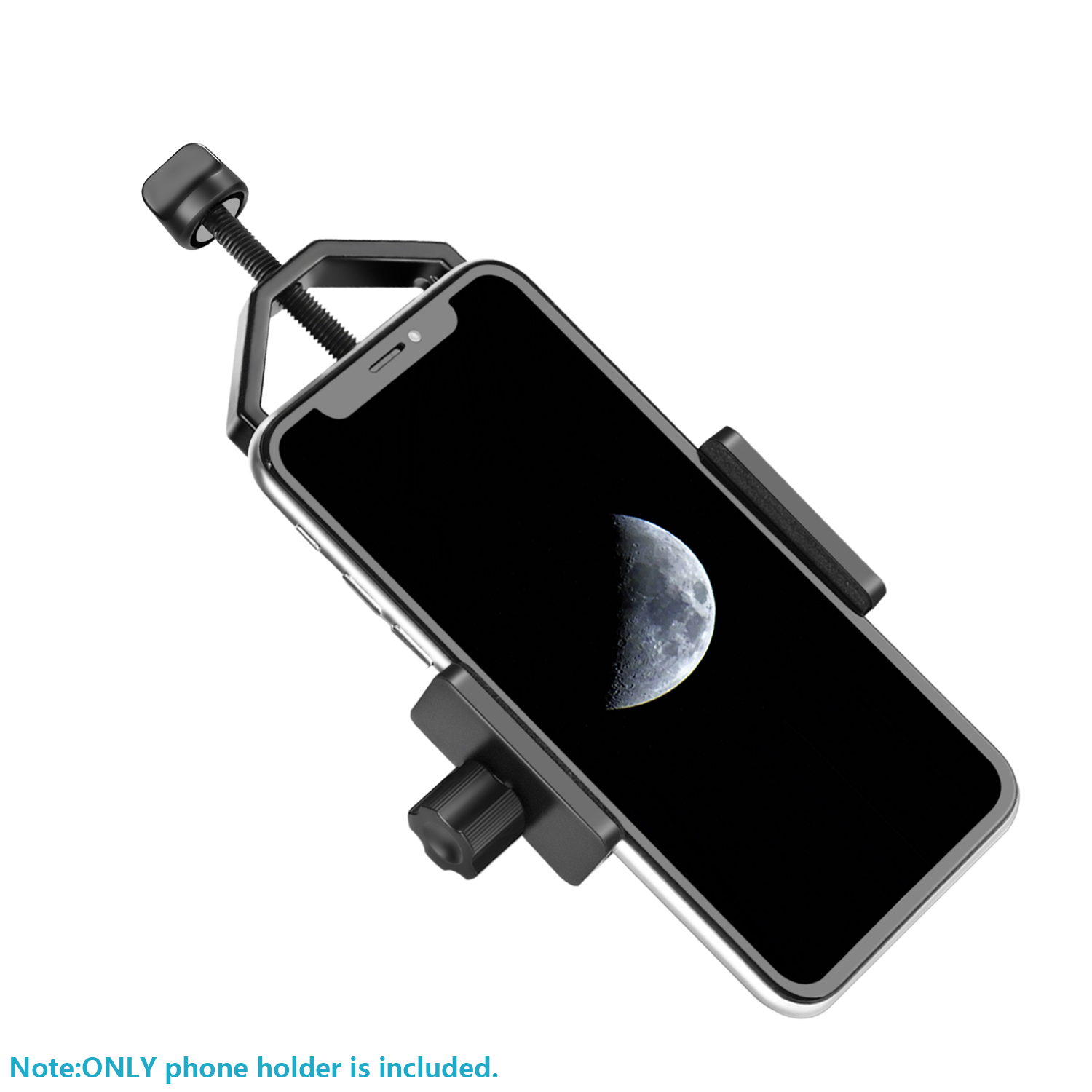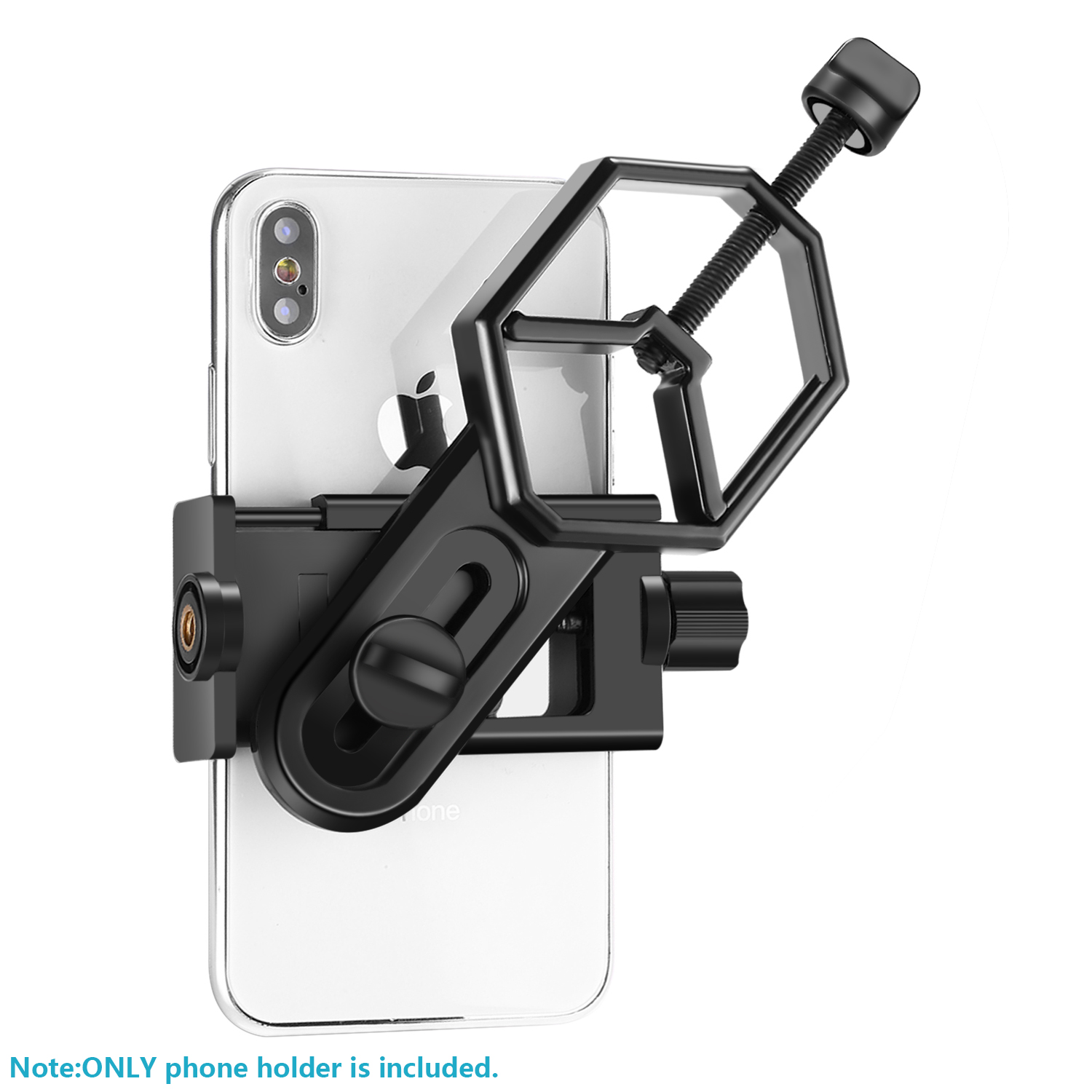 NOTE: ONLY the adapter included. The Cellphone and Scope are not included in the package.
Compatible with microscope, telescope, binocular, monocular, nightvision spotting scope when the front part diameter is no more than 1.8 inch/4.7 centimeters
Specially deigned to explore the micro tiny world, find the different part of nature
Adjustable width from 2.08 inches/5.3 centimeters to 3.74 inches/9.5 centimeters, please confirm the size of your device before ordering.
Ideal for bird watching, moon watching, flower blooming watching
Specification: Material: Metal and Plastic Housing Color: Black Maximum Size(for scope): 1.8 inches/4.7 centimeters Size(for cellphone): 2.08-3.74 inches/5.3-9.5 centimeters
Package Contents:
1 x Cell Phone Holder for Scope Quantity:1
This item is 100% Brand New. Never used. It comes with 2 Months Warranty by Seller.
The warranty enables the buyer to receive warranty repair or replacement from the term length described in the sale. Situations NOT covered by this warranty include physical damage to the item (dropping/impact damage, water damage, exposure to extreme heat/cold/pressure, etc), misuse, negligence, normal wear and tear, installation of non-factory software, or any other damage caused by use in a reckless or careless manner. The warranty guarantees the item will be free from manufacturer caused defect for the warranty length stated in this sale. Please contact our customer service team to claim your warranty if and when it should be needed.
By bidding on this item, the bidder agrees:
Returns without original box will NOT be accepted . Buyers pay return shipping cost.
Please make the payment within 7 days after winning the auction.
All sales are final. Warranty is provided via advertised warranty provider. Seller will assist with replacement only if item is defective within the warranty conditions.
If an item is received damaged, seller must be notified within 2 business days of this damage. 5%-15% restocking fee will be charged if item is NOT defective or damaged.
For Puerto Rico, delivery time is up to 20 business days.
Be sure shipping address with payment is correct. Seller CANNOT change the shipping address after payment.
*NO EXCEPTIONS!*
20181010155957360
Filed under: Eyepieces & Accessories