Current Price: $145.38
Buy It Now Price: $145.38
Bids: 0

Celestron PowerTank Lithium Power Pack, Black (18771)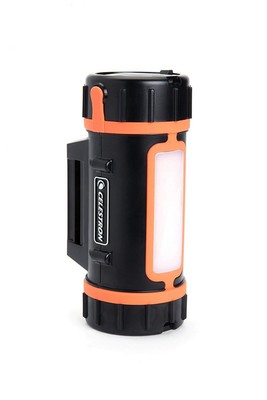 Product Details
OPEN BOX - Like New Items!
All our Opened Box items are in great condition each of them is tested and verified by professional logistic teams, in most cases you'll hardly notice the difference between our opened box items to equivalent new items, sometimes the product box does not meet brand new items standard, but besides that you will own a great product and in a competitive price.
*Nevertheless if for some reason you are not happy with your order, you may return it for a full refund.
Portable power pack for your computerized Celestron telescope using Lithium Iron Phosphate (LiFePO4) chemistry
Smaller, lighter, safer, and easier to maintain than lithium-ion and sealed lead acid designs
Up to 2000 charge cycles – four times more than lithium-ion and 7 times more than sealed lead-acid designs
Un-recharged shelf life of up to 10 years – 3 times better than lithium-ion and 10 times better than sealed lead-acid designs
Evironmentally friendly – Does not use toxic heavy metals
PowerTank Lithium
Enjoy a night of stargazing without disposable batteries or AC power. This compact power pack was designed for astronomy, but also works great in emergency kits or anywhere you need power.
Previous page
Power Your Telescope for 10 Hours

Enjoy your telescope from dusk to dawn! PowerTank Lithium's 86.4 Wh capacity is enough to power 10 hours of continuous observing.

Red and White Flashlights

You'll find 2 separate LED flashlights onboard. Choose the red light to preserve night vision & the white light (with 2 brightness settings) when it's time to clean up at the end of the night.

Safe and Eco-conscious

Lithium iron phosphate (LiFePO4) chemistry makes PowerTank Lithium one of the safest and eco-conscious power supplies you can buy.

Celestron is Here for You

Astronomy can be intimidating, but Celestron is here to help. As the premier telescope brand since 1960, we offer free US-based tech support & how-to videos, so you can enjoy stargazing hassle-free.
Next page
Charges Your Devices Anywhere
Tap into PowerTank Lithium to top off the charge on your smartphone, tablet, or rechargeable hand warmer while you observe. There are 2 USB 2.0 charging ports built in.
Compare these products
PowerTank Lithium
PowerTank 12V
PowerTank 17
PowerTank Lithium Pro
Battery Capacity
86.4 Wh
84 Wh
204 Wh
158.74 Wh
Charge Time (from flat)
3 hours
16 hours
20 hours
6 hours
Telescope Power Port
12VDV 3000mA, Tip positive
No
No
12VDC 5000mA, Tip positive
Car Battery Adapter Port
None
12VDC 10A, Tip positive
12VDC 10A, Tip positive
12VDC 10A, Tip positive
USB Charging Port Output
5VDC 1000mA/ 5VDC 2100mA
5VDC 1.5A/ 5VDC 1.5A
5VDC 1.5A/ 5VDC 1.5A
5VDC 2100mA/ 5VDC Quick Charge
LED Light Panel
2 red/white light settings
white & red spot/flashlight
white & red spot/flashlight
2 red/white light settings
Telescope Power Cord
6.5ft for Celestron scopes
10ft car battery adapter
10ft car battery adapter
Filed under: Eyepieces & Accessories