Current Price: $24.15
Buy It Now Price: $24.15
Bids: 0

Orion 05598 1.25-Inch 25 Percent Transmission Moon Filter (Black)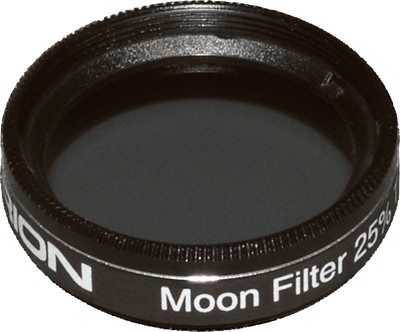 Useful telescope eyepiece filter transmits 25 percent of incoming light. Ideal
for viewing crescent Moon phases and for lunar viewing in smaller-aperture
telescopes, for which less dimming is required. We are able to see the Moon at
night thanks to sunlight reflecting off its rocky surface. When looking at the
Moon through a telescope, bright reflected sunlight can produce significant
glare. The Moon's disk, even at partial phases, is in fact so intensely bright
with reflected sunlight that observing surface details can be challenging due
to the overwhelming glare. This glare can be so bright that it washes out most
of the interesting lunar features such as craters, riles, mountains, and
valleys. The considerable brightness also reduces contrast on our nearest
neighbor in the solar system. When the Moon is in its crescent phase, it does
not produce as much glare as when it is full or waxing, but filtration is
still recommended to achieve optimal view quality. When looking at the Moon in
relatively small (60mm-80mm) telescopes, the brightness is not as distracting
as in larger telescopes, but some filtration is required to get the best
observations. To improve contrast and tone down glare easily in these
situations, we recommend using a neutral-density 1.25 inch Orion 25 percent
Transmission Moon Filter. This inexpensive accessory threads directly into a
1.25 inch eyepiece barrel and blocks 75 percent of the light gathered by the
telescope, making for more comfortable lunar views exhibiting higher contrast.
Once installed on a 1.25 inch telescope eyepiece, the Orion 25 percent
Transmission Moon Filter will bring out considerably more lunar surface
details thanks to the boosted contrast. Not only will more surface features
and details pop out, but you can study them in greater comfort, thanks to Moon
Filter reducing overall brightness without altering color.
Product Features
Make sure this fits. by entering your model number.
Allows transmission of 25 percent of incoming light
Reduces bright glare reflected off the Moon and boosts contrast and resolution of lunar surface features
Metal filter cell threads directly into Orion 1.25 inch telescope eyepiece barrels
Provides a brighter view than the 13 percent Moon filter by blocking less light - ideal for use with smaller telescopes
Payment:
PayPal is the only method of payment we accept. If you have an order cancellation request, we'll do our best to accommodate your request however we cannot guarantee that such a request will always be granted. We have warehouse processing centers across the country to ensure you receive your package efficiently and as quickly as possible. As a result, we are required to charge sales tax in multiple states across the USA. If your state is one that we charge sales tax in, you will see the sales tax charge at time of checkout before you submit payment.
Shipping:
Standard shipping is free. Handling time on our orders is normally between 1-2 business days. Your order should reach your doorstep within 3 - 5 business days. Need your item quicker? We offer a faster shipping method for your convenience available upon checkout for an additional price of $1.99. Regardless of shipping date, you will receive it near the eBay estimated delivery date, almost always. We do not accept emailed requests to change shipping addresses. We do not ship to AK, HI, PO boxes, or APO addresses. We are not responsible for any incorrect or undeliverable addresses. We only ship to the confirmed Paypal address. Please note that manufactures update their packaging from time to time and that the packaging images shown in our auction may vary from what you ultimately receive however be assured you are receiving the identical contents you ordered regardless.
Contact Us:
Do you have a question about an item or order? Contact us via eBay messaging and we will respond within 1 business day. Our office hours are 8AM-4PM PST Monday-Friday. We only respond to emails sent via eBay's messaging service. Invoices or special request are not guaranteed. We do not accept best offers on any items we sell. If there are any issues with your transaction please contact before leaving a neutral or negative feedback as we are certain we can produce an amicable resolution for the both of us. We would love to be given the opportunity to work with you to resolve any problem you may have.
Returns / Concerns:
You may return new, unopened items within 30 days of delivery for a refund, and a restocking fee may apply. Items must be returned in the condition they arrived in. The box, UPC bar code, packaging, and all other accessories must be returned. Open software, music, games, movies, food items (human or pet, opened or closed), and personal hygiene products are not eligible for return. An RMA number is required for all returns. Message us for return instructions. Items returned without a RMA number will not be processed. Return shipping fees are not refundable. We reserve the right to decline any returns if the above guidelines are not followed.
Thank You For Your Business!
Filed under: Eyepieces & Accessories