Current Price: $126.14
Buy It Now Price: $126.14
Bids: 0

Fast
Shipping
Hassle
Free Return
eBay Money
Back Guarantee
Pay With
Confidence
Orion 07733 4.10-Inch ID Full Aperture Glass Telescope Solar Filter (Silver)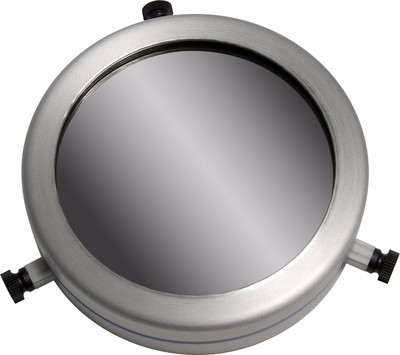 A must-have filter for safe observation of the sun through a telescope without damaging your eyes - optical glass filter fits snugly over your telescope's aperture to block 99.9 percent of incoming sunlight
Fits Orion Observer 70mm, ShortTube 80mm, StarSeeker 80mm, and AstroView 90mm refractors; Apex and StarMax 90mm Mak-Cass telescopes; and other models
Each Orion telescope solar filter is mounted in a foam-lined aluminum cell featuring three equidistant securing thumbscrews, 4x 1/16 inch thick adhesive foam tabs, and 4x 1/8 inch thick adhesive foam tabs for customized friction fit to your telescope
Filter inside diameter is 4.10 inch - fits optical tubes with an outer diameter of 3.85 inch to 4.10 inch with included shim materials and securing thumbscrews
Note: All Orion solar filters are designed for use with an adequate friction fit attachment. Thumbscrews should ONLY be used to keep filter securely in place once a friction fit has been achieved

Our Products:
Enjoy Big Discounts for Our Like-New Products.

?our products enabling our customers to purchase top quality products at the best prices. if for some reason you are not happy with your order, you can return it for a FREE and full refund.
? All items are in stock at the time of listing; however, in the unlikely and unforeseen event that we are unable to fulfill your order through any of our networked warehouses, we will notify you as quickly as possible and offer you a 100% refund on your purchase.
? We do not honor product exchange requests. If you need to exchange an item received, you will need to go through the normal returns process identified in our returns section and then order the correct item if it is still available.
? Orders are processed immediately and dispatched to fulfillment as soon as it's placed. For this reason, we are typically unable to honor cancellation requests or change the shipping address. In that case, you can wait until you receive the item and go through the normal returns process.
SHIPPING
?Our stock all ships from our US-based warehouses.
?We ship to the lower 48 contiguous United States only.
?We provide FREE URGENT shipping Method, Most items should be delivered within 3-5 business days, Check our feedback to see the great reviews of FAST shipping we offer.
?We do not ship to P.O. Boxes or APOs.
?Shipping is always FREE
PAYMENT
PayPal is our preferred method of payments it's the quickest, easiest and most secure way to pay for your goods or services online. PayPal offers buyer and seller protection should there be a problem. If you do not have a PayPal account, to get started and buy your first item with us is very easy. Simply click on the 'Buy It Now' button and follow the eBay checkout steps. Select PayPal as the payment method you then will be given the chance to enter your card details in to PayPal's secure checkout in order to pay for your order. Once the payment has been made, you will then be given the opportunity to make your own PayPal account to make paying for your items in the future very easy. Should there be a problem with payment please do let us know.
Returns
?If you are not 100% satisfied with your purchase, you can return the product and get a full refund
? You can return a product for up to 30 days from the date you purchased it. Any product you return must be in the same and packaging condition you received it. Please note that we cannot give refunds or replacements after the 30-day limit has expired.
Contact
If you have any queries, please contact us via eBay. We usually respond within 24-72 hours on weekdays.
Payment Options
Shop With Confidence
Filed under: Eyepieces & Accessories