Current Price: $275.51
Buy It Now Price: $275.51
Bids: 0

Orion 08890 1.25-Inch Premium Telescope Accessory Kit (silver)NEW (IN BOX)FREE SHIPPING FROM CANADA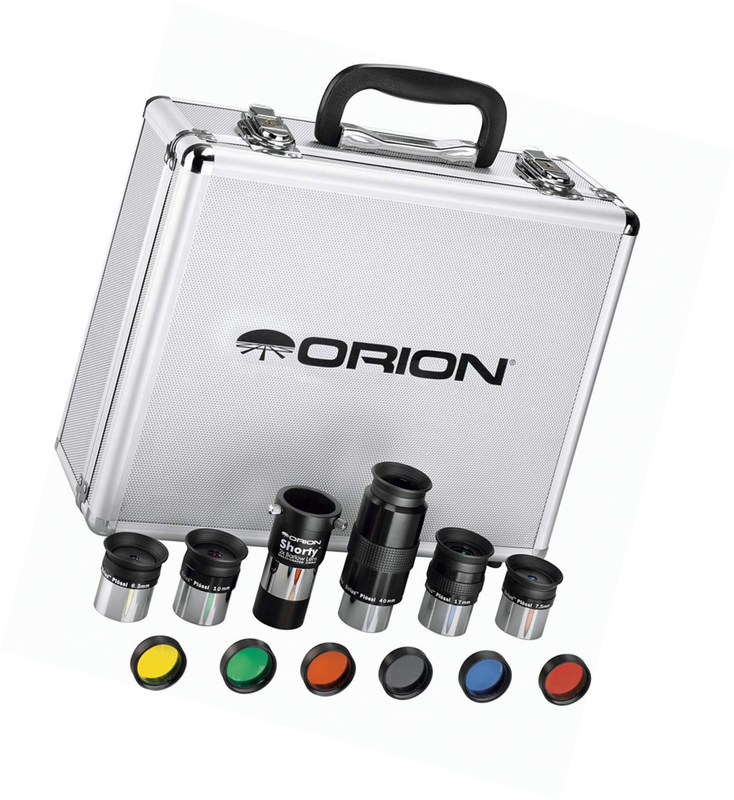 Product Features
Thorough assortment of choice 1.25" astronomy accessories let you get the most out of any telescope - and save compared to buying items separately!
Includes 12 premium accessories for any telescope - 5 telescope eyepieces, 6 eyepiece filters, and a versatile Barlow lens
Includes 5 Sirius Plossl telescope eyepieces - 40mm, 17mm, 10mm, 7.5mm, and 6.3mm focal lengths for viewing at five different magnifications
Also includes 6 eyepiece filters - 5 color planetary filters and a 13% transmission neutral-density Moon filter enhance views of our nearest celestial neighbors when they are attached to any 1.25" eyepiece
A powerful Shorty 2x Barlow lens doubles the magnification of any inserted 1.25" eyepiece, providing a wide variety of magnification options with the included eyepieces, as well as any other 1.25" eyepiece you already own
Product Description
Elevate your telescope's performance potential with our Orion Premium Telescope Accessory Kit. This comprehensive set of quality accessories will greatly enhance the abilities of any telescope. Accessorizing your telescope with a variety of quality eyepieces, eyepiece filters, and a good Barlow lens significantly increases the versatility of any telescope. Having different focal length eyepieces and a Barlow lens lets you view at different magnifications through your telescope, while using filters on the aforementioned eyepieces help to enhance specific features of lunar and planetary targets. With our Premium Telescope Accessory Kit, you'll receive twelve 1.25 inch accessories in a foam-lined hard carry case to help you get the most out of each evening spent with your telescope. The Orion Premium Telescope Accessory Kit includes an aluminum carry case with a custom die-cut foam interior designed to keep all accessories organized, secure, and ready for use. The carry case measures 12.5 inches x 11.5 inches x 5.5 inches and weighs 4.7 lbs. with all the included accessories stowed safely inside. Every telescope deserves a thorough set of accessories, and every amateur astronomer deserves to enjoy the enhanced views a complete set of accessories provide. With an Orion Premium Telescope Accessory Kit, you and your telescope are sure to get the most out of every clear evening.
VERO and copyright infringement:
If you are the brand or manufacturer of this item please contact us before contacting Ebay. We will do our best to verify the information and remove the possible infringement if needed. Thanks !
Shipping and Handling:
Shipping includes Tracking and we use UPS, Canada Post, Intelcom or FedEx which ever one is the fastest option for your delivery. All items are shipped the same business day. Expect 2-3 business days to receive your package
This item is located in Canada.

There are no local pickups available.

We do not combine shipping.

We do not ship internationally.
Canadian Territories:
We ship to most of Canada, However delivery restrictions may apply to Yukon, Newfoundland, Nunavut and NW Territories. Please inquire if you live in any of these locations and we will provide further shipping info.
Shipping to YT, NT, NU, NL, A0K, A0P, A0Q, A0R, and X0A-Y9Z may incur shipping charges or delivery restrictions. Please contact us before ordering or your order can be canceled
Remote and Rural areas:
Some Remote or Rural addresses may experience a longer shipping time. And in some cases we may not be able to ship to your postal code due to restrictions from the delivery carrier. Please inquire about shipping availability and times if you live in remote location.
Return Policy
Due to the intimate nature of the items we sell, we are not able to return or exchange purchased toys and products. This is for the health, safety and peace of mind of our customers.
100% Satisfaction:
Feedback is an essential part of what makes eBay a successful community.

Please remember that whenever you buy or sell something, we ask that you leave Feedback about the transaction that reflects your experience with us.

Products may be shipped from third party vendors to meet our guaranteed delivery times

We provide 100% customer satisfaction. If you have any issues or concerns with your item, please contact us to immediately through ebay messenger to resolve it.

We are here to help, please contact us through eBay messages before leaving any negative feedback. Thank you
Filed under: Eyepieces & Accessories