Current Price: $85.58
Buy It Now Price: $85.58
Bids: 0

Orion 5691 LaserMate Deluxe II Telescope Laser Collimator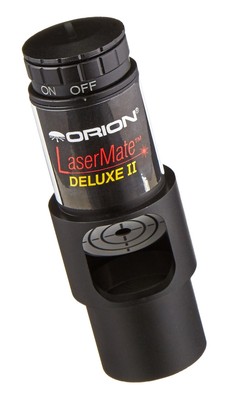 Description
Brand New. Orion 5691 LaserMate Deluxe II Telescope Laser Collimator
Make sure this fits. by entering your model number.
Want the best views possible from your reflector telescope? Perfectly align your reflector optics with our second-generation LaserMate Deluxe Collimator!
Convenient rear view port lets you easily collimate optics from the rear of the reflector telescope
Second-generation model features an improved aluminum housing with a wider, 3mm barrel flange to ensure proper seating for consistently pinpoint collimation with every use
Operates on one CR2032 battery (included) and comes with a full set of instructions with a step-by-step procedure on how to properly align a relfecting telescope
Product description With the Orion LaserMate Deluxe II Laser Collimator, you
will get dead-on alignment (a.k.a., collimation) of your reflector telescope's
primary and secondary mirrors quickly and consistently. Its "rear-view" port
has a bulls-eye target that lets you adjust the telescope's primary mirror
while conveniently standing at the rear of the telescope, where the primary
mirror adjustment screws are located. You just adjust the collimation knobs
until the laser beam's red dot hits the bulls-eye, and then you're done! This
second-generation LaserMate Deluxe features and improved, all-aluminum housing
with a wider, 3mm barrel flange to ensure that the collimator seats squarely
in the telescope's eyepiece holder - exactly parallel to the focuser's
mechanical axis. This, combined with the highly accurate factory-set alignment
of the laser within the housing, results in consistently pinpoint collimation
with every use! Your reflector telescope will serve up the sharpest, clearest
views possible, night after night. The Orion LaserMate Deluxe II is ideal for
use with any Newtonian reflector telescope, including Dobsonian reflectors,
StarBlast reflectors, and Newtonian astrographs. Compatible with any 1.25"
telescope focuser or 2" focuser with an 1.25" adapter. Includes one 3V CR2032
button-cell lithium battery. Warning: The Class 3R laser complies with US 21
CFR 1040.10 and 1040.11 and is FDA Certified and IEC Compliant. Warning Class
3R laser product, avoid direct eye exposure. From the Manufacturer Want the
best views possible from your reflector telescope? Perfectly align your
reflector optics with our second-generation LaserMate Deluxe Collimator!.
Convenient rear view port lets you easily collimate optics from the rear of
the reflector telescope. Second-generation model features an improved aluminum
housing with a wider, 3mm barrel flange to ensure proper seating for
consistently pinpoint collimation with every use. Operates on one CR2032
battery (included) and comes with a full set of instructions with a step-by-
step procedure on how to properly align a relfecting telescope. Fits any 1.25"
telescope eyepiece holder and includes extra center mark collimation target
labels for any reflector primary mirror not center-marked at the factory

Payment
Payment accepted through Paypal.

Shipping
FREE SHIPPING to the continental United States.
Please make sure shipping address is correct when checking out as the address cannot be changed after order is placed.

Return
We want you to be happy with your purchase. You may return items in its original condition within 30 days. Please contact us to process a return.
Filed under: Eyepieces & Accessories