Current Price: $29.60
Buy It Now Price: $29.60
Bids: 0

Orion 8200 3.6mm E-Series Telescope Eyepiece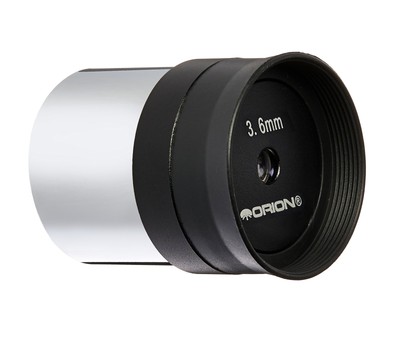 Description
Product description The powerful 3.6mm eyepiece is an excellent choice for
beginning astronomy enthusiasts looking for a high-power eyepiece to use with
a telescope. Thanks to its high-quality glass lenses, admirable performance,
and amazing value, the 3.6mm E-Series Beginner Telescope Eyepiece should be in
every beginning astronomer's collection of astronomy gear. With a 3.6mm focal
length and 1.25" barrel diameter, this E-Series Beginner Telescope Eyepiece
will yield high-power views in any telescope. Ideal for close inspection of
craters and mountains on the Moon, and for highly magnified views of planets
such as Jupiter, Saturn, and Mars. You'll be amazed with clear views of Saturn
and its rings on clear evenings, as well as Jupiter's stormy cloud bands and
four closest moons Io, Ganymede, Europa, and Callisto. You can even go after
challenging double stars with this powerful 3.6mm eyepiece. The Orion 3.6mm
E-Series Telescope Eyepiece features fully coated optics with anti-reflection
coating. This coating allows more light to pass through the eyepiece so you
are rewarded with a bright, detailed view. The eyepiece barrel is internally
blackened to reduce glare. Both the full optical coating and blackened barrel
work together to minimize internal reflections, also called "ghost images"
which can adversely affect view quality. From the Manufacturer Turn up the
magnifying power of your beginner telescope affordably with the 3.6mm Orion
E-Series Telescope Eyepiece. Quality 3.6mm focal length telescope eyepiece
with fully coated glass optics. See craters and mountains of the Moon in
detail with the high-magnification 3.6mm Orion E-Series Telescope Eyepiece.
1.25" eyepiece barrel threaded for use with 1.25" Orion eyepiece filters.
Boost the magnifying power of your telescope without spending an arm and a leg
Features:
Make sure this fits. by entering your model number.
Turn up the magnifying power of your beginner telescope affordably with the 3.6mm Orion E-Series Telescope Eyepiece
Quality 3.6mm focal length telescope eyepiece with fully coated glass optics
Boost the magnifying power of your telescope without spending an arm and a leg
1.25" eyepiece barrel threaded for use with 1.25" Orion eyepiece filters
Product Details:
Package Dimensions: 3.4 x 1.9 x 1.7 inches
Item Weight: 4 ounces
Shipping Weight: 4 ounces
California residents: Click here for Proposition 65 warning
Item model number: 8200
Payment

We accept Paypal payments only. Sales tax may be applied to your purchase as we possess sales tax certificates for all states we collect sales tax in. If your state is one that we charge sales tax in, you will see the sales tax charge at time of checkout before you submit payment.

Delivery

Standard shipping is free with a handling time between 1-2 business days. Once the package has been shipped out, it should arrive within 3 - 5 business days. If you need your item faster we offer a faster shipping method available upon checkout. We do not accept requests to change shipping addresses post purchase. We do not ship to AK, HI, PO boxes, or APO addresses. We are not responsible for any incorrect or undeliverable addresses. We only ship to the confirmed Paypal address. Please note that manufactures update their packaging from time to time and that the packaging images shown in our auction may vary from what you ultimately receive however be assured you are receiving the identical contents you ordered regardless.

Return Policy

You may return new, unopened items within 30 days of delivery for a refund, and a restocking fee may apply. Return shipping fees are not refundable. Message us for return instructions if you have questions.

Support & Feedback

We take our reputation seriously, we buy and sell online, so we understand the value of trust. If you are unsatisfied with your order, please contact us and we will work with you to resolve it to your satisfaction. Contact us via eBay messaging and we will respond within 1 business day. Our office hours are 8AM-4PM PST Monday-Friday. We thank you for your business!

Filed under: Eyepieces & Accessories