Current Price: $28.75
Buy It Now Price: $28.75
Bids: 0

Orion SteadyPix Quick Smartphone Telescope Photo Adapter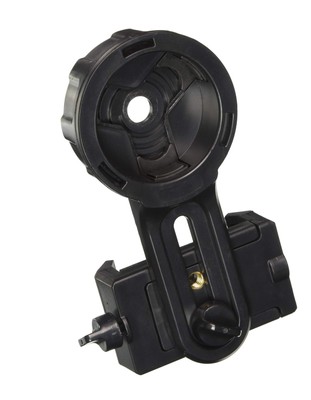 Description
Share snapshots of your stargazing sessions quickly and easily with the Orion
SteadyPix Quick Smartphone Telescope Photo Adapter! This inexpensive adapter
provides the stability you need to take great pictures of the view through
your telescope with your smartphone's built-in camera. Even the largest modern
smartphone models work wonderfully with the SteadyPix Quick Photo Adapter. The
rubber-lined phone clamp portion of the adapter can accommodate smartphones as
small as 2-1/8" wide to as large as 3-3/4" wide, without scratching. The
SteadyPix Quick's twist-lock eyepiece clamp fits telescope, binocular,
spotting scope, and even microscope eyepieces ranging from 25-45mm in
diameter. The cleverly designed, self-centering eyepiece clamp makes secure
installation quick and easy. By providing a secure connection between your
smartphone and a telescope eyepiece, the Orion SteadyPix Quick lets you
capture stable snapshots of the view seen through your telescope. In order to
take well-focused photos through a telescope eyepiece, the camera lens must be
held exactly parallel with the eyepiece lens, and the smartphone must be held
perfectly still so as not to blur the image. As you can imagine, it's almost
impossible to take good pictures through a telescope while holding a phone's
camera lens up to an eyepiece by hand. Even the most steady-handed stargazer
will find it difficult to avoid shaky, blurred images.The easy-to-use
SteadyPix Quick takes the shakes and frustration out of the equation by
providing an adjustable platform that holds your smartphone in the proper
position above the eyepiece lens so you can consistently capture clear, well-
framed photos of the view through your telescope. After taking a snapshot with
the help of the Orion SteadyPix Quick Photo Adapter, you can easily share
pictures taken through your telescope with friends and family via text, email
or social media. When attached to a telescope, the Orion SteadyPix Quick
Smartphone Telescope Photo Adapter allows anyone with a smartphone to capture
snapshot keepsakes of picturesque targets such as the cratered surface of the
Moon, bright planets, and sparkling star clusters. Of course, you can also
attach the SteadyPix Quick to a tripod-mounted binocular or spotting scope
eyepiece to take magnified pictures of daytime targets like colorful birds,
wildlife and scenery. You can even attach your smartphone to a microscope
eyepiece using the SteadyPix Quick. A built-in ¼"-20 threaded socket allows
direct attachment to tripods and monopods. Made of sturdy ABS thermoplastic
with a rubber-lined smartphone clamp, the lightweight Orion SteadyPix Quick
Telescope Photo Adapter weighs just three ounces. For the best results, we
recommend removing any bulky phone cases or bumpers before attaching your
smartphone to the adapter.
Features:
Make sure this fits. by entering your model number.
Take smartphone pictures of the view through your telescope with this affordable adapter
Quick and easy self-centering eyepiece clamp provides fast installation
Provides a stable platform for your smartphone to yield stable, clearly focused snapshots
Compatible with even the biggest modern smartphones as large as 3-3/4" wide
Twist-lock eyepiece clamp compatible with telescope, binocular, and microscope eyepieces measuring 25-45mm in diameter
Product Details:
Product Dimensions: 5.5 x 1.8 x 3.5 inches
Item Weight: 3.52 ounces
Shipping Weight: 3.84 ounces
California residents: Click here for Proposition 65 warning
Item model number: 40003
Payment

We accept Paypal payments only. Sales tax may be applied to your purchase as we possess sales tax certificates for all states we collect sales tax in. If your state is one that we charge sales tax in, you will see the sales tax charge at time of checkout before you submit payment.

Delivery

Standard shipping is free with a handling time between 1-2 business days. Once the package has been shipped out, it should arrive within 3 - 5 business days. If you need your item faster we offer a faster shipping method available upon checkout. We do not accept requests to change shipping addresses post purchase. We do not ship to AK, HI, PO boxes, or APO addresses. We are not responsible for any incorrect or undeliverable addresses. We only ship to the confirmed Paypal address. Please note that manufactures update their packaging from time to time and that the packaging images shown in our auction may vary from what you ultimately receive however be assured you are receiving the identical contents you ordered regardless.

Return Policy

You may return new, unopened items within 30 days of delivery for a refund, and a restocking fee may apply. Return shipping fees are not refundable. Message us for return instructions if you have questions.

Support & Feedback

We take our reputation seriously, we buy and sell online, so we understand the value of trust. If you are unsatisfied with your order, please contact us and we will work with you to resolve it to your satisfaction. Contact us via eBay messaging and we will respond within 1 business day. Our office hours are 8AM-4PM PST Monday-Friday. We thank you for your business!

Filed under: Eyepieces & Accessories