Current Price: $14.95
Buy It Now Price: $14.95
Bids: 0

100% Positive Feedback
Great service
Fast shipping 24h
Satisfaction guarantee
ABOUT US
FEEDBACK
ADD US
>CONTACT US
Red & White LED Astronomy Headlamp for Nightvision FREE SHIPPING FEEDBACK
Our Customers Love Us!
100% Positive comments
theoatc: This store is one of the best in ebay. Seller is great. Highly recommended.
sjhilly: Just received item. As described. VERY Fast Delivery. Very Happy. Thank You.
possumchops101: Excellent head lamp for keeping your night vision
goodslab: Top operation. FREE jellybeans!
Herbie.69: All good cheers jellybeans are great.
mikeonholidayinoz: mny thx
now50: Great Book, well packed and fast delivery, thank you.
tonespen: Great Communication, A pleasure to do business with.
SEE ALL FEEDBACK
DELIVERY
Delivery within Australia: FREE Delivery via Australia Post or Courier (when economical)
Greased Lightning Handling Time: Order before 2PM AEST, and we ship same day! (Mon-Fri)
Fast International Delivery Times : See Item Specific Postage Cost
WHY US
We are an Astronomy Store with a sense of humor and a smile.
We are the kind of company that gives out delicious ASTROid Jelly Beans and Discount Codes - not just Business Cards - with every order. We are the kind of company that loves our customers and want you coming back again and again!
Astro Dog is a registered Australian Business operating out of Brisbane.
We make every effort to ensure that your delighted. We take great care when packaging your item so that you get it in perfect condition.
Something wrong? You are covered by Astro's 30 day "Cold Feet" Return Policy (see " Return") We are here to help you!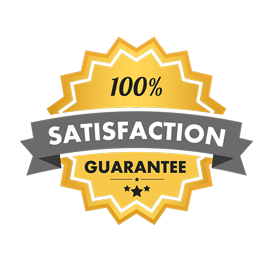 GALLERY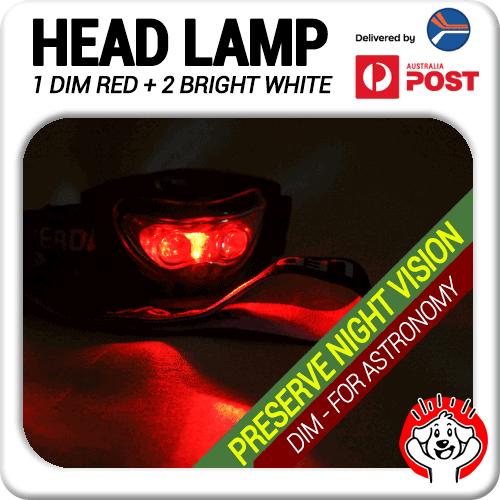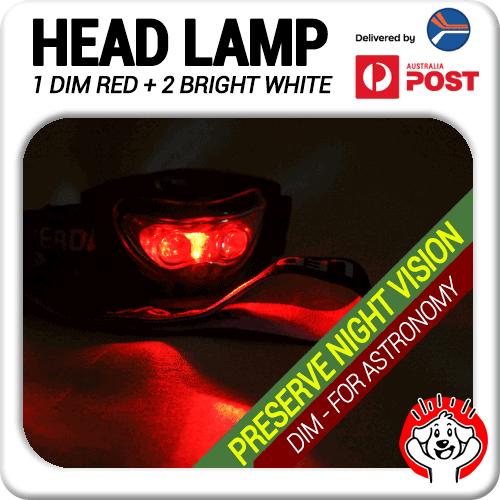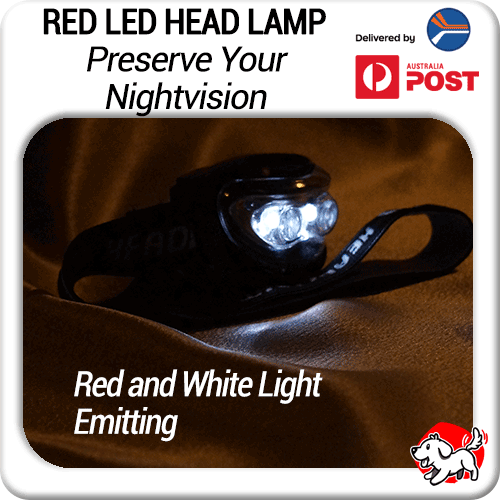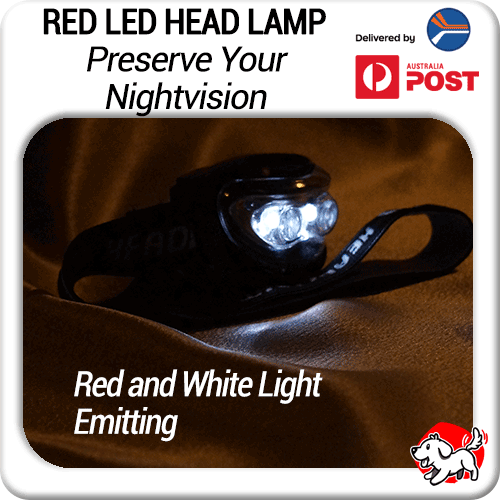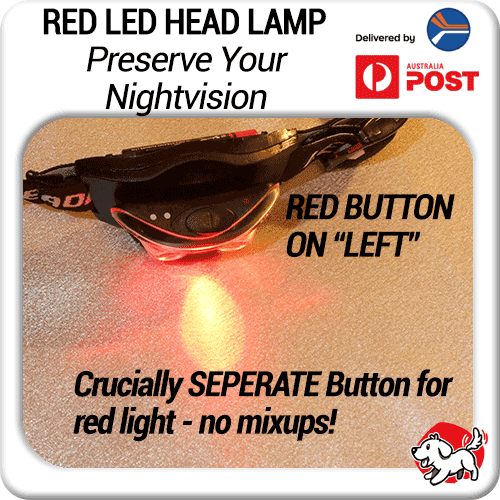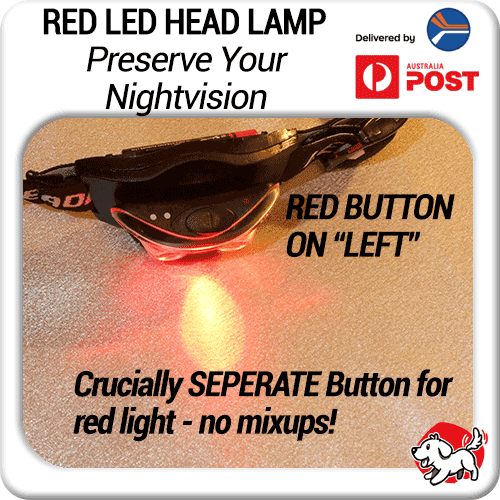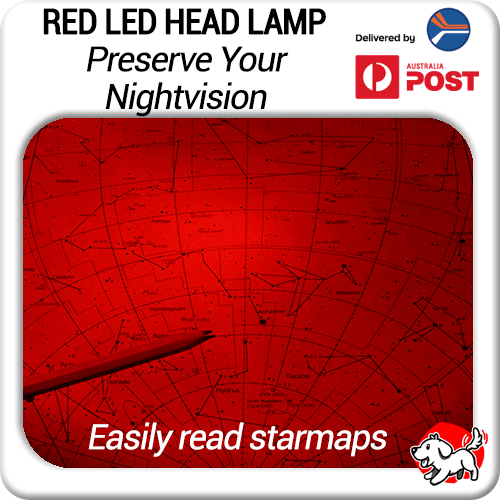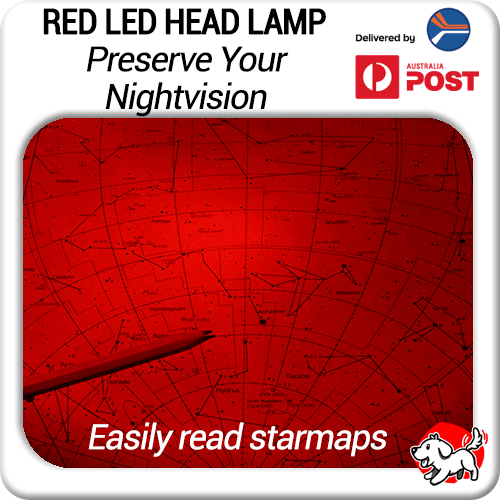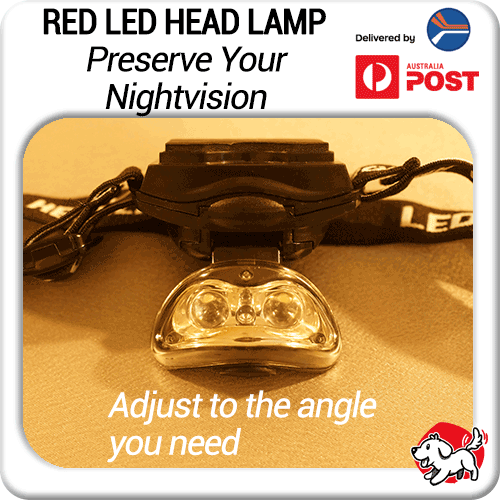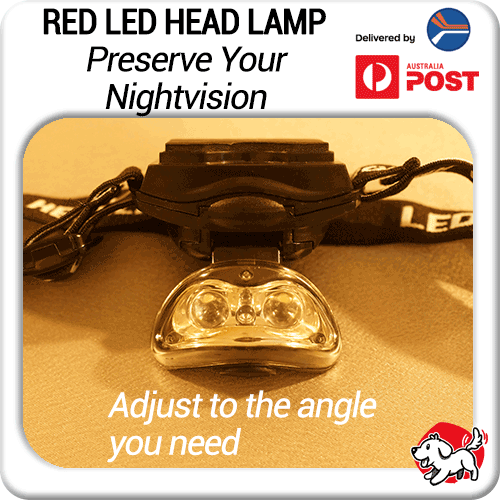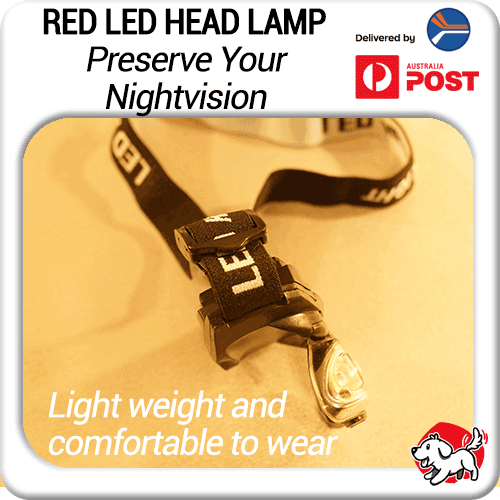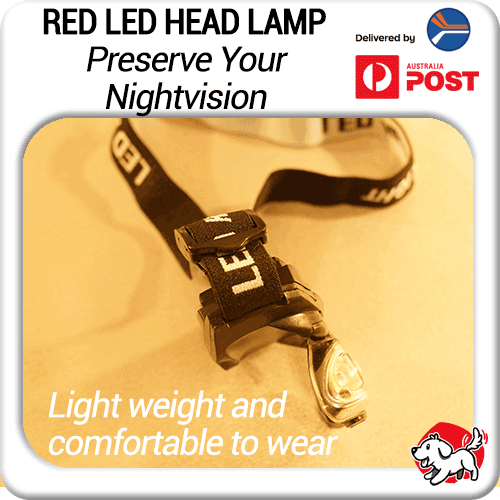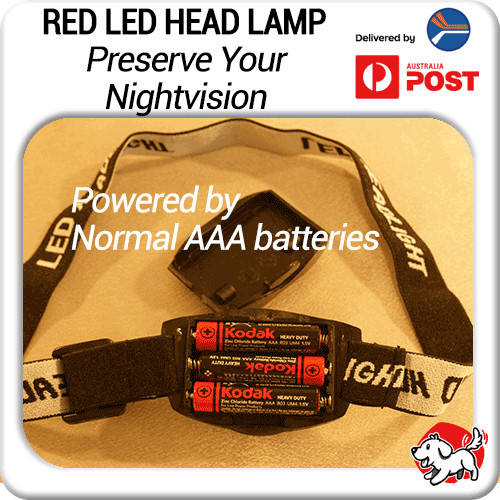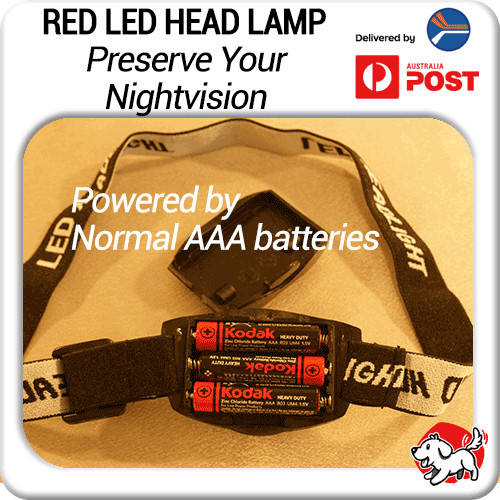 DESCRIPTION Welcome to our Best Selling Astronomy Product - You'll love it. Features one dim red light, plus two bright white ones for setting up / packing up.
Note that this is not the same as cheaper competitor red headlamps which use the same mould but has been customised and manufactured by us to strict specifications for this application.
The Perfect Astronomy Headlamp:
It's the best red LED headlamp - Typical problems with other headlamps were flimsy construction, dim white LED lights inadequate for finding things in the dark, the Red LED being too bright, being forced to "switch" from white to red (forcing white light), to flashing which is a nightmare when your trying to keep your hard fought for night vision to catch DSO's. Other problems were the lack of proper adjustment angles once on your head to get the light where you want it. This one? None of those problems!
Details:
This headlamp is the perfect companion to the more high powered torch (which we don't recommend for using with starcharts – use this!)

Red and White Emitting Light

Adjustable it to the angle you need

Not flimsy, yet lightweight so that it stays relatively comfortable for extended periods

Uses Standard AAA Batteries, including 1.2v rechargeables (for a slightly dimmer red light too!)

Batteries not included (We can INCLUDE 3 x 1.5v AAA quality DURACELL batteries (valued at $5.99) and insert them and test them just before shipping for just $3 more - see seperate listing below!)
What's unique about your order:
We ship from Brisbane - Not China

We are the only ones who provide detailed instructions, including a video on how to install/remove the batteries.

We provide a battery removal tool to safely remove the cover.

We securely pack it - you will not get this item delivered in a flimsy post bag like our competitors. It comes in a nice box, is bubble wrapped, has instructions and even a youtube video explaining how it works and how to put the batteries in correctly.

This headlamp is especially manufactured for Astro Dog according to our design specifications - Other headlamps that LOOK like this one are NOT identical - even those that use the same mould and look the same. This model has a weak, red .5w LED especially for preserving night vision, and and two strong white 3w LED's for setting up / packing up finding things in the dark.
What our customers say about this headlamp:
"Pleasure works great nice and bright"

"Good service, product as described, thank you"

"Great product"

"Cool"

"Item true to description and delivery speedy"
Astro Has Lots of Other Astronomy Accessories Your Looking For - See Our Best Sellers Below
With Free Shipping On Every Item, Free Jelly Beans and 30 day returns, Why Not?
Payment Return PAY YOUR WAY
We accept PayPal and all Major Credit Cards. Immediate Payment is Required.




30 Day Returns
Customers are eligible for 30 day returns on all products except Telescopes. You must return items in their original packaging and in the same condition as when you received the item. If you don't follow eBay's item condition policy for returns, you may not receive a full refund.
You are protected by Australian Consumer Law - You will obtain a full refund if the goods purchased are faulty, not fit for purpose, or do not match our description.
ASTRO'S BEST SELLERS

Red LED Astronomy Headlamp
AUD $26.95
FREE SHIPPING
INCLUDES QUALITY BATTERIES!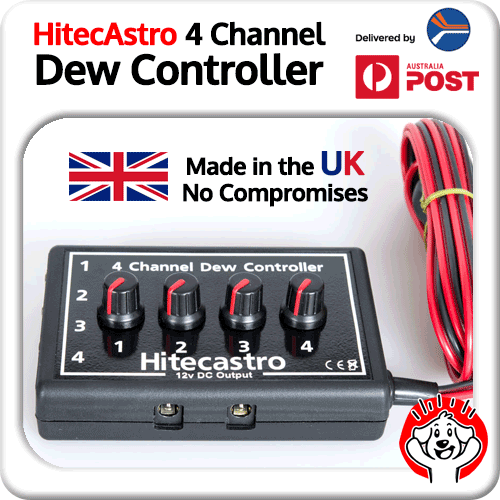 4 Channel Dew Controller
AUD $169.95
FREE SHIPPING
4 OUTPUTS, INDEPENDENTLY ADJUSTABLE

Various Dew Heater Bands
FROM AUD $49.95
CONTROL DEW HEATER STRAPS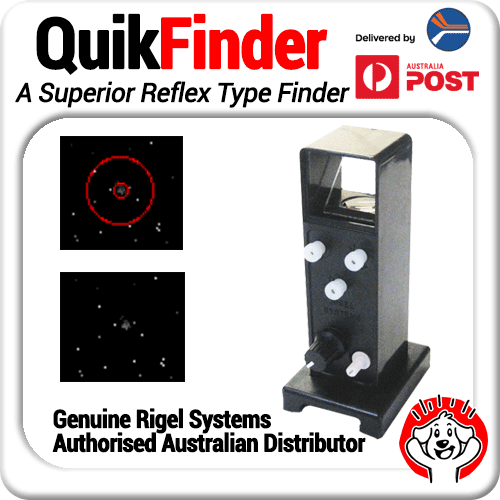 Rigel Systems QuikFinder
AUD $99.95
FIND YOUR TARGET IN SECONDS
ABOUT ASTRO DOG
Established in 2018, Astro Dog is Australia's Online Astronomy Store.
FREE DELIVERY AUSTRALIA WIDE
Do you have questions? Contact Us
THE ASTRO DOG DIFFERENCE
No Stuffing Around - We get your item posted quicksmart!
Tracking Number Issued for Each Item
Accurate Item Descriptions - You get what you see.
ASTROid Jelly Beans and Discount Codes with every order!
YOUR USEFUL LINKS
ABOUT US
FEEDBACK
ADD US
CONTACT
© ASTRO DOG ABN : 99 627 185 499
Filed under: Eyepieces & Accessories