Current Price: $562.48
Buy It Now Price: $562.48
Bids: 0

Sky-Watcher AZ-GTI with SkyMax 102 – Modular Go-to Alt-Az Tracking Mount for Time-Lapse and Panoramas – WiFi Enabled App Controlled – 102mm Maksutov Telescope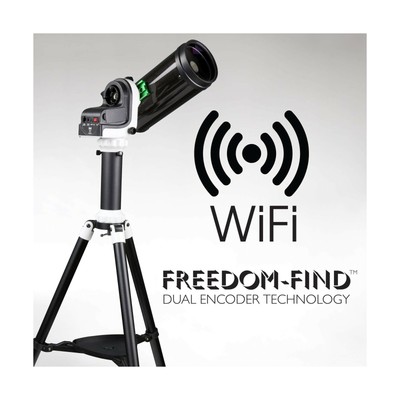 Description
Sky-Watcher's AZ-GTi is the perfect tracking platform for those seeking a
compact travel mount capable of both Alt-Az Go-To alignment and video
timelapse. Boasting a payload capacity of 11lbs, this modular AZ mount can
support anything from a small Maksutov or refractor, to a mid-sized DSLR for
timelapse photography. Weighing just 8. 6 lbs, the AZ-GTi is the ideal travel
mount, easily fitting in carry-on luggage and perfect for grab-and-go
situations. World Class OpticsOur Maksutov optical tubes deliver refractor-
like views and superior contrast while allowing for larger apertures at a
fraction of the cost. Using lens elements and reflective mirrors, you'll
benefit from Sky-Watcher's dedication to quality optics. Sky-Watcher's SkyMax
series features a borosilicate primary and secondary mirror with a quartz
overcoat, producing 94% reflectivity. The corrector plate utilizes our
signature Metallic High -Transmission Coatings (MHTC), giving visual
astronomers professional grade optics to create a unique viewing experience.
Wifi Enabled, App ControlledThe AZ-GTi generates it's own Wifi signal,
allowing users to control the telescope directly from their iOS or Android
devices. Once connected to the mount, use Sky-Watcher's SynScan Pro app to
align the mount for celestial tracking or the SynScan PTZ app for timelapse
photography. Adjustable Aluminum TripodThe AZ-GTi includes an adjustable
aluminium tripod with built in pier extension however, the AZ-GTi can also
attach to nearly any photographic tripod using a standard 3. 8"-16 thread.
Integrated SNAP PortNo need for an intervelometer timer with the AZ-GTi! With
a 60-second preset exposure setting, the AZ-GTi can trigger a DSLR using the
auxiliary shutter release cable. Once the camera is plugged into the mount and
a shot is fired, it will continually shoot 60 second exposures until the cable
is removed.
Features:
TRAVEL-SIZED GOTO MOUNT: Weighing just 8. 6 pounds, this computerized Alt-Az tracking mount is perfect for portable, on-the-go, mobile astronomy.
11-POUND PAYLOAD CAPACITY: With a payload capacity of 11 pounds, the AZ-GTi can support most available telescope tubes, as well as most DSLR cameras.
102MM MAKSUTOV TELESCOPE: Included in the box is Sky-Watchers 102 SkyMax Maksutov-Cassegrain, which gives astronomers a large visual aperture, high contrast and long focal length in a compact package, ideal for planetary and lunar observing.
WIFI-ENABLED, APP CONTROLLED: Generating its own proprietary WiFi signal, the AZ-GTi blends 21st century technology with Sky-Watchers innovative astronomy equipment, allowing users to control their telescope from a smartphone or tablet.
FREEDOM FIND DUAL ENCODERS: Utilizing Sky-Watchers patented dual-encoder technology, Freedom Find allows for accurate tracking as well as manual slewing without losing alignment.
Product Details:
Product Dimensions: 9.1 x 9.1 x 9.1 inches
Item Weight: 1 pounds
Item model number: S21120
Batteries: 1 Lithium Metal batteries required. (included)
Date First Available: July 6, 2018
Manufacturer: Sky-Watcher
Handling

All orders are shipped within 3 to 5 business days of payment clearing. Please check the estimated handling time in this listing for specific information.

Delivery

Domestic orders can take up to 10 business days after handling to be received. International orders range in time due to distance and varying customs processes by country. Please reach out to us directly with any delivery questions prior to placing your order.

Domestic orders that are identified as going to a mail forwarding address may be subject to cancellation. If you provide a mail forwarding address, you agree to be responsible for any and all damage incurred after the item reaches the mail forwarding address. We, as the seller, will only be responsible for the condition of the item on or before the item reaches the delivery address initially provided. We do not guarantee and are not responsible for items received in the final destination in damaged condition.

Select items are eligible for international shipping or through eBay's Global Shipping Program (GSP). If you are an international buyer who purchases an excluded item due to country restrictions, your order will be cancelled. Please refer to eBay's Global Shipping FAQs in order to view eligible countries and items to prevent cancellation.

Return Policy and Cancellations

Domestic orders can be returned within 30 days of receipt and international orders can be returned within 14 days of receipt. All items must be returned in their original condition, including in original packaging. The buyer is responsible for return shipping on any item that is not damaged and/or is being returned for buyer's remorse. We cannot guarantee cancellations after payment has been received.

Please note that if an item arrives in damaged condition or is missing pieces, we may, in some cases, be able to offer replacement pieces or a full replacement. In all cases, a full refund with return is available. If individual pieces are able to be replaced, this request will need to be initiated via the warranty directly with the manufacturer. Any and all warranty requests are required to be initiated and maintained by the buyer. We, as the seller, are not allowed to initiate warranties in the buyer's name and do not have access to all personal information required to initiate warranty requests.

For international orders, existing warranties on items are likely to become ineligible once shipped outside of the United States. Please refer to the item's warranty guidelines or contact us for more information prior to purchasing.

Any international purchase of electronics is not guaranteed to be compatible or supported in every country and is, therefore, not eligible for free returns in case of defects. It is solely the buyer's responsibility to ensure that electronics are fully compatible in their destination country prior to purchase. In the case of a return for a defective electronics item, it will be the buyer's full responsibility to pay for and return the item within 14 days of receipt, per our international return policy.

Feedback

We take our reputation seriously and we buy and sell online, so we understand the value of trust. If you are unsatisfied with your order, please contact us and we will work with you to resolve it to your satisfaction.
Tagged with: Amateur Astronomy • astronomy • telescope
Filed under: High-End Telescope Auctions (USA)